Indian festivals are considered incomplete without sweets. Festivals get a lot of energy due to sweets. And in sweets, burfi is made at almost every festival and people eat it with great joy. There are many types of burfi, but peanut burfi is the most delicious and considered one of the healthy sweets.
Peanut Burfi is an Indian delicious sweet made at festivals like Rakhi, Diwali, and Ganesh Chaturthi. During the festival season, it is a different pleasure to eat different types of sweets and due to these sweets, power, and energy can be seen in the festivals. Peanut Burfi is a mouth-watering and mouth-watering delicious juicy dessert. All of you should make these sweets at home instead of bringing them from the market.
Homemade Peanut Burfi with Sugar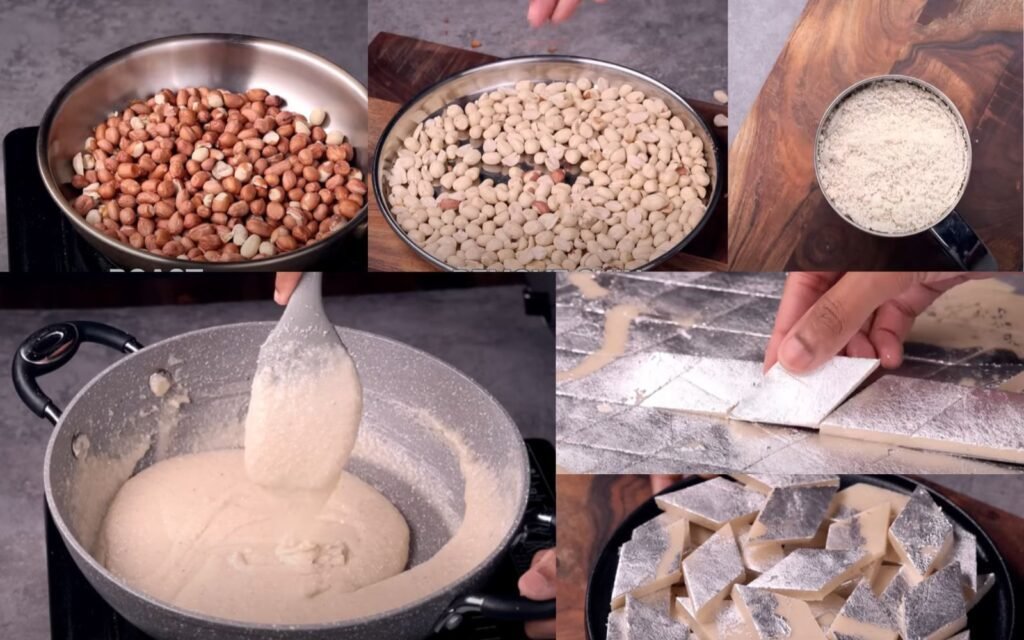 Peanuts, sugar, and milk powder are the only three things needed to make this simple and quick burfi recipe. Very tasty sweets can be made at home in absolutely halwai style if you follow the right steps.
Ingredients
100gms of unsalted peanuts
150gms of Sugar
1/2 tablespoon Cardamom powder
120gms of milk
How to make
Take a pan and heat it over medium flame. Dry roast the peanuts for 5 minutes until the color slightly changes.
Switch off the flame and let it cool.
Take a grinder and grind the roasted peanuts well.
Take another pan and heat it over a medium flame. Add sugar and milk to the pan. Add 1/2 tablespoon of cardamom powder. It gives a lovely taste to the burfi. It takes around 3-4 minutes to boil.
After boiling the milk once, place the peanut into the pan and mix it well until the crumbs are removed. keep stirring and mashing on low flame until smooth for 5 minutes. Turn off the gas flame when it is entirely smooth.
Transfer the batter to the tray. spread well
After that, Add Silver foil to the pattern. Leave it at room temperature for 30 minutes.
After it is dried or thick and cut into a diamond shape.
Tasty Peanut Burfi is ready.
Homemade Peanut Burfi with Jaggery
Peanut Burfi is as delicious as sugar peanut burfi. To make Jaggery Peanut Burfi you need:-

Ingredients
100gms Peanuts
60gms of jaggery
1 teacup of milk
1 tablespoon cardamom powder
How to make
Take a pan on over a medium flame. Place the peanuts into the pan.
Roast the peanuts until it gets brown. Keep stirring until its color has not changed. It will take around 5 minutes to get brownish color.
Transfer the roasted peanuts into the big bowl.
After that, Take a grinder and grind the peanuts well. You can add some dry fruits also, it is optional. Grind all the ingredients with peanuts well if you are using dry fruits.
After that, Transfer the ground mixture to the bowl.
Take another pan on the medium gas flame. Place some crushed jaggery into the pan and add half a cup of water.
When the jaggery water completely melts and it started to boil. Add the grind peanut mixture into the pan. Keep stirring to remove all the crumbs. Make a fine smooth paste. Add 1 tablespoon of cardamom powder to get a flavor.
After that, when it is completely made a fine smooth paste. Add 1 teacup of milk and 1 tablespoon of desi ghee. It gives a flavor or oily surface to the burfi. Mix all the ingredients well.
Now, take the butter paper and the mixture over the butter paper.
and try to knead it like solid flour.
Similarly, use your hands to knead the flour. After that, take a roller and roll the flour spread over the butter paper.
After spreading well, apply silver foil to garnish. Let the flour be left at room temperature for at least 45 minutes.
After that, when it becomes a little solid, cut the pieces into a diamond shape.
Enjoy the Jaggery peanut burfi.
Conclusion
Peanut burfi is a mouth-watering burfi. Now that the festivals are also coming, then you should definitely make Peanut Burfi. There is a lot of belief in the offerings of God in Hindus and after making Prasad, it is first offered to God. And perhaps that is why various types of sweets are made during festivals to please God. Not only do you please God with sweets, but as soon as you hear the name of the sweet, it brings a smile to everyone's face. Sweets made at home are clean and healthy, unlike the sweets outside.
Also Read:
Best and Easy Recipes of Modak