Hindus in India and around the world celebrate Ganesh Chaturthi with great enthusiasm. The event celebrates the elephant-headed god Ganesha's birth anniversary. On the fourth day of the Bhadrapada month, which falls in either August or September, Ganesh Chaturthi is celebrated. Small Ganesha idols are purchased, and home pujas are performed. There will also be major community events planned by other organizations and groups. Usually, the festival lasts 10 days. The idol is carried out in a procession on the last day and submerged in a body of water, such as a sea, river, lake, or pond.
On this day, according to devotees, Ganesha comes to earth to bless people. He carries the name of Vigna Harta and which means to be the god who has the ability to remove all obstacles. Sukha Kharta is another name for him; it means fortune teller. In their homes, devotees perform Ganesha puja. They also provide his favorite items as naivedhyam. These include modaks, laddus, burfis, etc. In India, it is celebrated with great pomp and show.
When is Ganesh Chaturthi 2022?
Ganesh Chaturthi is a ten-day long festival that is celebrated in India with great pomp and show. So, this year i.e., 2022, it will begin on 31st August and eventually end on 9th September. If you want to celebrate Ganesha's birthday, bring Bappa home on the 31st and celebrate his birthday with your friends and family.
Things to keep in mind if you are establishing Ganesha at home
First of all, if you have decided to establish Ganesha at your home this year, there are many things that you have to keep in mind that you have to consider before the arrival of Ganesha. Also, people kept Ganesha according to their will like 1.5 days, 3 days, 5 days, 7 days, or 11 days. It totally depends on their ritual or capacity to establish Ganesha in their houses on the occasion of Ganesh Chaturthi.
If you are establishing Ganesha in your homes on Ganesh Chaturthi, make sure that the idol's making is from eco-friendly products so that at the time of visarjan, there will be no harm to any water body. Nowadays, people are preferring idols made of eco-friendly products but earlier the visarjan of Ganesha idols contributed to polluting the water bodies because of the use of chemicals and other non-biodegradable products which will ultimately pollute the water body and also be the reason for the death of many animals living in the sea, river, lakes and other water bodies.
Before bringing the idol of Ganesha, you should clean your house and decorate the temple of your house, if you want to establish him in your existed temple or home. You can also make a separate place for Ganesha's idol to establish him.
Set a table according to the size of the idol and also kept some place for the prasad and the pooja thali. There are many decoration ideas according to the themes which you can use to decorate the seating of Ganesha's idol.
Some people prefer the establishment of Ganesha before Ganesh Chaturthi so that they can do the arti-pooja from the day of his birth and some prefer to establish Ganesha on Ganesh Chaturthi.
Also, after the decoration, of the seating, don't forget to place a red cloth at the same place you want the idol of Ganesha to be seated.
Clean your kitchen, because all the prasad, you will be preparing in the kitchen. In these 10 days, don't make the food with onion and garlic. As it is not allowed to eat these things after the arrival of Ganesha.
On the red cloth make Ganesh's sign that is 'Swastik' with the help of Roli, used at the time of pooja to make these god's signs and also to place on the forehead of the people during the pooja.
On the 'Swastik' sign place some flowers and some rice grains. Also, place a Kalash with the coconut and which has to be placed before the pooja and establishment of the deity Ganesha.
When you bring Ganesha home after the purchase just make sure to cover his face with the red cloth so that after the sthapna or establishment, all the devotees will be able to pray and see the Ganesha's face with the chanting 'Ganpati Bappa Morya".
How to do Ganesh Chaturthi's pooja at home
The happiness and admiration at the time of the arrival of the idol of the Ganesha during Ganesh Chaturthi is unmatchable. After the establishment of the idol Ganesha, the regular pooja of Ganesha is a must till the visarjan.
After the establishment of the idol of Ganesha, you have to put the new clothes on him and also put the flower garland. In the case of clothes some bring Ganesha with the design that there is no need to put on clothes, they put on only a red dupatta. Some specially made the clothes for the idol and put them on him after his establishment (Sthapna).
Put some Gangajal on the feet of Ganesha. Some people also pour rose water on his feet. These are known as the purest water forms in Hindus and are also used in the pooja of the gods.
It is mandatory to do arti and pooja of Ganesha with the chanting of Ganesha's mantras. This has to perform two times a day, one in the morning and the other in the evening.
The prasad of Ganesh's favorite sweets and fruits should be offered after the arti. The fruits you will offer will totally depend on you on the quantity basis as according to the devotees will visit your house. But it is mandatory to offer five different fruits at the time of Bhog or offering prasad.
As in sweets, we offer naivedhyam which includes sweets like modaks, laddus, and barfi which are among the favorite sweets of Lord Ganesha. Especially Modak is his favorite sweet.
A lot of people do bhajan kirtan and call their neighbors and relatives to celebrate the arrival of Ganpati in their homes. People come and pray the happiness and prosperity from the god Ganesha. And also pray to remove all the obstacles in their life and give them a happy and peaceful life.
Visarjan of Ganesha's Idol
In the excitement of Bappa, I don't know how these 10 days of happiness get passed and we have to say bye to our beloved Ganesha. I know this is the most crucial time because we got so much attached during these 10 days. And we don't want Bappa to leave our home. But we will not say goodbye to Bappa with sad faces.
Always goodbye to Ganesha with the same excitement you brought him home. And also said him to come again next year on his birthday so that we can get that same enjoyment, next year.
The Visarjan of Ganpati teaches us a very beautiful message that everything that comes has an end and this is life. Before visarjan you have to do arti and pooja. When Bappa was leaving, just pray that all the trouble in the family and bring prosperity and good fortune.
Generally, the ritual is to do Visarjan in water bodies like sea, lakes, and ponds but due to the contamination of these bodies. Many people have started Visarjan in their homes. They make the purest form of water with raw milk and rose petals and as the idols of the Ganesha are eco-friendly, they get easily dissolve in water. But it will take some time to dissolve in water. After it dissolves, don't throw that water, just put the water in your plants as it is free from chemicals.
Ganesh Chaturthi is primarily celebrated by the Maharashtrians every year. And the idols with the pandals are a treat to watch there. In Maharashtra, they do Visarjan on the beaches or seas and chant "Ganpati Bappa Morya, Pudhchya Varshi Lavkar Ya". It means My Lord Ganesha Come early next year.
A story related to Ganesha's Birth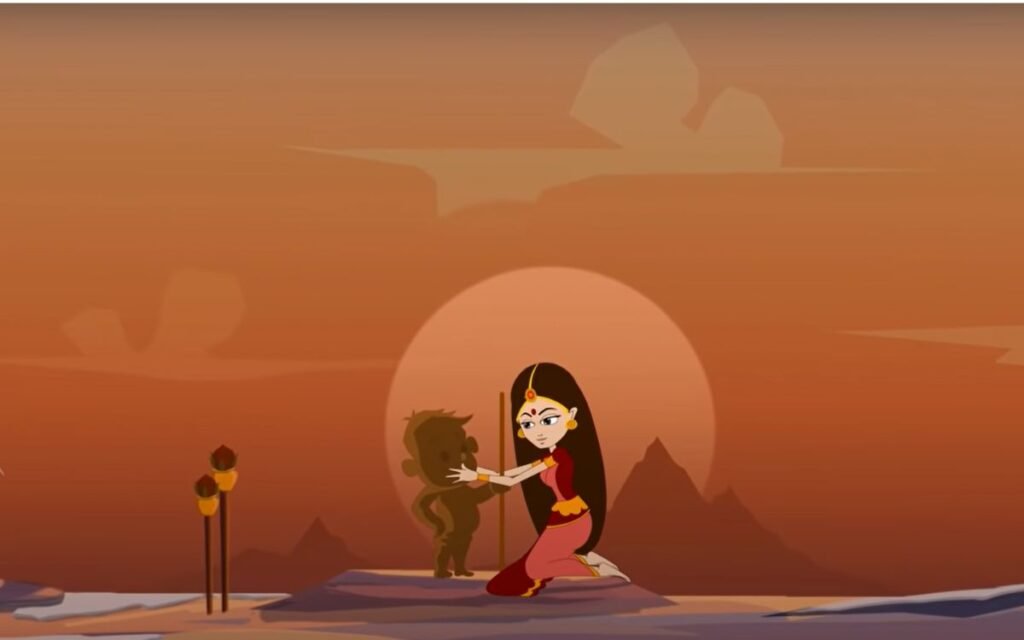 Once the torture of demons on earth went beyond limits along with humans, they started torturing deities too. All deities when combined altogether weren't able to face them which immensely boosted their confidence. Witnessing this lord Indra along with other deities went to Kailash mountain and said to god shiva (Mahadev), that demons are causing immense trouble on Earth as well as in heaven. Please destroy these demons in order to maintain balance in the world.
On this, lord shiva replied, you need not worry at all lord Indra to maintain balance in the world. I will surely destroy these demons. Saying this god shiva picked up his trident( Trishul) and for their help went along with them.
In absence of Lord shiva, goddess Parvati was alone there in Kailash mountain. While going for a bath, a thought came into her mind, that no one can enter Kailash's mountain without permission. But still, for my protection, I shall definitely do something.
Thinking this with dirt from her body she made a human mannequin and by chanting, mantras gave life to the mannequin with his first breath the boy asked Goddess Parvati
Who am I?
Parvati replied you are my son Ganesh. I'm going for the shower you stay here and keep a watch until the time I will not come back after my shower. Make sure that you don't let anyone come here. Ganesh replied, as you say, mother.
Ganesha as an obedient child
Ganesh with a spear started guarding the door and after some time when god shiva came back after destroying the demons. He thought, first of all, I shall give this news to Parvati. But as soon he reached the bathing room to provide the news to Parvati, Ganesh stopped him and said, Please wait!
As per instructions by my mother, I cannot permit anyone to enter. Therefore you're not allowed to enter the bathing room. Lord Shiva replied, who are you and why aren't you allowing me to enter the bathing room? Ganesha replied, Forget my introduction and better go away from here.
Shiva became very furious after hearing these words from Ganesh. He replied, the naughty child you will surely get punishment for this. Saying this shiva attack Ganesh with his trident.
Starting of the battle between Lord Shiva & Ganesha
Ganesh too picked up his spear and the battle started between both of them.
If god shiva was the god of the gods then god Ganesha was also born by adi shakti goddess Parvati. Therefore immense battle went on for a long between both of them. Fearing the effect of this battle, god Brahma and god Vishnu along with all the deities came to Kailash mountain. They asked Mahadev to stop the war and they also asked Ganesh for forgiveness from Mahadev for this offense of yours.
On this Ganesh replied, rather than me he should ask for forgiveness. After hearing instructions from my mother, he still wants to enter her bathing place. If he asks for forgiveness only then I will forgive him. Hearing this shiva became very angry.
Then worried god Brahma said to god Ganesh, please accept your mistake son otherwise, no one will be able to save you from the wrath of Shiva.
Rather than my protection, I'm more concerned about my duty. On this Shiva replied to god Brahma, Please don't interfere, god, Brahma I shall surely punish this naughty child with the attack of the trident. And then god Ganesh's head got separated from his body.
Ganesha in pain said, Mother.
The head flew over the sky it fell on the planet mars. On hearing the groaning voice of god Ganesh, goddess Parvati came out from her bathing place. She became very sad by seeing the dead body of Ganesh lying on the floor. She cried and said son Ganesh.
Re-birth of Ganesha
Seeing his son in this condition she said, Mahadev you've done this very wrong. Make my son alive again. Out of anger, you have done a very wrong act. Therefore you have to make Ganesha alive again and by now shiva's anger also subsided. He said to goddess Parvati my dear due to an attack from my trident his head had fallen on the planet mars and to tell you the truth, you can't match the chopped head with the body again. So please forgive me, my dear it's impossible to make Ganesh alive again.
Hearing this goddess Parvati became furious. She said, Mahadeva if my Ganesh isn't alive again then out of my anger I will burn the entire world on this god Brahma thought for a while and said Mahadev we can make Ganesh alive again. Ahead of a boy who hasn't been chopped by our trident, we can fix it with the body of Ganesh.
Therefore instruct your disciples that from the north direction they shall bring the head of a boy whose head is facing the north direction and whose mother is sleeping by placing her back on him along with god's shiva all the gods and deities agreed to this advice. And shiva instructed his disciples. After hearing the instructions all the disciples headed in the north direction after covering a long distance.
As per instructions given by god Brahma they saw a child of an elephant. This baby elephant's head is facing north and his mother is also sleeping facing her back towards his head. Disciples came back with baby elephants heading to Kailash mountain. God shiva fixed
The baby elephant's head with the body of Ganesh and Ganesh became alive again.
Ganesha as Mangal Murthy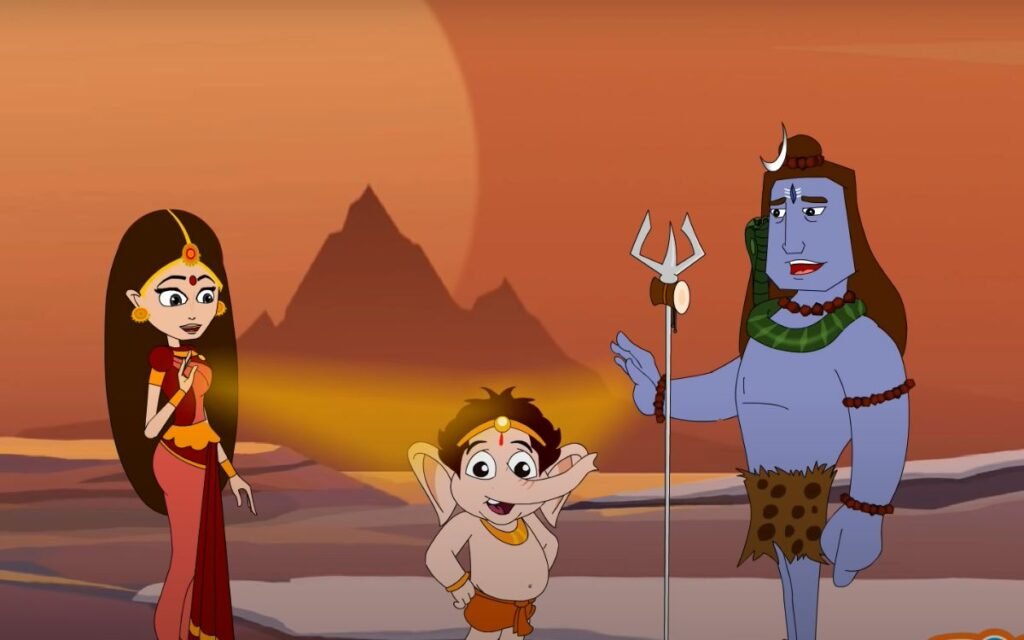 Goddess Parvati became very happy by watching Ganesha alive but became a bit sad too by watching the elephant's head on her son's body and asked Lord Shiva, why did you place an elephant's head on my son's body?
Now everyone in the world will make fun of my son. On this god, shiva gave a boon to the god. Ganesh that from today onwards before the beginning of any auspicious work, all the people will worship our son Ganesh and he will be famous by the name mangal Murthy. Hearing this goddess Parvati became very happy. She gave a warm hug to her son and god shiva also did the same.
So, this is how god Ganesh was born and he became famous by the name mangal Murthy.
Also read: Onam Festival: When, How, and Why to Celebrate
Summary
Ganesh Chaturthi is the festival that brings joy to our life. Every festival that we celebrate always teaches us something and adds value to our lives. I hope the arrival of Ganesha will bless us. Celebrate this festival with great enthusiasm. Welcome Ganesha to your homes and enjoy every moment of this festival to its fullest.
Also read:
Janmashtami: A festival devoted to Lord Krishna