Motichoor Laddoos are one of the special desserts in India that are a pure representation of joy and pleasure. They really energize the atmosphere of any festival or celebration. One such motichoor laddoo treat that plays a significant role in our tradition and culture is laddu.
Laddus are widely popular and celebrated in our nation, from being given as prasad for religious purposes to being made into sweets for people during festivals! You absolutely must try this simple Motichoor Laddoo if you enjoy traditional Indian sweets.
Motichoor Laddoo Recipe
A well-known and lovely recipe for motichoor laddoo in the shape of a circle made with tiny, saffron-colored boondi pearls. To give the small boondis a sweet taste, sugar syrup perfectly flavored with cardamom is poured over them.The entire nation enjoys motichoor laddoos, which come in various shapes, colors, and flavors. The laddoos are a popular sweet dish and a superb prasad offering.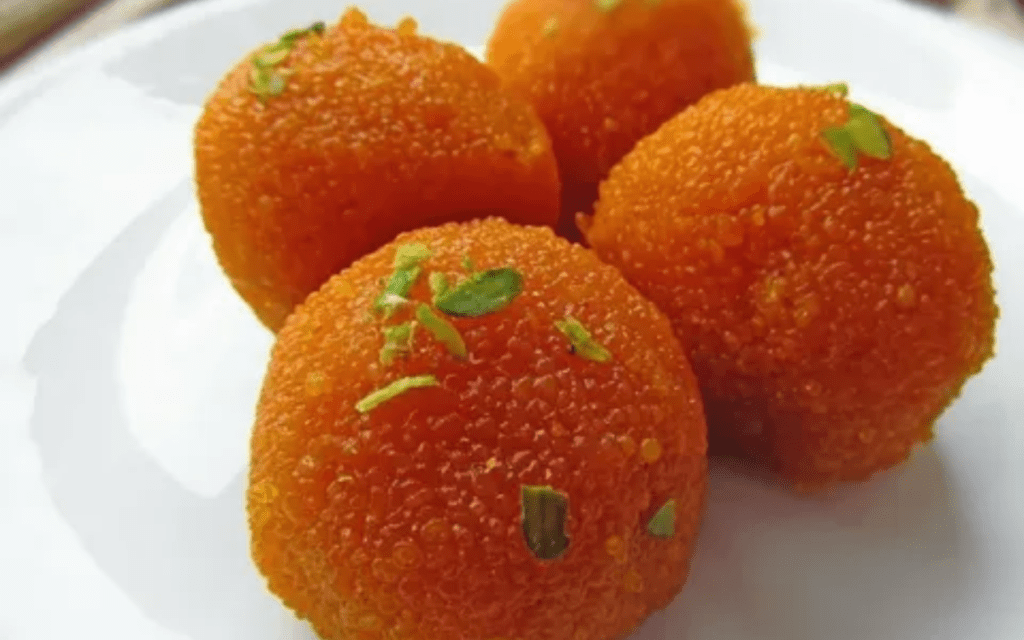 Ingredients to make motichoor laddoo
120gm fine besan or gram flour
Saffron Yellow Color For Orangish Color: A Pinch
Motichur Jhara -1no., you can also use a grater
Ghee 350gm, you can also use oil
Sugar-180gum
Liquid glucose around 1 tablespoon
Melon seeds 2tablespoon
How to make Motichoor Laddoo
To make Motichoor Laddoo, first put 120gm fine gram flour in a big vessel.
After adding gram flour, add about a pinch of yellow color to it. You can skip this step, but it will bring an orangish color to the laddoos.
After this, add little water and mix it well, so that all its crumbs are removed. Mix it for 4-5 minutes and prepare a fluid mixture.
After this, put ghee or oil in a pan. And let it heat on high flame.
Now take a jhara and put the gram flour batter in it and stir the jhara in such a way that the boondi falls directly into the pan. Be careful not to spill oil on you. If you don't have Motichoor Jhara, you can use a grater.
After adding boondi deep fry them. It will not take much time to make boondi. As soon as the little foam disappears in the frying pan, take out the boondi in another container.
Put 180gm sugar in a pan and add 140gm water. And heat it on medium flame. Add 2-3 pinch saffron yellow color to it.
Similarly, add 1 tbsp liquid glucose. liquid glucose stops crystallization in the laddu.
Dissolve sugar on madam flame. And now add boondi to it. After adding boondi, cook it till the syrup disappears. After the boondi is cooked, take it out on a plate and add melon seeds to it. And leave it to cool down at room temperature for 45 minutes.
Now make round laddus with boondi. Your special laddus are ready, enjoy these laddus while celebrating the festivals.
Conclusion
A soft, delicious motichoor laddoo that melts in your mouth. A famous dessert from North Indian cuisine, motichoor laddoo is commonly prepared for festivals or other special occasions. Sweets are destined to be made for any celebration, or festival among Indians. Mostly Motichoor laddoos are made all over India during festivals and celebrations. Motichoor laddus give life to any festival or celebration. It is also offered to God on the basis of Prasad. And the arrival of Ganesh Chaturthi is near. So you should definitely make motichoor laddo for Ganpati Bappa as an offering prasad.
Also Read:
Best and Easy Recipes of Modak