Everyone has heard about modak during the occasion of Ganesh Chaturthi. It is considered the favorite sweet of Lord Ganesha. Lord Ganesha enjoys sweet foods, the celebration becomes better because of sweets and any Indian festival is incomplete without sweets.
Ganesh Chaturthi is a 10-day celebration and the festive energy is in the air. Lord Ganesha was also known as "Modapriya" because of his affection for modaks, which were thought to be his favorite dish. To obtain Bappa's blessings, devotees prepare a number of delicious treats during these ten days. There are, however, a few additional sweet meals that were thought to be Bappa's favorites. Lord Ganesha is considered the lord of all beginnings. So with this beginning reads the recipe of Lord Ganesha Prasad.
How to Make Modak
Because Ganpati Bappa has come to our house, then Modak is made to be made, Modaks are made of many types like milk modak, ukdiche modak or we can say steam modak and coconut modak.
Milk Modak Recipe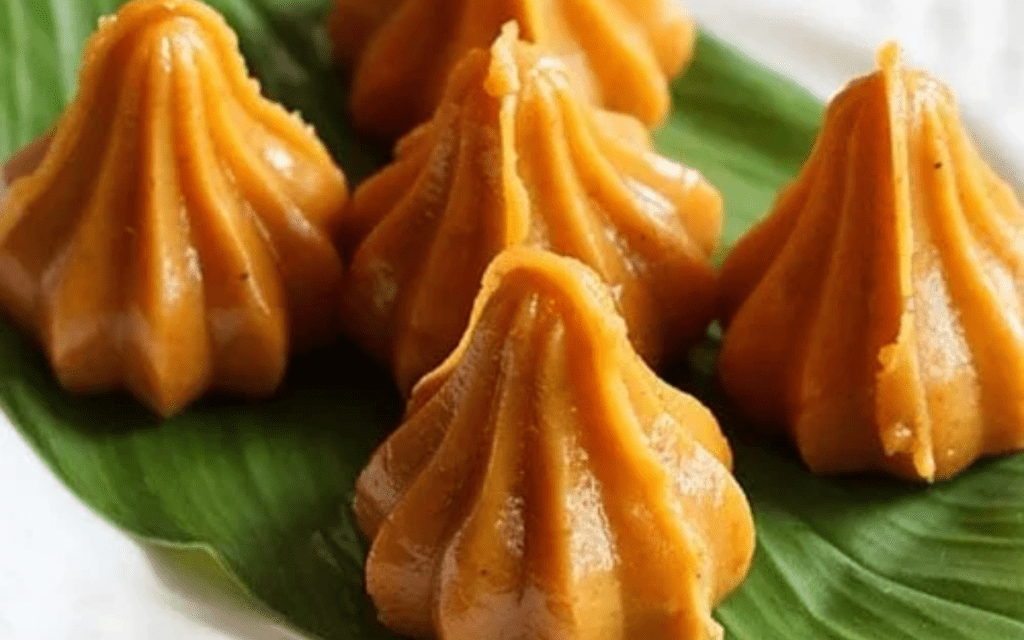 Ingredients
Half liter milk
Saffron 1/2 tbsp
Sugar 400gm Sugar
How to make
To make Doodh Modak, first pour one and a half liters of milk into a large pot or frying pan and bring it to a boil.
After that, the milk boils, take out 4 tablespoons of milk in a bowl and put saffron in it.
Keep stirring the milk in between so that it does not stick to the frying pan.
You have to cook the milk till its quantity reduces and it becomes mawa. Keep in mind that the milk should not burn. After that added sugar and saffron milk to it which we made.
Because you have put sugar in it, cook it for some more time. After it is cooked well, transfer it to a vessel. Keep it for 5-10 minutes to cool down.
Now take the modak mould and grease it with ghee so that the modak does not stick and fill your mixture in it. Put the mixture into the mould and also add small pieces of dry fruits to it.
After filling it, press the mold. Now open it comfortably and take out your modak from it. You can also make modak without mould. Just give it a modak shape with the help of your hands. With the help of a fork, you can also add a design like a mold to it.
Therefore, for garnish, you can add silver bars and dry fruits to it.
Your Modak is ready, enjoy the festival with the blessings of Ganpati Bappa.
Steam or Ukadiche Modak Recipe
Ingredients
1 tablespoon poppy seeds or khaskhas
2 tbsp Ghee
1 tablespoon dry fruits
Grated Fresh Coconut – 1 cup 300gms
After that,150 gms crushed jaggery
1/4 tablespoon cardamom powder
2 pinch nutmeg powder
1/4 tablespoon salt
400gms Rice Flour
How to make
To make Steam Modak, first, put 2 tablespoons of ghee in a large pot or frying pan and heat it on medium flame.
After that the ghee is slightly heated, add poppy seeds ie khaskhas, and roast them a little. Similarly, add chopped dry fruits and roast them.
After roasting, add freshly grated coconut to it. And roast it till the moisture of the coconut goes away.
Add crushed jaggery to it and mix the jaggery and coconut well on the flame. Cook it till the jaggery melts well and becomes juicy.
After the jaggery melts, cook for 3-4 minutes so that the remaining moisture does not remain. Remember not to overcook.
Now switch off the gas flame. Add cardamom powder and nutmeg powder to it and mix it well.
Transfer the stuffing to another bowl.
Now put 2 big cups of water in a large pan and add 1 tsp ghee and 1/4 tsp salt and let it come to a boil on medium flame.
In addition, After the water comes to a boil, turn on the gas flame and add rice flour to it.
After adding the rice flour, mix it well on the flame itself. It will absorb all the water very soon.
After mixing, turn off the flame of the gas and leave it to cook in the steam with the lid on for 5 minutes.
After 5 minutes transfer the flour to another bowl. Add a tablespoon of ghee to the dough and with the help of your hands, smooth the dough for a smooth 3-4 minutes. Cover the dough with the help of a clean cloth.
Now pinch a lemon-sized ball out of the dough and feel it in the mould and spread the dough on the walls of the mould.
After that, Add 1 tablespoon of filling and seal the bottom with some dough. Remove the excessive dough.
To make modak without the mould. take a lemon size ball and smoothen it like a puri. make plates around the corners of the stuffing. Put stuffing in the filling and gather all the plates at the center. seal the edges of the dough.
Grease a steamer plate or chhalni with ghee.
Heat the water in a steamer or in a pan. Arrange modaks on the steamer plate. Put the modaks on the steamer over medium heat.
Cover with a lid, and steam for 15 minutes. After 15 minutes, remove the lid and transfer the modaks onto a serving plate.
Garnish the modaks with nuts or saffron. So your very tasty and favorite steam modak of Ganpati Bappa is ready.
Coconut Modak Recipe
Ingredients
300gms of rice flour.
400gms Milk.
200gms Desiccated or moisture free Coconut Powder
1/2 tablespoon Cardamom Powder.
After that, 200gms of Sugar.
2 tablespoon Ghee
1tablespoon Cashewnuts
1tablespoon Almond
1tablespoon Pistachio
2tablespoon jaggery
How to make
Take a Pan and Dry roast on low flame for 3 minutes. After 3 minutes turn off the flame and keep aside.
Take a grinding Jar and add room temperature boiled milk into the jar.
Similarly, Add Desiccated Coconut Powder and 1/2 tablespoon of Cardamom powder into the jar. Blend all the ingredients well.
Now take a Big Pan, heat it on medium flame, and add coconut milk which we have blended into the pan. Mix it well and boil it once.
Add sugar to the boiled milk. Mix it well with the milk and add 2 tablespoons of ghee into the boiled milk.
Low the flame and add prepared flour into the batches.
However, If you add flour in small quantities it will not turn into crumbs. Cook until the mixture leaves the pan.
Turn off the flame and transfer it to a bowl. Cover and keep it aside.
To make a stuffing take a Grinder and add Cashewnuts, pistachios, almonds,2 tablespoons of coconut powder, a pinch of cardamom powder, and two tablespoons of jaggery. in other words, Grind and make a powder.
After that, make a small bowl of your fillings. Take a mould and grease it with the ghee. Fill the dough in the mould walls and make a gap to fill the balls. Place a filling ball in between. After that, demould it carefully.
Garnish using a saffron or rose petal. Your tasty Coconut modak is ready to eat.
Conclusion
Above all, we have mentioned the modak recipes, every year people welcome Ganpati Bappa in their homes on the occasion of Ganesh Chaturthi. Ganpati Bappa resides in the mind of all of us. People take Bappa in their homes with a lot of pumps, celebration and serve Bappa with sweets. May Bappa's blessings always be with all of us.
Also Read: