Indian sweet Gujiya is a popular Indian dessert made from refined wheat flour. It also eats during special occasions like festivals like Holi, Hartalika Teej, or weddings. The Gujiya is usually served cold or at room temperature. It can also serve in hot form. Also, Gujiyas are round in shape and are usually light brown in color. Here is the quick Gujiya recipe.
Gujiya plays important role in many festive occasions like Holi, Diwali, etc. It is one of the most demanding sweets. So, if you are planning to have some special for your loved ones this is the best choice.
Ingredients for Gujiya
3-4 cups of refined wheat flour
Ghee
Oil
Water
½ cup of milk
Dry Nariyal powder
Mava
Dry fruits
2 Cup Suji
Cardamom (Elaichi) powder
Gujiya mold
Some alternatives are also used in ingredients
Refined Wheat flour:- half wheat flour & half refined wheat flour (Meda)
Ghee:- Oil
Milk: Only water can be used
Quick Steps to Make Gujiya
Gujiya making can be a long process also, but there is a simple way to make this loving sweet. By just having above mention ingredients you can make it and add some more happiness to your family and friends.
Step 1: Preparation of Dough
Take two cups of refined wheat flour (Meda): This is the base of Gujiya.
Add 2 tbsp of Ghee: Ghee gives real crispiness to the Gujiya.
Mix them well: 1 Tbsp of ghee is for 1 cup of refined wheat flour. This is the perfect combination.
Add ¼ cup of milk to it: Mix the ¼ cup of milk in it. To give it more crispiness.
Make a dough using warm water: Then make the proper dough using warm water. Make sure the water should not boil. The dough should be tight this helps in the good covering.
Leave the dough at rest for a minimum of 10 minutes. It is the first step of Gujiya recipe.
Keep it at Rest for 15 Minutes
Step 2: Preparation of stuffing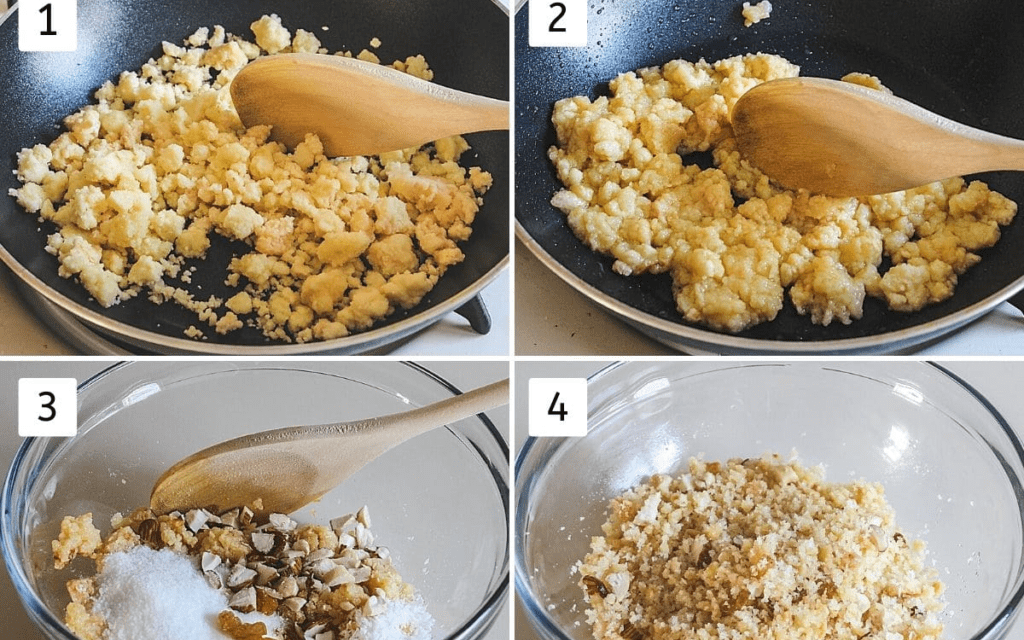 Dry roast ½ cup of Nariyal Burada in a frying pan and take it in a bowl
Take some ghee and warm it
Then add ¼ Granulated wheat (Suji) to Pan
Mix it till the Suji get light brown, Then take it to another bowl
Now add some more ghee to the pan and warm it
Add finely chopped dry nuts in warm ghee
Roast it in ghee for a few minutes, Now add Mava to the mixture
Now add ½ tbsp of cardamom (Elaichi) powder
Roast it for a few minutes before changing the color of the Mava
Take it in a different bowl
Leave it for sometimes to get cold
Now mix the roasted nariyal Burada and Suji in this mixture
Add grind sugar according to your taste. Add a small amount then taste it and add more if required. It is the second step of Gujiya recipe.
Step 3: Making Gujiya from Dough
Now take the dough and knead the dough again, Then make small balls of dough
Now take all the ingredients stuffing mixture which prepare above, Ghee, Some refined wheat flour, some water in the bowl, and Gujiya Mold
Now take the dough ball and roll it in poori shape by adding some refined wheat flour(Meda)
Roll it till it gets thin because this gives you the outer covering. And it wil be tasty if it is thin.
Add the filling by putting the Covering on the Gujiya mold
If want to add god amount of stuffing so can add some more stuffing
Now wet your finger with water and put it in the corner
Now close the Gujiya mold and press it tightly
Remove the extra dough and clean it
Press it gently so that it will not open when you fry it
If you don't have the mold so just add the stuffing on one side of the dough and now fold it
Then press it by using folk
Repeat the step and prepare more. this is the third step of Gujiya recipe.
Step 4: Fry Gujiya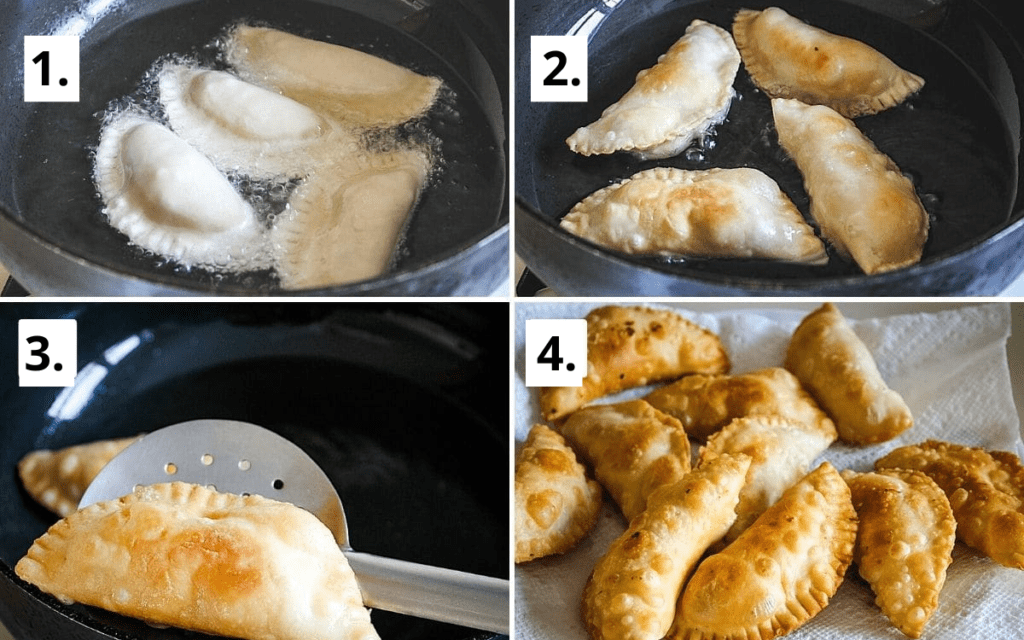 Take some oil into a pan, leave it to get warm and ready to fry
Once the oil gets ready to fry
Slowly leave two or three Gujiya in the pan, turn it gently so that it gets fried completely
Do this till the color of Gujiya comes to be slightly brown, Now take it to a plate
With the help of tissue paper, you can remove the extra oil
So your delicious Gujiya is ready to eat. This is the last step of Gujiya recipe.
Things to be careful with
Use slightly warm milk to prepare the dough
Roast the suji till it gets converted to light brown only
Add a few amounts of sugar first then taste, after that we ane add more if it is required
Be careful while frying the gujiya
Also read: Coconut Ladoo: Recipe & Tips
Serve Gujiya to Guest
After the Preparation of Gujiya Serving is the most important factor. This is the first look of your sweet if it doesn't look good how does one want to have it? For serving Gujiya to your guest place it in proper order and also can add some colorful dry fruits for garnishing.