India is famous for its rich variety and fascinating cultures, not only due to the wealth of customs and traditions that can be found throughout the nation, but also because it is a nation that is always in the mood to celebrate. Some of these celebrations and traditions have survived for a long time and are still followed today. Hartalika Teej is one such widely celebrated holiday, especially in India's northern states. The festival of Teej, which is most usually observed in the northern regions of India, is actually a mash-up of three distinct occasions.
Hartalika Teej is celebrated on the third day of Shukla Paksha falling in Bhadrapada. In some places, this Teej is also known as Budhi Teej. This fast is considered one of the most difficult fasts of Hinduism. On this day the wife keeps a strict fast for 24 hours without taking food or water for the long life of her husband.
Hariyali Teej is more commonly observed by women in Rajasthan, Uttar Pradesh, Madhya Pradesh, Bihar, and Jharkhand than in any other part of North India.
When is the Hartalika Teej 2022?
This year, Hartalika Teej will be observed on August 30. The worshipping on this particular tithi will last from 6.30 am until 8.33 am the next day. The auspicious time period for the Pradosh Kaal will run from 6:33 pm to 8:51 pm.
Story of Hartalika teej
In Shiva Purana, Lord Shiva tells GodessParvati, that Gori has done severe by staying on the banks of her Ganges. She has fasted by eating only my air and dry leaves. This fast was done by Goddess Parvati to get Shiva as her husband. Today in India, this fast is known as Hartalika Teej.
According to Srilingamahapuran, Goddess Parvati had given up all the pleasures of food, water and sleep to get Lord Shiva. After observing this fast, Lord Shiva and Goddess Parvati were reunited. Goddess Parvati had taken 108 births to attain Lord Shiva and in the 108th birth she observed this fast and being pleased with her difficult fast, Lord Shiva accepted her as his Ardhangini.
It is believed that by observing this fast, Goddess Parvati is pleased and grants boons, where a virtuous woman observes this fast for the long life of her husband and virgin girls also observe this fast to get a suitable groom. It is believed that by observing this fast, women lead a happy life like Goddess Parvati.
Why it is called Hartalika teej?
Hartalika is made up of two words, Harit and Table. Harit means to take away and table means friend. When Goddess Parvati's father decided to marry Lord Vishnu, she was abducted by Goddess Parvati's friend Vijayadevi who took her to the forest. At the same time, Goddess Parvati had rested this difficult fast. Haritalika Teej got its name only after the abduction of Vijayadevi. The festival of Hariyali Teej honors the union of Lord Shiva and Goddess Parvati and is celebrated with a great deal of passion and luxury. Hariyali Teej, also known as Shravani Teej, Choti Teej, and Madhu Sharma Teej, is considered to be an important occasion for married ladies.
How to Celebrate Hartalika Teej?
Beginning the morning of the holiday, women celebrate a day of fasting and offer prayers for the life of their husbands and loved ones. All night long, women gather to fast and pray. They take a bath in the morning to clean themselves before dressing in their most beautiful sarees and jewelry to worship Goddess Parvati. On Hariyali Teej, single ladies are also known to fast in an effort to meet good husbands.
Newlywed ladies are required to visit their parents on this auspicious day and to dress fresh, especially in green sarees. In addition, they have henna applied to their hands while they perform special songs for the Teej festival that honor the union of Lord Shiva and Goddess Parvati. The women The Teej festival is a really inspirational event for married ladies or also unmarried ones.
Worship material for Haritalika Teej:-
1. Wet black soil
2. Vine leaves
3. Leaves of Saturn
4. Banana leaves
5. Dhatura fruit
6. A fresh unused piece of white cloth for Lord Shiva
7. Chandan
Hartalika Pooja
For puja, women gather at a nearby temple or garden. They stand in a semicircle, with a statue of Parvati in the center. The holy Teej Katha is read by all the women as the Hartalika Puja begins with the presentation of flowers, sweets, and fruits as offerings to the gods.
Women present various holy objects to Goddess Parvati after the Hartalika Puja and ask for her blessings. Women must also light a mud diya that must be kept burning all night. Food is provided to young ladies and brahmins alike at the Teej Vrat.
The Teej festival promotes love community much as all other festivals do. Women throughout India understand and observe the significance of Teej, making it one of the most anticipated holidays.
Foods that can be prepared for Hartalika Teej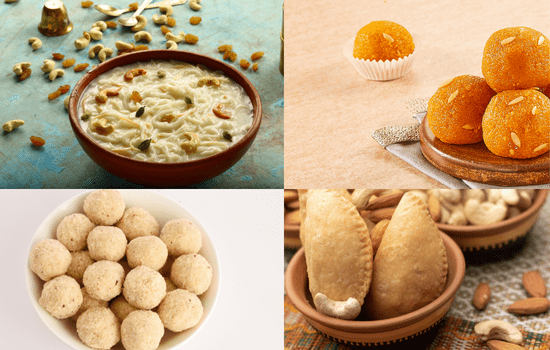 An important part of this festivity is food. Different kinds of sweets are cooked on this day and offered to the deity as a bhog. They are then divided and enjoyed with friends and family. Here are a few dishes that are made to honor the Hartalika Teej festival.
Kheer
Kheer is one of the most respected sweet treats made on every holiday.
To prepare the kheer first you have to boil full-fat milk while stirring to create a delectable, creamy Kheer.
Rice, cream, and sugar are added after the milk has been cut in half. simmer and prepare. Add nuts and dry fruits as a final garnish.
Gujiya
To make Gujiya first, prepare a dough by kneading it and setting it aside to make this classic treat.
Making delightful stuffing using coconut, jaggery, dry fruit, and nuts is the next step.
After that, Make miniature puris with small dough balls, and stuffing, and seal the corners.
Make a sugar syrup in the interim and set it away.
The Gujiyas should then be deep-fried before being covered with sugar syrup and served.
Coconut Ladoo
Simply take a pan and add ghee to make a fast Coconut Laddoo.
The dried fruits and nuts should be tossed before being placed on a platter.
Grated coconut is then added to the pan and cooked until it turns golden.
Then take a tray and put the dry fruits, fennel seeds, sesame seeds, coconut, and jaggery on it. After that, Serve the Ladoos rolled.
Conclusion
Hartalika Teej is a festival of faith. Therefore, we should celebrate it with faith. This festival is celebrated in different ways everywhere. The fast of this festival is like the Karva Chauth fast in India because women have to keep a hard fast and they also fulfill it for their happy life.