Janmashtami is the biggest festival of the Hindus. It has great importance as it is connected with the birth of lord Krishna. It has many religious and cultural values. This festival has great importance in most of the states in India. But specially it is celebrated at Mathura, Vrindavan, and Gokul, as these are the birthplaces of Lord Krishna.
Background of Krishna Janmashtami
The festival of Janmashtmi is celebrated on the eighth day of Krishna Paksha in Bhadon. This festival is celebrated in memory of the birth of Lord Krishna.
Lord Krishna was born on this day, at that time the whole people were sad and afraid due to the cruelty of King Kans. King Kans had imprisoned Devaki and Vasudeva because he had heard through an oracle, that the eighth child born from Devaki's womb would kill him. Kans killed the seven children of Krishna's parents Devaki and Vasudeva as soon as they were born.
Lord Krishna took birth at such a time to unload the earth's burden, and to provide happiness and peace to the people. Krishna was born on a dark night. The sky was overcast and it was raining heavily. All the guards in the prison were asleep. The prison door was open. Vasudeva crossed the Yamuna by holding lord Krishna in a basket which he kept on his head itself and took him to his friend Nanda in Gokul.
Shri Krishna grew up in Nanda's place and then he freed his parents from prison by killing Kans. Growing up, he went to Dwarka. He became the king, removed the poverty of his friend Sudama and destroyed the evil Shishupala. He killed the oppressive Jarasandha.
Also became Arjuna's charioteer in the war of Mahabharata and inspired him to duty by giving him the knowledge of the Gita. In fact, the knowledge of the Gita is divine knowledge.
Fasting at Janmashtami
People keep fast on Krishna-Janmashtami. At night they go to the temple of God and do worship and kirtan-bhajan. On the half-night when Shri Krishna was born, joy is expressed by playing the conch, Ghatiyaal, etc., Aarti is performed and Prasad is distributed. The Devotees open the fast after consuming the Prasad and then go to their respective homes to have food. There are different types of prasad that are famous and people enjoyed it a lot during this festival.
1. Panchamrit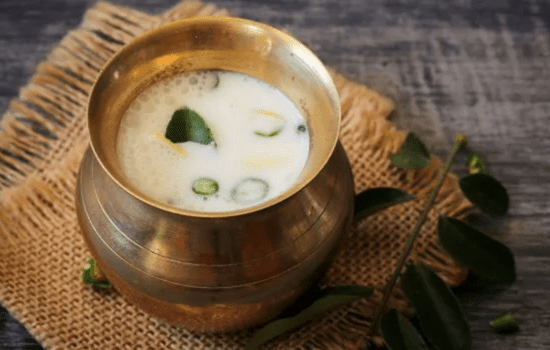 Every pooja is incomplete without Panchamrit. It is a must in Janmashtami as in temples lord Krishna's small sculpture which is known as Laddoo Gopal has to be put in that Panchamrit for the bath.
Panchamrit is made up of five main ingredients that include milk, curd, sugar, ghee, and honey. Each ingredient has its symbolic meaning. Milkis for purity, the curd is for wealth, sugar is for happiness, ghee is for victory and, honey is for sweetness.
Ingredients:
Instructions:
Take a bowl.
Put all ingredients together.
Mix it well
Note: you can choose the quantity of the ingredients according to your needs.
2. Makhan Mishri
Lord Krishna is known as Makhan Chor and he is very fond of Makhan and mishri. If you are celebrating your birthday, your parents will surely make your favorite dish. Similarly, Krishna's favorite is Makhan-Mishri, Its addition is a must.
Ingredients:
Half cup ghee
4 tablespoon Mishri
Ice cubes
Mint leaves
Instructions:
Add some ice cubes to the bowl.
Then add half a cup of ghee to the bowl
Whisk the ice and ghee for a few minutes.
A smooth mixture will form, that is the Makhan.
After the Makhan is formed, take out the ice from the bowl.
Add mishri in it.
Mix both Makhan and mishri and it's ready.
You can also add mint leaves at the end.
3. Dhaniya Panjiri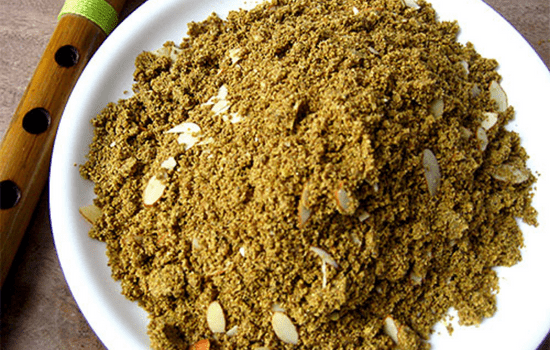 Dhaniya panjiri is the main prasad on janmashtami.itis very nutritious as it contains a lot of ghee and nuts. It is very good for your health. Mostly in all the temples, it is distributed at the end of the programs. It is also good for your immune system. It is also gluten-free.
Ingredients:
1 cup coriander(dhania) powder
3 tablespoon desi ghee
Makhana
1/2 cup Sugar(powdered)
1/2 cup grated coconut
Cashew nut, almonds
1 tablespoon chironji
Instructions:
Take a pan, and put 1 tbsp Ghee in it.
Put finely chopped coriander and fry till a nice odor is emitted. You can also add powdered coriander to make Panjiri as it is easy to make.
Cut Makhana into 4 halves then fry the pieces in the ghee and take out. Crush Makhana with a rolling pin.
Chop cashew nuts and almonds into small pieces.
Mix fried coriander powder, fried Makhana, grated coconut, powdered sugar, and dry fruits together to make Panjiri.
Your panjiri is ready.
4. Makhana kheer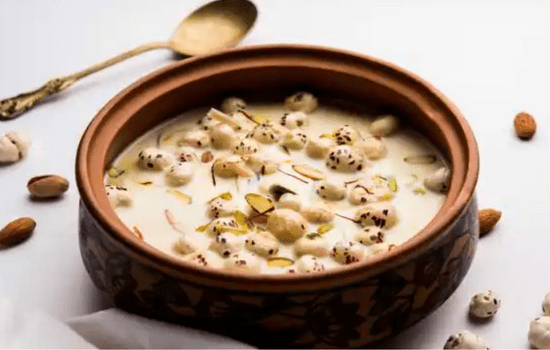 As Krishna loves to drink milk and milk-related products. The makhana kheer is very tasty and healthy. It is made with nuts which makes it even more nutritious. Everybody like sweets and sweets like kheer is favorite among not only children but of all ages.
Ingredients:
1 cup Makhana
5 cups milk
2 tablespoons ghee
1 cup sugar
Few saffron strands
Instructions:
Take a pan, put 5 cups milk, and heat it.
Then in another pan, put 1 cup makhana and set on a medium flame.
Roast it till it becomes crisp.
Remove from the flame and cool it down. Grind it.
Put 1 cup sugar in the hot milk and stir it continuously till it dissolves in the milk.
Reduce the flame to medium and add makhana's mixture and mix well.
Cook it for 19 minutes till the milk reduces to half.
Then add the saffron, mix it and cook for another minute.
Turn off the flame and cool it down.
Then put it in the refrigerator, and your makhana kheer is ready.
5. Gopalkala
It is a Maharashtrian prasad recipe that is popular among people during Janmashtami. It is the same food that is filled inside the Dahi handi. The tradition of Dahi handi is an inseparable part as Janmashtami is incomplete without Dahi handi.
Ingredients:
1 cup poha
1 cup curd
Half cup puffed rice
3 tablespoon grated coconut
Half cup milk
Fresh coriander
1 cup cucumber
3 tablespoon chana dal
3 tablespoon sugar
Butter
1tablespoon cumin seeds
2 green chili
Grated ginger
Pomegranate seeds
Instructions:
Firstly, wash the poha, 3-4 times and keep it aside.
Microwave the puffed rice for 30 seconds or roast it for one minute.
Take a bowl, add 1 cup curd and half cup milk and whisk it till it becomes smooth.
Add cucumbers, grated ginger, green chili, roasted cumin seeds, and butter.
Mix it and make it creamy.
Then add soaked chana dal, 3 tablespoons coconut, and fresh coriander leaves.
At last, add the washed poha.it's ready.
Also read: How to wish your teacher on Guru Purnima
Celebration of Krishna Janmashtami
The beauty of the temples is very unique on this day. Many tableaux related to the life of Krishna are decorated in the temples. Rasleela is also organized on this occasion from place to place. People from all corners of the country come to see these raas-Lilas of Mathura and Vrindavan. This scene is very beautiful. The beauty of the temples is especially visible in Mathura-Vrindavan. Janmashtami is celebrated in different ways in different locations in India which are as follows:
1. Mathura
In Mathura, at Krishna's Janmabhoomi, the main Janmashtami ceremony occurs. Being the land where Krishna was born, the excitement here is totally worth seeing. A beautiful atmosphere is created, especially in this region of the country, with temples decorated with flowers, streets busy with devotees, the fragrance of roses filling the air, and special dishes being made around every corner.
Various colorful performances are performed to describe Krishna's life, from his butter-stolen incident to the Ras Leela with the Gopis. During Janmashtami, His Balgopal roop is worshipped in every home and even at the temples of Mathura. Many other regions of India also follow the custom of cradling the infant Krishna.
2. Vrindavan
In addition to Mathura, the Uttar Pradesh town of Vrindavan also celebrates Janmashtami with immense devotion because of its close ties to Krishna's life. Vrindavan, which is only 11 miles from Mathura, was where Krishna spent his early life stealing butter and enacting the Raas Leela with his Gopis. Various traditions are carried out in temples on this holy day.
Raas Leela and plays based on Krishna's life are also performed here, and this is a particular highlight. Prem mandir in Vrindavan is very famous for celebrating Janmashtami. The unique design and structure of Prem mandir add beauty to this beautiful festival.
The entire town of Vrindavan comes together for ten days during the celebration of Janmashtami by singing the song, music of bells, mridang, and bhajans. Many devotees visit this historic village, especially during Janmashtami, as a result of Krishna's divine spreading around the world.
3. New Delhi
The "International Society for Krishna Consciousness," or Iskon, is a famous temple dedicated to Lord Krishna and Goddess Radha. The temple is located in New Delhi's Hare Krishna Hills, to the east of Kailash, and it was founded in 1998. Every day is a festival for ISKCON because of the massive aarti that takes place there.
The biggest event of the year for this temple is Janmashtami, though. On this large festival, the temple attracts more than 8 lakh devotees. Here, celebrations begin early in the morning and last until the following morning. The peace you will get at this place is so soothing that once you enter there you just don't want to go home. It's just the divine and the positive energy of the people there that attracts so many devotees to this temple.
4. Dwarka
The celebrations of Janmashtami in Gujarat, the location of Lord Krishna's royal kingdom, are worth seeing because this is where he spent almost five thousand years of his life. Legend has it that once he went up to heaven, the entire city of Dwarka disappeared below the Arabian Sea.
During Janmashtami, bells clang and conch shells clap, bringing life to the modern city. Many devotees travel to Dwarka each year to truly appreciate their devotion to Lord Krishna.
5. Maharashtra
Maharashtra's Janmashtami is more about having fun and celebrating. Huge pandals are set up to hold Dahi Handi competitions as part of this special celebration. People assemble to form immense pyramids to break an earthen pot that is hung at an extreme height and contains curd and white butter or gopalkala.
People throw water toward the group trying to break the pot to raise the stakes in Dahi Handi. Every year, a sizable crowd gathers to see this show, which is based on Krishna's behavior of stealing butter with his friends.
This event is mainly planned and funded by businesses and regional political organizations, and the winning team receives a good cash award. Mumbai, where the Janmashtami celebration is totally interesting, is one of the most well-liked locations to witness the exciting Dahi Handi.
6. Jaipur
The Janmashtami celebrations at the Krishna Balaram and Govind Devji temples in Jaipur are well-known. While the Krishna Balaram temple in Jaipur is identical to the Krishna Balaram temple in Vrindavan, the main image of Krishna was brought from Vrindavan to the famous Govind Devji Temple inside the City Palace by Raja Sawai Jai Singh II.
There is an assumption that Bajranabh, Krishna's great-grandson, made the image. As decorations are a need for Janmashtami, both of these temples in Jaipur are wonderfully decorated. The temples are constantly packed with worshippers, especially during the festival, and you can witness lengthy lines of people waiting to pray and ask for blessings.
Summary
Janmashtami comes and goes every year. Every year these programs take place, but it is a pity that people do not try to learn from the life of Krishna. The purpose of celebrating the birthdays of great men is to inherit their qualities. If we adopt every single quality of Shri Krishna every year, then how much our life can improve? It is our duty to take inspiration from the qualities of Shri Krishna on the holy day of Janmashtami and make our life meaningful.
Also Read: Onam Festival: When, How, and Why to Celebrate