When compiling a list of pilgrimages in India, Murudeshwar should be at the top of your list. It is a small town in the Uttara Kannada district of Karnataka's Bhatkul taluk. Surprisingly, few people know that Murudeshwar is home to the world's second-largest Shiva statue. Long beach walks complement the prestigious sites of the Murudeshwar Shiva Mandir and the twenty-story Raj Gopura.
Transportation Medium to Murudeshwar Temple
The temple is one of India's most popular tourist destinations. This place is especially crowded during Maha Shivaratri, when thousands of people from all over the world gather here to celebrate to the fullest.
You can reach murudeshwar by so many transportation medium. Some options are mentioned below.
Murudeshwar Temple by Air
Mangalore Airport is the closest airport to this temple, which is 160 kilometers away. The temple is easily accessible from here because it is located near the Mangalore-Mumbai highway. Taxi and buses are easily available from Mangalore to reach Murudeshwar Temple.
Murudeshwar Temple by road.
If you travel by road, there are direct buses to the Murudeshwara Temple from all major cities in Karnataka, including Karwar, Gokarna, Bangalore, Mangalore, and Dharmasthala. However, All of these cities are within 200 kilometres of the temple.
Murudeshwar Temple is between the mumbai-Mangalore highway on NH-66. This Temple is 155 kilometers far from Mangaluru.
Murudeshwar By Train
Murudeshwar has its own railway station, which well connects to many major cities in South India. The station is just 2 kilometers away from the temple, which can easily cover by walking.
Timings of Temple
The temple is open daily at 3 a.m. and closes at 1 p.m. It then reopens two hours later at 3 PM and closes at 8 PM when the sun sets.
Rudraabhisheka opens from 6:00 a.m. to 12:00 p.m. and 3:00 p.m. to 7:00 p.m.
There are no entrance fees to the Murudeshwar Temple.
Best Time to Visit Temple
The best time to visit Murudeshwar temple is from October to May. MahaShivaratri is a significant festival in this region, and it celebrates with enthusiasm. It usually happens in February or March. Many pilgrims visit this site, which considers holy on some levels. Although, Heavy rain falls from June to September and should avoid. The weather in this sacred town is similar to that of most tropical Indian countries, and the best time to visit is during the winter season due to the moderately cold temperatures. However, if you dislike crowds, you should avoid going in December. Also, keep in mind that December is peak season, which results in price increases at nearby hotels.
Also Read: Best Pilgrim Places in the world
Murudeshwar Attractions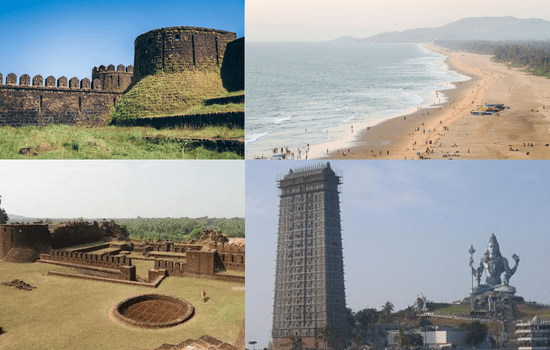 There are a lot of things to do and places to visit in Murudeshwar. Here are the top places to visit in Murudeshwar mentioned below, which attract tourists.
Mirjan Fort
This fort has a total area of 4.1 hectares. It prepares between 1609 and 1640 AD by Rani Chennabharadevi, also known as the Pepper Queen. Until the British arrived in the 17th century, many battles were fought here. They were able to capture this fort and use it as an armory. Currently one of the Archaeological Survey of India's protected monuments due to its historical significance.
Murudeshwar Beach
Murudeshwar is a beach town on the Arabian Sea. On one hand, there are mountains and hills, and on the other is a vast expanse of crystal blue Arabian Sea water. It's a great place to visit after Murudeshwar Mandir. You can walk along the peaceful and scenic beach, take photos, or simply relax. There are also some good shacks, food stalls, and dhabas where you can sample the local cuisine.
Murudeshwar Fort
A Massive fort in Murudeshwar get ready during the Vijaynagara period. This was a glorious period in Indian history because the Vijaynagara Empire once ruled over all of southern India. Despite the fact that the empire gradually crumbled, the fort was maintained. Tipu Sultan, the ruler of Mysore, renovated this fort. It is easily accessible from the Murudeshwar Temple complex and is easily accessible by road.
Netrani Island
Netrani Island in Murudeshwar, also known as the 'Pigeon Island,' is located off the coast of Karnataka. Views from above give the impression that this island has a heart-shaped structure. This heart-shaped island, rising above the calm and azure waters of the Arabian Sea, it is one of the best scuba diving locations. This island is a popular pilgrimage destination, with silvery sand and the Western Ghats as a backdrop.
Jamia Masjid
One of the area's oldest mosques, this one in Bhatkal, is a sprawling three-story structure with a basement. There are some Persian inscriptions here, as well as a strong scent of ancient history and spirituality.
Nearby Attractions of Murudeshwar
Also Read: Top Travel Destinations in the world
Jog Falls
Jog Falls is a major attraction in Karnataka. It is located in the Shimoga district. It is one of India's highest waterfalls and is also famous as Gerusoppe Falls, Gersoppa Falls, and Jogada Gundi. During the monsoon season, the falls provide a breathtaking view, with rainbows appearing every now and then.
It is one of nature's magnificent masterpieces and is located in dense evergreen forests. The effect of these spectacular falls is enhanced by the wild and beautiful region surrounding it, which is densely forested. This waterfall falls directly down without flowing over the rocks.
Jog falls is at a distance of approximately 90 kms from Murudeshwar.
Om Beach Gokarna
Om Beach is a popular tourist destination in the coastal city of Gokarna, which is located in the North Canara district. It is one of the country's most esteemed beaches, is shaped like a 'Om,' a Hindu spiritual symbol. The beach, shaped like two crescents joined together to form an Om, provides a breathtaking view of the sunset. However, The long stretch of white sandy beach adjacent to the rocky terrain draws visitors from all over the world.
Facts about the Murudeshwar Temple
The Shiva Statue is the world's second tallest Shiva statue, after the Kailashnath Mahadev Statue in Nepal.
The statue was constructed in such a way that sunlight falls directly on it, giving it the appearance of sparkling all the time.
At the bottom of the hill, there is a Rameshwara Linga where devotees can perform rituals without the assistance of a priest.
The entire temple and complex, including the 75-meter-high Raj Gopura that offers a breathtaking view of Murudeshwar Shiv Mandir, was constructed in two years.
Conclusion
Murudeshwar is one of those Karnataka attractions that should not be missed. After all, it is home to India's and the world's second tallest Shiva statue. If Murdeshwar is included in your Karnataka sightseeing package, plan to spend at least one full day in the town to take in everything it has to offer.
Also Read: How to reach Kedarnath
Somnath Temple: Significance, how to reach & Nearby attractions