Kedarnath is one of the most sacred Char Dhams for Hindus, along with Badrinath, Gangotri, and Yamunotri. According to Hindu scriptures, the Pandavas of the Mahabharata performed the Char Dham yatra to atone for their sins committed during the epic battle of Kurukshetra. Kedarnath has such religious significance for Hindus in India.
The journey to reach Kedarnath Temple is not difficult, but the trek to the main temple can be exhausting and challenging. However, if you are an adventure seeker, you will adore it. Kedarnath, a pristine town in Uttarakhand, the great Himalayan peaks guard them at an elevation of 3584 meters above sea level. Devotees flock to Kedarnath to pay homage to Lord Shiva, who reverse as both the destroyer and the purifier. Aside from its religious significance, Kedarnath in the Garhwal region has unrivaled natural beauty. The snow-capped mountains and alpine forests create an entirely new world.
When it comes to how to reach Kedarnath, you should know that the last motorable road from Kedarnath is Gaurikund. It is then a trek through the Himalayas. Although, Those traveling by plane must fly to Jolly Grant Airport in Dehradun, where cabs and taxis can be hired from outside the airport. The town is also well connected by bus to Dehradun and Haridwar. Train passengers must disembark at Rishikesh Railway Station and take a bus to Kedarnath.
Reach Kedarnath from Delhi
One of the most popular pilgrim routes is from Delhi to Kedarnath. The road distance between Delhi and Kedarnath is 450 kilometers. Millions of pilgrims come to Kedarnath Dham each year via Delhi, that well-connect to major towns and cities in Uttarakhand.
Kedarnath Dham is a sacred pilgrimage destination dedicated to Lord Shiva and one of the 12 Jyotirlingas. Kedarnath Temple is one of the Char Dhams and Panch Kedar in Uttarakhand and is located at an elevation of 3,584 meters above sea level. The Mandakini River flows alongside the temple, adding to the lovely setting. Snow-capped summits exude charisma, and the spiritual aura of this holy location enchants everyone.
Delhi to Kedarnath Road Map with Kilometers
Delhi to Haridwar (206 km) ->
Haridwar to Rishikesh (24 km) ->
Rishikesh to Devprayag ( 74 km) ->
Devprayag to Srinagar ( 34 km) ->
Srinagar to Rudraprayag ( 33 km) ->
Rudraprayag to Tilwara (about 9 km) ->
Tilwara to Agastamuni ( 10 km) ->
Agastamuni to kund ( 15 km) ->
Kund to Guptkashi (5 km) ->
Guptkashi to Phata (11 km) ->
Phata to Rampur ( 9 km) ->
Rampur to Sonprayag (3 km) ->
Sonprayag to Gaurikund ( 5 km) ->
Gaurikund to Kedarnath (by a trek of 18 km through Jungle Chatti, Bheembali, Linchauli, and Kedarnath Base Camp).
The geographical location of Kedarnath
Kedarnath is a religious town in the Rudraprayag District of Uttarakhand, India, and one of the Char Dhams. Kedarnath is located in the Kedarnath Valley at an elevation of 3584 meters.
Coordinates for Kedarnath: 30.735491, 79.067059
Kedarnath by Air
Kedarnath does not have its own airport, hence the nearest civil airport is Jolly Grant Airport in Dehradun. Jolly Grant Airport is around 250 kilometers from Kedarnath and is connected to major Indian cities such as New Delhi, Mumbai, Kolkata, and Chennai. However, there are several flights to and from these places, providing numerous alternatives in terms of trip scheduling and costs. Almost all major airlines fly to Jolly Grant Airport. When you arrive in Dehradun, you can take a bus or a cab to reach Kedarnath.
Kedarnath by Train
Rishikesh (215 km), Haridwar (241 km), Dehradun (257 km), and Kotdwar (246 km) are the nearest railway stations to Kedarnath. Although Rishikesh is not well served by rapid trains, Kotdwar has a limited number of trains. However, Haridwar railway station, located 25 kilometers from Rishikesh, has better connections to New Delhi, Mumbai, Ahmedabad, Amritsar, and Howrah. Moreover, You can take a bus or hire a taxi from these locations to reach Kedarnath.
Kedarnath by Road
Kedarnath is easily reachable by road from major towns like Chandigarh (387 kilometers), Delhi (458 kilometers), and Rishikesh (189 km). You can take the train to Haridwar, Kotdwar, or Dehradun, or fly to Dehradun to reach Kedarnath if necessary.
Haridwar to Kedarnath
Every morning, buses depart from Haridwar for Gaurikund. Reservations can be made in advance at the GMOA (Garhwal Mandal Owners Association) office in front of the train station. However, If there are no landslides, the travel to Gaurikund takes about a full day. The bus travel is quite lovely because the majority of the 240 kilometers is a ghat road journey with several mountains surrounding you and the Ganges following you the entire way.
Also read: Top 10 Luxurious Trains In India
Gate System on the Way to Kedarnath
There is a fatak (gate) in Sonprayag, just 5 kilometers below Gaurikund, to ensure that buses and autos drop pilgrims there. There are also shared taxis that travel in a sequence from SonPrayag to Gaurikund. It reduces traffic congestion but increases travel time. Although, It is best to park your car at SonPrayag and take a bus to Gaurikund.
Transport in Gaurikund
Kedarnath is only accessible after a difficult 18-kilometer journey over a paved trail (horses or palanquins can be rented) from Gaurikund, which connects to the road from Rishikesh, Haridwar, Dehradun, and other key hill towns in Uttaranchal's Garhwal and Kumaon areas. However, If you reserve directly at the booking desk, the charges for horses, dandies, and ponies are fixed. You can check the most recent government rates for ponies and palki and book directly from there to obtain the best pricing.
Kedarnath Distance Guide In Kilometers:
Delhi to Kedarnath (458 km)
Rishikesh to Kedarnath (223 km)
Chandigarh to Kedarnath (387 km)
Nagpur to Kedarnath (1421 km)
Dehradun To Kedarnath (267km)
Mumbai To Kedarnath (1912km)
Kedarnath Trek
After reaching Sonprayag, you will need to take a shared cab for Rs 20 per person to Gaurikund. However, From Gaurikund, the trek to Kedarnath begins with the directions which are detailed below as your Kedarnath Trek Guide.
Kedarnath Trek Distance
The trip to Kedarnath is an 18-kilometer journey that begins in Gaurikund and ends in Kedarnath. Since the 2013 flood calamity in Uttrakhand, the 14-kilometer trip to Kedarnath has grown to a 16-kilometer trek.
Route Map of the Kedarnath Trek
The Kedarnath trek is an 18-kilometer hike that begins in Gaurikund. Previously, the path taken was from Rambara, and it was a well-developed, well-fenced, and well-facilitated trekking route. However, following the 2013 accident, the government modified the Kedarnath trek route, as the old route to Kedarnath was wiped out completely. The New Kedarnath Trek Route is provided here as your Kedarnath Travel Guide.
From Sonprayag, take a shared taxi to Gaurikund (5 kilometers).
The Rambara Bridge connects Gaurikund with Jungle Chatti (6 kilometers).
Jungle Chatti to Bheembali (4km)
Bheembali to Linchauli (3km)
Linchauli to Kedarnath Base Camp (4km)
From the Kedarnath Base Camp to the Kedarnath Temple ( 1km)
Things to Remember Before Going
Get a check-up before embarking on the Kedarnath hike.
People who have respiratory problems or high blood pressure should avoid trekking to Kedarnath.
Trek between 04:00 AM and 01:30 PM, as this is the only period pilgrims are permitted to visit Kedarnath.
If you are unable to complete the walk by late afternoon, you can take Palki or Ponies to your destination. You can even spend the night in the camps built up in between the treks at Jungle Chatti, Bheem Bali, and Lincholi and resume your adventure the next morning.
Best time to visit Kedarnath
Summer and winter are the finest seasons for Kedarnath Yatra. So the best months to visit are April to June and September to October.
Kedarnath Temple is still open for visitors as long as the weather stays nice for outdoor activities. The weather is pleasant in the summer and tolerable in the winter. It is not advisable to organize a tour during the monsoon season because strong rains produce landslides and floods in some locations.
The temple is only open for six months of the year, and it closes the rest of the time owing to harsh weather and significant snowfall. During the winter, the idol is relocated to the Omkareshwar Temple in Ukhimath, where worshippers can seek blessings.
Places to visit in and around Kedarnath Temple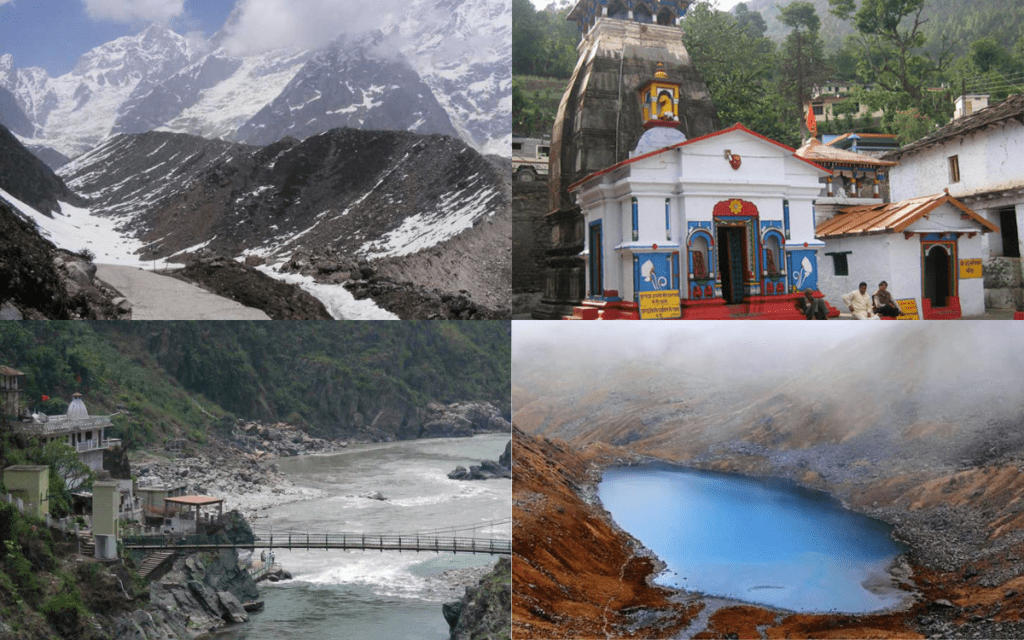 Gandhi Sarovar- Gandhi Sarovar, also known as Chorabari Tal, is located at an elevation of 3,900 meters above sea level on the foothills of Kedarnath and Kirti Stambh Peak. The lake gets its name from its location at the base of the Chorabari Bamak Glacier. It is about a 3-kilometer hike from Kedarnath Temple.
Sonprayag- Sonprayag, located on the banks of two holy rivers, the Mandakini and the Basuki, has religious significance on the path to Kedarnath Dham. Before beginning their journey to the temple, pilgrims take a plunge into the river.
Gaurikund Temple- Gaurikund Temple, located at the beginning of the Kedarnath Yatra and dedicated to Goddess Parvati, also known as Gauri, is a religious halt for pilgrims seeking heavenly favors. It is said to be the location where Goddess Parvati committed austerities in order to win Lord Shiva's heart. In Gaurikund, pilgrims can take a holy dip in hot water springs.
Vasuki Tal- Vasuki Tal is located 5 kilometers from Kedarnath at an elevation of 4,135 meters above sea level. However, This glacier lake is famous for its magnificent beauty. Vasuki Tal walk allows you to appreciate the panoramic views of Chaukhamba Peak.
Shankaracharya Samadhi- This is Adi Shankaracharya's final resting place. It is one of Kedarnath's most revered places. Although, The saint Adi Shankaracharya reached salvation at a relatively young age, and his resting place marks as Samadhi, which is frequented by a large number of admirers.
Read Also:
Everything You Must Know About Amarnath Yatra