The government of Jammu and Kashmir annually hosts one of India's most well-known pilgrimage sites, Amarnath. The shrine, regarded as one of the holiest sanctuaries, plays a significant role in Hindu culture. The main cave is located at a height of 12,756 feet above sea level and is mostly always covered in snow, with the exception of a brief period in the summer.
Pratham Puja claimed to call for Baba Amarnath's blessings and draws a sizable number of devotees from all over the world, celebrated each year to commemorate the beginning of the "Amarnath Yatra".
The Amarnath Yatra Legend and Belief
According to legend, God Shiva told Goddess Parvati the story of Amar Katha in the Amarnath Cave but wished to keep it a secret. He, therefore, left all of his friends behind. Nandi, his riding companion, the bull, was left in Pahalgam, as were the moon atop his head, the snake around his neck, the five necessities of life he carried, Panchtarini, and even his son, Lord Ganesha, at Mahaguna Top.
After he had done it, he discovered that the parrot had been listening all along and that Goddess Parvati had truly slept off. The Lord became enraged by this and flung his Trishul to kill the parrot. The parrot entered the saint's wife's womb in order to preserve himself. The infant subsequently developed into a well-known sage. 1500 worshippers, permitted each day (7500 each on two decided routes)
Limitation of age: 14 to 74 years
According to the Hindu calendar's Shravan month, one of the most anticipated pilgrimages of the year, the Amarnath Yatra, is planned between the months of July and August. Families, friends, and companions travel the spiritual Amarnath yatra route in search of blessings from Lord Shiva, the highest entity, as well as serenity, prosperity, and enlightenment.
There are two paths for the Amarnath Yatra, one of which is longer than the other. The path to the Amarnath Temple can be chosen based on convenience and level of effort.
How to Get to Amarnath
Amarnath is 971 kilometers from Delhi and is reachable by car. There isn't a railroad station at Amarnath, and the closest one is in Jammu, around 580 kilometers away (10.5 hours drive). Amarnath is around 176 kilometers from Jammu.
Here are a few methods for getting to Amarnath from important Indian cities:
By Bus – Get a bus ticket online from Delhi to Amarnath. The buses are divided into three groups: Volvo Bus, A/C, and non-A/C. On this route, both government and private buses travel. A lengthy road trip to Amarnath Cave is required if arriving from other places like Mumbai, Chennai, Hyderabad, Kolkata, or Jaipur. Therefore, it is advisable to use a train or an airplane. Both public and commercial transportation providers offer bus services from Jammu to Pahalgam and Baltal.
By Train – Taking the train to Amarnath is a wise decision. Jammu, which has connections to important Indian cities, is the location of the closest railhead. Trains that travel between Mumbai, Chennai, Hyderabad, etc., and Jammu include the Jammu Rajdhani, Himgiri Express, Sarvodaya Express, and Jhelum Express.
By Air – The best method to get to Srinagar Airport for the Amarnath Yatra is by plane. The distance between the airport and Pahalgam, the Amarnath Yatra's base camp, is around 90 kilometers. Major Indian cities are connected to Srinagar Airport by Jet Airways, Indigo, and Air India.
Which route—Baltal or Pahalgam—should you choose for the Amarnath Yatra?
Routes of the Amarnath Yatra
Both a Pahalgam to Amarnath and a Baltal to Amarnath route map are provided by the Shri Amarnath Ji Shrine Board (SASB).
Route from Baltal to Amarnath
The route from Baltal to Amarnath is as follows: Baltal, Domali, Barari, Sangam, and Amarnath Cave
From Baltal to Domali, the Amarnath Baltal path begins. It is around 2 miles away. From here, it is a further 6 km hike to Barari, and then another 4 km to Sangam. The distance to Amarnath Cave, your final stop, is now just 2 kilometers.
The shorter journey only needs one to two days to accomplish (round trip). A hike is required to cross the approximately 14 kilometers between Baltal and Amarnath Cave.
Keep in mind that this path is a little challenging, and not suggested for senior persons due to the weather and topography of the area. Bear in mind that this route does not have any ponies accessible. You have two options: walk or use Dandies.
Route from Pahalgam to Amarnath
The Amarnath Yatra begins in Pahalgam at the base camp and travels to Chandanwari. They are separated by around 16 kilometers. From Chandanwari, you must hike for 13 km to go to Sheshnag and another 4.6 km to get to Panchtarni. You may reach Amarnath Cave, Lord Shiva's residence, after a 2-kilometer trek from here.
It takes 3 to 5 days to travel the 36 to 48 kilometers from Pahalgam to Amarnath Cave (one way). This path is preferable by the majority of pilgrims as it is not only a little simpler than the Baltal one but also beautiful. This is the preferable option if you're traveling with older worshippers. Additionally, you can even hire horses to facilitate their travel.
Routes for Amarnath Helicopters
You can choose Amarnath helicopter services if you don't want to walk the Amarnath Yatra route. Indian Tourism organizes helicopter transport from Baltal and Pahalgam to Amarnath. Additionally, our Amarnath tour packages 2022 will provide you access to quick transport, food, relaxing lodging, and sightseeing.
Amarnath Helicopter routes come in two varieties:
Route: Baltal – Panchtarni – Baltal (2 km trek to Holy Cave from Panchtarni)
Route from Pahalgam to Panchtarni to Pahalgam (6 km trek to Holy Cave from Panchtarni) You may also rent a palki to take you to the Amarnath Cave. However, they will also abandon you two kilometers from the cave. So, the Baltal route does not offer this alternative.
Lodging options along the Amarnath Yatra routes
On the Amarnath path, you may locate campgrounds for overnight stays in a number of locations, including Baltal, Nunwan, Sheshnag, and Panchtarni. With the aid of independent contractors, erected by the Shri Amarnathji Shrine Board and runs between INR 250 and 400 every night.
If not, you can also stay in a variety of privately constructed tents and shelters erected along the Amarnath Yatra path. They come with beds, pillows, quilts, and blankets. You should expect to pay between $250 and $1,000 each night for them.
Routes of the Amarnath Yatra with Food Options
You will receive complimentary food, drink, and refreshments all along the Amarnath yatra route. There are several locations that serve langar as well. Only government-run depots in Chandanwari, Sheshnag, and Panchtarni offer rations for cooking your own food at reasonable costs.
Additionally, there are tea shops and few restaurants accessible. It is advisable that you bring snacks with you so that you may feed yourself and get an extra energy boost. For instance, dried fruits, roasted chana, dark chocolate, glucose biscuits, and tinned meals.
At Baltal Helipad, in addition to this, there is a cafeteria. Naturally, this is only an option if you select helicopter transportation for Amarnath.
Also Read:- How to reach Kedarnath
Facilities Offered During the Amarnath Yatra
The following facilities were made available during the spiritual pilgrimage to Amarnath:
Bus reservation desks may be found all over major towns like Pahalgam and Srinagar. Book one of Tourism of India's Amarnath Yatra packages for hassle-free travel.
The Yatris have given access to medical facilities. Along the path to the Amarnath Temple, there are several Emergency Aid Centers (EAC), Medical Aid Centers (MAC), and base hospitals.
SASB offers cloakrooms for you to store your valuables at Baltal, Nunwan, and Amarnath Cave. These cost INR 10 for a whole day.
There is a parking space at the Baltal base camp for two-wheelers, LMVs, and MMVs if you arrive by personal car.
The Amarnath path also has access to the BSNL network. BSNL offers pre-loaded yatra sims to yatris at affordable pricing.
This year's Amarnath Yatra, an annual pilgrimage for followers of Lord Shiva, will start in the final week of June. Due to the epidemic, the Amarnath Yatra 2022 will start on June 30 and end on August 11—almost two years apart. For the first time, pilgrims will have the opportunity to take helicopter services directly from Srinagar during the 43-day trip. Bookings for the pilgrimage have already begun, and Amarnath yatra permits will distribute based on a first come, first served.
There are some instructions provided by the administration of Jammu and Kashmir for the pilgrimage that you should read before beginning your holy journey. It is mandatory for all pilgrims to provide their Aadhaar cards.
For visitors, hospitals, or ill animals, the administration must establish mobile laboratories. It must also implement proper sanitization procedures and waste management plans.
Important information
A medical certificate is required for all pilgrims participating in the Amarnath yatra in 2022, and the necessary form is accessible at your neighborhood bank office.
Additionally, you must bring some food items with you, such as biscuits, chocolates, sweets, snacks, etc. However, many of the langars set up along the Amarnath yatra route also offer meals for free.
The pre-activated sim cards for Amarnath yatra pilgrims are offered at the base of the camp since Jammu and Kashmir do not accept other states' sim cards.
The minimum age to participate in the Amarnath yatra in 2022 is 13, while those over 75 and expectant women are not permitted.
Only from 5 AM to 11 AM are the Access Control Gates at Domel and Chandanwari open, and no one is permitted to continue to Holy Cave from Panjtarni after 3 PM.
The Shri Amarnathji Shrine Board (SASB) is responsible for overseeing the shrine. It is advised that pilgrims participate in the Amarnath yatra in groups rather than traveling alone.
Pack a torch, water bottle, moisturizer, and sunscreen in addition to coats, sweaters, caps, and other items.
Digital Amarnath Yatra Registration 2022
Filling out the Application Form, which consists of an Application Form & Compulsory Health Certificate (CHC), which is accessible through selected Bank Branches, will register you for the Shri Amarnath Yatra in 2022.
Get the required "Compulsory Health Certificate as Per the Format Issued by Shri Amarnath Shrine Board (SASB)" from the approved medical professionals/institutions. Additionally, SASB launched "Group Registration" to make it easier for groups of neighbors, friends, or family members to register.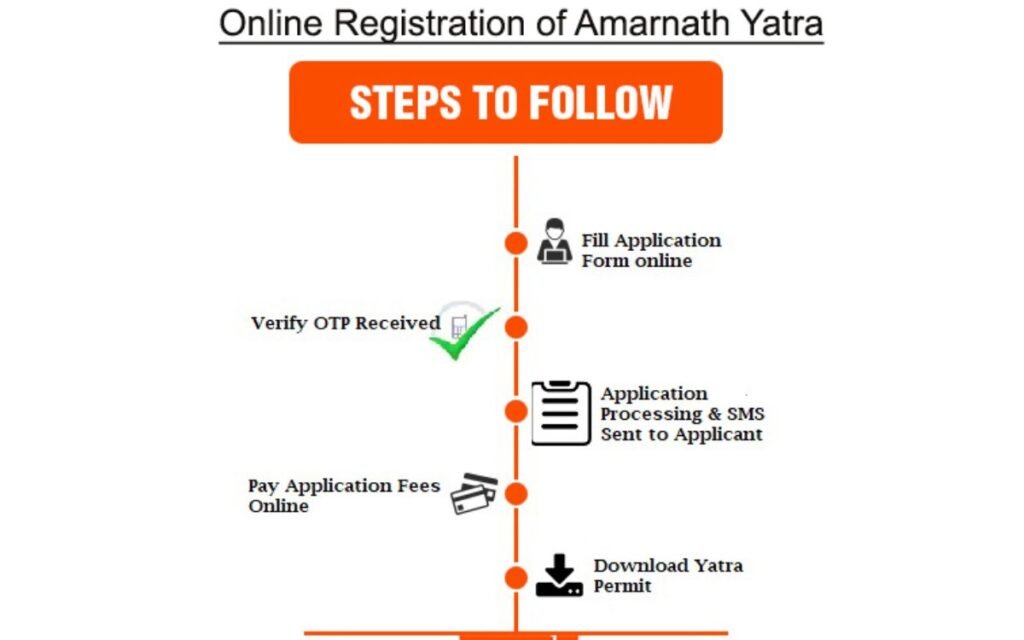 The guidelines for group registration for the Shri Amarnath Yatra in 2022 are as follows:
Get Yatra Permits from the closest bank, then send an application to the Chief Executive Officers via registered mail.
The Group Registration starts on a date that SASB will announce and ends on that same day.
First-come, first-served policy should be followed during group registration.
No one under the age of 13 or older than 75, nor women who are more than six weeks pregnant, may register for the Yatra.
NRI or ex-Indian pilgrims can register for the Shri Amarnath Yatra through the Shri Amarnathji Shrine Board.
Registering as an NRI or ex-Indian Pilgrims:
Send a designated officer scanned copies of the required documents:
The National Health Services should provide a mandatory health certificate.
The permission for the pilgrims' travel will sent to them by email.
Amarnath Yatra 2022 application form necessary documents
Application form
Four photographs of passport-size
ID card, Aadhaar
Health Certificate
Things to do during Amarnath Yatra
Get in top physical condition before the yatra to get yourself ready. You are suggested to begin at least a 4-5km morning/evening walk before the yatra. You should begin deep breathing exercises and yoga to increase your body's ability to utilize oxygen.
The following supplies should always be on hand because the weather is unpredictable. Sometimes the temperature might drop as low as 5 degrees Celsius. Woolen clothes, a windcheater, a raincoat, waterproof hiking boots, a flashlight, a walking stick, a hat resembling a monkey's head, gloves, a jacket, woolen socks, and pants are required (preferably a waterproof pair).
Women should dress in a salwar kameez, pant-shirt, or tracksuit as sarees are inappropriate for the yatra.
As you could unexpectedly require something from your luggage, make sure the porter, horses, or ponies transporting it move in front of or behind you.
Keep extra clothing and food in an appropriate waterproof bag for the yatra from Pahalgam/Baltal onwards to prevent them from becoming wet.
For usage during the travel, bring a water bottle, dried fruits, toasted grains or chana, toffees or Gur (jaggery), chocolates, etc.
Carry some cold cream or sunscreen to prevent sunburn on your hands or face.
Also Read:- Ways to Book Cheap Flight tickets
Instructions for Groups
Trek in groups, never by yourself.
To facilitate quick action in the case of an emergency, have a note in your pocket that has the name, address, and cellphone numbers of a member of your group that you are traveling with. Your yatra permit and any further identification cards are also required.
You must depart the base camp with your entire party in order to make your way back. In the event that a member of your group goes missing, you must contact the police right away and make an announcement over the yatra camp's public address system.
Your fellow travellers should receive every bit of assistance from you.
You occasionally need to adhere attentively to the yatra administration's directions.
Lord Shiva is made up of the elements of the earth, water, air, fire, and sky. Shri Amarnathji's residence is the base camp and the complete yatra routes. You must respect the environment and refrain from polluting it while on your journey.
The closest trash can must be used to dispose of any waste. The green trash can is where you must deposit any organic garbage.
Use the restrooms/urinals that have been set up in the campgrounds and other locations along the road to the Holy Cave.
Things you have to avoid during Amarnath Yatra
Avoid stopping in areas that have warning signs posted.
There are severe hills and falls along the path leading to the Holy Cave, therefore you shouldn't wear slippers.
Wear only lace-up hiking shoes.
Avoid taking any shortcuts along the way since they are risky.
Throughout the whole forward and return trip, avoid doing anything that might pollute the Yatra area's ecology or disrupt its natural beauty.
Plastic usage is absolutely prohibited in the state and is against the law.
Don't smoke, and don't carry or consume any alcohol or narcotics.
Avoid taking any shortcuts since doing so would be risky. In challenging sections of the trip, keep to the designated lanes and refrain from trying to pass other vehicles.
Holy Lingam should not be handled or tampered with, nor should anything be placed or thrown on it.
Flash photography is not permitted inside the cave.
No dhoop or incense should be lit within the cave.
Pay no more for porters, horses, dandies, food, firewood, lodging, etc. than the costs set.
Never pay more than what is listed for helicopter service.
Never spend the night in the sacred cave.
Children under the age of 13 and anyone over 75 are not permitted to participate in the yatra.
Pregnant women who are more than six weeks along are prohibited from making the trek.
If you are traveling this year, make the best of your spiritual tour with the best planning.