On the third day of Navratri, Goddess Chandraghanta is always worshipped. Her name is a combination of two words: Chandra, which means moon, and Ghanta, which means bell. The half-moon shaped like a bell placed on the Goddess's forehead inspired her name. She is also referred to as the Goddess Chandrakhanda.
This third form of Goddess Durga gives strength and bravery to those who worship her and is said to remove all pain and problems. Even though Goddess Chandrakhanda is the more strong form of Goddess Parvati, it is widely believed that she only appears in this form when she is angry about something. Otherwise, she is a calm nature. Goddess ChandraGhanta is the married version of Goddess Parvati. Worshiping Goddess ChandraGhanta gives the worshippers feelings of strength, calm, and courage.
All the day refers to the different goddesses. There is the different significance of different goddesses. But one thing is common about it that is they all are the different forms of Maa Durga and every form is teaching a new moral to us.
Navratri brings happiness and joy with itself just like the Indian festival. People clean the houses before two days of Navratri.
About Maa Chandraghanta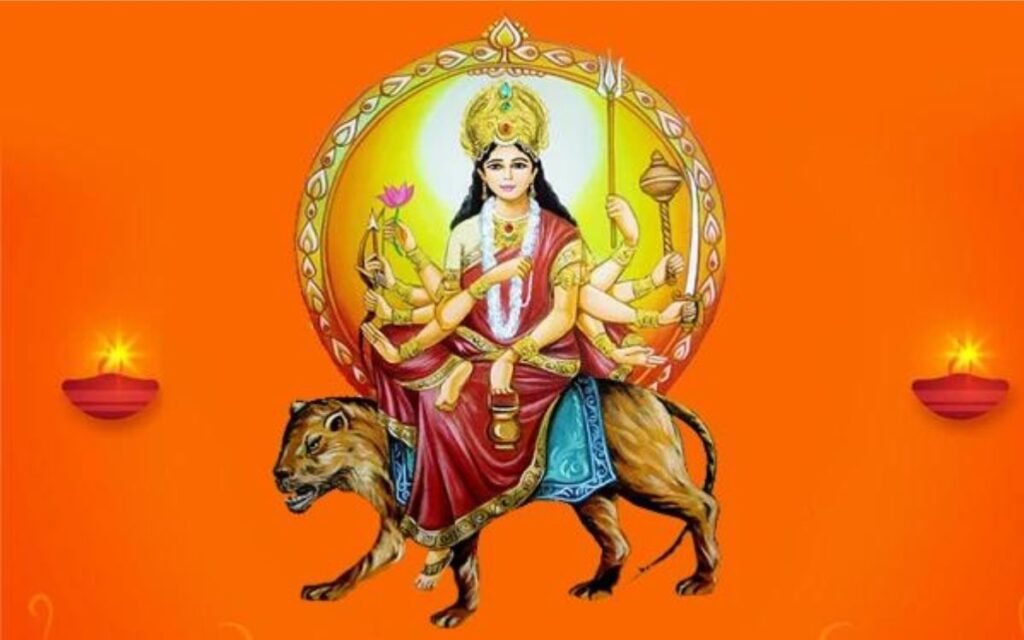 Goddess Durga takes the form of Goddess ChandraGhanta in order to defeat the asuras and remove their negative impact on the world. After defeating the asuras, Goddess Durga brought relief to the gods from the asuras' constant pain and suffering. Goddess ChandraGhanta is also known as Goddess Parvati's married form. When Goddess Parvati married Lord Shiva, she dressed the moon on her head and then became known as Goddess ChandraGhanta. She is said to have taken the aggressive form of war while riding the lion. She is holding a lotus, Trishula, gada, khadak, ghanta, and a kamandal.
Significance of Maa ChandraGhanta
When people worship Mata ChandraGhanta, they generally overcome their fears and experience an increase in their sense of strength. She is the extreme version of Goddess Parvati, with ten arms and multiple weapons. She is always ready to enter the battlefield while riding the lion. Tantra Sadhna states that this form of Goddess ChandraGhanta awakens the Manipur Chakra. Goddess ChandraGhanta is always ready to eliminate evil on the planet. Those who worship ChandraGhanta Maa can remove the flaws of the planet Mars from their Kundli. This is why, on the third day of Navratri, one should always worship Goddess ChandraGhanta.
Worshiping the Goddess properly leads to the destruction of a person's sin. Couples enjoy a happy married life full of comfort, luxury, and prosperity with the blessings of Goddess Chandra Ghanta. Couples who worship her can easily find solutions to a variety of problems they face in their marriage. She is associated with the planet Venus. Worshiping goddess Chandra Ghanta can help if Venus is affecting your kundalini in any way.
Also Read: Top Temples to Visit During Navratri
Story of Maa ChandraGhanta
When Lord Shiva told Goddess Parvati that he does not want to marry anyone, she became upset. Looking at Goddess Parvati in this manner hurt Lord Shiva emotionally. As a result, he traveled to Lord Himavan's home with the baraat to marry Goddess Parvati. The baraat contained a variety of living species, including Lords, Ghosts, and Aghoris. Goddess Parvati's mother lost consciousness from fear when she saw the baraat on her doorstep.
Goddess Parvati then sat down with her family, attempting to calm them. She then appeared to Lord Shiva as Goddess ChandraGhanta. She politely convinced him to enter the house as a groom. Lord Shiva agreed and accessorized himself with a variety of jewels.
Pooja Procedure of Maa ChandraGhanta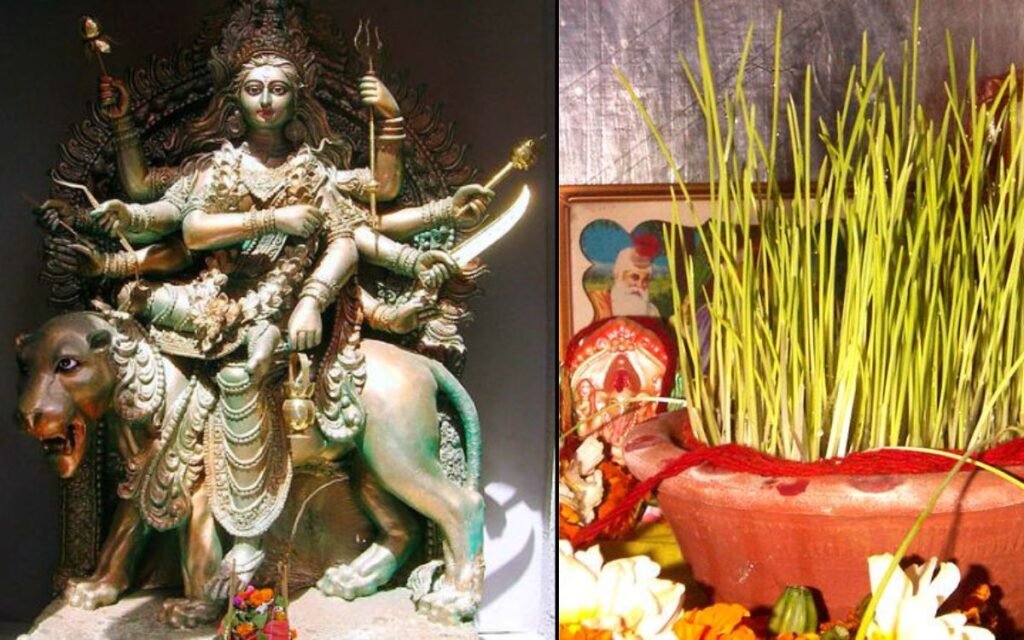 1- Before sunrise, take a bath and wear clean clothes. The place where you keep the Goddess's statue must be cleaned with holy Ganges water.
2- The statue and Kalash will be placed on the cleaned area next. Clothes, Chandan, sindoor, turmeric, jewelry, roli, durva, flowers, perfumed agarbatti, Diya, fruits, and paan are all required for the puja to be presented to the Goddess.
3. Then you have to repeat the mantra
"पिण्डज प्रवरारूढा चण्डकोपास्त्रकैर्युता।

प्रसादं तनुते मह्यम् चन्द्रघण्टेति विश्रुता॥"
Offer the flowers to the goddess while repeating this mantra
4- Chant the Durga Saptashati mantra and listen to her story. Perform the Goddess' aarti with a Diya.
5- On this day, offer milk sweets to Goddess ChandraGhanta, along with apples and jaggery.
Offering to Maa Chandraghanta
Each Goddess is presented with a unique type of offering. The offering is said to represent your devotion to the Goddess. Moreover, goddess ChandraGhanta should always be represented with milk-based sweets. After you've offered it to the Goddess, eat it and share it with others. It is believed that making this offering to the Goddess will end all of your pain and problems.
Conclusion
The third day of Navratri is extremely important. On this auspicious day, it is believed that the Goddess Chandraghanta is worshipped. The sound of the Goddess' bell scares away darkness, monsters, and demons. Worshippers commonly have the possibility to visualize supernatural goods with the Goddess's blessings. Worshiping Goddess ChandraGhanta, according to Hindu Shastras, evokes the power of fearlessness and courage, resulting in calmness and politeness in the end.
Also Read: First Day of Navratri 2022: देवी शैलपुत्री
Second Day of Navratri 2022: माँ ब्रह्मचारिणी
Fourth Day of Navratri 2022: कुष्मांडा माता