We worship Maa Durga in Navratri. Goddess Durga is called "Goddess Shakti". And his 9 different images are worshiped in Navratras. Shakti means energy, strength, and empowerment. Durga Shakti represents the female energy of the universe. The festival of Navratri is dedicated to honoring and worshiping this energy in various forms. Goddess Shakti is worshiped as "Goddess Shailputri" on the first day of Navratri. We establish the idol of Devi Durga on the First day of Navratri. The Navratri of 2022 begins on Monday 26, September.
The first day of Navratri is dedicated to Goddess Shailputri. Shailputri, is a combination of two words, Shaila(Mountains) and Putri(daughter), meaning the daughter of the mountains. Goddess Shailputri is represented with a lotus in one hand and a trident in another, seated at a top of the bull. Shailputri is considered to be a Devi of "root chakra". Her abode is in the Muladhara Chakra. So worshipping Mata Shailputri helps devotees to realize the "Muladhara" shakti within themselves.
Story of Goddess Shailputri
King Daksh The father of Devi Sati
Once upon a time, there used to be a king, his name was Daksha. King Daksha was the son of God Brahma and was a very brave king. The king had a daughter named Sati. Because King Daksha was a very brave king, he wanted to get his daughter Sati married to a king of equal glory and fame. But Lord Shiva was settled in Sati's mind and she wanted her to be married to Lord Shiva only.
Lord Shiva husband of Devi Sati
Shiva was an unstable monk who moved the mountains and forests and meditated. As soon as Daksha came to know about this, he became very angry. He thought about how Sati could be married to a monk or tapasvi. King Daksha did not agree with Sati's best efforts to convince her father. After waiting for some time, Sati left her parents' house and married Lord Shiva. Daksha was deeply saddened by this and his ego was also hurt.
After some time King Daksha organized a grand Yagya and invited all the famous and well-known gods and goddesses except Sati and Lord Shiva. When Sati came to know about this, she reached her parents' house on the day of Yagya. Daksh, full of ego, did not miss this opportunity and in the meeting, he disobey not only Sati but also her husband Lord Shiva.
The Death of Sati
Sati could not bear this shame and by jumping into that Yagya she burn herself. When Lord Shiva came to know about this he became very angry and sad. Without Sati, the whole world seemed incomplete to him. Lord Shiva again went into deep meditation because of sorrow. Now he had no motive to return to worldly life.
Tadkasur a Demon
Tadkasur, a devil, was causing disaster around the planet at the same time. He had asked Lord Brahma for a blessing so that he would be forever and could only be destroyed by Shiva's son. But Shiva was in deep meditation, he had no wife or children. Tadakasur was ruling all three worlds and was troubling the people with his power. All the gods were sad, they knew that only Sati can remove Lord Shiva from meditation.
Birth of Goddess Shakti as Parvati
So all the gods started worshiping Goddess Shakti to take birth again on earth and take out Lord Shiva from meditation. Meanwhile, the king of the mountains "Himalaya" was doing Yagya for his son. Goddess Shakti took birth as a daughter in the house of the Himalayas by the worship of the gods. Himalaya is a mountain and it is also called in Hindi "Parvat and Shail".
Therefore his daughter was named Parvati. Hence Goddess Parvati is also called Shailputri. This form of Goddess Shakti is worshiped as Shailputri on the first Navarat day. Goddess Shailputri is considered a symbol of strength and courage.
या देवी सर्वभूतेषु माँ शैलपुत्री रूपेण संस्था

नमस्तास्यै नमस्तस्यै नमस्तस्यै नमो नमः
Ya Devi Sarvabhuteshu Maa Shailaputri Rupena Samsthita

Namastasyai Namastasyai Namastasyai Namo Namah
The material you need for Navratri worship
Mentioned Below are the materials that you required for the worship of the Goddess.
An image or idol of Goddess Durga
A red scarf or saree to present to Goddess Durga
Panjika, or the holy book of Hinduism
Coconut
Sandalwood
Clean fresh mango leaves before using them.
Paan
Supari
Ganges water
The crimson holy powder or the roll to apply tilak.
Cardamom
smudge sticks
Cloves
Fruits
Sweets
smudge sticks
Offer Maa Durga a fresh flower
Gulal
Rough rice
A red sacred thread called Moli
Grass
How to do Navratri Pooja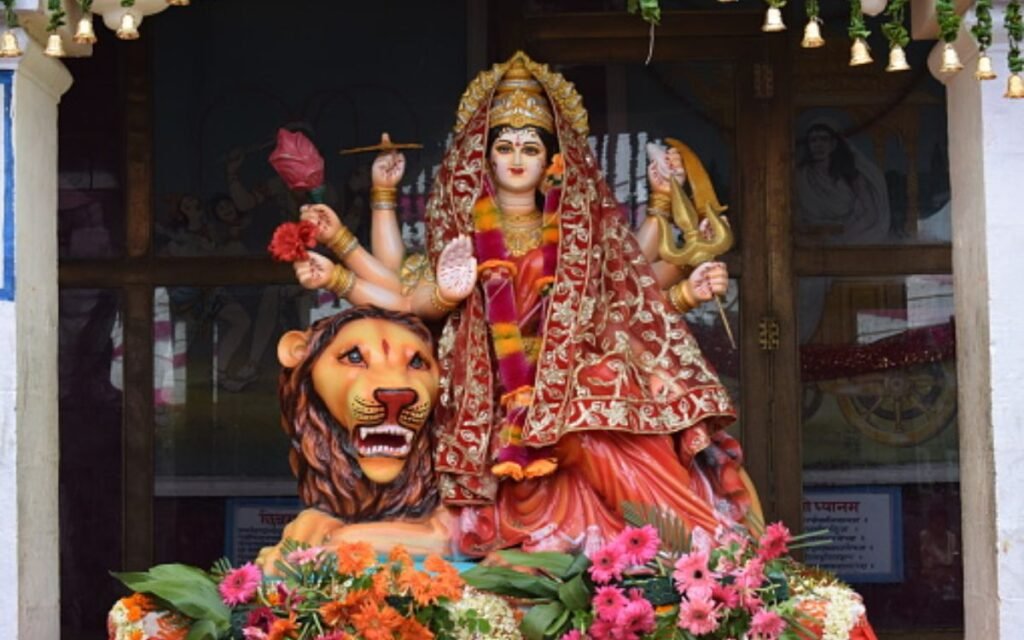 Step 1: Collect all the materials
First of all, after taking a bath, clean the place of worship with a sprinkling of Ganga water. Then place a chauki at the place of worship. Spread a new red cloth on it and make 9 corners with Akshat. While making Akshat, make it from inside to outside. Place the idol of Bhagwati Devi on top of it. Place a pot or Kalash full of water in front of the statue. According to the Puranas, the Kalash is considered to be the form of nine goddesses. That's why we worship the Kalash in the Navratri. Tie Roli on the Kalash. Put Gangajal, betel nut or supari, turmeric, rice, and coin in that kalash. Decorate mango leaves or paan ke patte and keep them on the Kalash. Then take a coconut, tie a moli on it and decorate it on the top of the Kalash.
Step: 2: Decoration and read Mantras
Now keep an Akhand Deepak next to the statue. It is not to be ignited now, when the worship is done, only then will the Akhand Deepak be burned. After that take a seat. Now take water with your left hand and pour it into the upper right hand. After that, Cleanse both hands with Gangajal. Similarly, Drink water thrice by saying Om Durga Devvey Namah. After that wash your hands again with water. Similarly, apply tilak to yourself.
Now light the Akhand lamp. Remember this lamp should not be ignited for 9 days and the Kalash should not move from its place. After that, Keep flowers and rice in your hands and take a resolution. After taking the resolution, offer flowers and rice to the mother. Take water from the flower and sprinkle it on the idol.
Step 3: Offer the Shringar to Devi Goddess
After this, tilak on the idol of Devi Goddess with kumkum. Now offer a chunari on the idol of Mata. Offer chunri on the coconut kept on the Kalash. After that, Wear haar to the idol of the Devi Durga goddess. After this, offer the items of makeup or we can say shringar to the Goddess and keep them at the feet of the mother. Offer incense sticks. Similarly, Offer 5 types of fruits to Mata Rani. Keep in mind that do not offer sour fruits to the Devi goddess. Now offer coconut and Dakshina to the maa Durga.
After that, Now take flowers and Akshat in both hands and pray to Durga Mata. Now those who want to read the Durga Chalisa. Similarly you can worship by lighting a lamp of camphor and ghee.
If you have taken a Sankalp for the first and last day, then you can take prasad and if you have taken a resolution for 9 days, then do the prasad only after the end of the 9-day fast. Those who have observed a fast for 9 days, then worship the 9 forms of the mother every day according to the day. Those observing the fast should worship the mother daily by lighting, haar of flowers, chunri, flowers, akshat, prasad, fruits, and incense sticks. And if possible, repeat Durga Chalisa. When the Navrat is over, sprinkle the water kept in the Kalash in the whole house.
How to perform Navratri till nine days
Every day a different colored chunri is offered to the mother.
Shailputri (reddish orange)
Brahmacharini (Yellow)
Chandraghanta (White)
Kushmanda (brown)
Skandmata (Pink)
Katyalini (Green)
Kaalratri (Sky/Grey)
Mahagauri (orange)
Siddhidatri (marron/dark red)
According to the custom of your family, Kanya Puja is done on Ashtami or Navami. Therefore, Kanya Puja is considered to be a very important part of the fast.
In this fast, small girls come to live in your homes. In this, the women wash the feet of all the girls who came to the house remembering the 9 forms of Mother Jagadamba, tying a roli in their hand, and putting a roli on their forehead. They offer halwa chane in the prasad. Then after touching their feet, she sends them off. And later she offers prasad and food at the same place where she feeds the girls.
How to Do Kalash Sthapana in Navratri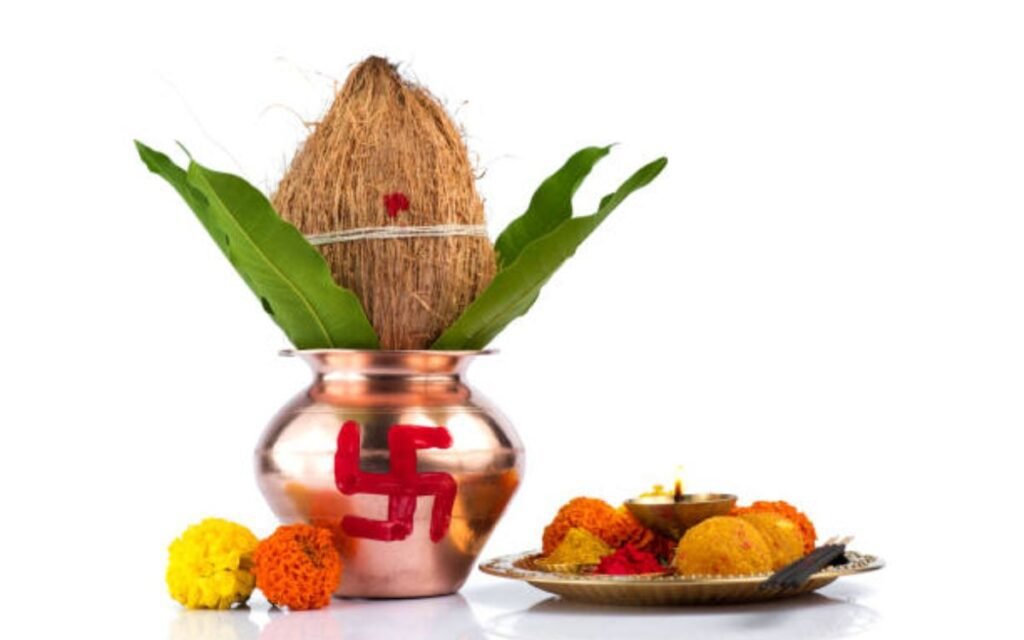 Some people call this custom farming or kheti bejana. From the first Navratri to the last Navratri in agriculture. Every morning, healthy water is poured. Therefore, It is believed that the better the farming is, the more happy the Mother Goddess is. Similarly On the day of immersion, cover the red chunari on the farm and keep some money in it.
Here below are the steps mentioned, that how to do Kalash sthapana on the first day of Navratri.
Step 1:
To establish the Kalash of Navratri, first of all, take a place and purify it well with Gangajal.
Spread a clean red cloth on that place. Remember that the cloth must be new. After that put a wood plate in its place and spread another red cloth.
In Step 2:
After that, Establish the portrait of Goddess Durga who is seated in her nine forms. Along with that, the idol of Lord Ganesha should also be established because without Lord Ganesha any worship is considered incomplete.
Step 3:
Now make a square shape with the help of bricks and put soil in it. The soil should not be too dry and wet.
Now after meditating on the Devi Goddess, put barley or जौ seeds in it and also add some water.
In Step 4:
Now take a pot or Kalash, tie roli in it and make a swastika on it.
Now take a coconut and tie it with a roli wrap five times and attach fresh mango leaves to it and make a swastika on it too.
Step 5:
Pour Gangajal in the Kalash and also put a coin of 1 Rupee.
Place coconut on top of it.
Your Kalash Sthapna is ready.
Conclusion
The Hindu holiday of Navratri lasts nine nights and it comes in generally in the autumn season. In various regions of the Indian culture areas, it is celebrated in different ways. Therefore, There are four seasonal Navratris, according to theory. Therefore, The epic conflict between Goddess Durga and the powerful demon Mahishasura is described in the Navratri legend. An avatar of "Goddess Durga" is worshipped every year during Navratri to show respect for the day she defeated Mahishasura and the ultimate triumph of "Good over Evil."
Also Read:
Tasty and Easy Recipes of Kachoris for Fast