Navy beans are tiny, dry white beans that are used in a variety of soups, salads, baked beans, and ham hocks (a Southern delicacy). Its popularity among the US Navy in the early 20th century is how it got its name.
Navy beans have a number of health advantages for us. These advantages may include their potential to improve thinking and memory, protect the heart, improve digestion, encourage healthy circulation, lower the risk of diabetes, reduce the risk of cancer, reduces iron deficiency and boost growth. Navy beans got their name because they were a staple food of the US Navy in the 20th century.
The Health Benefits of Navy Beans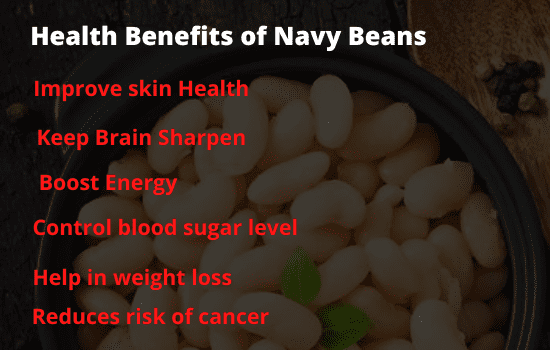 They are rich in dietary fibers, iron, zinc, magnesium, calcium, and many other vitamins and minerals. It has multiple health benefits.
Navy Beans help to improve skin health.
The antioxidant properties of the copper in the beans improve skin health. It helps fight free radicals, which result in early aging symptoms.
Navy Beans Help your Brain to Keep Sharpen
Navy Beans play a critical role in the regulation of specific amino acids that the nervous system requires. One cup of navy beans contains 64 percent of the recommended value. Also, it prevents hypertension.
White beans help in weight loss.
Navy beans are beneficial for weight loss because they're low in calories and high in fiber. There is a tendency to eat less throughout the day because the fiber content makes people feel satisfied.
A similar benefit is given by the starch in navy beans. People generally consume fewer calories because of the increased feeling of fullness.
Helps control blood sugar levels.
Include white beans in your diet to prevent sudden spikes in blood sugar levels, especially after eating sweets. It helps to maintain your blood sugar levels.
Helps in repairing cells and muscle gain in the body.
Vegetarians should add these wonderful beans to their diet for muscle gain and to repair cells in the body. It works as a repairing agent to repair our dead cells or to remove them. It also keeps the proper insulin response, which is important for muscle building. F iber helps in the digestion of various nutrients that bodybuilders usually consume.
It reduces the risk of cancer.
Consuming beans may reduce some cancer risks. The phytochemicals present in the beans help lower the risk of rectal cancer and pancreatic cancer. Also, including beans in your diet is beneficial for treating cancer.
It helps in blood circulation.
Navy beans are rich in iron and copper, both of which are essential for healthy blood circulation. An essential mineral called iron helps in the movement of oxygen throughout the body. Also, it aids in maintaining the strong red blood cells needed for circulation.
Another mineral that helps in the production of hemoglobin and is required for the creation of red blood cells is copper. Secondly, it improves the absorption of iron from the intestines, making it simpler to maintain healthy iron levels for better blood circulation.
White Beans help to improve memory
The bean's folate level plays an important role in memory and brain health. They also include vitamin B1, which is important for brain health. The production of the vital neurotransmitter acetylcholine depends on this vitamin. Alzheimer's disease and age-related memory loss due to neurotransmitter deficiency.
Also Read :- Horse Gram: All you need to Know
It helps in digestion processes.
Navy beans have a very high level of fiber, which is essential for maintaining healthy digestive health. Fiber can thicken the material and reduce constipation and diarrheal symptoms. Fiber also promotes osmotic action, which controls intestinal processes. A high-fiber diet helps to cleanse the intestines and protects against more serious digestive problems like gastric ulcers.
Wonderful and Delicious recipes of Navy Bean
Here are some Best Delicious recipes of Navy Beans
Tuscan White Bean Pasta
Ingredients
8 fettuccine or linguine(pasta),
1 tablespoon of olive oil
Tbsp. of butter
3 minced garlic cloves
1 pint of cherry or grape tomatoes
Freshly ground pepper, ten cranks
1/2 teaspoon salt
0.5 teaspoon dried basil
Bean cannellini/ white beans or navy beans
Spinach
Cheese shredded
How to Make
In a saucepan, put water on the gas to boil. Boil the pazta in it. After the pazta boils, transfer it to another vessel.
Now put another pan on the gas and add olive oil and butter to it.
Finely chop some ginger buds and roast them in oil. Keep in mind that ginger should not burn, keep the flame of the gas medium only.
After that add tomato, pepper, and basil in it. Roast the tomatoes till the skin starts coming off.
After the tomatoes are sauteed, add the spinach to it and stir it for 4-5 minutes.
Now add washed navy beans and stir for 2-3 minutes. Now put Test According Salt in it.
Now add the pasta to it and mix it well.
Add shredded parmesan to it for topping and garnishing.
it is ready to serve
Turkish Navy Bean Pasta Salad.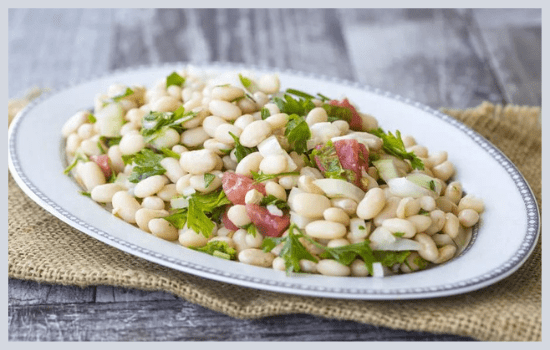 Ingredients
1 cup of dried navy beans
A Red onion
1 ripe tomato, 2
One Green pepper
1 large hard-boiled egg, 1/3 cup chopped Italian basil
Olive oil, extra virgin, 14 cups.
Grape vinegar or 1/4 cup apple cider vinegar
Lemon juice, 1 tablespoon to taste, salt
To taste, freshly ground black pepper
For garnish, use 6 black olives
Four lemon slices, for decoration
Flakes of hot pepper, as a garnish
Italian basil leaves for decoration
How to make
Put the dry beans in a big bowl and fill it with water the night before. Leave them to soak all night. Put the beans in a pot with fresh water the next day after drying them.
Boil them slowly until they are finished. After leaving them cool in the water, carefully wash them.
In a big basin, add the soaked beans. Over the top, pour the vinegar. Let the bowl rest for about an hour, covered with a lid or some plastic wrap.
Cut the pepper into circles, chop the basil, then chop the tomatoes into little cubes while you wait. The onion should be peeled before being cut in half and into half-circle slices.
Beans with extra vinegar should be washed. Use your fingers to mix in the basil and the chopped vegetables. Over the top, arrange the onion slices carefully.
Mix the lemon juice, olive oil, salt, and pepper together, then spread it over the salad.
Add black olives, hard-boiled egg slivers, lemon slices, and basil leaves as a garnish to the top. If necessary, top with spicy pepper flakes.
Bean Chilli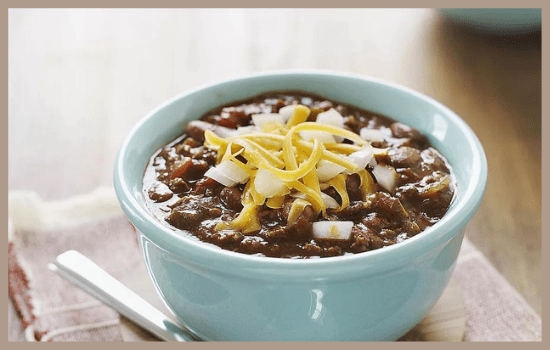 Ingredients
Olive oil, two tablespoons
One sliced onion
3 minced garlic cloves
1 can (15 oz) of refried beans
a single, uncooked, 14 1/2-ounce can of chopped tomatoes
1 tomato paste can (6 ounces)
2 teaspoons chili powder 3 cups of beef broth or vegetarian broth
1/8 teaspoon cumin powder
freshly ground black pepper, one-fourth of a teaspoon
1 dash salt,
1 (15-ounce) can of rinsed and drained black beans
1 (15-ounce) can of washed and drained navy beans
1 (15-ounce) can of rinsed and drained kidney beans
Also Read :- Harmful Food Chemicals Affects Human Lives
How to make
Heat olive oil in a large pan on a medium flame.
Add the onion and garlic; cook and stir for 5 to 6 minutes, or until the vegetables are soft.
Refried beans, tomato paste, diced tomatoes, and 1 cup of the broth are added; stir until the beans and tomato paste are mixed.
Stir in the remaining liquid, cumin, pepper, salt, if desired, and chili powder.
The kidney beans, navy beans, and black beans are then stirred in.
Stirring constantly, add the chili to the pot, and stir for 15 to 20 minutes, or until the chili has thickened and mixed.
Enjoy after serving.
Baked Beans with Molasses and Bacon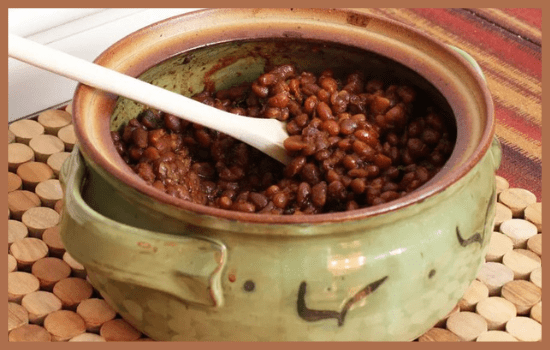 Ingredients
dry navy beans, 1 pound
4 chopped thick pieces of bacon.
1 cup of onion, roughly chopped
molasses, four tablespoons.
1/3 cup brown sugar in bags
1 kosher salt tsp.
A quarter-teaspoon of ground mustard
freshly ground black pepper, one-fourth of a teaspoon
How to Make
Navy beans should be rinsed in cold, running water.
Let beans soak for eight cups of water and an entire night. When the beans are ready, turn off the heat. Empty liquids into a dish using a strainer over it. Place aside.
One cup of the hot cooking liquid should be measured in a small bowl or big measuring cup. Brown sugar, molasses, salt, mustard, and pepper should be added. To combine, stir.
Over the beans, pour in the liquid and molasses mixture. Add nearly enough bean cooking liquid from the reserved pot to cover the beans.
Beans should be covered and baked for four to five hours, or until they are soft, stirring every so often and adding extra liquid as needed. Remove the top and bake the beans for a further 10 to 15 minutes if they are runny.
Southern Bean Soup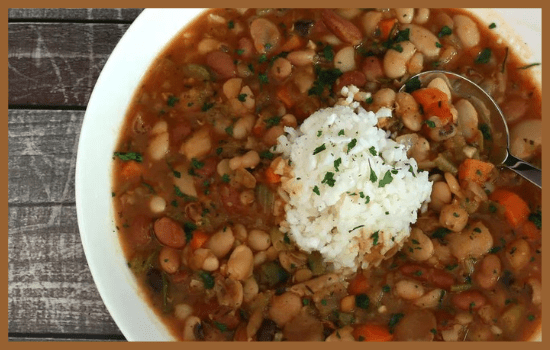 Ingredients
Lentils, 1/4 cup
1/fourth cup navy beans
Great Northern beans, 1/4 cup
Pinto beans, 1/4 cup
Lima beans, 1/4 cup
kidney beans, 1/4 cup
Garbanzo beans, 1/4 cup
Black beans, 1/4 cup
Black-eyed peas, 1/4 cup
Yellow split peas, 1/4 cup
Green split peas, 14 cup
1 pound of ham, 1 large onion, 1 clove of garlic, and 2 quarts of water
0.5 teaspoons of salt
14 cup of barley
1 tomato can (16 ounces)
one (10-ounce) can of tomatoes with green chiles
How to make
Pick over and rinse all of the peas, beans, and lentils.
The bean mixture should be put in a stockpot or Dutch oven. Cover the beans to a depth of about 2 inches above the water. Let the beans soak all night at room temperature.
Return the rinsed beans to the pan after draining and thorough rinsing.
Slice the ham. The onion should be peeled, sliced in half, and finely chopped. Trim the garlic after peeling.
The ham, onion, garlic, salt, and barley should all be added to the bean mixture along with 2 quarts of water; stir gently. Bring it to a boil in a pan over high heat.
Stir constantly, boil the beans for 1 1/2 hours or until they are cooked.
Conclusion
Navy beans, usually referred to as white beans or haricot beans, are a common food in the west, especially for people who work in the army to help them achieve their daily nutritional needs. These white flat beans should be a regular part of your diet plan if you want to lose weight, maintain good cardiac health, improve brain function, build muscles, and repair damaged tissues. tissues. They are rich in folate, magnesium, potassium, protein, complex carbohydrates, good fats, iron, and a variety of other nutrients.
The nutritional needs of the day are satisfied by dishes made with navy beans. If you have sensitive or weak stomach troubles, however, you should stay away from these beans because they can cause major constipation and other digestive problems.