Garam masala or Spices is India's most famous seasoning. It's actually a blend of dried spices like pepper, cinnamon, nutmeg, cardamom, cumin, coriander, tej patta, and others. Chana masala also contain garam masala.
Garam masala is a traditional Indian spice. This found vegetarian and non-vegetarian cuisine. It prepares from a variety of fragrant Indian spices. first, it is ground in precise amounts and stored in airtight containers to be used in cooking. If you ask someone how they make the spice mix, they'll most certainly give you a variety of different recipes.
There is no one-size-fits-all recipe for garam masala because each Indian household makes it to its own tastes and preferences. However, there is one point on which every Indian seemed to agree: homemade garam masala is superior to store-bought garam masala. Regardless of which recipe you choose.
Dr. Rupali Dutta, a professional nutritionist, believes that "Garam masala's health advantages are the sum of the health benefits of the different spices in your combination. Because garam masala does not have a uniform recipe, the benefits will vary depending on the recipe."
The advantages also depend on how much masala you use in your everyday cooking; however, most Indian households only use a pinch in each meal, which is enough to give it flavor. Cloves (Laung), cinnamon (Dalchini), cumin (jeera), nutmeg (Jaiphal), peppercorn (kali Mirch), cardamom (Elaichi), and bay leaves are some of the most prevalent spices. They are found in it (tej patty).
Health benefits of Garam Masala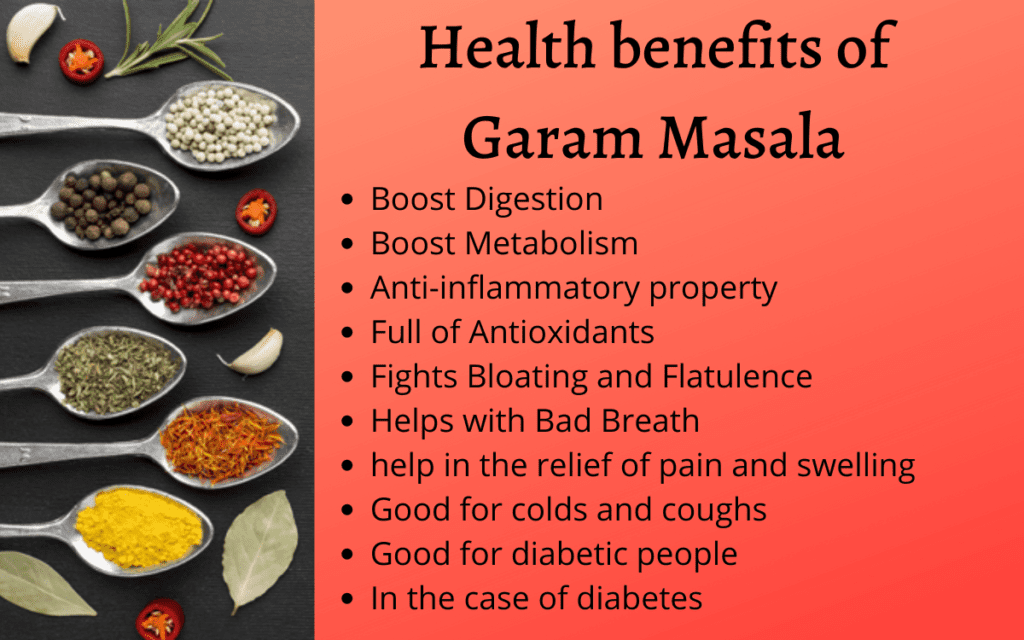 Boosts Digestion
The biggest advantage of using garam masala in your cooking is that it increases hunger and improves digestion by encouraging the production of gastric juices in the stomach. In the garam masala, cloves and cumin aid to reduce indigestion, while cloves also help to avoid acidity. Garam masala with pepper and cardamom may aid digestion as well.
People prefer crisp foods like pakoras, papads, and Bhaturas during the monsoon season. While it is natural for the digestive system to degenerate, it is not uncommon. Digestion problems. Generally, alleviated by using hot spices.
Boosts Metabolism
The ingredients in garam masala are high in phytonutrients, which aid in metabolic boost. Pepper is very effective at speeding up the metabolism. Minerals found in these substances aid in the proper functioning of numerous human organs.
Anti-inflammatory property
It spices have anti-inflammatory qualities, which help to reduce pain and swelling. They have the potential to significantly reduce pain and edema.
Full of Antioxidants
Garam masala contains antioxidants that aid in the prevention of skin disorders as well as the reduction of inflammation. It is high in antioxidants, which aid in the prevention of skin issues.
Fights Bloating and Flatulence
Garam masala, according to Dr. Rupali Dutta, has carminative effects that help with bloating, flatulence, and even nausea in addition to promoting digestion. The spices in the spice mix also aid in the maintenance of a healthy gastrointestinal tract.
Helps with Bad Breath
Garam masala is useful for fighting bad breath because it contains cloves and cardamom.
Garam masala consumption is not something we Indians do intentionally, yet it does benefit our bodies in minor ways. Curries with the spice mix, on the other hand, have recently developed a poor reputation, with many people feeling that the spice mix actually hinders digestion rather than aiding it.
There is no reason for a perfectly healthy person not to take it, according to Dr. Dutta. Although she warns that particular spices may not be suitable for people who suffer from specific conditions such as hyperactivity or ulcers. However, it is completely safe to consume on a daily basis.
help in the relief of pain and swelling
Garam spices contain anti-inflammatory effects, and as a result, they can help with issues including pain and swelling. They also aid in the relief of chronic pain in the body. Garam spices can also use to relieve bloating in the abdomen.
Good for colds and coughs
Colds and coughs are prevalent when the weather becomes cooler. Clove, black pepper, and cinnamon are just a few of the ingredients that can be employed to immediately alleviate such diseases.
Good for diabetic people
For diabetic people, the inclusion of cumin and other spices in meals is beneficial. It's a powerful anti-diabetic agent.
Also Read:- Surprising Benefits of Kasuri Methi
In the case of diabetes
Garam spices can also aid in the treatment of diabetes. Cumin is found in a variety of hot spices. Which is a potent anti-diabetic medication. It helps to alleviate diabetes symptoms.
Steps to make Garam Masala at Home
To begin, toast 34 cups of coriander seed in a heavy-bottomed pan over low heat.
Roast until the spices become fragrant. Set aside for now.
12 cup cumin, 1 tsp caraway, 12 cup cumin, 1 tsp caraway, 12 cup cumin, 12 cup cumin, 12 cup cumin, 12 cup cumin, 12 cup cumin, 12 cup cumin, 12
Roast until it becomes fragrant. Set aside for now.
Add 2 tbsp pepper and 3 dried red chilies to the mix.
Roast the chili until it becomes crunchy. Set aside for now.
5-star anise, 3-inch cinnamon, 2 maces, 5 black cardamoms, 2 nutmegs, 3 tsp cardamom, 1 tbsp clove, 2 tsp fennel, and 5 bay leaves add all these.
Roast until all of the spices are fragrant but not burned. Set aside for now.
Transfer all of the spices to the grinder after they have cooled.
1 teaspoon ginger powder, blended to a coarse powder
Disadvantages of Garam Masala
Garam masala is a spice blend that originated in India. It is made up of black pepper, cloves, cardamom pods, and other spices. It is used in Indian cooking to add flavor and color. Although garam masala can be tasty, it does have a few disadvantages.
First, it is very spicy. It can burn your mouth and throat if you use too much.
Second, it can be high in sodium. Too much sodium can lead to health problems like high blood pressure.
Third, it can cause allergic reactions in some people.
Finally, it can make food taste stale after a little while.
These are some of the reasons why I don't like garam masala very much. If you feel the same way about garam masala as I do, you don't have to eat it if you don't want to! There are many other spices that you can use instead. For example, you can try substituting cumin for garam masala in your recipes
As we all know, It is mainly healthy, but it can also be harmful at times. Its use in excess and on a regular basis can cause problems such as piles, heartburn, acidity, and stomach burn.
(The health advice in this article is based on common sense and common knowledge.) Before using this at home, readers should see a doctor.)
Also, Read: Champaran Meat- Everything You Know About This Cuisine
Conclusion
Garam masala is a unique spice blend that originates from India. The blend is made up of a variety of spices, including cloves, cardamom pods, cinnamon sticks and black and red peppercorns. The blend is used to add flavor to a variety of different dishes, including curries and stews. Because of its unique blend of spices, garam masala has become one of the more popular spices in India.

In addition to its use in Indian cuisine, garam masala is also a popular spice in Turkish cooking. In Turkey, people commonly use spice in their rice dishes. However, it can also be used in meat dishes. The combination of flavors and spices in the spice blend is what makes it so delicious. Some spices used to create the blend include turmeric and cumin.
This is the most advantaging thing about India that we have a different variety of spices. Our spices don't have taste only but for health purposes, they are also very good to use in food.  This is the specialty of Indian Garam masala. Garam masala is part of the main spice in Indian houses. If we use this in a suitable amount it is really healthy and Tasty