Kasur the word which is in Kasuri methi comes from Kasur. A region that is located in Pakistan. This was named opt before the partition of India and Pakistan. At that time Kasuri methi grows in the Punjab region and also in the Kasur region. Now, this crop is also growing in Rajasthan. The production is on large scale and that is why India is the highest producer of Kasuri methi.
Now methi has lots of varieties but still, Kasur is the most preferable and most famous one. One more thing to notice in this is Many times we think if we dry leaves of Methi then it is Kasuri methi but actually this is not. There is a difference between them. And if we are going to market and buy Methi in the second phase buying Kasuri methi so these are two different varieties.
Benefits of Kasuri Methi ( Dried fenugreek leaves)
Methi (fenugreek) is beneficial for us in every phase. We can take it in the form of leaves, seeds, and powder anyhow this is good for us.
This is also used in medicines due to its antioxidants, natural mint in many ayurvedic medicines is an important component.
Enrich with minerals: Kasuri methi (dried fenugreek) is enriched with calcium, magnesium, and Iron. This is more beneficial for those females who have a deficiency of iron. Adding it to the diet increase the level of hemoglobin which resulted in a deficiency of iron.
Not only in digestion but also this is good in every stomach related problems. Its anti-inflammatory and antioxidant properties are good for the digestion process.
Good for healthy skin and hair
Kasuri methi has a high value for removing skin blemishes. Some people apply a paste of it to benefit from the antioxidants found in Kasuri methi, which aid in the removal of toxins from the body. This has been shown to keep our skin healthy and free of diseases such as eczema. It may even aid in the prevention of skin problems such as acne, sunburn, and pimples. It also maintains skin health by removing dead skin cells and replacing them with new ones. However, before using Kasuri methi, you should check your skin type and sensitivity to it.
Kasuri methi ( dried fenugreek) has carbohydrate and anti-inflammatory properties that helps to have healthy skin and hair.
Helps in hormonal balancing
Females have to face many hormonal change issues. From the periods to Menopause they face lots of hormonal changes. This can be a good choice to add to the diet. This helps in controlling hormonal changes.
Keeps us healthy during climate change
There are so many people who are facing lots of issues during climate change. Like they are facing the cold, fever, and so small diseases. This is the most beneficial thing for them. They should add it to the diet for a good immune system.
Good to get free from allergy
This is basic in nature which helps us with allergies also. This act on the fungus to reduce its effect and also boost the power of White blood cells.
Helps in staying away from heart diseases
Kasuri methi ( dried fenugreek ) also have a good impact on blood lipid level. This also helps in asthrochlorosis means helps to overcome the collective fat in arteries.
Helps to increase Platelet level
Dry fenugreek leaves have been shown to reduce platelet aggression (a condition in which blood clumps together), which reduces abnormal blood clotting that can lead to heart attacks.
Helps to overcome Lipid fluctuation
This also helps in lipid fluctuation in infected people. Kasuri methi aids in the maintenance of normal blood lipid levels in the body. It has a tremendously strong effect on blood lipid levels, which aids in the reduction of cholesterol in diabetics and the prevention of various heart problems in non-diabetics.
Helps to control cholesterol level
This is really helpful in maintaining cholesterol levels. It aids in cholesterol control. Regular consumption of Kasuri Methi would thus be advantageous, as a tablespoon contains only four calories (tbsp). The dry herb can aid in the reduction of bad (LDL) cholesterol and triglycerides in the blood. Furthermore, it aids in the increase of good (HDL) cholesterol.
Also Read :- Amazing Benefits of Bladderwrack
After pregnancy lots of females are suffering from this. This is a blessing for those females who are facing these problems. Kasuri methi is beneficial to the lactating mother's diet because it helps to improve milk flow. It is a well-known natural galactagogue, which means that it stimulates the production of breast milk in lactating mothers. Lactating mothers have long used the seeds and leaves of the dry herb to increase breast milk supply.
Kasuri methi ( dried Fenugreek leaves) are really good for diabetes. This slightly mint property resulted in such a good and healthy way to reduce the problem.
It provides fiber to the body, which is beneficial for heart health and diabetes management. Kasuri Methi aids in the regulation of glucose metabolism in the body. Regular consumption of methi, whether in curries or dals, can aid in the treatment of type II diabetes. Because of the fiber content, it aids in the proper functioning of insulin in diabetics. Furthermore, dry fenugreek leaves help to improve carbohydrate tolerance in diabetics, whose bodies are unable to easily metabolise carbohydrates.
It helps in Weight loss and also
Kasuri methi ( dried fenugreek leaves ) are also very helpful in weight loss. By just chewing the leaves of it. In a lesser time with no side effects permanently we can also lose weight.
Generally, after a certain age, we have to face many knee-related problems. Weak bones are the normal ones that we are having. We can find this is people after the age of 35 now. By adding this to our diet we can reduce that factor in the future. And even this is good for the entire body also.
A good one to enhance the taste
A special benefit of using Kasuri methi ( dried fenugreek leaves) is that these are all benefits we can get in a tasty way. We can simply add it to daily food. That gives a favorable taste of health.
Difference between Methi and Kasuri Methi
Both of these are two different forms of fenugreek leaves.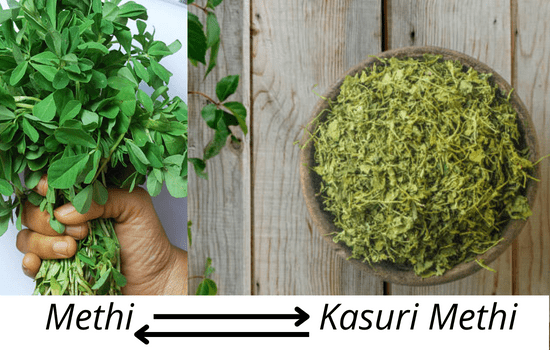 Methi (fenugreek): Methi is known as fenugreek in English and its scientific name is Trigonella foenum-graecum. This is easily available in each state of India. Alu methi, methi palak, and methi dal are the most famous and favorable dishes made from methi. However, Methi (fenugreek) seeds are one of the oldest spices. Thousands of years ago, Egyptians started consuming Methi (fenugreek) leaves as vegetables. But now this is being consumed mostly in the Indian subcontinent. Methi ( fenugreek) leaves have a hint of bitterness that made them different than other green leafy vegetables. This is easily available in the market at affordable prices. People are well aware of the nutrients and health benefits of green leafy vegetables. Hence, whenever in the season it is available in the market try to add it to your meals.
Kasuri methi ( Dried fenugreek leaves): Kasuri methi ( dried fenugreek leaves) is used in Dal, gravy, paneer, and various nonvegetarian dishes to enhance the aroma and flavor of the dish. This name originated from the Pakistan region Kasur. In the beginning, this was available there naturally and people were adding it to enhance the taste of food. But now Kasuri methi ( dried fenugreek leaves) are used in each state.
How to make Kasuri Methi at home
We cannot make Kasuri methi (dried Fenugreek leaves) by just drying Methi leaves (Fenugreek leaves). Many times we buy packets of it but somewhere that is not good. Sometimes it is not looking that fresh and also does not give that natural aroma of methi. Simply quickly we can also make it at home. There are two ways to make it at home so, that we can get the real taste and health benefits from it.
Before starting to make Kasuri methi (dried Fenugreek leaves) we need to choose the right methi ( fenugreek). In the market, there are two types which are available. One is long and sharp from the edge and the second one is round from there as shown in the image also. The long and sharp ones are not the leaves for Kasuri methi (dried Fenugreek leaves). For Kasuri methi (dried Fenugreek leaves) buy round leaves.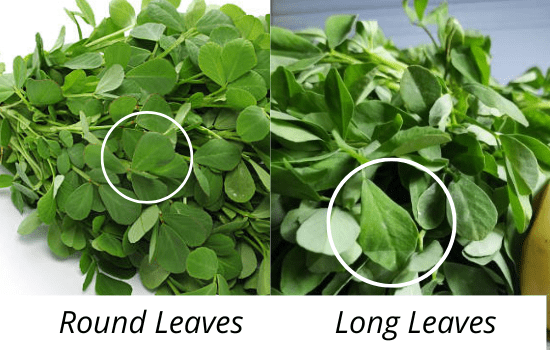 Ways to make Kasuri Methi( Dried Fenugreek leaves) at home
Wash methi ( fenugreek) leaves to make it.
When have space to dry it at home where sunrays can't reach
If we will not dry the leaves the leaves will turn into black color. So, first by taking a cloth which is good for the absorption of water. Keep it in that and dry it slightly. Then separate the leaves from the twigs one by one. Put the leaves on a tray with paper on it. Then choose a place which is far away from the sun's rays. Because due to sun rays leaves will lose their freshness. On the tray we can also use a white napkin, cotton cloth, etc. within two days naturally methi (fenugreek) will dry.
Special tip: just like this we can also dry pudina. Whenever we want to eat Pani puri we can make it at home. And enjoy it.
If not having space to dry it
Simple just take leaves after washing them and put them on a baking tray with baking paper on it. Paper will help to absorb the excess water. It is just like we bake biscuits. Then put it in the oven for 5 to 10 minutes. But in this, we need to mix it during it. By shuffling, methi will dry properly. We can also use the microwave for this.
So, fresh and healthy Kasuri methi (dried Fenugreek leaves)is ready to use. You can keep it in a jar, in the refrigerator you can also keep. But just make sure the leaves should not again come in contact with leaves. That will harm it and reduces its freshness.
Uses of Kasuri Methi leaves
Kasuri Methi is commonly used as a condiment to flavor a variety of curries and vegetables.
It complements starchy or roots vegetables such as carrots, yams, and potatoes.
Make flavorful Rotis and parathas with whole wheat dough.
As a spice, combine a teaspoon of dried fenugreek leaves with tomatoes in curries.
Conclusion
Kasuri methi ( dried fenugreek leaves) is an easily available and affordable way to have a healthy life. In the session, this is advised to make it at home and add this to the daily diet. Even if the session is not there we can use Kasuri methi the dry form of it. Also, its powder is there which can add in a small amount with the same health benefits.