Everyone's mouth gets watered when they hear the name of Chole Poori and people consider this chole puri as God's prasad and make it in festivals like Navratri. People make this Chole poori recipe with full excitement, faith, and heart or offer it to Mother Goddess. Chole Poori recipe is the most popular food during Navratri. During Kanya Pujan, people offer Chole and Poori on the occasion of Ashtami or Navami to small girls. According to their rituals in different houses, people prepare different dishes on the day of Kanya Puja. It is believed that Goddess Shakti is offered
halwa
, chole puri because it is dear to her. Here we mentioned the Tasty and Spicy Chole and Soft, Puffed, and Crispy Poori Recipe.
Chole Recipe
Chole is the most common in the Kanya Poojan of Navratri. It is made in almost everyone's homes on the day of Kanya Puja. You can try this Chole Tasty and Spicy Recipe even on normal days.
Ingredients
250 gms black gram
½ tsp Turmeric Powder
1 Tsp Kashmiri Red Chilli Powder
2 Tsp Coriander Powder
1 Tbsp Chana Masala
Salt According to Taste
2 tsp mango powder
½  tsp garam masala
1 tsp crushed kasoori methi
1 tsp Cumin Seeds
½ tsp Hing powder
½ tsp Black salt
1 tsp crushed Black pepper
How to Make Chole
Step 1: Boil the Chole
Let 250 gms kaale chole soak overnight. While soaking the gram, add one teaspoon of salt to it according to 1 liter of water. Salt thins the skin of the gram and penetrates it.
After the chickpeas are soaked. Drain all the water and transfer it to a pressure cooker.
Then, Add 1 teaspoon of salt and three cups of water to it according to 1 cup of a gram. If you are using soda, the quantity of water and gram should be equal.
Add 1 tablespoon of desi ghee to it so that the water does not come out of the pressure cooker. Also, add 1/2 tablespoon of cumin seeds to it.
After 1 whistle on high flame, flame it and let 6-7 whistles flame come on flame.
After 6-7 whistles let the gram remain in the pressure cooker.
In Step 2: Collect all the ingredients to make a paste
Now take 1/2 tsp Turmeric Powder, 1 Tsp Kashmiri Red Chilli Powder, 2 Tsp Coriander Powder, and 1 Tbsp Chana Masala.
Put all the spices together in a bowl and make a thin paste by adding water to it.
Step 3: Frying the Chole
Now put a pan on a medium flame and add 2 tsp of desi ghee to it.
After the ghee is hot, add 2 tsp cumin and asafetida.
Now add the paste of your spices and fry them well for 3-4 minutes.
After roasting the masala, add a gram along with water and mix it. After this add 2 tsp mango powder, 1/2 tsp garam masala, and kasoori methi.
Add 1/2 tsp black salt, and 1 tsp crushed black peppers for a slight flavor.
For a spicy flavor, add 2 green chopped chilies to it. Because these grams are made especially for the Kanya Poojan, so don't be too spicy.
Now cook it on the flame till its water gets removed.
After that, Along with this add chopped coriander powder and mix it well.
In Step 4: Chole Tadka 
Now heat 1 tablespoon of ghee in another pan and roast it by adding asafoetida and Kashmiri red chilies. After lightly roasting, put it in the gram pan and mix. Due to ghee, the gram will not get hard quickly and the masala will get coated on the gram.
The tasty and spicy Chole is ready to eat.
Poori Recipe
We often make Puri in our homes. Also, We make Puri on festivals or any pooja or the arrival of any guest. If there is no Poori in the festival, then the festival seems incomplete. Poori is a very quick recipe, but sometimes puffy and soft pooris cannot be made. So let's the recipe of know soft and puffed poori.
Ingredients
300 gms flour
1/2 tsp salt
Ghee for frying the pooris.
How to Make Pooris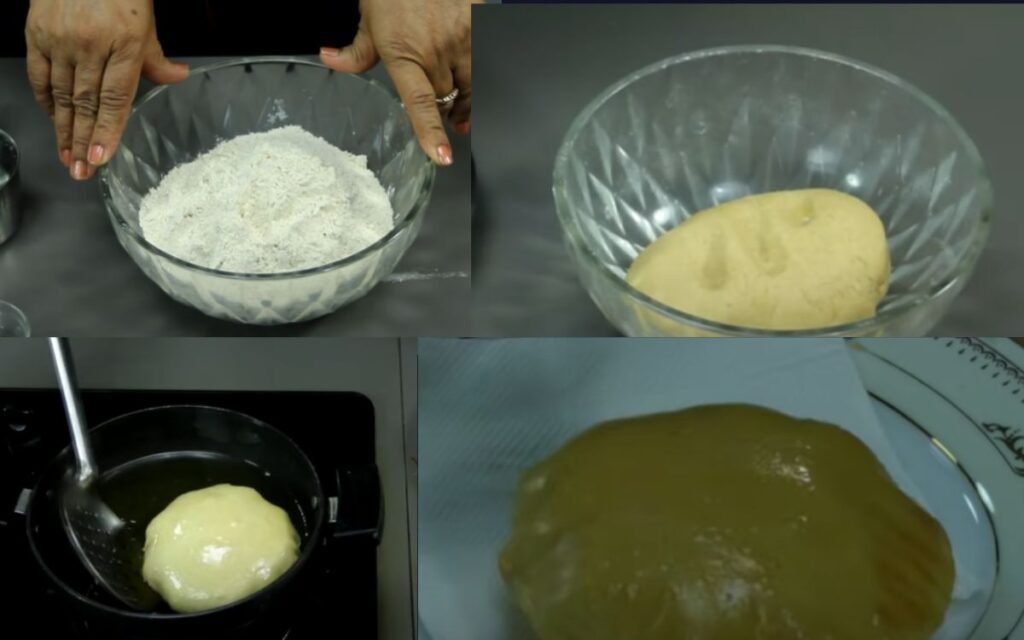 Step 1: Kneading the hard flour
For kneading the dough of puris, take flour in a big bowl and add salt 1/2 tsp or as per taste.
Now add 2 tbsp ghee to it and start kneading by adding little water. While kneading dough makes sure you don't make it too stiff or too soft. Knead the dough well until it gets smooth. With this, you will get soft and smooth dough balls.
In Step 2: Make Round Balls out of dough
After kneading the dough, cover it with a clean cloth and keep it set for 20-25 minutes.
After 20-25 minutes your knead be set to make pooris. Now apply ghee to your hands and apply it to the dough to make it smooth.
Now make small balls of the dough. You can keep the size of the pooris small or big as desired.
Divide the dough and roll it into a long log shape.
Repeat the process with the rest of the dough lumps as well.
Step 3: Fry the pooris
Meanwhile, heat some ghee in a wok to deep fry the pooris. Cover the dough balls to prevent them from drying. Let the ghee gets hot rightly and then start with making pooris.
Take one dough ball and roll it out into round and thin poori.
While rolling out the pooris make sure you roll out from the edges and not at the center. Make sure you roll out the poori evenly from all sides. It should not be thin in the center and thick on the edges.
After that, Drop a little dough into the ghee to check if it's rightly heated or not. If the dough balls immediately started floating on the surface means that the ghee for frying the pooris should be rightly heated.
After that, Slide the rolled poori into the ghee and press it gently with the ladle to puff it up.
After this flip, the side and continue frying until it gets golden brown on another side as well.
If the poori is golden brown from the other side as well. Similarly, Drain out the fried poori from the pan. Hold the ladle on the edge of the wok so that extra oil drains back to it. Similarly, fry all the pooris.
If you feel that the ghee has turned too hot then reduce the flame.
Drain out the pooris and place them on a plate.
Hence, With this much dough, you can prepare 20 pooris.
Steaming hot and mouth drooling pooris are ready.
Conclusion
This Chole Poori Recipe you should definitely try in this
Navratri
. Although you can make on normal days also. If you make a prasad at home to offer to God, then you should make it with full faith, definitely, your prasad will be good. Also Read:
How to make Motichoor Laddoo