Suji Ka Halwa is the most common sweet offered to the Goddess Durga at the time of Ashtami pooja during Navratri. It's made with basic ingredients that can be found in any kitchen. It is not only used for god offerings; it also makes an excellent dessert. It goes great with puris.
Suji Ka Halwa is a simple and delicious Indian dessert made with semolina (suji/rava), sugar, Clarified butter (ghee), and water. However, this traditional Indian dessert requires only four basic ingredients. The suji halwa tastes sweet.
Ingredients of Halwa
⅓ cup sugar
¾ cup water
¾ cup milk
⅓ cup Clarified butter (ghee)
½ cup sooji
8-2 whole cashew nuts for garnishing
⅛ teaspoon cardamom powder
Recipe of halwa (Step by Step)
1 Add sugar, water, and milk to a pan. Stir and heat on medium heat. You don't want to boil it, but the mixture should be heated through and the sugar dissolved.
2. While the milk-water mixture heats, melt the Clarified butter (ghee) in a small pan over medium heat. Allow the Clarified butter (ghee) to loosen.
3. Then, add sooji to the pan and stir to combine.
4. Stir in the cashews that have been broken.
5. Roast the sooji on low-medium heat, stirring constantly.
6. Continue to stir and add cardamom powder.
7. On low-medium heat, stir for 8 to 9 minutes. When the sooji begins to smell fragrant and change color, it is time to add the mixture of heated milk-water syrup.
8. Pour in the heated milk-water-sugar mixture. It will bubble a lot as you add the liquids to the pan, so proceed with caution.
9. As you add the liquids, continue to whisk the sooji.
10. Add the liquids in 2-3 parts, whisking with one hand continuously.
11. Continue to stir as the sooji absorbs the liquid and thickens.
12. Stir for another 2 minutes, or until the halwa thickens and begins to leave the sides of the pan.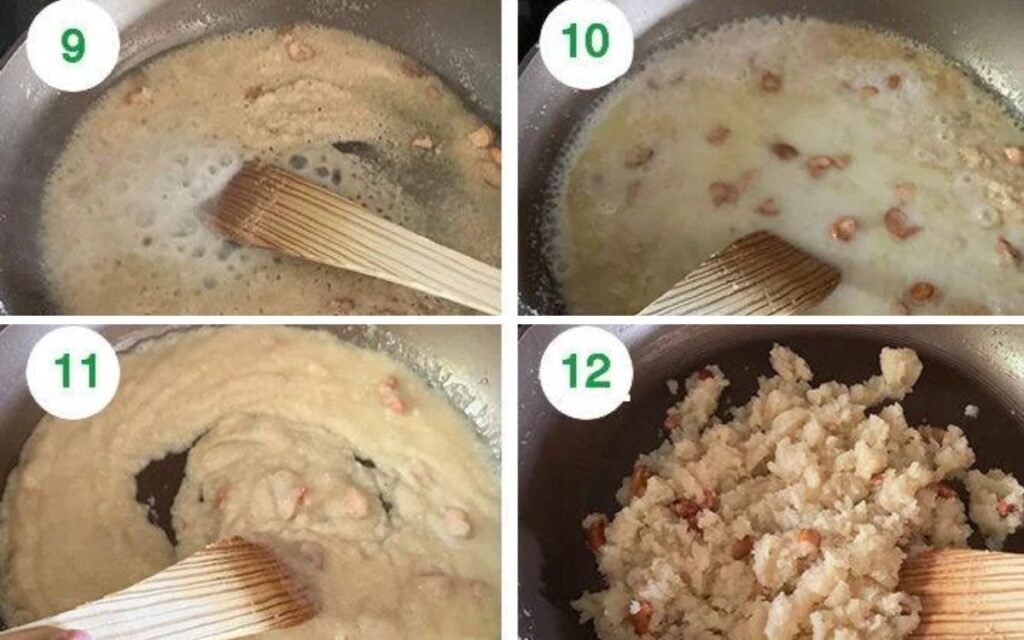 Garnish with more cashews and serve sooji halwa warm!
Instruction For Halwa
You can flavor the halwa with dried fruit and almonds.
If you think that's too much Clarified butter (ghee), reduce it to 1/3 cup. It does not advise going any lower.
This halwa has a light sweetness to it. Use 1/2 cup sugar or more to make a sweeter halwa according to your preference.
Saffron can be added for color and flavor. While the liquids are heating, add it to them.
If you prefer a darker color halwa, simply roast the sooji for an additional 1 to 2 minutes.
Conclusion
Suji ka Halwa is a popular dessert in India. It is a mixture of sugar, suji, clarified butter, and water. The Halwa is typically made during festivals such as Navratri. Moreover, there are different types of halwa that can be made like Gajar halwa, dudhi halwa, moong dal halwa, atta halwa, etc. Each type has its own unique taste and flavor.
Also Read: Coconut Ladoo: Recipe & Tips