Turmeric has a great significance as a natural product since ancient times. Turmeric is used to cure skin problems even today. Nowadays there is a wide variety of soaps available in the market. These turmeric soaps have many antibacterial properties and antioxidants like turmeric that benefits the skin in many ways. Turmeric soaps are great for all skin types. Nowadays people prefer natural products, that benefit their skin, and turmeric soap is one of them.
If you also prefer natural products, turmeric soap is a great choice for you. Read the article to know the benefits of turmeric soap, how can you make turmeric soap, and why you should use turmeric soap as a skin care product.
Benefits of Turmeric Soap
Nowadays the market is filled with many chemical products that can affect your sensitive skin and turmeric soaps are the solution as it is anti-inflammatory and also has anti-aging properties. Turmeric soap is gaining popularity because of its effective benefits on the skin. There are many benefits of turmeric soaps that are mentioned below.
1. Anti-aging properties
It is a great choice for anti-aging because of its antioxidant properties that help in reducing the radicals, swelling, and fatigue on your face and you will ultimately feel the change in your face glow over time. They also help in combating wrinkles, dark spots, and fine lines on the skin. It also helps in moisturizing the skin and making it glowing.
2. Anti-inflammatory properties
Turmeric soaps prevent your skin from itchiness and redness appearing on your face due to pollution or from chemical products. These soaps have Curcumin, an antioxidant found in turmeric. It works as an anti-inflammatory and anti-oxidant agent. It benefits the skin by reducing skin redness and repairing skin damage. These soaps usually open the pores and give a glowing effect.
3. Reduces acne
People often suffer from acne problems. Turmeric is very useful for controlling the oil balance in the skin. It will clean the pollutants damaging your skin. The use of turmeric reduces the growth of blackheads on your skin as it reduces the growth of bacteria. These soaps have many antiseptic properties, if you use them regularly, you will definitely see the result difference in the existing acne and the after-effects of using the soap.
4. Reduces dark spots and whitens the skin
Acne definitely affects the skin as it reduces the glow and leaves scars on the skin. These scars will not look good and affect the skin tone. As mentioned properties of turmeric soaps will help you reduce acne and increase your skin tone. Use these soaps regularly and your skin can become scarless and even-toned.
5. Prevents the skin disease
Turmeric soaps help in treating many skin diseases like lichen, planus, psoriasis, eczema, and alopecia. These healing properties are very beneficial for the skin. Dermatologists also suggest these soaps as an antiseptic for the skin. It is also effective in treating a skin disease called scabies. Scabies is a disease caused by microscopic bacteria that will cause rashes and redness on the skin. Turmeric soaps help in reducing the chances of this skin disease.
6. Gives a Natural glow
Pollution is the main reason for the decrease in the skin glow as it affects the skin cells and makes your face dull. Turmeric soaps help shed dead cells and moisturizes your skin and give back your original skin glow.
7. Fades stretch marks
Turmeric soaps help in fading the dark stretch marks on your body or face and help in healing in an effective way.
Also read: Vajrasana Benefits: All you need to know
Which Turmeric soap you should buy
As you read the above-mentioned benefits of turmeric soaps, just remember one thing, as you go to buy the turmeric soap make sure that it does not contain turmeric only. Other natural and essential oils are also necessary to be added as they will provide your skin with a natural effect. Buy soaps with ingredients that will eliminate skin problems and also has no side effects after use. You can buy the following ingredients soap with turmeric:
Shea butter – moisturizes the skin, is full of Vitamins A, E, and F, and reduces skin redness
Castor oil – moisturizes the skin
Hemp oil – rich in fatty acids
Turmeric – heal the skin infections
Babassu oil – high in Vitamin E
Rice bran oil – rich in fatty acids
Avocado butter – moisturizes the skin
Cocoa butter – moisturizes the skin, high in fatty acids, and helps to hydrate the skin
Olive oil – skin moisturizer with antioxidant properties helps to relieve dry skin
How to make turmeric soaps at home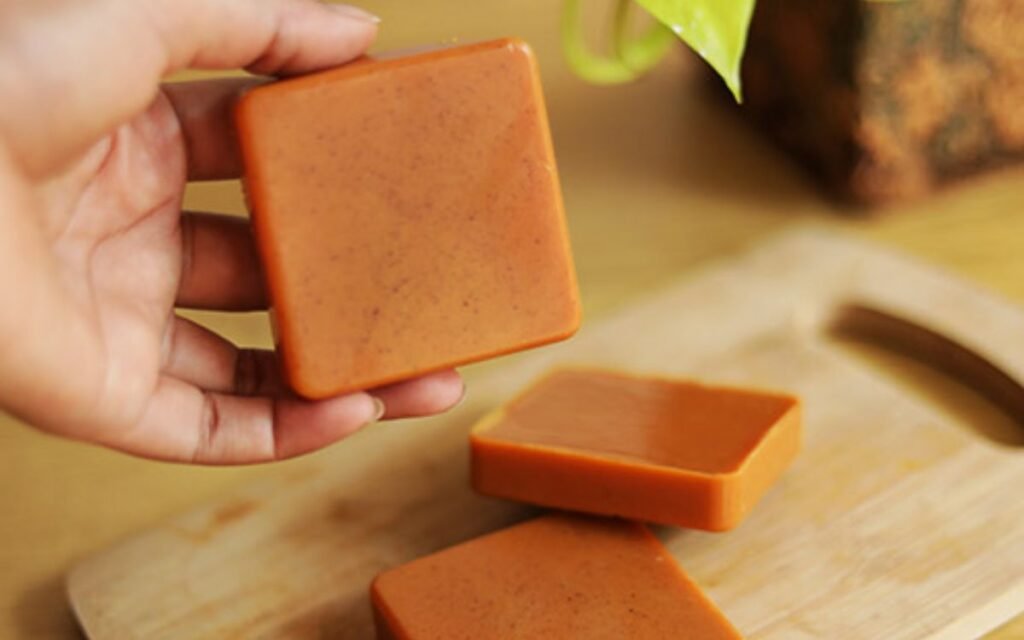 There is a simple process by which you can make turmeric soaps at home. It will take time but you don't need skills to make these soaps. The method for making soap is mentioned below and it is also suitable for all skin types.
Ingredients
Turmeric powder
Natural oil like shea butter, coconut oil, or olive oil
Essential oil like lavender, rosemary, orange, tea tree, lavender or lemon essential oil
Soap molds
Goat milk
Effect of the ingredients
Turmeric powder
Turmeric powder is a natural ingredient and can also make it home using raw turmeric. It is easily available in the market and is budget-friendly. it will act as a natural pigmentation base for the skin.
Natural oils and goat milk
It's complicated to just use a solution for making the base of the soap. You can use natural oil like shea butter, coconut oil, or olive oil. You can also use goat milk as a base. This will effectively reduce the acne problem on your skin. You can also buy these organic soap melt and pour base
Essential oils
Adding an essential oil will benefit the skin and also add fragrance to it. You can use essential oils like lavender, rosemary, or orange essential oil. You can also use lavender, tea tree, and lemon as essential oil for acne problems. Lemon is a great choice for skin lightening.
Soap molds
You can use any shape of soap mold available in the market according to your need. You can also silicon molds
Also, read: Benefits of keeping Wisdom Teeth
Process of making Turmeric soap bars
Material required
2 cups goat's milk melt and pour base
2 tablespoon olive oil
1 tablespoon turmeric powder
15 drops of Turmeric essential oil
15 drops of lavender or any essential oil you want to add
Making process
Cut the goat's milk soap base into 1-2 cubes.
Put about 12-16 cubes into a microwaveable glass bowl and place in the heat for 90 seconds.
Stir well with a rubber spatula, after heating, turn the lumps into thin better. Heat it again for 30 seconds.
Then mix the turmeric powder into the olive oil. It is easier to add to the soap base without lumps. You can use a whisk to blend them together.
Add this base to the soap base. If the soap gets thickened hard, stir it and heat it for about 30 seconds before adding.
Then mix it with the essential oils.
Finally, put the soap batter into the silicone soap molds. Fill it completely and leave it to dry. It will take 1-2 hours to cool down.
After 2 hours, take them out of the molds. Put the soap bars on a solid surface and allow them to dry and then use them as per your needs.
Tip: You can also add fat to this base as it will not dry your skin and the batter will be more creamy. Only use this in the case of dry skin.
Summary
Undoubtedly, Turmeric soap provides many benefits to our skin. It is a great solution to our skin problems. They are very effective for all skin types, with no boundation on the age of the person. It will help you in reducing acne and dark spots and also adds a natural glow to your skin. This natural ingredient will definitely benefit you in numerous ways.