A power waxer is a tool with an electric motor that is used to shine your vehicle by applying wax to it and giving it a perfect shine. If you have a car, you surely want to maintain it for a long time. Routine car washes can damage the finish and paint of the vehicle. To maintain that shine you have to wax it. If you are waxing it on your own, it's a lot. You can maintain it by using power waxers.
Using power waxers can make your work easy and will save a lot of time. You can use it for both interior and exterior of the vehicle. Power polishers are available in different sizes and prices and come in two models which are corded and cordless. You can choose the best according to your needs. A few of the best brands are mentioned below:
Porter-cable variable speed polisher
This power waxer is a perfect fit for the ones who just own a vehicle. The porter cable is an ideal choice because of its features. It has a standard six-inch pad and 4.5 amp motor which is capable of doing all your polishing quickly and saves your time.
It has the capability of 2500 to 6800 orbits movements per minute. With this high movement, you can remove deep scratches easily. If we adjust the speed of the power waxer, it doesn't show the exact orbit per minute as per the adjustments. If you are a beginner then it can be hard for you to try it for the first time. But eventually, you will get habitual of this after you try it more than once.
It has a compact body with a removable two-position handle that will help you position the handle left or right side, according to your needs. This also helps you to polish the tight spots on your vehicle.
Pros:
Suitable for beginners
Durable
Comes with a three-year warranty
It has a removable two-position handle
Variable speed
One-year free service
Cons:
High price
Heavy machine
Takes time to get comfortable with it
Light Foam pad
Not able to indicate the speed as per opm
Chemical Guys TORQX polisher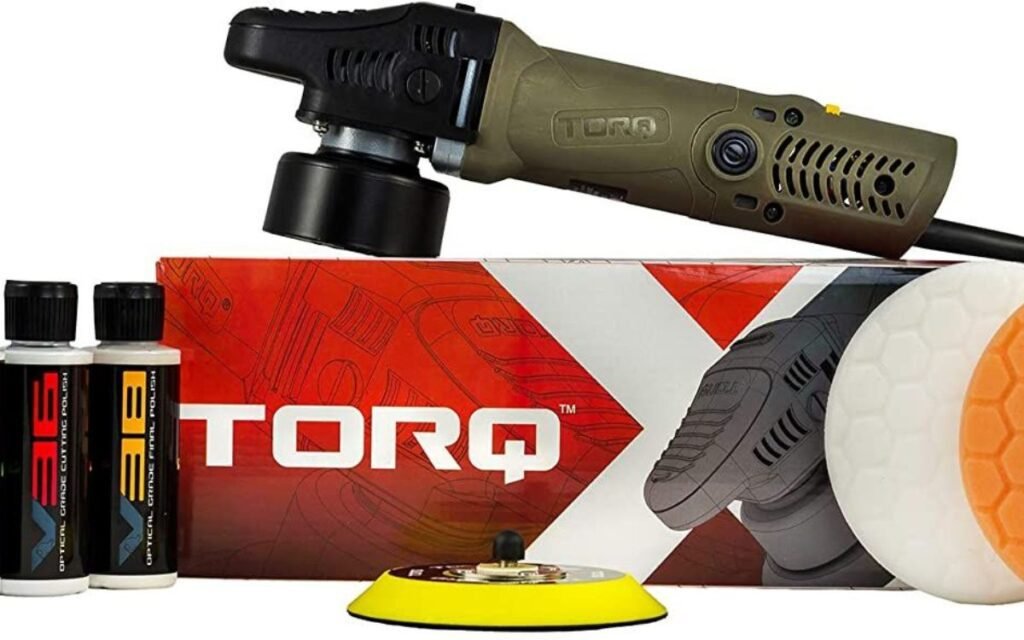 Chemical Guys TORQX polisher is an easy tool that can be used by anyone. It has a compact design with an 8 mm orbital throw. This power waxer allows you to polish deep scratches on your vehicles and give them the brighter shine that the user wants.
It has a feature of VSS one-step compound polish which allows you to polish your vehicle in one step and also gives a great finishing. This power waxer is durable and is available in a kit form which will definitely help you in taking care of your vehicle.
It has many features which make it a good choice for customers. This power waxer has strong motors of 120 volts and 700 watts. It runs from 2800 to 7800 rpm and can easily be used as it has streamlined controls that will remove all the deep scratches and defects on your vehicle.
But it has a problem as it produces strong vibrations when we use it at a lower speed. It comes with three different pads that will be used for various levels of polishing the car. It is very useful for beginners.
Pros:
It comes with pads
Suitable for deep polishing
Customization is possible
Can be used for multi-purpose
Cons:
Costly
Provide Strong vibrations at lower speeds
Not comes with a handle for easy use
DEWALT Variable speed waxer
DEWALT Variable speed waxer comes with a 20V lithium-ion battery and it is cordless that is flexible enough to give the shine and remove all the scratches from your vehicle. It is heavy and comes with durable construction. It has nine-inch diameter pads which easily fit on the pad plate. This waxer is powered by a 12 amp motor which generates power between 600-3500 rpm.
It works well for many vehicles as it has Max XR cordless power tools that are very convenient to use. These batteries can be used with other tools. It also has a u-shaped handle which makes it easier to use. It can be held for a long period of time because it weighs only 6.7 pounds. But its use can be difficult for beginners as sometimes users might face an issue with the speed controller.
Pros:
Three-year warranty
Cordless
Big and flexible handle
Great results
Heavy body construction
Cons:
Not suitable for beginners
Heavy body
Costly
Get lower at top speeds
WEN-6 Waxer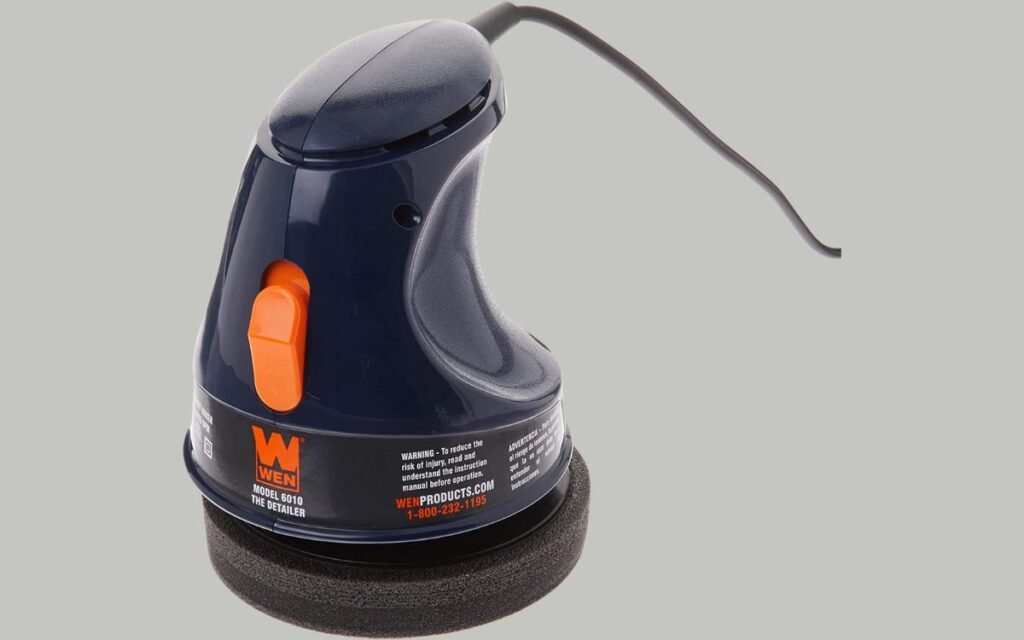 WEN-6 has an orbit technology that makes it powerful for shine and delicate for finishing. Because of this technology, its pads can change their arc on rotation. It is light in weight, easy to handle and portable which makes it a good choice for users. It also comes with a six-inch buffer that will easily polish your vehicle.
This power waxer comes with a short handle that can be easily used by the user and can be held for a long time. It will move along as it doesn't stick to the same spot for a long time. It changes its position after each spin which is why it is an ideal choice for beginners.
This waxer comes on a budget and has also a one-year warranty. If you hold this buffer for too long that will also not affect your vehicle. This buffer prevents you from any burning and rubbing of too much paint on your vehicle.
Pros:
Comes in budget
It comes with orbit technology
Single-speed operator
Cons:
Speed is limited
Comes with only a 5-foot cord
Contains only one-handle
WEN-10 Waxer
Because of its 10-inch pad, it is very easy to just wax your car very easily and quickly. It operates with a speed of 3200 orbits per minute. Its buffer doesn't stay in one place, so make sure you won't just burn the paint while polishing. It consists of two handles that you can use to take control all in your hands.
It will work at a slow spin speed that may not be able to polish deep scratches on your vehicle. But still, it is an ideal choice because of its finishing of polish on your vehicle and easiness to use on vehicle. It also comes with a storage case that will increase its utility and keep all the tools and polish safe and ready to use whenever to want it. It also keeps your storeroom clean and can be easily adjusted due to the case.
Pros:
10-inch pad
Comes in budget
It consists of orbit technology
Single-speed operator
Cons:
Not suitable for beginners
Storage problem
Large in size makes it tough to reach small areas
Tacklife polisher
This power waxer comes with a ball bearing motor which provides smoothness to the paint. It consists of a seven-inch pad with a 12.5 amp motor that makes it a smooth operator for removing all the scratches on the vehicle. It comes with a feature of six variable speeds which makes it a quicker tool than others.
In this power waxer, you can choose the variable speed from the digital screen. You can turn it on or off according to your convenience. This waxer also comes with a set of brushes that you can use to maintain your vehicle and polish it on the smaller areas.
It also comes with an adjustable D-shape handle that will give you control over the movement of the power waxer and its easy rotatability will let you hold it easy even for a long time.
Pros:
Comes with a digital screen
Has a feature of the speed selection memory
Its parts can be moved and changed
based on modern technology
Cons:
It doesn't have orbit technology
Doesn't have a handle for holding the side
CUBEWAY Dual Action Polisher
This waxer comes with twelve variable speeds that are between 1800 to 5000 rpm. It has a lock-on switch that will help you with the waxing or buffing. This also contains a D-shape handle with a pistol grip that is easy to use and gives a long-lasting effect. It is also a dual-action polisher which reduces the risk of burning the paint.
We can easily adjust the speeds, the higher make it flexible and the lower makes it easy to move. So, it can be used in different ways according to the need. It also has a six-inch backing plate which is also available in different sizes. It is easy to use and this set of tools will help your car to wax properly and quickly.
Pros:
It has a feature of 12 variable speed
Comes with big handles
Also comes with extra pads
Cons:
Not that effective motor
We cannot replace the backing plate
Cord is short
Ryobi One Cordless Orbital Polisher
It consists of a One+ 18V lithium-ion battery, which consists of 50 other Ryobi tools that come with a battery pack which makes it an easy choice for the users. It is cordless and also has random orbital technology. Also, consists of a 10-inch backing plate and two handles which makes you control it easily. It comes with a single-speed system.
The design helps in reducing the risk of burning and gives the finishing look. Its spinning speed is up to 2500 rpm which makes it easy to roll over your vehicle. Its battery life is short but you can swap it from other one.
Pros:
The battery system is flexible
Orbit technology
It is cordless
Cons:
The battery position is not good
Battery life is short
Black Decker Random Orbit Waxer
This power waxer weighs only 5.3 pounds which makes it easy to handle for the user. It comes with an orbit polisher that can move at 4400 orbits per minute. This waxer comes with a two-handle design and also it is cushioned which makes it easy to take the command on the handle and polish your vehicle easily.
It has a 10-foot cord that makes it an easily controllable device. It consists of a foam applicator pad with two polishing bonnets. These tools make it easy to apply wax and polish to the vehicle easily. But the foam applicator is not that effective as it may tear in between. This power waxer also doesn't have the option of variable speed which is its main limitation of it.
Pros:
Two handles for control
Easy to use
Light in weight
Budget-friendly
Cons:
Non-effective Foam applicator
Not comes with a feature of variable speed
POLIWELL Car Polishing Sponge Pads Kit
As this waxer takes up a lot of space and you don't have that much space, you can buy this POLIWELL Car Polishing Sponge Pads Kit. This will also fit your budget. You can add drills and pads according to you. it comes with an option to attach the drill whichever you want to. If you need extra pads, you don't have to purchase them separately. It comes with multiple wools and foam bonnet pads.
its spin doesn't move quickly for deep scratches so it is not a good choice for professionals in this field. Also, the motor is not that efficient to work for long hours. But the multiple pads can help you in removing the scratches and do the polish according to you.
Pros:
Budget-friendly
Good for beginners
comes with multiple pads
Cons:
not comes with a drill
No orbit technology
It can burn the paint
Conclusion
A power waxer is a great tool for waxing or polishing your vehicle. Its features make it easy to do it on your own. The above-mentioned list has all the answers to the questions which will come to your mind when choosing the best power waxer for your vehicle.
Also read:
Impact of Electric Vehicles in India