If you've ever driven a car or bike, you've probably been pulled over by traffic police at least once. If your vehicle is being stopped by the Traffic police does not always imply that you have committed an offense. Sometimes Traffic Police stopped a vehicle only to do a routine check and make sure the driver is following all traffic laws. When you are pulled over by the police, the first thing they will do is check to see if you have all of your vehicle documentation.
Documents that may be asked by Traffic Police
According to Indian vehicle laws, every vehicle on public highways must carry specific documents. If your vehicle is stopped by a traffic Police, you may be asked to present certain documents. If you are missing any one of the following documents, you may get into difficulty and face a driving penalty. Consider the following documents that a traffic Police may request:
The driver's driving license, and your vehicle's registration certificate (RC) Pollution Under Control (PUC) certificate. Car insurance policy with at least a third-party insured.
Keep original copies of these documents in your vehicle. You can also save soft copies of these documents on your phone, in your email, or in a government-approved application digital locker.
Things to Remember If Your Vehicle is Stopped by the Traffic Police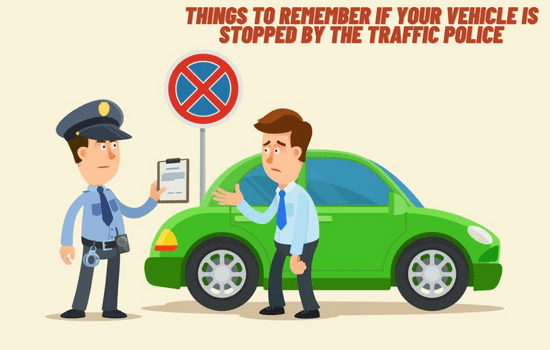 Stopping a Vehicle does not represent a violation of the law
If a traffic Police stopped your vehicle, it does not necessarily mean you have committed an offence or violated the law. The police may stop your vehicle to inform you of a problem with your vehicle or to conduct random checks. For example, if you are driving at night without headlights or have a punctured tyre, the police can indicate you to stop.
Cooperate with the Traffic Police
You must cooperate with traffic Police and stop your vehicle when directed to do so by traffic Police. Avoiding stopping the vehicle and continuing to drive can lead to major problems.
Safely Stop Your Vehicle
After looking for any fast vehicles in other lanes, you should stop aside. You should not change lanes or stop your vehicle irresponsibly, as this could result in a serious accident.
Do Not Worry
When traffic police signal you to stop your vehicle, you should not be afraid. Remember to stay calm and not get out of your vehicle to find out why the police have stopped you. Slide down your window and wait for the officer to see whether you have anything unlawful in your vehicle. You should also turn off your vehicle's engine, as this will indicate to the officers that you will not be driving away.
Maintain Your Respect
When talking with traffic Police, you should always be polite. Apologize politely for any missteps you have made. If you are polite, the cop may issue you a warning rather than a challan if you have committed a minor offence.
Also Read:- Impact of Electric Vehicles in India
Do Not Offer the traffic police a Bribe
You should not offer to pay the traffic Police who have stopped your vehicle because you will be arrested. If you have violated the law, pay the fine and do not contribute to corruption.
Do Not Encounter the Traffic Police
You should avoid arguing with the traffic Police and admit that you have violated the law. If you have not committed any laws, you should remain cool and respectfully explain your situation to the officer. Try to understand the officer's point of view and, if you are not wrong, try to make him understand.
Vehicle Detention
If you are caught breaking the law in the zone, the traffic police may detain your vehicle. For example, your vehicle may be detained if you do not have your driver's licence, or vehicle insurance policy, or if you park in a 'No Parking zone.
Driver Detainment
If you are detained by the police for violating traffic laws, you must be brought before a magistrate for a trial within 24 hours.
When traffic Police stopped a vehicle, the driver has certain rights.
Refuse to Hand Over Your Driving License
According to Section 130 of the Motor Vehicles Act, 1988, you must show your driving license to traffic Police if asked. However, you have the right to refuse to hand it over to the traffic Police if you so desire.
Payment of Challan
If the traffic Officer is a sub-inspector or higher, you have the right to pay the challan on the spot.
Request Identity Card
If your vehicle is stopped by a traffic Police, you have the right to request their identification card if they are not carrying it. You can look up their buckle number and make a note of it for future reference. If the officer refuses to reveal their identity. As a result, you have the right to refuse to hand them your vehicle documentation.
Take a Document Confiscation Receipt
If the traffic police confiscate your driver's licence, vehicle insurance, or other documents, you have the right to a receipt. On the confiscation of documents, it is the responsibility of the traffic police to produce a receipt on behalf of the Traffic Police Department.
Use of Power
You have the right to exit your vehicle on your own. The police cannot pressure you to exit your vehicle or take your keys from the ignition.
Register a Police Complaint in Case of Harassment
If your encounter with the officer goes badly and you believe you are being harassed unnecessarily, you have the right to file a police complaint online or at the nearby police station.
Challan Issuance
You have the right to refuse a challan if the traffic Police do not have an E-challan generator or a genuine government-issued challan book.
Also Read:- The Future of Electric Cars in India
Raise an Objection to Towing if Someone is in the vehicle
You have the right to object to the towing of your vehicle if someone is inside. If someone is inside the vehicle, the traffic police cannot tow it.
Conclusion
It is fairly usual to be pulled over by the police. There is no need to be worried as long as you have not committed an offense. Most of the time, police stop a vehicle to see if the driver is following traffic laws, such as the requirement of third-party insurance coverage for all motor vehicles. Just be calm and communicate with the authorities by showing them your vehicle documentation, such as your driver's license and insurance policy. For a better experience, remember your rights as well as the rights of the police. Furthermore, keep the above points in mind to prevent the worsening of the situation.