You may use scissors and pluckers to remove your nose hairs. But a trimmer is a very good option for removing hair perfectly because Your nose and ear hair deserve the best care so, you should choose the best nose hair trimmers. It is made of those tools so that you do not get any injury and cut long hair easily. It helps to retain the remaining small hairs so that air can pass because it is the need of our body. The best advantage of using a Trimmer is that it does not cause you any pain, it is painless, and it removes your nose hair easily if you are thinking about the best trimmers for nose hairs.
How to choose the best nose hair trimmer?
You should see a range of shapes and sizes while choosing the best nose trimmer.
Nose trimmers are not generally more expensive you can easily afford this at a comfortable price.
Beginners should buy a simple nose hair trimmer because it can which is easier to use and hold.
You should also check that the trimmer should be wet or dry. It means your trimmer should be waterproof to maintain its cleanliness.
What to look for choosing the best nose hair trimmer?
You should choose the best nose hair for yourself because you are going to skin it and if you are not selecting it in the right way you may get hurt. Mentioned below are the best feature that you look at while choosing the best nose hair trimmer.
Comfort and Efficiency
Although trimming the hair on your nose can be an irritating grooming task, it doesn't have to hurt. Pick a trimmer with sharp blades that provide a clean, accurate cut. You can also cut the hair on your nose without pulling with blades bent to fit your nostrils. To get the most value for your money, you might also seek for a multi-purpose trimmer that can handle hair on your nose, ears, sideburns, and eyebrows.
Waterproof
You need a waterproof instrument if you intend to use your nose hair trimmer in the shower. Check the IP (ingress protection) rating and technical specifications to find out how waterproof the trimmer is.

Cleanability
You must maintain sharp blades if you want your trimming performance and power to last for a long time. Some instruments have detachable blades for simple cleaning or technology that cleans blades from the inside out.
Best Nose Hair Trimmers
Mentioned below are the best-selling, best brands and the good battery capacity nose hair trimmers. Definitely, you will find the best and most suitable one for you.
Manscaped Weed Whacker
Brand:- Manscaped Refining The Gentleman
Weight of Item:- 7 ounces
Blade Material:- Stainless, Steel, Stainless-steel
Battery Quality:- Its battery lasts for 90 minutes. With the help of a handy USB connection and AC adapter, the potent 600mAh li-ion battery can be readily charged. Also, you need a battery for this trimmer or rechargeable.
Weed Wacker is designed using the next-generation technology in their latest offering trimmers. To keep your ear and nasal cavities groomed you should use Weed Whacker. These trimmer fit in the nostrils perfectly and also they are lightweight and easy to control for a beginner. It is waterproof and multipurpose. It means you can use it on your nose and ears as well.
The Best Deep-Canal Trimmer
Brand:-Wahl Clipper
Weight of item:- 4 ounces
Material:- Alloy Steel
The Wahl 3 in 1 Battery can help to trimmer Ears, Nose, and Brows to get a clean fresh look every day. It provides three interchangeable heads that are reciprocating head which is great for necklines, sideburns, eyebrows, and ear trimming. The second one is the detailing head which is great for detailing, edging, ears, and eyebrows. The third one is the Rotary head which is best for hygienic nose and hair trimming. It is made with professional quality steel cutting blades also it is best for removing unwanted hair without plucking or pulling from the skin.
Philips Norelco Nose Trimmer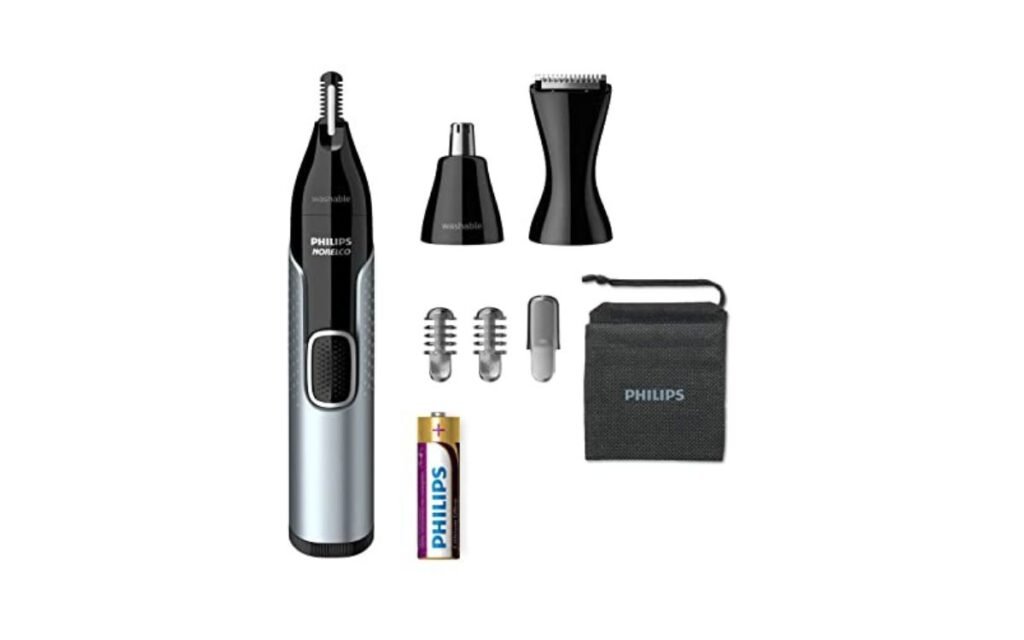 Brand:- Philips Norelco
Item Weight:- 5.6 ounces
Material:- Alloy Steel
Philips Norelco Nose Trimmer helps to groom unwanted facial hair. you can use it trim to trim your eyebrows. This product has a lithium battery which provides multiple usages. Also, it comes in a pouch which makes the trimmer easy to travel. This trimmer is fully washable and considered the best product for nose trimming.
Toilet Tree products Nose Hair Trimmer
Item Weight:- 0.25 Pounds
Brand:- ToiletTree Products
Material:- Alloy Steel, Plastic
Toilet Tree Nose Products are the best for the nose and air trimming. It only works on one battery. It is waterproof, you can even wash it with water after use. Its smooth fringe and its quality blades give you the perfect cut. This trimmer can be used not only on your nose but also on your eyebrows, beard, and ears. It also removes those hairs which are not easily removed by the standard trimmer.
Tweezerman Nose Hair Trimmer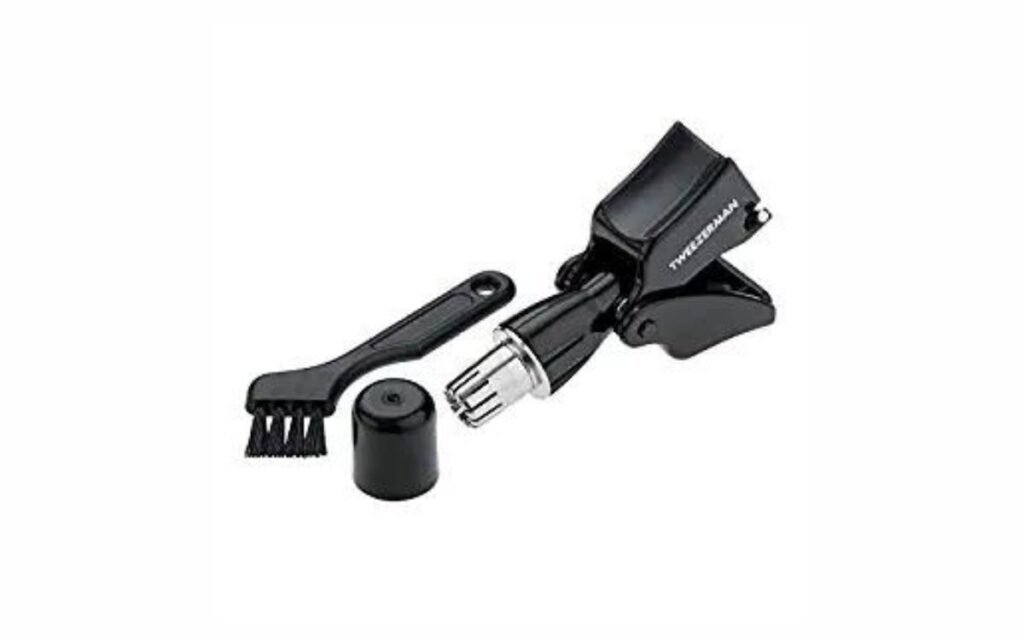 Item Weight:- 0.04 Pounds
Brand:- Tweezerman
It is designed in such a way that its blades do not harm your skin. With this, you are given a brush so that you can keep your blades clean and germ-free. The best part is that you do not need any battery in this. And it is made of high and best quality steel which does not break easily.
ConairMan Nose Hair Trimmer
Item Weight:- 3.488 ounces
Brand:- Conair
This men's trimmer comes with 3 unique bevel blades. This trimmer also comes with a shaver attachment for perfect edges and lines. There is no battery requirement in these trimmers. Its blade is a 360-degree round blade which gives excellent trimming. Made with the best quality steel and plastic which gives a great look and also good for holding.
Remington Nose, Ear, and Detail Trimmer
Item Weight:- 0.29 Pounds
Brand:- Remington
This detail trimmer helps to remove unwanted hairs quickly and comfortably. It is a battery-operated trimmer. The best thing about this blade is it has dual-sided blades. This product provides you with a boost button. It is a rotatory, skin-friendly trimmer that gently trims the nose and ear. It is also perfect for sideburns, eyebrows, ears, and noses.
Groom Mate Platinum Ear, Nose Hair Trimmer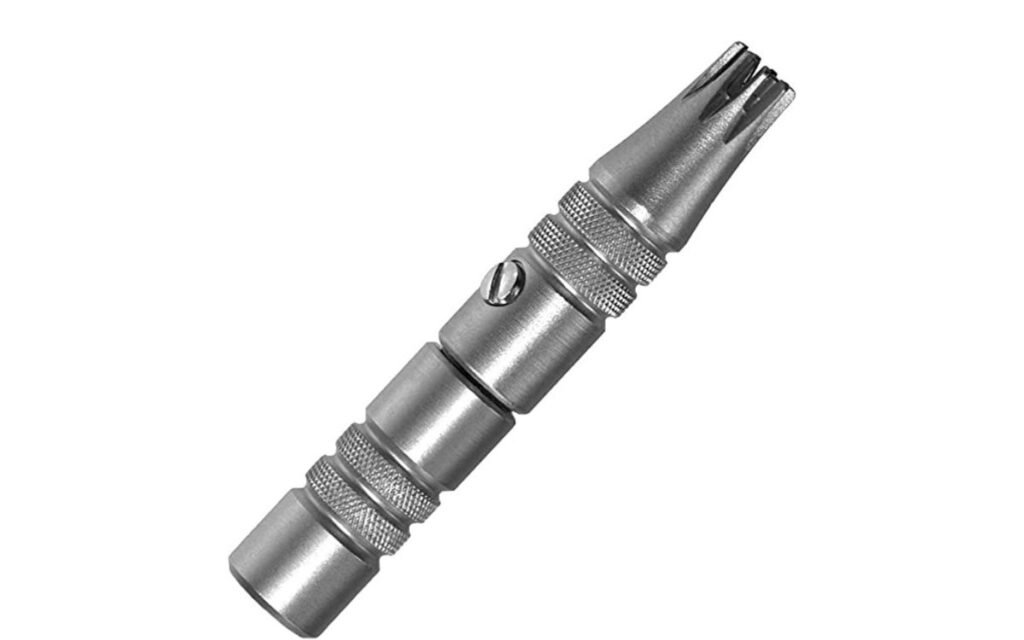 Item Weight 1.8 Ounces
Brand Groom Mate
Material:- Stainless Steel
This Pain-free Groom Mate Platinum Ear Nose Hair trimmer is a battery-free trimmer. You don't need any type of battery to use it. You can also customize the rotation speed of the trimmer and experience smooth or pain-free trimming. Its superior design and materials make it different from the rest of the trimmers. Its blades are rust-free and smooth.
Ginity Ear and Nose Hair Trimmer
Brand: Ginity
Material:- Stainless steel
This trimmer includes a hair clipper, beard trimmer, ear trimmer, and eyebrow trimmer. It is too comfortable and quiet to clean facial hairs as well as nose and ears hairs and comes with a rechargeable USB cable and a built-in battery. Ginity trimmer is suitable and comfortable for both men and women. It is washable and waterproof which is convenient for cleaning and maintenance. This trimmer is a dual-edge spinning blade with a protective cover and 360-degree rotating design which removes the hair without pulling the hairs. It is an all-rounder trimmer that is also used for facial hairs and is lightweight.
Panasonic Ear and Nose Hair Trimmer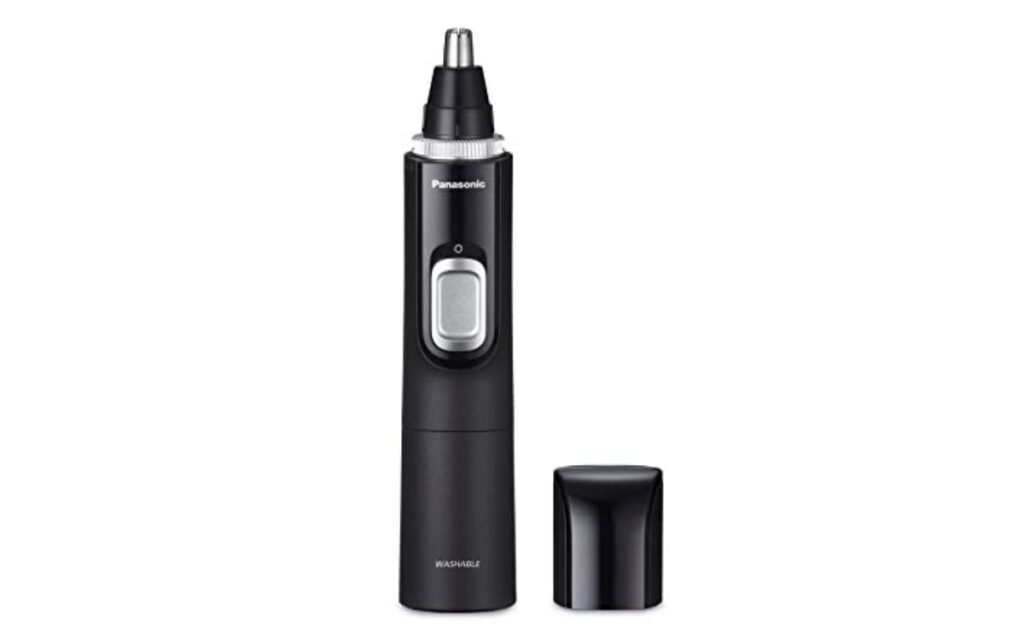 Item Weight:- 0.14 Pounds
Brand:- Panasonic
This Panasonic Nose hair trimmer easily removes your thick nose hairs. It can be used to trim nose or ear hair also it trims the brows and facial hairs. This trimmer has dual-edge trimmers blades to cut hairs which designs safely and protect the skin from blades. It is comfortable to use. It is a battery-operated design that provides up to 40 minutes of use.
Why Nose Trimming is Important?
Trimmers help filter the air you breathe to prevent it from getting into your sinuses.
Trimming long hair takes away your nose hairs and the problem of scattered pieces of waste remains without destroying their biological benefits.
Some stuff gets stuck in your nose, which can cause you a lot of trouble at times. That's why trimming is important for the nose.
How to use the Nose Hair Trimmer?
Even if you are a beginner at using a nose hair trimmer, you can still use the nose trimmer by using the proper instructions.
Slowly pour it into your nostrils and twist and swirl it around your nose.
Do not try to put it too deep inside your nose, it may hurt you.
Put it in your nose and keep moving so as not to keep it fixed in one place;
If you feel that all your nose hairs have been cut, then use it on the other side of your nose.
Is it safe to use a Nose Hair trimmer?
It is safe to remove the nose hair trimmer. If you cut your nose hair with scissors or tweezers, you can get hurt. Trimmer is much easier to do than these. They are designed in such a way that they do not cause any skin irritation and also protect you from getting hurt.
Nose trimmers do not remove your hair completely, but they do remove nose hairs completely as far as there is growth. A laser is a permanent option if you want to remove hair permanently but it can damage your nasal cavity.
Precautions While Using the Nose Hair Trimmers
If your nose hair is too thick and long, then there will be no problem in using it. But if your nose hairs are small but you are still using them, then you may get hurt.
Keep in mind that if you put it too much inside the nose, you can get hurt more, so do not put it too much inside the nose.
Is the trimmer only for the nose?
Even the most basic ones work well for cutting, long eyebrow hairs, and ear hair. Other trimmers also have interchangeable attachments that can be used to trim body hair, mustaches, and beards and shape facial hair. Others are complete clippers with an attachment to cut the hair on the nose.
Choose one based on where you plan to use it, but don't try to stray too far from the path. Keep to the purposes for which the trimmer and attachments are intended.
Conclusion
You should trim your nose because it looks very strange, if someone interrupts you, then your confidence can also drop.
Having hair in the body is a good thing but some inappropriate hair can be removed. Hair fall in your nose can bother you and force you to keep scratching your nose all day which should not be the case. So whenever you trim, you increase your comfort and feel better throughout the day. One drawback of trimmers is that if your hair regrows even after you've trimmed it, you may need a trimmer over and over again. You must have a trimmer for a better look and personality.
Also Read:-
Best Vegetables Chopper of 2022
Things you must know about Redensyl