Cutting vegetables is a complicated task that only a vegetable chopper makes simple and enjoyable. It allows you to select the chopping manner and has excellent sharpness. A vegetable cutter will significantly reduce the time you spend cutting vegetables. However, not many models support cutting chicken and other types of meat. The majority of vegetable cutters make of plastic and are available in a variety of designs and uses.
In this blog post, we are introducing mainly all types of vegetable cutters veggie chopper, hand chopper, fruit and vegetable cutter, electric vegetable chopper, manual vegetable chopper, and multifunctional vegetable cutter. where you can decide which is the best chopper for your kitchen.
Read more: How To Thicken Alfredo Sauce
Advantages of Vegetable Chopper
Offers a contemporary viewpoint
Simple to use
Reduced mishaps in the kitchen
Immune to bacteria
Time-efficient
Makes preparing food a fun experience.
Has multiple functions
Food Processor vs. Food Chopper
Things to consider before buying a vegetable chopper
Electric or Manual:
Vegetable choppers are of two types. Electrical and Manual.
They are available in plastic material with steel-bladed cutters or pointed blades. These blades cut the vegetables placed and store them in the box below.
Electric models are faster, more convenient, and ideal for restaurants and big establishments that wish to cut many vegetables quickly. Electric choppers are the better choice as they are easy to use.
Versatility:
While most choppers can chop, dice, and mince foods, they can't perform the grinding function. So, instead, look for a chopper that can cut vegetables to various sizes, finely chop nuts and mince garlic and ginger.
This sort of versatility is primarily only possible with that of an electric chopper. Most electric choppers can act as makeshift grinders too.
How to use vegetable chopper
The vegetable chopper's lid should open, and the blade should insert correctly into the container.
After placing the vegetables in the container and sealing the lid, pull the vegetable chopper's String.
Always hold the container in one hand while pulling the thread with the other.
Then let the string revert to its original state.
The more you pull the String, the more likely you will obtain finely chopped vegetables.
If you're using a string vegetable cutter to cut onions or tomatoes, don't add the whole onion or tomato at once; instead, slice it into at least four pieces before adding it to the cutter.
If your String becomes stuck, don't pull it too firmly; instead, leave the String in place and slowly shake the entire vegetable-chopping machine up, down, and left to right. Because, sometimes, veggies can become stuck in the blades when you use too many at once.
Therefore, don't fill the String Vegetable Chopper completely with veggies for quicker and better results. Leave some room for the String Chopper to move around.
After each usage, wash the String Vegetable Chopper with lukewarm water and soap.
After cleaning it, please don't close the lid; instead, leave it open until it dries. Then, close the cover.
If you don't close the container's lid right away after using it, a foul smell will come out of it the next day when you do.
After cleaning, dry the blade with a cloth because the sharpness will quickly wear out if you keep it wet.
When cleaning, be careful because the blade is exceptionally sharp.
List of the best 10 top vegetable cutters
1. Solimo Plastic 500 ml Large Vegetable Chopper with 3 Blades, Blue, Amazon Brand
Easily chops fruits and vegetables thanks to its three high-quality, sharp stainless steel blades.
500 ml maximum volume
With its small size of 13.5 cm x 13.5 cm x 9 cm, it is simple to store in the kitchen.
Excellent food-grade plastic body for use that is almost unbreakable
Blades, the container, and the lid may all maintain easily and cleaned independently.
To help lock in safely while in use, the lid(on the top) has four locks.
To effortlessly cut all varieties of fruits and vegetables, use a simple, powerful pulley mechanism.
2. Three-bladed Pigeon Polypropylene Mini Handy and Compact Chopper for Easily Chopping Fruits and Vegetables for Your Kitchen (12420, Green, 400 ml)
a unique string function for effortless fruit and vegetable chopping;
The package includes a single handy chopper.
eco-friendly architecture, no need for electricity;
30 days of warranty coverage limit to manufacturing flaws.
ABS plastic is indestructible and durable when used for a long time. Polypropylene (PP) is the material and the sturdy 3-blade design build of stainless steel. Cleaning is simple with tepid water, a light detergent, and a soft cloth because of how quickly this Pigeon chopper can open and separate. Manual power requirement
Green colour, plastic material
Name of Size: Standard
3. Blue, 900 ml, Butterfly Premium Vegetable Chopper
a remarkable string function to quickly and easily cut up fruits and veggies
ABS plastic is unbreakable and durable for long-term use.
No power requires.
Stainless steel 3-blade design that is sturdy
the design is Eco-friendly
Sleek and Compact Design
4. Pigeon XL Handy and Compact Chopper for Easily Chopping Fruits and Vegetables with 5 Stainless Steel Blades and 1 Plastic Whisker (Green, 900 ML, 14298)
For durability, the Handy Chopper XL is made of polypropylene (PP).
Because the Handy Chopper XL can easily open and detach and has a sturdy five-blade design made of stainless steel, cleaning it is a simple process that only requires lukewarm water, a light detergent, and a soft cloth.
The handy chopper xl's unique string feature makes chopping fruits and veggies simple.
Eco-friendly design, no electricity needed, convenience, and easy handling are all features of the Handy Chopper XL.
One-piece Handy Chopper XL with five stainless steel blades and plastic whiskers is included in the package.
Green colour, plastic material Size: 900 ML
5. Green Ganesh Plastic Multipurpose Fruit and Vegetable Chopper, Grater, Slicer
Large, break-resistant container with a rubber grip base that firmly secures the object within.
easiest, fastest, and most secure method to dice or cut fruits and vegetables; Dishwasher incompatible; Additional Features: Hand Operated, No Electricity Needed, Simple to Clean and Store The Blades Are Extra Sharp Stainless Steel, Break Resistant Container
an innovative push-to-clean button that makes washing quick and hygienic
Sharp, pyramid-shaped cutting blades made of premium stainless steel are available for simple chopping.
Large removable container that is used to keep fruits and vegetables cold
Green colour, plastic and stainless steel construction, and rectangle shape.
One plastic container, one peeler with a grater, one safety holder, one masher, and one handle with a cleaning press are included in the package.
Dual, two slicers, two graters, one Juliane, and a blade die attachment.
Also Read :- Zucchini vs Cucumber, Also know the Differences
6. Home Puff Japanese Technology Electric Chopper, Waterproof, Rechargeable, Stainless Steel Blades, with Warranty, 250ML, 30W, Wireless Kitchen Vegetable Chopper, One Touch Operation
Built with Precision: This chopper has an unbreakable, waterproof plastic body, an anti-slip base, and three durable, razor-sharp blades that can be operated with a single touch to quickly chop various items, including salad greens, fruits, and vegetables.
Designed for Versatility: Use a USB charger to power your chopper while you're on the road! Compact, lightweight design that is ideal for usage at home or on the go. This food processor works well for quickly chopping various foods, including almonds, onions, garlic, tomatoes, salad ingredients, veggies, and more.
Additionally, it can quickly and safely prepare chutneys, tomato puree, eggs, butter, and other assortments.
With a 250 ml capacity and waterproof housing, this handy and small food processor also functions as a container to store and preserve food. Blades, the bowl, and the storage cover can be cleaned easily by separating the individual parts in a top-rack dishwasher. Comes with a powerful 30W motor that operates at a maximum voltage of 5V and a durable 1200mAh lithium-ion battery.
Designed to maintain all of the natural flavours and avoid taste mucking, these containers are made entirely of BPA-free materials. Moreover, Blades, the bowl, and the storage cover can be cleaned easily by separating the individual parts in a top-rack dishwasher.
It has a magnetic safety lock feature that turns the blades off automatically when the mixing bowl top is opened, making it solid and reliable. Also includes a 6-month Home Puff warranty that keeps you covered after the sale, according to the terms and conditions.
7. ONCE FOR ALL Food Chopper Vegetable Cutter Quick Dicer Fruit French Fry Adjustable Mandoline Slicer Safe Vegetable Slicer Julienne
*Safety: This safe adjustable mandoline slicer has hidden blades, which adds to its safety, and the stability provided by the suctions under it. Warning! Under no circumstances should you handle the blades! Instead, please clean the blades using the included brush.
It is a versatile, all-in-one, safe mandoline slicer which provides convenience.
With this mandoline slice, you can alter and cut different fruits and vegetables into various shapes and thicknesses (0.5mm to 8mm) that best fit your desires, such as slices, strips, julienne, and dice, without changing blades. No time-consuming cleaning is required; rinse it with water.
*High quality: This secure adjustable mandoline slicer passed the FDA, LFGB, and PAH tests as well as the EU Food Grade Test. Sharp and long-lasting, the blades are composed of 420J stainless steel from Japan.
*Portable design: Retractable handle and folding bracket increase the space-saving and portability of the adjustable vegetable cutter.
*Service: We use FBA shipping. Additionally, if the products do not meet your expectations, you are entitled to a complete refund. Regarding our manual pressing multipurpose food Chopper, we eagerly await your comments. For safety instruction videos, please visit our flagship store if interested.
8. Pigeon Handy Chopper Pro XL (900 ML) with 5 Stainless Steel Blades and 1 Plastic Whisker for Chopping, Mincing, and Whisking (14517)
Pigeon Handy Chopper Pro Extra Large—Use this quick manual chopper to chop fruits, nuts, and vegetables quickly. Makes quick work of difficult cutting chores and provides a hassle-free experience that can help you save up to 50% of your time. Because it has a whisker that serves as an egg beater and a lassie maker.
Solid & Safe
The chopper is made of harmless plastic. However, The razor-sharp stainless steel blades quickly mince and chop. The bowl is free of BPA and suitable for holding food. No electricity is required.
Cleaning the chopper is straightforward because the bowl and blades can be taken apart for easy washing. Cleaning is straightforward when using a mild detergent dishwasher and food processor friendly.
We can easily keep the Pigeon Handy Chopper Pro in our kitchen because it is portable and saves space. The advantages of this manual food processor include its straightforward design, small size, and convenience. Large quantity consumption is ideal for the 900 ml capacity. which may be used to prepare parathas, sabzi, and other dishes by chopping vegetables
In Multiple colours, the material is plastic
Pigeon Pro XL Chopper and Whisker in One Package
Six months of warranty for manufacturing defects
9. The 1.5-liter (14691), huge, green Pigeon Tornado Turbo Manual Chopper intend for chopping, atta kneading, slicing, shredding, and whipping.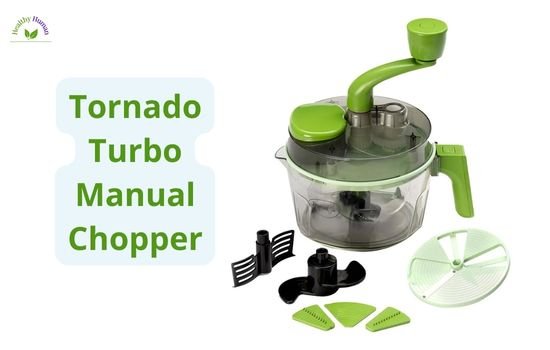 The yearly Pigeon Tornado Turbo Food Processor has a Chopper with 2 gears for power & speed.
High-quality, long-lasting stainless steel blades include the chopper. (Be careful when using; the blades are sharp.)
This product's material complies with US FDA requirements and make of unbreakable plastic.
Your everyday cooking routine can make straightforward with this food processor's 5 unique gadgets.
5 different gadgets includes the food processor for simple chopping, dough-making, slicing, shredding, and whipping.
Although, You can observe the food processor's internal engineering and operation thanks to its unique transparent design.
The food processor bowl has a 1.5-litre capacity.
A one-year warranty is provided against manufacturing defects for food processors and choppers.
This food processor manufacture in India.
Also Read :- Difference of Fresh and Frozen Fruits and Vegetables
10. Quick Chopper Square by Signoraware (2 in 1) Onion, Dry Fruit, and Jumbo Multipurpose Manual Vegetables Kitchen appliance with six stainless steel blades and whiskers that is convenient and quick, in cocoa grey, 900ml
Made from premium, BPA-free, food-grade plastic that is 100% recyclable. Pulling is simple and durable because of the spring action mechanism.
Using the lid window while cutting makes adding or pouring liquids, fruits, or vegetables simpler. However, Perfect for quickly chopping vegetables, salads, fruits, nuts, herbs, tomatoes, onions, garlic, and more
Ideal 900ml volume that is portable for use and storage. Nonslip silicone base
Six razor-sharp stainless steel blades on the chopper quickly cut through veggies. But, of course, the number of pulls affects how significant the cuts are.
Packaging Details: Manual Quick Chopper Square Vegetable, Dry Fruit, and Onion 900ml Set of 1, Cocoa Grey, Handy Chopper and Quick Cutter Machine with 6 Stainless Steel Blades
Conclusion
One of the best tools for cutting vegetables is a mini manual vegetable chopper. Once you learn how to use it correctly, it provides you the best results. We hope our instructions will help you understand how this small machine functions so you can use it with ease. Your vegetable cutting machine will function for 6–8 months if you follow to all of the above recommendations. If you still have a question, please ask it in the comment section below, and I will do all in my effort to answer it.