The Life is Beautiful Festival, taking place in the heart of downtown Las Vegas this September, will be one of the most unforgettable events of the year. The three-day festival will feature live music from some of the biggest names in music, art, and entertainment, along with food booths and various unique experiences that are sure to delight people of all ages and interests. Throughout the weekend, attendees will have the opportunity to experience everything from sports and fitness activities to a wellness village with workshops, a meditation pavilion, and much more.
How Life is Beautiful Festival start?
Life is Beautiful is an annual festival held in downtown Las Vegas, Nevada. Rehan Choudhry founded this festival in 2013. The festival has focused on developing a brand aimed at uniting people around artistic experiences ranging from music to street artists such as Shepard Fairey and brands pooling together for experiences, small businesses, and food. With $17.7 million in revenue in 2019, it was one of the world's highest-grossing festivals.
About Life is Beautiful Festival
Launched in 2013, the Life is Beautiful festival has grown into one of the most popular events of its kind in the country. It's an unforgettable celebration of life and community for people of all ages and backgrounds. It's also the perfect event for families and people of all ages.
The event takes place at downtown Las Vegas' Cashman Field. This festival features three stages with a variety of performances throughout the day. There's also a wide variety of fun activities and delicious food for everyone to enjoy. Life is Beautiful has generated over $185 million in economic impact for the city of Las Vegas in its first five years.
Tickets for Life is Beautiful Festival
Tickets are on sale now and can be purchased online via the Life is Beautiful website. General admission tickets are $180+ fee per person while VIP tickets are $375+ fee per person for one day. Children under the age of 12 receive free admission with an adult ticket holder. Be sure to act fast though, as tickets tend to sell out quickly!
The festival lasts over three days and features a diverse lineup of musicians, including Lil Wayne, Florence + The Machine, Flume, Louis The Child, and many more. Each year, the event attracts thousands of attendees from all over the world and it's easy to see why so many people love this event so much!
Also Read: How to Explore London Bridge Experience
Events in Life is Beautiful Festival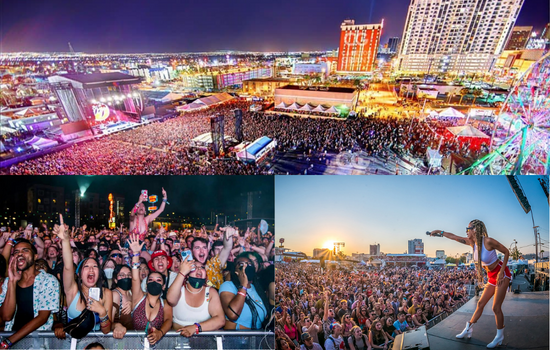 Every year, Life is Beautiful transforms Downtown Las Vegas' landscape into an immersive, multi-disciplinary art experience. The program highlights local, national, and international artists who contribute to making our community a more beautiful and meaningful place.
Music at the Festival
As you probably already know, the festival is headlined by hip-hop superstar Drake. His headlining performance is sure to be an unforgettable experience. To round out the rest of the lineup, you've got hip-hop favorites. Cole and Wiz Khalifa, as well as indie rockers Twenty One Pilots.
Arts & Activities at the Festival
In addition to the incredible music lineup, the festival also features a variety of exciting art displays and activities. You can enjoy great food vendors, cooking demonstrations, interactive art exhibits, and more. There are also plenty of kid-friendly activities and games for kids of all ages to enjoy. All in all, it's a fantastic event you won't want to miss!
Comedy, Podcasts, And Dance Parties
Throughout the Life is Beautiful weekend, The Kicker brings a lineup of hilarious comedians, stunning drag queens, and acclaimed podcast hosts to add to the festival's fun. Laugh your way through a variety of sets, then stick around each night for the dance party of your dreams with themes like '90s night, Emo Night, Simp City R&B, and more.
Food and Beverages
Celebrate the diversity of Las Vegas' incredible food and beverage scene by exploring a culinary lineup featuring expert chefs, mixologists, and restaurateurs from across the city. Throughout the festival weekend, guests can enjoy a variety of dining experiences varying from exclusive multi-course meals to elevated grab-and-go bites ideal for foodies of all kinds.
Market in the Alley
All weekend long, check out (and buy) works by local artists! Market in the Alley, a festival edition of the popular Las Vegas event, will feature over 30 small businesses, artists, and curators. The event is centered on community, celebrating Las Vegas' talented creatives while connecting them with the neighborhood and festival-goers alike.
Location of Life Is Beautiful Festival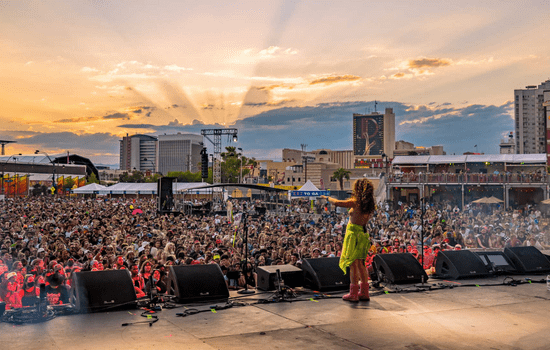 Life is Beautiful takes place over 18 blocks in Downtown Las Vegas, Nevada. Temperatures during the festival range from 69o F to 94o F on average. Because of the surrounding urban landscaping, the festival spreads out 280,000 square feet of sod, providing attendees with cool spots to lay down in the shade and get out of the sun.
Conclusion
If you are looking for a festival that is both unique and breathtakingly beautiful, then look no further than the Life is Beautiful Festival. Held annually in downtown, Las Vegas. The festival celebrates art, music, and culture while providing an unforgettable experience for all who participate. Whether you're interested in taking a music class or learning about history, you'll find what you're looking for at this one-of-a-kind event.
Also Read: How to Get Ticket for Louder Than Life Music Festival 2022