The great thing about gluten free breakfast options is that they are satisfying and tasty regardless of your diet! These breakfast suggestions are ideal for mornings, whether you follow a strict gluten-free diet or choose to restrict your gluten intake to a minimum.
One of the hardest meals to handle if you're attempting to cut gluten out of your diet is breakfast. But worry no more because here are the best five recipes of gluten free breakfast which have an amazing taste and you will really like these recipes.
1. Baked Apple Cinnamon Oatmeal
This is the greatest morning treat to serve when the morning starts. It is very simple to prepare and it is one of the best gluten-free breakfasts.
You'll like to make it every day because of the flavor of the soft, sweet apples combined with the maple syrup, cinnamon, and spice. You may make a large pan of it and use it for breakfast during the whole week, or you can use it as a brunch recipe for daily consumption.
Here's how to prepare the baked apple oatmeal that, in our opinion, is the best gluten-free breakfast you can find.
The healthy breakfast alternative to apple crisp is baked apple oatmeal. Instead of being highly sweetened like the desert version, it is made with whole oats and lightly sweetened with maple syrup.
Recipe to Make Apple Cinnamon Baked Oatmeal
Ingredients
2-3 medium size Apples
100mg Rolled Oats
50mg Walnuts
1 tablespoon Cinnamon Powder
1/4 tablespoon Ginger Powder
Salt According to taste
25gm Applesauce(a small bowl)
25gm Milk
15mg Maple Syrup
2 Eggs
2 tablespoon Pure Vanilla Extract
2 tablespoon Pure Almond Extract
2 tablespoon Coconut Oil
How to make
Cut 2-3 Apples in small pieces into a bowl.
Take a Big bowl. Pour Rolled Oats.
After that, add a small bowl of Walnuts,1 tablespoon Cinnamon Powder, ½ tablespoon Ginger Powder and Salt according to taste.
Add a small bowl of applesauce, milk and maple syrup into the bowl.
Take two eggs and pour into the bowl.
Now, add pure vanilla extract and pure almond extract almost 1 tablespoon in the big bowl.
Last but not the least add coconut oil and mix all the ingredients very well.
After mixing, transfer the ingredients into a baking tray. Bake for 10 minutes .
After baking, let it cool at room temperature for 5minutes.
Enjoy the servings.
2. Blueberry Oat Breakfast Bread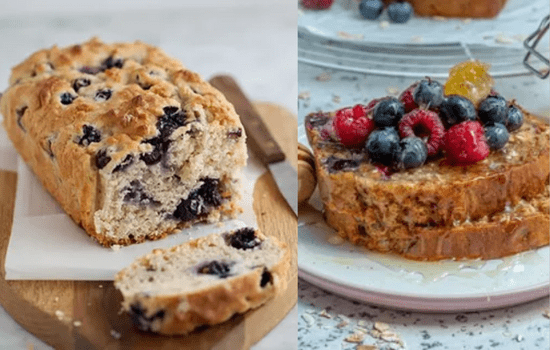 This is not an ordinary breakfast bread. When this blueberry oat bread is fresh from the oven, it has a delightful crumbly texture and smells like a bakery. When you want a great breakfast bread, this recipe is made with all-natural ingredients and no processed sugar.
Oat flour is used to create this blueberry oat breakfast bread. Naturally gluten-free and incredibly simple to manufacture, oat flour. Naturally, you should check the label of your oats to ensure that there hasn't been any cross-contamination if you have celiac disease.
In contrast to using a rice-based gluten-free flour blend, which tends to dry up the loaf(bread), utilising oat flour in this recipe gives bread a moist and crumbly structure.
In addition, it has a delicious nutty flavour that pairs well with honey, vanilla, cinnamon, and nutmeg.
Recipe to Make Blueberry Oatmeal Breakfast Bread
Ingredients
100mg Corn flour
50mg Blueberries
10mg Baking soda
1 tablespoon Salt and honey, a big banana
2 tablespoon Cocoa butter
2 Eggs
1 tablespoon Vanilla flavouring
50mg Rolled oats with 1 tablespoon lemon juice
How to make
Set the oven to 375 degrees. Use parchment paper so that your bread does not stick to the pot.
Add dry ingredients together. Mix the baking soda, salt, and oat flour in a big bowl.
Combine the moist ingredients. The honey, banana, coconut oil, eggs, vanilla, and lemon juice should all be combined in a blender.
Blend at a medium speed until the mixture is smooth and creamy and the ingredients are combined.
Pour the wet mixture into the basin containing the dry ingredients and stir gradually until mixed.
After mixing the oats into the mixture, carefully add blueberries.
Bake the batter for 45 to 55 minutes. Around minute 35, if your bread loaf starts to get golden, cover with a piece of tin foil.
Before removing the parchment paper from the pan and slicing the blueberry bread, remove the loaf from the oven and let it cool in the pan for 10 minutes.
3. Savoury Oatmeal with Bacon and Garlicky Greens
This breakfast bowl has a lot to recommend it. While the bacon cooks and mushrooms are sautéed in the salty drippings, thick oats are cooked slowly.
How to Make Savoury Oatmeal with Bacon and Garlicky Greens
Ingredients
2-cups of water
1 cup of unsweetened dairy or non-dairy milk
1/3 of a teaspoon of kosher salt
1 1/4 cups rolled organic oats
6 bacon slices, 4 ounces of clean and sliced mushrooms
2 minced garlic cloves
1/2 a cup of olive oil
3 ounces of baby spinach or greens.
How to make
Oats are added after bringing water, milk, and salt to a boil in a saucepan. Cook for 20 minutes to reduce heat to a simmer.
Stir occasionally while they simmer, but not too continuously or the oats will become sticky.
In the meantime, heat an iron pan to medium-high heat.
Cook the bacon in batches, flipping once, until it is crisp. Drain by setting on a towel.
Add mushrooms to the pan with the remaining 2 tablespoons of bacon fat, stirring to combine.
Once the heat is back to medium, saute the mushrooms for 6-7 minutes, or until they are soft and browned.
Put aside the mushrooms you removed from the pan. Heat the mixture on medium-high after adding the olive oil. Add greens and 1/4 teaspoon salt. Let it stir for a minute.
Cook for 3 minutes, stirring occasionally, on medium heat, or until greens are wilted.
Put greens, mushrooms, and bacon in a bowl to eat.
4. Mango Smoothie Bowl
This mango and banana-filled smoothie bowl is a filling breakfast, brunch, or snack. For crunch, sprinkle chia seeds and pistachios on top.
100g of chunks of frozen mango
Frozen tiny banana, half (approximately 50g)
100g organic yoghurt
50 ml full-fat milk
3 crushed cloves with just the seeds
14 teaspoon ground turmeric
Depending on strength, use 1-3 drops of rose water extract.
chopped mango, 14 (or a few extra chunks of frozen mango)
12 tbsp. chopped, shelled walnuts
Chia seeds, 1/2 tsp.
How to make Mango Smoothie Bowl
STEP 1:- Blend the first six components, together with a few drops of rose water, until they are thick and smooth. Add a little water if the mixture is too thick to combine. Add up to 1/4 tsp of the extract for a stronger rose water flavor.
STEP 2:- Pour into a compact, deep bowl, then top with chia seeds, pistachios, and fresh mango.
5. Cloud Bread
Your bread-free problems have a great answer with this recipe for cloud bread, also known as Keto bread or No-Carb Cloud Bread. These delightful tiny rounds are a great gluten-free and nearly carb-free alternative to regular bread. It shows that you can enjoy meals while avoiding gluten.
How to make Cloud Bread
Ingredients
3 eggs, divided into whites and yolks
3 tablespoons of full-fat, room temperature cream cheese
1/4 teaspoon cream of vinegar, optional, and 2-3 drops liquid sweetener
How to make
Two baking sheets should be lined with silicone mat or parchment paper and the oven should be preheated at 300F.
The egg yolks softened cream cheese, and stevia should all be combined in one bowl to create a smooth batter.
Egg whites and cream of tartar should be combined in a sizable bowl or the mixing bowl of your stand mixer. When the egg whites are frothy and stiff peak have formed, whisk them at medium speed before increasing the speed.
Gently mix the egg white mixture into the egg yolk mixture with a rubber spatula until mixed.
Scoop the mixture with a spoon and form it into 4-inch rounds that are 3/4-inch thick.
They should bake for about 30 minutes, or until golden. Because this is a highly delicate recipe and all ovens differ slightly, cooking times will vary. Around minute 22, check for doneness without opening the oven door.
When finished, take them out of the oven and let them cool completely.
Your gluten free breakfast is ready to serve. Place them in a zip-top bag and store them in the refrigerator.
Conclusion
You don't have to skip a nutritious and delectable breakfast just because you can't eat gluten anymore to get your day started well. Although these all are recipes which mentioned above all are beneficial also they don't have any bad effect on your health. if you can't eat gluten-rich food don't regret it. Enjoy these amazing and delicious recipes.
Also Read: Hidden Facts about Garam Masala
Also Read: Types of Fasting, Benefits and Cautions