We live in an era when healthcare technology is increasing. Clearly, progress in health care development, medical devices, biotech, and MedTech began prior to the pandemic. However, the last two years have clearly tested the industry's limits while also shaping and forming the future of healthcare.
Our healthcare systems are under huge pressure around the world right now, and this has been made worse by Covid-19. Obviously, we are witnessing an increase in the global population. People are living longer lives, and lifestyle-related diseases are on the rise. A global shortage of healthcare professionals is also expected to reach 10 million by 2030. Overall, we believe healthcare is overpriced, exclusive, and designed for a different world. The world and technology have changed. As a result, there is a lot of digitization and technological advancement in the health field.
Preventative medicine
The more we can analyze what is happening with our bodies in a given period of time and over an extended period of time. The better, we believe there are many things we can track, monitor, and adjust to prevent diseases from occurring. For example, you can track your blood pressure and monitor what is going on. If your blood pressure levels fluctuate. It has to do with your cardiovascular system. You must address this so that more serious conditions do not develop.
Likewise, it can also have an effect on your sleeping habits, pulse, and body temperature. As a result, many businesses are attempting to make use of the data collected by various wearable devices. Even when people are on the phone, they attempt to comprehend that information, and package it. Or we can say that they actually assist healthcare professionals in understanding what is going on with the patient. Or what they can do to prevent serious illness from occurring.
So, when it comes to data and artificial intelligence, we can now move away from the reactive model of the past. Where you go to the doctor and then go through this trial and error process of figuring out what is wrong with you, and toward a more predictive and preventative model. For example, consider how we can use smartwatches to monitor things in the background and even alert us if something is wrong with our heart or other functions in our body.
Democratized healthcare
The general public's access to healthcare is improving. And two major factors define democratization: data distribution and the ability to generate and apply insights on a large scale. This enables patients to take control of their own health and well-being by utilizing their data, technology, and access to expertise.
According to the World Health Organization, half of the world's population lacks access to basic healthcare services. Even in developed countries such as the United States, more than 10% of the population lacks health insurance. However, technology is now enabling people all over the world to take control of their health for free or at a low cost. Apps, chatbots, and wearable devices are now available to assist people in managing their health. There is a WebMD pain coach app, for example, that allows users to track and monitor their pain levels, identify potential triggers, and better manage their pain.
Personalized and precision healthcare
Precision medicine, also referred to as personalized medicine, helps your doctor determine the best treatments for you based on your unique disease risks. The term "precision health" refers to a broader concept that encompasses both precision medicine and methods. Useful in outside of clinics and hospitals, such as disease prevention and wellness initiatives. Everybody can take self-protective measures, and the healthcare industry can also take steps to improve precision health (sometimes referred to as "precision public health") which is the future of healthcare.
More people are turning to digital healthcare solutions as the healthcare system becomes more predictive. Personalized and precise healthcare delivery has made it simpler. When a person's health indicators are tracked, conditions can be predicted beforehand, and specific co-counseling and preventative care can be given. Another excellent example of how this trend is being largely enabled by AI and data is Orlando Health, which uses patient data to regularly provide personalized communications.
Also Read:- Surprising Career Opportunities of Robotics Engineering in India
Digitized healthcare
When it comes to patients, it is not really about healthcare, but healthcare, in general. It is unquestionably related because when you switch from paper documentation to digital documentation of telehealth programs, it means that doctors can now see patients simply through the screen by using the telehealth software or program. As you are aware, the pandemic demonstrated many medical conditions can cure without the patient being present.
Consequently, the healthcare environment is becoming more digital overall thanks to things like digital health records. Greater remote access to healthcare has made all of this possible. Consider telemedicine. Therefore, covid helped to some extent speed up the remote diagnosis and treatment of patients using communications tools and platforms. In the US, for instance, over 40% of Medicare or primary care visits in April 2020, taking care of using telemedicine techniques, up from just 0.1 percent just two months earlier. So, the significant transition we are currently witnessing as the future of healthcare.
Body and biohacking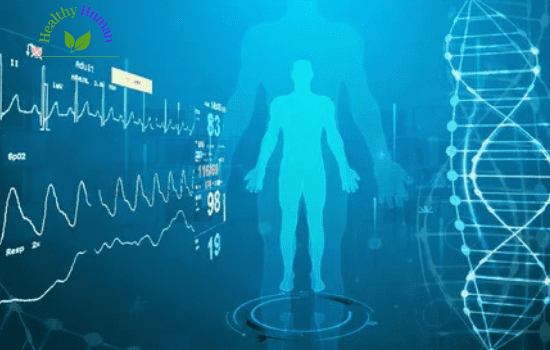 This covers a wide range of topics, including gene editing, and genomics, as well as the amazing advancements in prosthetics and lab-grown body parts. However, this also covers the broader trend of altering our bodies in an effort to boost intelligence and stave off aging to some extent. Dave Asprey, the creator of the successful coffee company Bulletproof, is one example. That is part of a $1 million effort to live to be 280 years old.
The sequencing of the genome and our comprehension of the functions of various genes are two fields that are constantly improving. In order to make these processes quicker, more efficient, and more affordable, more businesses and technologies are now readily available.
Robotics and nano-bots
Future healthcare will be significantly more dependent on robotics and nanobots. Surgical robots are on the horizon as robotics already have a presence in healthcare settings. But we also have exoskeletons made of robotics. helping patients who are paralyzed walk, as an example.
Additionally, robotics, which is currently experiencing a boom, can be useful for a wide range of applications, including surgery. Many businesses are creating highly advanced robots that can operate on patients and carry out extremely difficult procedures. Yes, they have to be operated on by doctors right now, but who knows, maybe someday they'll be able to do it themselves.
Then there are the nanobots—tiny robots that we can inject into people. For instance, they can help with drug delivery by focusing on specific cells and dispensing medication only where if there is a requirement. Additionally, it is a very forward-thinking approach to medicine and healthcare in general. Many businesses are making investments in those kinds of technologies' research and development. For instance, organizations like the University of Washington are researching nanotechnology to develop more efficient and compassionate treatments for blood cancer.
Datafication
The concept of the internet of things is not new. We now have the internet of medical things. A market that has worth more than 85 billion dollars by 2027, thanks to the rise of wearable technology and medical apps. The development of more preventative, proactive, and personalized medicine is significantly aided by the data transmitted by these smart devices. In other words, a lot of the future changes to the healthcare industry will be driven by data.
Conclusion
The hospital of today may not exist in future healthcare. Hospitals all over the world can expect a disrupted by the latest technology that is developing quickly, rising consumer culture, demographic and economic changes, and other factors. However, many complicated and critically ill patients will need acute care services. Many inpatient medical services are already beginning to shift to the home and outpatient treatment settings.
Hospital executives and governments should reevaluate how to optimize inpatient and outpatient settings, how to best communicate with consumers, and how to effectively integrate technologies into conventional healthcare resources if they want to truly create a health system without walls.