French Polynesia is one of the most beautiful and amazing tourist destinations. It is famous for its Volcanic Peaks, Lagoons, and Beaches. This place is so beautiful that you feel like heaven and can also call it Tropical Paradise. This place is famous for celebrities and honeymooners. You have to keep a high budget to come here. That's why fewer tourists come here. If you are thinking of traveling or want to visit this place, this guide will help you.
Where French Polynesia Is Located
French Polynesia is located in the middle of the Pacific Ocean. This place is made up of more than 100 islands and is spread over an area of about 400 square kilometers. It is divided into Gambier, Marquesas, Austral, Society, and Tuamotu archipelagos which are known as lagoons. The mountains, white and black sand beaches, and towering waterfalls are included in the Island's features.
Why You Should Visit French Polynesia
French Polynesia is a beautiful place with exclusive marine life. There is an incredible natural beauty, the heavy vanilla scent will definitely attract people to come here from all over the world. The beautiful weather and the islands of Tahiti will definitely fascinate the tourist as well as the honeymooners. Once you come to this beautiful tropical paradise place you will never wants to leave.
Ocean Diversity Of French Polynesia
There are 800 unique species to see here with so many water activities. As we already mentioned, it has 118 islands so you may get the opportunity to connect and explore the marine life of French Polynesia. Additionally, you can do various water activities like snorkeling, scuba diving, and much more.
The Sunsets Of French Polynesia
The Sunsets of Bora Bora in French Polynesia is truly epic. If you love to see beautiful sunrise and sunsets then this planet is also known for its best sunsets. The Watching Sunset of French Polynesia is also the reason to visit. 
The Natural Beauty of French Polynesia fascinates tourists a lot. The beautiful and Gorgeous islands of Bora Bora are known for their best natural wonders. The sparkling seas and beautiful mountains have distinctive natural beauty.
French Polynesian Culture
The culture and Tradition of French Polynesia are very unique. Exploring the celebrated festivals, events, traditions, songs, and dances of French Polynesia people are very fascinating for tourists. There is too much to explore in their culture. If you go back in history the art and crafts made by people are very unique and you will love it if you come to visit here.
If you Love to know the Culture then you can read our Bimini Article where we have mentioned the history as well as the culture. 
French Polynesian Seafood
Having Seafood on the beaches is one of the coolest activities to do there. You can taste the very famous seafood of Tahiti which is also known as ota ika. Also, You have got various variety of cuisines and drinks. You can sit on the beaches and try varieties of seafood.
Adventure Opportunities In French Polynesia
You will never be bored in French Polynesia. There are many adventures to do like water activities, hiking, waterfall climbing, and much more. Also, you can explore Tahiti and other islands. So, it is an amazing place if you want to do some adventure or explore. There are too many attractions to explore.
Best Honeymoon Destination
French Polynesia is a romantic place. So, for honeymooners, it is the best destination for collecting their beautiful memories. You can explore here the romantic resorts, islands, bungalows, and many places. 
So, to get some adventurous experiences no one destination is better than this tropical paradise. Explore the natural wonders, islands, and beaches you should definitely experience once.
How To Visit French Polynesia
You should visit french Polynesia to explore its beautiful tourist places, wildlife, natural habitat, marine diversity, nightlife, and traditional festive activities. A lot of visit here for their vacation. You can feel its awesome tropical climate with bright sunshine on the beaches. You may willing to visit french Polynesia after knowing about its beautiful places, tourist attractions, and traditional festive activities. But there's a little problem that you won't have many options when you will travel to visit here.
There are only two options for everyone to visit French Polynesia. The first option is the Flight to French Polynesia. And the second is that you can travel by ferry. So you can visit By the best way you like whether you prefer the Flight or Ferry.
Flight To French Polynesia
The Flight could be the best way for anyone who wants to visit French Polynesia in just a little bit of time. You can choose flights as it takes less time than the ferry. But Flights are a little bit more expensive than ferries. So if you are about to choose the flights, then you will be expecting to spend more money on your travel budget. But you can save money on flights by traveling in the month when flight prices get moderated to high or low.
October is the best month for a flight to French Polynesia because this is the month when flight prices get moderated too low. Also, the beaches and a lot of places in French Polynesia are less crowded in this time period. So if you want to experience French Polynesia in a peaceful way and you want to spend your vacation in a more personalized way, then visiting in October will be the best time period for you and you are expecting to spend about $809 on the flight price.
Ferries To French Polynesia
Ferries are also preferred by a lot of people to travel from one country to another because these are also a part of public transport to water cities and islands. Also, some ferries are a lot cheaper than flights so you can save a lot of your money. Also, July and August are the best time to visit French Polynesia by the Ferries. Because ferry prices get moderated to low during this time period. Also, this is the middle of the dry season with bright sunshine and a comfortable temperature that ranges between 20 to 28°C.
Best Time To Visit French Polynesia
Everyone likes a different seasonal time to spend their vacation. French Polynesia has a tropical climate with two seasons that are Dry season which ranges from May to October and the Humid season which ranges from November to April. Also, You can visit in the preferred season that you like most. However, the months from June to September are considered the best time to visit French Polynesia. Because this is the driest weather and the temperature doesn't feel so hot.
The Dry Season Of French Polynesia
The Dry season of French Polynesia ranges from May to October with a temperature range of about 21 to 27°C. If you like the Dry season then you should visit during the months of May to October. You can also get bright sunshine on the beaches and you can also dive into the warm water of the deep blue ocean. But visiting French Polynesia during the dry season could be a little costly. Because a lot of peoples visit during the Dry season and flight prices also get moderated high cost.
The Humid season of French Polynesia lasts from November to April and it has a temperature range of about 25 to 35°C. Visiting French Polynesia during the Humid season will be best because the beaches and tourist places are less crowded. Also, the flight prices get moderated to low cost. So, if you want to experience the trip to French Polynesia in a more personalized way, then you should prefer visiting in the Humid season. But there's a lot of chance that you can stuck in the heavy rain if you visit French Polynesia during the humid season.
Culture Of French Polynesia
French Polynesia is a popular country with beautiful tourist attractions, popular beaches and restaurants, and a lot of things. But French Polynesia is also known for its traditional culture and great History. There are a lot of festivals and cultural activities in French Polynesia like Heiva, Pareo Day, and Tahiti Tiare Day. People celebrate a lot of festivals that are of different types. You can also visit with your family or friends to explore this awesome island and its culture.
French Polynesian Paradise
You will get that there are many adventures and Activities to do in french Polynesia but this place is made up of 118 islands and you will confuse that what are the best places to visit here. So, we have mentioned the best attractions of French Polynesia.
Tahiti -The Largest Island In French Polynesia
Tahiti is the only largest island in french Polynesia. This Island is known as the Soul of the south pacific ocean. Tahiti is a magical place to explore. There are countless activities to experience in Tahiti. The Botanical Gardens and the museums of Tahiti are the best sights to know about history. Cultural Tours, Private Sightseeing tours, Sporting activities, and water activities are the best things to do in Tahiti. The Tahiti people are known as the Tahitians and they speak the french language.
Tahitians are known as the friendly and kind people of french Polynesia. Also, You can experience the Polynesian culture in Tahiti. If you are planning to visit Tahiti then November to April is the best season to visit because the temperature remains fresh and a little rainy. Also, because of climate change, visitors can also see the tropical locations of Tahiti. Coconuts, sugarcane, Tahitian vanilla, and coffee beans are the best crops that are grown in this season. Tahiti is one of the best destinations. If you want to experience the culture, history, as well as adventure then definitely visit Tahiti in French Polynesia.
Ahe: Best For Marine Life
Ahe is a very beautiful and attractive place in French Polynesia. A delight of its own accord, Ahe is a part of the Tuamotu archipelago of islands and hotels between Manihi and Rangiroa. It is a place full of freshness and stunningly beautiful and peaceful. Therefore, this is a very beautiful place of leisure for Tahitians. The attraction here is the white, clear sea water here. 
The natural beauty, fresh air, white sand here, and the attractive views of the bottom of the sea will enchant you a lot. There is a small sea lagoon which is very beautiful and attractive, many of these water shops are the most pearl business here, which is known as Tahiti Pearl Market, the pearls of Tahiti Pearl Market are very amazing And there are sparkling pearls that you can't stop yourself from buying. 
It is also known for pearl market farming. Pisonia grandis This lagoon is surrounded by large leaves, Pisonia grandis has large trees. Home to large coconut trees and birds, protected by local people, it's easy to fill your days with fun swimming, kayaking, snorkeling, paddle boarding, and fishing. The Tiareroa Pass has many coral reefs around it. Also, the lagoon fish, sharks, turtles, and barracuda, are amazing that make for spectacular diving.
You can also get guest houses to stay here and who does not like to stay by the sea, it will be very beautiful to watch the rising and setting sun. Kokoparle Lodge is one of the few hotels to stay here. which are just four beachfront bungalows built in the traditional Polynesian style.
Bora Bora - The Romantic Island
Arguably the most famous island in the South Pacific, Bora Bora is French Polynesia's leading lady. After seeing its beauty, you will want to come again and again. There is no doubt that people want to visit this place in their lifetime. Bora Bora is a romantic place, it is popular as an international honeymoon destination. If you like the seashore, then you will find many options for it. It is very famous for its coconut trees and white sand.
The beautiful area of Bora Bora is covered with white sand, which is a part of its beauty. The clear turquoise waters of the South Pacific Ocean and surrounding coral reefs make for unforgettable diving. Huge manta rays, coral gardens, fish, and the rising sun. It has a sea attraction. The focal point of Bora Bora Island is Mount Otemanu, which is very famous here. This is a sandy place.
This island is located northwest of Tahiti. It takes you less than an hour to reach it from Papeete. Its airport is known as Motu Mete. Here you are greeted very nicely with flowers and from this, you can go to your Bora Bora resort by boat.
Overwater Bora Bora Bungalow is a heaven-like design, it is no less heaven. It is a quiet place over the lagoon. An indispensable feature of the islands of Bora Bora and Tahiti. However, there is a private island room and a floating villa, the rays of the sunset become colorful in the lagoon, which is very difficult for you to get away from the beauty. You can also enjoy the cocktail party here.
You can also enjoy the warm white sand of Bora Bora's Matira Beach. Which is still one of the secluded public beaches. You can enjoy the blue sea, sunset, green reefs, tropical plants, aquatic life, shallow water, and diving.
Bora Bora, located on a dormant volcanic island, located in one of the most beautiful and crystal clear lagoons in the world, painted in a mill, is an enchanting, mesmerizing place to visit and experience all its beauty.
Raiatea: Birthplace Of Gods In French Polynesia
Raiatea is known as the birthplace of French Polynesia. This place is the holy land there. Raiatea place is a religious, cultural, and historical place. It is said that this is the birthplace of the gods. This place is the attraction of the sea. Raiatea is still a place of pilgrimage, that's why many people died when that migration happened, due to which the souls of ancestors live after death. Raiatea is a UNESCO World Heritage Site, a place known as Taputapuatia. 
The rare Tiare Apetahi, a flower found nowhere else on earth, is what you will find here. Raita is the sister island of its lagoon and the extensive coral reef it shares with Taha. However, It is full of marine water life and beaches, caves, mountains, and famous waterfalls near the sea, it is the point of attraction here. And for those who want to enjoy the indoors, diving and snorkeling are some of the most popular activities available here.
Raita is the only island in Tahiti with a navigable river that flows through many waterfalls. And also the Faroe River, which passes through lush green forests, is great to explore. Also, You can explore the island by canoe, kayak, or speedboat. However, You can uncover the historical sites here, and know the calm atmosphere of the water.
Raiatea is the second landlocked island after Raita Tahiti. It is only a short distance from Bora-Bora, near which is Papeete. Raiatea is known for its vast lagoon and surrounding coral reef. You can also find a lot of boating at this central location. You can go fishing and diving from the deep sea of this island.  
Martinique: Rum Capital Of The World
Martinique is a very beautiful place, it is a tourism place where many tourists come to follow their vacation, this place has much beauty, which is very interesting and can be enjoyable for you, this island is white sand, and Marine Life, Greenery, Between You Can Explore It Here. , the beauty of this island including the mangroves, the mountain, and the culture. Also,  You can see and enjoy wonderful protected hiking trails, fishing, and water sports, and many attractions and attractions like relaxing on the beach. Martinique is a mountain stunner but also an ocean island.
Boasts a vast range and diverse cultural life. Fort-de-France is a bustling capital city. Near this, you can enjoy the island, crowd, travel, and attractions. It is a place with rainforest and greenery and a peaceful environment desired by the birds. If you are a beach lover then this is a great place for you. Martinique's currency is the Euro, so your US dollar won't go very far. Just a cheap one may prove to be the best for you. 
It is a French-hued cosmopolitan culture. For the American country, the Caribbean island of Martinique is a more rotating country. This country is famous for its natural beauty and crystalline blue water and includes rich attractive weaves. It is the largest city of Fort-de-France Martinique, the main port, and also the busiest commercial center. Also, Martinique is the rum capital of the world with 12 types of rum brands. It is also known for its Zauk dance form which originated here. Boardwalk and hard surface trails provide access to beach combing and swimming.
Best Things To Do In French Polynesia
French Polynesia is famous for its adventure and experience. You can do various activities in this Paradise Land. Here mentioned below are the best things and activities that you can do which makes your trip memorable and one of the best trips.
Take An ATV To Mo'orea's Mountains
What's better than riding in the mountains? You can take an ATV in the Moria mountains. Plus, you can explore the Moorea wilderness with some fun activities. You will find it wonderful to hear the sound of birds. This is one of the best activities to do in French Polynesia. In addition, you can explore different plant species. It really is wonderful. The Moorea Mountains are incredible and beautiful. When you are on the top of the mountains, you will get to see the beautiful environment of French Polynesia. So, for those people who are interested in exploring some fun activities in the jungle, riding an ATV is the best option for them. Hence, You will really enjoy a lot by riding ATV. If You Visit French Polynesia Don't Forget To Do This Fun Activity.
Taste French Polynesia Winery
French Polynesia is also famous for its best winery production which is located in Rangiroa. If you visit this beautiful place, then definitely taste the wines of Rangiroa. You will find out why Rangiroa is chosen for winery production. The climate is suitable for making wine. This is one of the best activities to do to learn about the famous wines of French Polynesia. Savor wine and fish dishes while sitting on the beaches and overlooking the beautiful view of French Polynesia.
Snorkeling At Coral Garden
The snorkeling garden experience is so amazing that you can't even imagine. The Coral Garden is located at Le Taha Island Resort. Seeing the colorful marine species from underwater is one of the most enduring activities here. Even if you do not like snorkeling, you can still admire the marine life from the huts standing in the sea. Hence, You will find it really fun. You may not be doing any activity but you will be enjoying the beautiful view of the Coral Garden.
If you get a chance to visit Tahiti, do not miss out on skydiving which is one of the best activities in Tahiti. However, skydiving activity depends on the season. Visit in sunny and dry weather. Check out French Polynesia's climate first if you go to Tahiti specifically for skydiving. Then skydiving in Mo'orea is the best place to go skydiving.
Best Hotels And Resorts In French Polynesia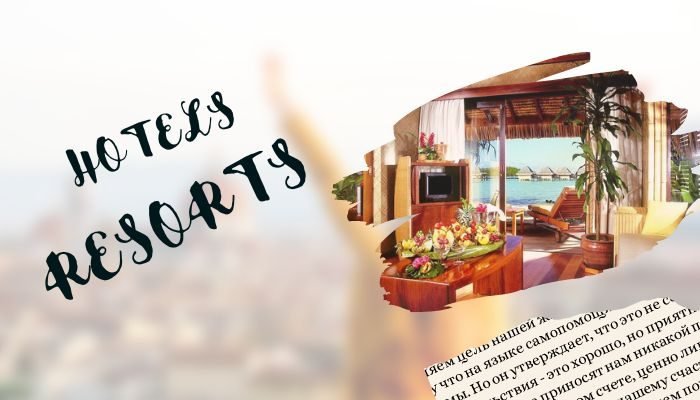 One of the most important things to consider when planning a vacation is where to stay. If you're looking for the best hotels and resorts in French Polynesia, there are a few places to consider. Here's a list of some best resorts and hotels in French Polynesia:
Manava Beach Resort & Spa Moorea
Located in Moorea, this upscale resort features stylish villas with ocean views. Each villa has a full kitchen, complimentary Wi-Fi, and parking. There is also a swimming pool with a swim-up bar and a fitness center. The resort offers a variety of on-site activities, including snorkeling, kayaking, paddle boarding, and hiking. There's also a world-class spa that offers many spa treatments and therapies. There are also many bars and restaurants that serve traditional Polynesian food and other international cuisines.
Address:

Bp 3410, Maharepa 98728 French Polynesia

Price: $298 – $519
This beachfront resort offers 4-star accommodations and is located in Papeete. The resort offers a variety of on-site activities, including swimming, windsurfing, kayaking, and hiking. The resort also offers multiple dining options, including a buffet restaurant and a bar/lounge. Each room has air conditioning and wireless Internet access. The hotel has a full-service spa that offers massages and other spa treatments. There is also a health club and fitness facility at the Hilton Hotel Of Tahiti.
Address:

Auae Faaa, 98713 Papeete, French Polynesia

Price: $284 – $423
The Four Seasons Resort Bora Bora is situated on Motu Piti Aau, an island in Bora Bora's Leeward Lagoon. The resort features luxury suites with private plunge pools. There are also several restaurants at the resort, including the Tere Nui Restaurant, which serves seafood and traditional Polynesian cuisine. There is also an outdoor swimming pool and a children's playground on the property. The hotel's private beach features a volleyball court and lounge chairs. Guests can relax at the spa or work out in the fitness center.
Address:

Motu Tehotu BP 547, 98730 French Polynesia

Price: $1,623 – $3,103
Offering a year-round outdoor pool and views of the sea, Ninamu Resort is located in Te Pahu on the island of Rangiroa. The resort features 6 local Fares, each featuring a coconut palm roof and coral walls. Rooms have a private terrace overlooking the lagoon. All accommodations at Ninamu Resort are equipped with a flat-screen TV. Certain accommodations include a sitting area to relax in after a busy day. Every room comes with a private bathroom fitted with a bath or shower. For your comfort, you will find bathrobes and slippers.
Address:

Rangiroa, French Polynesia

Price: $541 – $747
Vahine Island Ile Privée Resort And Spa
The Vahine Island Ile privée Resort and Spa is located on Motu Tuvahine Hipu in Taha'a, French Polynesia. It features overwater bungalows, infinity pools, an oceanfront bar, and a restaurant. Each of the bungalows has a private deck and offers ocean views. Some rooms feature a private pool and/or hot tub. The resort offers a full range of water sports and activities, including snorkeling, paddleboarding, diving, and more. Guests can enjoy a relaxing massage at the resort's spa, which also offers beauty treatments. The hotel is surrounded by tropical gardens and offers views across the lagoon.
Address:

Motu Tuvahine Hipu, 98733, French Polynesia

Price: $582 – $723
Best Restaurants In French Polynesia
There are so many great restaurants in French Polynesia that it can be hard to choose just one. But if you're looking for the best food in this tropical paradise, here are some restaurants that should be at the top of your list.
This restaurant is a gourmet haven located in Tahiti's capital city of Papeete. The menu features a blend of French and Polynesian dishes, all of which are made with fresh local ingredients. The restaurant also offers a wide selection of wines. This is one of the best restaurants in French Polynesia for fine dining.
Address:

FC6M+QR5, Papeete 98714, French Polynesia

Price:

$30 – $50
The Lotus Restaurant - Tahiti
The Lotus is a stunning restaurant in Tahiti that offers superb cuisine in a breathtaking setting. However, Open for breakfast, lunch, and dinner, the restaurant is known for its signature sushi platters and fresh Italian pasta dishes. It also features an extensive wine list and serves a variety of refreshing cocktails. The Lotus is one of the best restaurants in French Polynesia if you want to try some delicious international cuisine while enjoying a relaxing oceanside setting.
Address:

Fa'a'ā 98702, French Polynesia

Price:

$47 – $64
Le Lézard Jaune Café - Moorea
Le Lézard Jaune Café is a charming French café that serves a selection of French and Tahitian specialties. With a warm atmosphere and plenty of outdoor seating, this is a great place to enjoy a cup of coffee or a light meal while admiring the beautiful scenery. Le Lézard Jaune Cafe is also a great place to stop by for an afternoon snack or a late-night cocktail. It's one of the best restaurants in French Polynesia if you're looking for an authentic French dining experience.
Address:

Moorea-Miao, French Polynesia

Price:

$160 – $380
Lagoon Restaurant By Jean-Georges - Bora Bora
The Lagoon Restaurant by Jean-Georges is an elegant restaurant that overlooks a beautiful lagoon. It offers classic French fare in a family-friendly setting. Guests can enjoy stunning views of the lagoon while dining on delicious seafood dishes or sipping a glass of wine from the extensive wine list. The Lagoon Restaurant by Jean-Georges is a great spot to enjoy a delicious meal in a beautiful setting.
Address:

G872+78P, Bora-Bora, French Polynesia

Price:

$80 – $100
Chez Lili is a beachfront restaurant that serves French cuisine with a Creole flair. It's best known for its fresh fish, which is caught daily, and its Flanigan's-style wings. Enjoy a romantic candlelit dinner under the stars or grab a drink and enjoy beautiful views of the bay. Chez Lili is one of the best restaurants in French Polynesia if you're looking for a relaxing atmosphere and delicious cuisine.
Address:

29H8+7C7, Rangiroa, French Polynesia

Price:

$66 – $125
Les Roulottes - Waterfront Bar, Papeete
Les Roulottes is an open-air restaurant with a waterfront bar in Papeete. It features an outdoor bar and grilling area, as well as a beer garden and play area for children. It has a great selection of appetizers, salads, burgers, and sandwiches. It's a great place for a casual lunch or dinner while you're in Papeete. Also, Les Roulottes is one of the best restaurants in French Polynesia if you're looking for a fun outdoor atmosphere and excellent food at an affordable price.
Address:

Waterfront, Papeete 98714 French Polynesia

Price:

$32 – $68
Le Manoa is one of the best restaurants in French Polynesia if you're looking for an authentic Polynesian experience. The restaurant offers island-inspired cuisine using fresh ingredients from local farms. It's set in a gorgeous botanical garden and offers incredible views of the landscape. For a truly unique dining experience, be sure to visit Le Manoa.
Address:

Taravao, French Polynesia

Price:

$24 – $48
Vaitohi Restaurant - Punaauia
Vaitohi is an eco-lodge that offers glamping cabins and a farm-to-table restaurant. The eco-lodge has an incredible view of Punaauia and is a great place to enjoy a romantic dinner for two. The restaurant serves gourmet meals made from local ingredients and has a wide selection of wines to choose from. If you and your partner are looking for a romantic getaway in Punaauia, look no further than Vaitohi.
Address:

Puna'auia, French Polynesia

Price:

$20 – $37
Jimmy Buffett's Margaritaville - Moorea
Jimmy Buffett's Margaritaville is a great restaurant to visit while in Moorea. The restaurant serves delicious food and has an amazing view of the lagoon. The restaurant also serves alcoholic drinks, including margaritas. If you're looking for a great place to eat in Moorea, be sure to pay a visit to Jimmy Buffett's Margaritaville.
Address:

BP 28, Moorea, Maharepa 98728, 98728 French Polynesia

Price:

$124 – $228
Bam Boo Restaurant - Bora Bora
Bam Boo Restaurant is another great restaurant in Bora Bora. The restaurant is located near the main square. It offers a wide variety of seafood and steak dishes. The restaurant also has a great view of the lagoon and is a great place to eat while staying in Bora Bora. If you're planning a visit to Bora Bora, be sure to check out Bam Boo Restaurant.
Address:

The St. Regis Bora Bora Resort French Polynesia

Price:

$30 – $50
French Polynesia is one of the top destinations for vacation which is popularly known for stunning beaches and resorts. It can offer you to explore around 118 islands as well you can enjoy your vacation in French Polynesia. A lot of people visit here to explore its beautiful natural places, wildlife as well as traditional festive activities. So you must visit here to enjoy your vacation and explore this beautiful island.
Read More:
Complete Travel Guide To Visit Malta
Mexico City: A Complete Travel Guide