Diners Club Credit Card is a direct banking payment services provider that is extremely effective. For people who like to travel regularly and wants to take benefit from specific restaurants, golf clubs, entertainment venues, and other locations, a diners club card is the best option for them. Diners Club cards are valuable. Anywhere Mastercard is accepted, Diners Club credit cards issued in the United States can be used. Wherever Diners Club and Discover are accepted, cards issued outside of the United States can also be used.
Story of Diners Club Card
The story of the diners club card began in 1950. The Diners Club card's history is a unique story. When Mr. Frank McNamara finished his meal in a New York restaurant and realized he had left his wallet in another outfit, he found himself in an awkward situation. He promised never to be in that situation again once his wife had to pay the bill.
At this time, the concept for Diners Club evolved. The Diners Club Card was the first all-purpose credit card in history, and it evolved.
The Diners Club International card work as any other credit card. Diners Club cards are offered by only HDFC Bank in India. There are three available cards.
Premium Diners Club International
Diners Club International Black
Rewardz by Diners Club International
How can apply for Diners Club Credit Card?
You can submit an application through the bank's official website if you want to receive the best HDFC Bank credit card online. Please be aware that the Subsidiary Markets website does not provide any credit cards from HDFC Bank, including the HDFC Diners Club Black Credit Card.
Benefits of Diners Club Card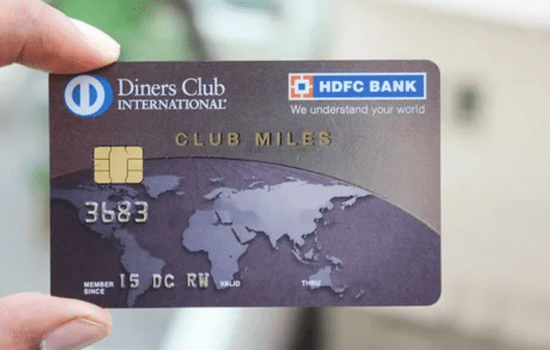 This card entitles you to annual membership on Amazon Prime, Forbes, Dineout Passport, Club Marriott, MMT BLACK, and Times Prime.
If you spend 150 rupees anywhere on your credit card then you get 5 reward points on every spend amount and if you do any spending in smartbuy on your card then you get 10x reward points for your The reward points have a validity of 3 years.
If you spend 80,000 or more in a month, then you have the option to suck 2 benefits. Month cult fit membership Or you can use Ola Cab 500 can take a voucher for rupees.
It gives you coverage of up to 9 lakhs in case your credit card gets lost. Coverage is given when there is a fraud transaction with your credit card. For this, you will have to give information to their call center that your card is lost. You can do this by calling customer service, using net banking, or going in person to a branch.
This gives you the benefit of fuel charges. If you are fueling 400 or more, then it gives you a benefit of 1%. You can get a benefit of up to 1000 rupees for a whole month.
Free golf games on some of the best courses in the world ( 6 per quarter)
Eligibility Criteria
HDFC Bank Eligibility Criteria.
For Salaried Individuals their age should be 21-60 years and their monthly salary should be Rs. 70,000 and above.
For Self-employed Individuals, their age should be 21-65 years and per annum, ITR should be 21 lakhs.
Documents Required for HDFC Diners Club Card
PAN Card Copy PAN Card
Aadhaar Card
Voter's ID Card
Passport
Driving Licence
Income tax returns with computation sheet
Bank statement for the last 3 months
Salary slips for the last 3 months
Audited financials for the last two years (for self-employed)
Form 16
Colorful Passport size Photograph
Residence proof and identity Proof
Aadhaar Card
Passport
Utility bills (not more than 3 months old)
Any other government-approved ID
Fees and Charges
If you want to take this credit card then you have to pay a joining fee of 10,000 + taxes.
Renewal membership annual fee is 10,000 + taxes.
Block or add your credit card to a "hot list" in NetBanking
Use your NetBanking ID and Password to log in to NetBanking.
On the left side, select Credit Card Hotlisting under the Credit Cards category. You'll see a list of your registered NetBanking credit cards.
To add a credit card number to your favorites list, click it.
Decide on a hotlisting cause.
Choose whether you want the card to be issued again.
Insurance Benefits of HDFC Diners Club Card
This card also provides you with insurance benefits. Mainly it has three insurance plans
Air Accidental benefit worth Rs. 2crore:- If you die due to any reason while traveling in plain, then your family gets insurance coverage worth Rs. 2crore.
Emergency hospitalization worth Rs. 50 lacs:- If you are traveling outside India and you have to hospitalize due to your ill health, then you get the insurance cover of 50 lacs.
Travel insurance plan up to rs.55,000 on baggage delay:- If you are traveling and your bag gets late on arrival then you get insurance coverage up to Rs.55,000
Withdrawal cash from Diners Club Credit Card
With the HDFC Diners Club Black Credit Card, you can make cash withdrawals up to your allowed cash withdrawal limit. Every transaction has a 2.50 percent charge added on top of the advance, with a minimum of 500. 3.49 percent per month or 41.88 percent yearly is the interest rate. Also, if you have to pay Credit card bills can be paid via multiple channels
HDFC Bank ATM
Drop cheques in the 'drop box' at HDFC Bank branches
Cash payments at the bank branch
Auto-Debit facility
Net banking
Customer Care Centre
Limit of Diners Club Credit Card
The HDFC Diners Club Black card's credit limit ranges from 4 to 8 lakh rupees, with 4 lakh being the lowest. as soon as you apply and provide the necessary documentation. When you receive your card, the bank will process your application and you will get to know your credit limit.
Conclusion
Owners of Diners Club cards are commonly referred to as Club members, golf courses, and other service-related businesses. A Diners Club card is beneficial for common travelers.
Consumer card applications are currently closed in the United States, but travelers still have other choices for credit cards that offer the best travel benefits.