Delhi University is part of one of the best Universities in India. This is Located in New Delhi since 1922. DU is the largest, most popular, and Prestigious university not only in Delhi but also in India. Delhi University colleges count among the best colleges in India also. Here are some best DU Colleges in 2022.
Students can get admission after their completion of the exam. First, we need to do the registration a month ago. For several years On the basis of 12th marks, University was giving admission but now there is an entrance exam that you need to pass to take admission. The university is consist of lots of subject options.
DU is also very famous for open learning also due to the low and affordable fees with great faculty. Generally, undergraduates are taking admission to it. This university offers undergraduate, Postgraduate, and doctoral courses also.
Miranda House College (1948)
This university establishes in 1948 in Delhi. Miranda House college is a fascinating center for women. It is part of Delhi university located on the North Campus. However, This University provides a variety of courses like undergraduate, Postgraduate courses for different fields of Science, commerce, and arts. Especially in this university, there are foreign language courses that can complete in a single year. That is why It is considered the Best College at Delhi University.
The powerful placement percentage of this college is the reason for its popularity among the students. Digitally will develop and maintain, also has good infrastructure. The faculty is also humble and supportive of the students. Other essential things like library and fitness activities are also there inside the university which is encouraging students to take part in other activities also. Although, A really cool and healthy environment they offer to their students for their bright future.
Admission is on the basis of 12th marks. This is certified by NIRF as the best university.
Also Read: Most Profitable Small Business Ideas for women in India
Popular courses offered by Miranda House College
BA Philosophy (Hons)
Hons in BA in Political Science
BSC Mathematics (Hons)
BA English (Hons)
(Hons) BA Economics
Also read: How to Prepare for Logical Reasoning for CAT
Lady Shri Ram College for Women (1956)
This university is established in 1956. Late sir Lala Shri ram has established it. This university is especially for women. It is located in Lajpat Nagar and is part of the Delhi university. There is a good crowd, a healthy environment, and security. Which is the main reason for the fascination of women with this college. It is famous for Ba courses with limited seats. So, the competition to take admission to this university is too high.
The special thing about this university is there are several short courses available. The university is also giving international experience to their students. Lady Shri Ram College for women is joyfully celebrating the festival name TARANG. However, This celebrates for three days there. Basically, this is to build the bond and friendships among the students.
Even this involves their college students who are responsible for healthy and ethical relationships with other university students too. Although, This is a great way to give moral value to the students it contributes to building good citizen for the country too. This makes this one of the Best Colleges at Delhi University.
Also read: Effective Advertising strategies to promote businesses
Popular courses offered by the Lady Shri ram college for women
BA English
Bachelor of Commerce
BA Psychology (Hons)
Hons In BA Economics
BA Journalism (Hons)
Stephen's College Delhi University (1881)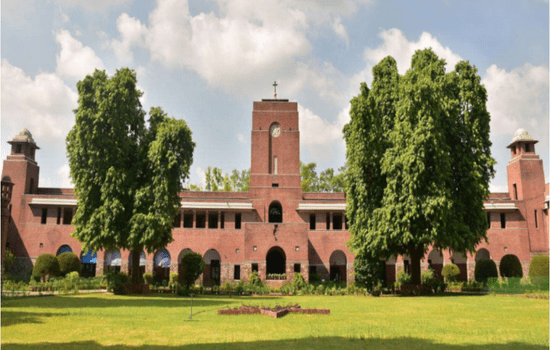 This university was established in 1881. St Stephen College is a part of Delhi University. This is one of the oldest and most famous universities in Delhi. However, they offer multiple courses for undergraduates and postgraduates. Multiple language courses are also offered by the university. It is also one of the Best Colleges at Delhi University.
The Bachelor of Arts and Science course is one of the best and most popular courses. University also has a huge library for students. A healthy and Calm environment. However, To get admission to this university students should be eligible for a high percentage. Because the Cut-off of this university is too high. And this is slightly difficult to get admission.
In the admission process, students must have to face the interview level. It is known for the best placements and good salary packages.
Popular Courses offered by Stephen's College
(Hons) BA Economics
BSc Chemistry (Hons)
BA English (Hons)
BSc Mathematics (Hons)
BA History
Also read: Surprising Career Opportunities of Robotics Engineering in India
Hindu College (1899)
This university was established in 1899 in Delhi. Hindu college is affiliated with Delhi University. This is offering the best course in arts and science. However, You can find this university on North Campus. It is really trustful due to the long stability in the market. As it is part of one of the oldest universities in Delhi. Multiple courses are available for the students for the course undergraduate and postgraduate.
University is open for all three streams of students science, commerce and arts. Hindu College is awarded a star college. This is mainly due to the infrastructure of the department of biotechnology. The unique thing about this college is that this has a student Parliament also. Its motto line is Music of truth. The annual fest of this college is famous with the name Mecca. Although, These multiple options make this part of the Best Colleges of Delhi University.
Popular courses offered by the Hindu college
BA Com (Hons)
(Hons) BA History
BA Philosophy (Hons)
(Hons) BA Political Science
BA Economics (Hons)
Also read: How to Become Rich in India
Conclusion
The above-mentioned, colleges are the top universities of DU in Delhi, which are the dream college of students. They have to pass the entrance and many other criteria to take admitted to this university. All the colleges offer high salary packages and a secure future. Once you fulfill the admission criteria student's life gets smooth with quality knowledge with the naming university students' history.