Our eyes are the most beautiful gift by god. Cosmetics like eyeliners made our eyes look even more gorgeous. As there are many eyeliners available in the market, choosing the best eyeliner for your eyes is a big task.
The look of the eyes depends on the facial dimensions which vary from person to person. Some will prefer light stokes, some will prefer broad stokes according to their personal preferences. So, preferences may vary but if you are planning to buy an eyeliner there are many ways that will help you in choosing the best eyeliner for you.
How to choose the best eyeliner?
Choosing the best eyeliner can be a task. You are the one who knows what is best for you but if you are a beginner and don't know how to choose what fits you. There are some ways through which you can choose the best eyeliner for your daily use.
1. Purpose
Brands are important but you have to consider the look you are going for. If you want it for regular use then thin stroke eyeliner is good. But if you are buying it for any function or some bold look, dark and broad strokes of eyeliner will suit you.
So, first, think of the purpose for which you are buying it. If you have an idea for which purpose you are buying, it will give you an overview to select the perfect one.
2. Eye color
I know it will be weird for you as there is no such combination available for every eye color but there are many shades of eyeliners available on the market. If you have the knowledge of color coordination you can decide which shade will look good on you.
For example, if you have green eyes, reddish tones eyeliners will suit best for you. Similarly, if you have brown eyes, consider lighter shades as it will brighten your eyes and if you have blue eyes, buy golden color eyeliners, this will give you a shiny look best.
3. Size
Size of the eyes matters as it gives you a thorough analysis in choosing the best for you. The shape and size are the traits that will help you in choosing the way to put that on your eyes. To know the relative size, you have to consider facial features like the forehead and nose.
If you have big eyes, dark shades will suit you more and you have to do upper contour to give it a good look. If you have small eyes, light shades will suit you as they will brighten your skin.
4. Shape
The shape of the eye also decides which type of liner you will prefer like cat eye, wing liners, and many more. The shape of the eyes should take into consideration like round shape, almond shape, etc.
Round eyes prefer cat eye eyeliners as they will provide a unique makeup look. On the other hand, almond eyes favor a bold makeup look and also need highlighters and contour to make the eye look brighter.
5. Skin tone
It's important to understand what matches the other facial features you're using on your face because the wrong eyeliner color might highlight the worst features of your skin tone. You should avoid wearing black eyeliner if you have a fair complexion especially liquid. You run the risk of seeming older than you are because it will make your skin look harsh. To achieve a softer look, use a brown gel or powder eyeliner. However, if your complexion is medium to dark in tone, black eyeliner will work in your favor and may even enhance your eyes to stand out more.
6. For Beginners
If you're just starting off, you're going to want to choose something simple and practically reliable like a pencil liner because applying eyeliner may be a really hard process. For those without makeup artists like the accuracy and steady hands of eyeliner experts, pencil liners are the best option.
They don't create a mess, are simple to use, and allow for mistakes. After mastering the pencil, you can advance to the trickier liquid eyeliner. Liquid eyeliner application requires some talent (and a very steady hand), but with enough practice, you'll pick it up in no time.
7. Casual to Glamour look
The proper eyeliner can instantly transform a woman into a glam diva, and vice versa. It all depends on the style you're going for. Choose a light pencil line along the outer half of your upper and lower lids for a carefree, daytime appearance.
Just be sure to match the color to your skin tone. This will delicately highlight your eyes without coming out as harsh. You should choose something bold if you want to achieve a sexier, party image.
Draw two lines with different densities of pencil, meeting at the outer corner of the eye, along the top and bottom lids. Then, maybe after some practice, draw over the top line with your liquid liner. Your eyes and you will shine out greatly as a result of this.
8. Quality and budget
This is obvious that you will choose whether the liner you are buying has a good brand name or not. A good brand name is important as we have trust in the respective brands. Brands are especially popular among sensitive skin people because low-quality products can have an immediate reaction which can cause irritation in the eye.
The brands always provide good quality but they are not budget-friendly. You have compared brands that have good quality and are also within your budget.
The above-mentioned steps are the ways through which you can choose the best eyeliner for you. Everyone has different eye colors, shapes, and sizes. Choose the best so that you can look unique to everyone. Black eyeliners are a common choice, you can try different colors that suit your skin tone. Don't hesitate to try bold looks, this will give you confidence and give you a different or unique look.
Also read: Career Opportunities as a Professional Makeup Artist
Best Liquid Eyeliner
1. Rare beauty Perfect Strokes Matte liquid liner
Features:
Rare beauty Perfect Strokes Matte liquid liner is a waterproof eyeliner with an 800vegan bristle that gives a long-lasting effect.
It is a cruelty-free and paraben-free product.
Rich matte gives a perfect black stroke to your eyes.
It is suitable for sensitive eyes
Also safe for contact lens wearers.
Suitable for your everyday look.
How to use:
Shake well before using to activate color pigments.
For instant perfection, use the glide pointed tip along the lash line.
The brush tip is very flexible and makes it easy to customize the look of the liner.
Apply light pressure while applying on fine lines
You can add more pressure to create thicker, more dramatic lines.
2. Stila waterproof liquid eyeliner
Features:
Stila waterproof liquid eyeliner has a fine marker-like tip that offers a precise application to the eyes.
It helps in applying perfectly thin, precise lines or thick strokes.
It is waterproof, transfer-proof, and smudge-proof.
Application of this gives beautifully defined eyes that leave a long-lasting impression.
Easy to apply, dries quickly, and won't smudge or run day into night.
How to use:
This eyeliner is smudge-proof. So, there is no need to apply things to prevent it from smudging.
It has a thin tip so that it will give the perfect eye makeup look.
Apply the eyeliner with light pressure if you want light shade and can apply more if you have to want broad strokes.
Best Gel Eyeliner
1. Melt cosmetics ultra matte gel eyeliner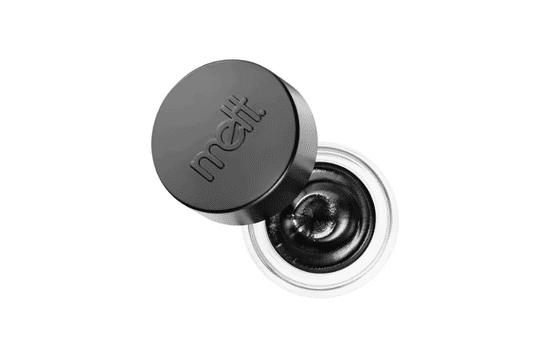 Features:
A highly pigmented, all-day gel liner that can be easily blended out to look like a cream shadow or used to draw precise, clear lines for graphics.
Melt cosmetics ultra matte gel eyeliner gives a matte finish to the eyes.
It is waterproof
Long-wearing, suitable for your day and night outs.
It is a paraben-free product
Additionally, this item is free of gluten and animal products.
How to use:
Apply where you'd like around the eyes.
Apply to the eyes with a flat synthetic brush or your finger to use as a cream shadow.
Use a fluffy synthetic brush to soften the edges.
2. Bobbi brown long-wear gel eyeliner
Features:
Bobbi brown long-wear gel eyeliner is famous long-wearing eyeliner that combines the comfort of a gel-based product with the precision of liquid liner.
8 hours of sweat- and humidity-resistant waterproof wear.
High pigmented and simple to apply, this gel formula's subtle to dramatic looks are long-lasting and didn't move or fade.
How to use:
Make sure both sides of the Fine Eyeliner Brush are coated with Long-Wear Gel eyeliner before dipping the tip into the eyeliner.
Clear away any extra with a tissue.
Apply liner fast, from the inner to outer corner of the eyes, working quickly and evenly close to the lash line.
Best Pencil Eyeliner
1. Urban decay 24/7 glide-on eye pencil
Features:
This eyeliner pencil blends easily and dries to a long-lasting finish that won't budge. It applies smoothly and stays soft and ultra-creamy for blending.
Urban decay 24/7 glide-on eye pencil contains moisturizing components like Vitamin E, jojoba oil, and cottonseed oil to the extent of 50%.
The 24/7 Eye Pencil is available in a variety of textures, including matte, metallic, satin, and shimmer.
Cruelty-free
Vegan
How to use:
Draw exact lines or smear them to give them a smokier appearance.
Use as a foundation to add depth and dimension to your eyeshadow layers.
The grindhouse double barrel sharpener will keep your eyeliner sharp.
2. Lancome drama liqui-pencil eyeliner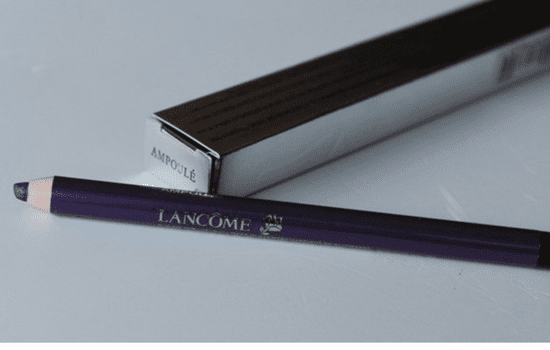 Features:
With a variety of matte, metallic, and glitter finishes, these ultra-gliding gel eyeliner pencils offer long-lasting rich color impact in a single stroke.
With Up to 24hr Drama Liqui-Pencil eyeliner, you can achieve dramatic eye effects all day long.
Lancome drama liqui-pencil eyeliner is a long-lasting eyeliner's distinctive gel texture gives it the simple application of a pencil and the intense color payoff of a liquid liner. Rich in pure color pigment, the texture is smudge-proof when first applied, sets rapidly, and after it has dried, it won't rub off or move for very long wear.
How to use:
If you want a thick line, apply your liner as near to the lashes as you can, or gradually extend it for a dramatic cat-eye or smokey eye makeup look.
Any spaces between your lashes can be filled in with the pencil's tip.
Since this gel eyeliner formula is ultra-waterproof and sets quickly, smudge as soon as you apply it to create a delicate or smoky appearance.
Also read: Effective benefits of Ice Roller
Best Cat-eye
1. L'Oreal infallible flash cat eye waterproof liquid Eyeliner
Features:
How to use:
Place the stencil's open portion near the eye's outer corner. To the skin, fit comfortably.
To create the wing, fill in the stencil.
From the eye's outer edge, remove the stencil. Continue the line across your eyelid.
2. Uzu by flowfushi eye-opening Eyeliner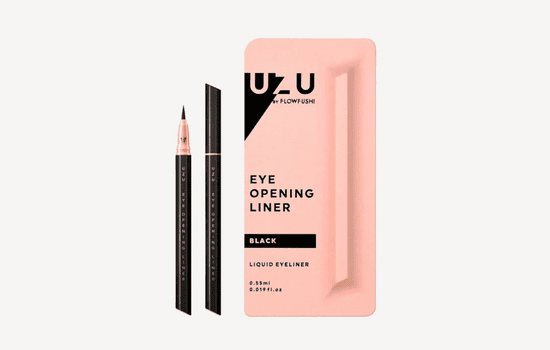 Features:
A precise eye line can be defined with Uzu by FlowFushi Eye Opening Liner's delicate brush.
This multipurpose liquid eyeliner from Japan is a development of the well-known FlowFushi Moteliner.
Uzu by flowfushi eye-opening Eyeliner has a Yamato TakumiTM brush with 28 percent more hairs of different quality and coarseness that was created using traditional Japanese brush-making methods.
An octagonal-shaped ergonomic handler that fits in the fingers allows for steady and stable application.
Formulation of WP FilmTM is impervious to sweat, humidity, tears, and sebum.
Free from alcohol, dyes, parabens, sulfates, gluten, and cruelty
There are 13 distinct color options for UZU Eye Opening Liner.
How to use:
To remove any extra makeup, slowly roll the brush onto a dry tissue.
To prevent bent bristles, carefully position the cap and turn it in a circular motion.
For optimal performance, store horizontally.
Best Eyeliner for sensitive eyes
1. Milk makeup kush liquid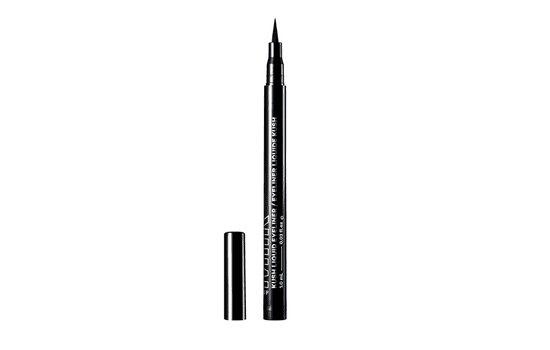 Features:
A waterproof liquid eyeliner pen that glides on smoothly and has a changeable felt tip for rich black pigment and lines that stay.
Best for sensitive eyes as it doesn't cause any irritation after applying.
Milk makeup kush liquid is vegan and clean
cruelty-free
paraben-free
silicone-free
alcohol-free
fragrance-free
gluten-free
ophthalmologist-tested.
How to use:
Before using, wet the tip by turning it upside-down.
From the outer to the inner corner of the eye, apply along the lash line.
For accurate, thin lines, use the fine point; for bold, thick lines, angle the edge.
Use your favorite oil-based makeup remover to remove.
For best effect, store at room temperature upside-down or horizontally.
When your applicator needs a refresh, carefully remove the reversible tip with a tissue or tweezers, then flip it over to reveal a liner tip that is as good as new.
2. Neutrogena intense gel liner
Features:
Every time, this gel eyeliner applies smoothly for the precise, dramatic lining.
Eyes that pop can be achieved by using water-resistant, Vitamin E-infused, dermatologist-tested eyeliners along the lash line or waterline.
Enduring, intensely pigmented formula
Neutrogena intense gel liner is available in dark brown, smokey grey, and jet black
Hypoallergenic, and water-resistant.
How to use:
You can create a variety of eye makeup looks with just one product thanks to the simple application method, which goes on soft and blendable for the first 30 seconds before drying and won't budge or smudge.
Best eyeliner for all looks and skin types
1. Marc jacobs highlighter gel Eyeliner
Features:
The Highliner Gel Eye Crayon Eyeliner combines the simplicity of a pencil with the luxury of a gel eyeliner.
Make a statement with this waterproof, extreme-wear eyeliner that applies smoothly and provides immediate color payoff.
The very malleable formula, which is unique to Marc Jacobs Beauty, allows a variety of application options.
Use Marc jacobs highlighter gel Eyeliner to draw precise, perfect lines, or smudge it just after lining for a quick smokey eye.
Its powerful color comes in a variety of finely pigmented tones, including Blacquer, the blackest, and glossiest black, and is formulated with unique gel components, conditioning vitamin E, and rosehip seed oil.
The image of a woman getting ready for a night out while sitting in the lobby of a posh hotel and applying eyeliner to create an instantly appealing appearance served as the inspiration for Highliner.
How to use:
Shake gently before using.
To produce the appropriate form, glide along the lash line.
Simply remove the product with a tissue if it gets on your eyelashes.
Use a cotton pad and an eye makeup remover with an oil base to remove.
To help remove makeup, apply to the eye area and hold for a short period of time.
Rinse and gently wipe away.
2. Makeup Forever aqua resist color pencil eyeliner
Features:
With glide-on shades in matte and glossy finishes, this eyeliner gives up to 24 hours of waterproof, sweat-proof, and smudge-proof wear.
Every time, a precise line is produced because of the twist-up package and built-in sharpening.
Additionally, Makeup Forever aqua resists color pencil eyeliner has been an ophthalmologist tested for sensitive eyes and is safe to use on the waterline.
How to use:
With a traditional eyeliner, line your upper lash line from the inner corner of your eye outward.
Finish the line by joining the inner corner and the middle, starting from there.
Applying along the waterline will add intensity.
Twist up and use the built-in sharpener as necessary.
Simple wing:
From the inner corner of the eye to the right above the lash line, draw a line.
After that, quickly blend the line out and up with an angled brush to give the wing a delicate appearance.
It blends and smudges for a little period of time and then remains in place until you remove it.
Best Drugstore Eyeliner
1. Maybelline tattoo studio Gel pencil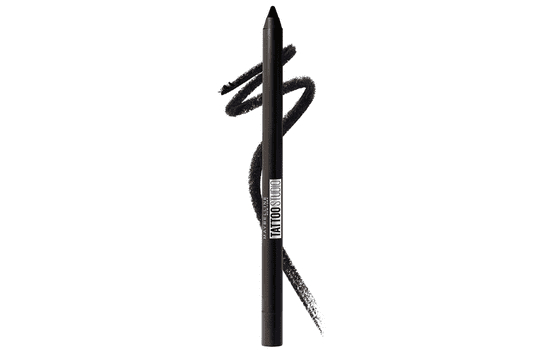 Features:
Maybelline tattoo studio Gel pencil is a waterproof eyeliner that delivers fluid application and vibrant color for our longest-wearing use to date.
With a wear time of up to 36 hours, this sharpenable pencil eyeliner offers pigment-rich shades, fine definition, and all-day wear.
This collection includes the ideal color for every mood, including timeless black, bright white, and every brilliant tint in between.
available in matte and metallic eyeliner colors.
Sebum resistance, smear resistance, fade resistance, and waterproof
How to use:
Along the top lash line, draw a line.
Bottom lash line of the line.
Eye Makeup Remover makes removing eyeliner simple.
2. Revlon fierce Vinyl Eyeliner
Features:
A gel eye pencil that provides greater pigment and a strong gloss and actually stays in its target destination.
The strong formula has great glide and draws a crisp line with a potently glossy pigment while being waterproof and smudge-proof.
Go outside and remain outside for as long as you like with up to 16-hour wear.
There are 6 very rich, waterproof eyeliner colors available.
Revlon fierce Vinyl Eyeliner has undergone ophthalmologist testing
How to use:
Use this silky gel eyeliner to easily create a glossy stripe along your lash line.
Create the most dramatic winged liner look yet by combining various hues.
3. NYX Epic Ink Liner
Features:
NYX Epic Ink Liner is a waterproof liquid eyeliner with a matte texture that is highly pigmented.
This vegan eyeliner produces a flawlessly exact liquid line.
You have perfect control over line width because of the flexible and thin felt brush tip; to create thicker lines, press down slightly.
A durable, smudge-proof composition that can withstand sweat, humidity, tears, and precipitation
available in tones for the ideal brown and black eyeliner looks
If you want to accentuate dramatic eye makeup or keep it simple with a traditional cat eye look, the eyeliner look is up to you. It can be fine and natural or broad and harsh.
Vegan product
cruelty-free
How to use:
Simply swipe an eyeliner stroke across the lash line after selecting a color.
You can choose to draw lightly for a thin line or press down for a larger line to create the desired wing appearance.
To create a thin or thick line, vary the pressure applied to the brush tip.
Summary
There are many eyeliners available on the market for different purposes, sizes, shapes, and qualities. With the buying guide mentioned above, you can choose the best eyeliner for both daily and party looks. Brand quality matters a lot because of skin sensitivity. Choose the perfect fit from the above-specified and trusted brands to start the journey as a beginner or for normal use.