Deia Mallorca is a small coastal village in Spain. It is located 16 kilometres north of Valldemossa, and it is popularly known for its literary and musical residents. The village is one of the ancient and prettiest villages on the island. It is settled at the foot of the Teix mountain along with views out to the Mediterranean. Further, it's a place for various artists, writers, and creative people. Most popularly known for the writer Robert Graves.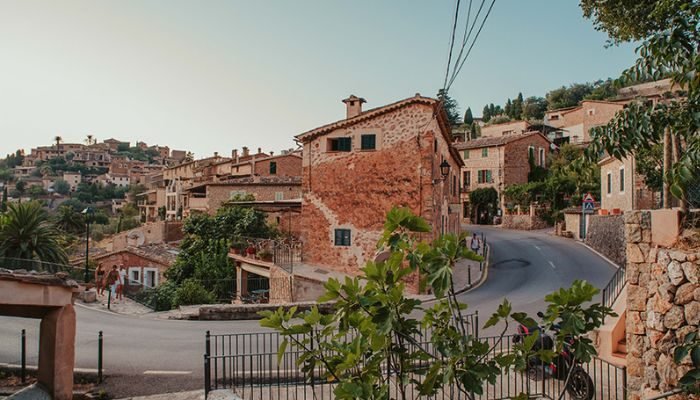 This steep valley was populated since prehistoric times. The name Deia was excluded from the time of the Moorish conquest of Mallorca. Olive trees were grown up to about 600 metres and they cover a lot of ground nowadays. The foreigner who settled in the Deia Mallorca coastal village was Robert Graves. He was an English poet, a novelist as well as a Scholar.
The Deia Mallorca is also known for its popular destinations like beaches, winding hiking paths along with roman historical sites. You can chill here in any situation whether it's a romantic honeymoon, a girl's trip, or a chill gateway.
How to Get to Deia Mallorca
You can easily go to Deia Mallorca to spend your summer holiday as well as vacation. It is just ten kilometers away from the north of Valldemossa and it just takes 45 min to travel from the northern capital city of Palma. It is known as one of the largest cities in the Balearic Islands and It is the area's primary transportation hub. You can find a lot of flights from Barcelona as well as from Madrid to Palma every day.
Exploring Around Deia Mallorca
You should rent a car when you were about to explore the village. The smaller your car, the better it will be to explore every place. You can easily park a small car while exploring the beaches and the town. If you are looking for automatic cars that have a manual transmission then you should book as early as you can. And even maybe you should need to pay more for them.
Best Time to Visit Deia Mallorca
Deia has an Adriatic climate along with hot dry summers as well as mild winters. You can visit between June and August if you love to seek sunlight because these are the hottest months of the year and you can really enjoy your vacation at that time.
If you don't really like the sunlight then you can just visit in the month of January Because this is the coolest month of the year.
Further, if you love to visit in the dry weather then you can just go there in the month of July but on a different side, if you hate the dry weather then you can visit here in the month of September. Because September is the wettest month of the year.
Furthermore, If you want to enjoy the beach, then you need to visit between the month of June to October. Because it is the best time to visit there to enjoy the beaches with an average temperature of 23°C.
What's Special In Deia Mallorca
It attracts a lot of interesting characters along with life stories that can fill a whole book. This is not just about celebrities but Deia Mallorca is also an incredible and beautiful ancient coastal village. You can walk here and observe the beauty of this place in a different way without being observed. This place is so quiet along with a lot of beautiful places and iconic destinations.
There are natural places, attractive villages, famous restaurants and plenty of cultural activities. It also has great weather and beautiful landscape along with beautiful mountains that can give you some kind of positive and healing energy along with a real feeling of spirituality and peace.
Restaurants Near Deia Mallorca
You can also go to restaurants at any time you want. There are a lot of expansive and popular restaurants near Deia Mallorca ranging from costly to low budget. So, you can go to any restaurant according to your budget. This is also the best thing you don't have to spend all of your money on costly meals and dinners in expensive restaurants.
They offer traditional Italian recipes and high-quality ingredients willingly. You can come here anytime when you want a break to eat your meal or dinner. They have an authentic Italian taste and atmosphere.
They offer a lot of Italian recipes like Alfi, Zini, Agriform, La Contadina, Panificio Cremona, Certosa Salumi, G7 Gelati, Note DI Nero, Cupiello etc.
Online Rating: *4.9
Address: Passage Viña Vieja, n1, 07179 Deià, Balearic Islands, Spain
Contact no.: +34971636450
This is the nearest restaurant to the Deia. So, if you don't have much more time to travel a long distance just for a restaurant then you can choose Restaurant Nama instead of any expensive restaurant. Moreover, it is just located in Deia village which is on the northwest coast of Mallorca. They offer an unforgettable dining experience with gluten-free dishes. They present every dish with utmost care and beauty. But there's one drawback that their services are slow. So, if you don't have enough time for your breakfast or lunch then maybe this wouldn't be a great choice for you.
Online Rating: *4.7
Address: Carrer Arxiduc Luís Salvador, 22, 07179 Deià, Balearic Islands, Spain
Contact no.: +34971636102
The Deia Mallorca is a most popular coastal village. It is known not just for its beauty and ancient culture. But it is also famous for a lot of tourist attractions like La Casa de Robert Graves, Son Marroig, Monestir de Miramar, etc.
The English poet Robert Graves lived in the Deia Mallorca from 1929 to his death. After his death, he was buried under a cypress tree in a lovely graveyard next to the church. Various tourists who come to the Deia Mallorca city must visit the La Casa de Robert Church. It opens at different times as shown below.
Mon-Tue: 10:00 AM – 2:00 PM
Wed-Thu: 10:00 AM – 5:00 PM
Friday: 10:00 AM – 3:00 PM
Son Marroig is a traditional Mallorcan country in the northwest of Mallorca. It is popularly known because of archduke Ludwing who just fell in love with this region's stunning natural beauty. A lot of visitors are attracted by the landmarks and streams. It is high above the deep blue waters of the mediterranean and is one of the most romantic locations on the west coast of mallorca along with the sweeping views of the rugged coastline.
Further, it is one of the oldest buildings and was built during the 15th and 16th centuries. There's also a charming landscaped garden that is the best spot to walk.
It is one of the most interesting historical and ancient places of Mallorca. A lot of significant events have taken place there. Further, it is one of the oldest possessions in Mallorca and was commissioned by Ramon Llull and founded in 1276 as a monastery as well as an eastern language school. You can also experience various activities like Hot air balloon ride along with lunch, traditional spanish cooking class as well as sea cruise with lunch.
Even Deia Mallorca is a small coastal village, but it is still one of the most famous places to visit. It is a lot different from other tourist places in every way. It is an ancient and historical as well as iconic destination to visit. You can feel the beauty of nature everywhere in Deia Mallorca. The place is also most popular due to the various artists and various expensive restaurants along with the top tourist attractions like La Casa De Robert Grave.
Also Read: Garza Blanca Cabo.