A few days back a movie named Gulabo Sitabo in which big stars like Amitabh Bachchan and Ayushman Khurana are in role, so its producer announced that this movie will be directly released on Amazon prime video on the 12th of June which means it will not release on theatres as movie's shoot was already done and ready to released but they have not wait for theatres to open, so as sudden this news came out.
The INOX which is a very big multiplex chain in India they have issued a very long and wide press release by mentioning film producers by saying that you cannot do this which means you cannot release this on the OTT Platform because there is establish trend and pattern that films always firstly release on theatres then after 1 or 2 months later it releases on OTT Platform and Televisions, so you cannot skip this step.
Already Because of the Covid pandemic theatres are at a very big loss and if this situation you directly release the movie it will be a very big deal for us.
As we have also seen the statement by INOX on a production House's announcement to release their movie on an OTT Platform by skipping the theatrical run.
So Tamil and Malayalam Movies also starting to release on OTT Platforms as a result theatres are warning the production house's that if you start releasing movies on OTT platforms we defiantly will not allow you to release a single movie in theatres.
Why Production Houses Are Releasing Their Movies On the OTT Platforms
As we all know that in India OTT platform trend is not a new platform it started 3, 4 years back many big stars have worked on OTT Platforms also their web series have also released on it.
In India major, OTT platforms are Netflix, Prime video by Amazon, Eros now, Zee 5, Disney+, Hotstar, MX player, Sony liv, Voot, Yupp tv, Alt Balaji, etc, In which Netflix, Amazon Prime & Disney is US based companies and all others are Indians.
Basically, Netflix and Amazon prime never shared their growth and usage data publically. Netflix, Prime, etc, have witnessed a record surge in subscriptions during the lockdown. So many surveys have recorded all this data at the user level. Nielsen smartphone panel reports shows the weekly comparison so according to them there is spike in metros city by 19% and Non-metros 23%, averaging 4hrs. / per week video-on-demand consumption.
So due to spike in demand and increase in usage of OTT platforms advertisers are also come out here very speedly so as a result advertisers in India have shifted media budgets to OTT channel in tandem with the spike in media consumption since lockdown measures were put in place on 25 march. ( Doesn't include Netflix and Amazon ).
March: 16,000 ad insertions
April: 33,000 ad insertions
Why Are OTTs Gaining Popularity?
Keep in mind above data is not include Netflix and Amazon prime and data is only for 1 month because they do not show ads their subscription charges are high so advertisers are moving on to free OTT platforms.
The first point is the choice and diversity of content on these platforms is much greater which means there are so many choices and diversification in content for example if we are on holiday and want to watch a movie so we can only watch a limited content like 2 or 3 movies which are released you can watch you do not have so many choices but on OTT platforms we have thousands of choices as per our interest mood etc we can watch we have diversified content.
The second point is as we know whenever very high budget movie releases in India's theatres so it grab and cover so many show booking for a month so in between if low budget movie releases so it cannot cover that much audience and theatre screen because of less availability of theatres so obviously there is no other option for a production house's so they choose to release their movie on OTT platforms.
Basically, a film theatre has to cater to mainstream audience expectations for business reason.
The online platforms do not have to deal with these concerns and offer a good mix of both mainstream and art-house cinema.
The financial projected growth of OTT platforms
According to PwC's Global Entertainment and media outlook 2019-2023, the Over-The-Top media services ( OTT ) market in India has predicted to grow by 21.8% CAGR from Rs. 4,464 crores in 2018 to Rs. 11,976 crores in 2023,
The most important reasons behind the financial growth of OTT platforms are:
It gives you the full convince so that you watch your favorite show at any place at any time like while traveling, office, etc you can watch movies on your android mobile phone, laptop, computer, etc, With the Small town growth, audiences that had not discovered OTT platforms viewing are coming on these platforms, especially from Tier-2 and Tier-3 cities.
One of the trends that have become crucial to the mass adoption of OTT platforms in India is the rise of smartphones. Consumption of Web shows is primarily happening on smartphones.
One of the most important reasons is the Jio reliance which give a very huge spike in smart phone user life and so many new members also come, literally jio reliance free internet played a most vital role in increase of smartphones and internet users.
According to most platforms, almost 80% of viewing happens on smartphones, before that as we could see many users were from metro cities because of their membership plans because in rural areas everyone cannot afford their plans but as seen by many surveys as many free OTT platforms have launched their consumption in small rural area also increasing.
Experience OF OTTs And Theatres
Now the question is the experience of watching movies in theatres and big screens can OTT platforms replace that? So what is your opinion on it please comment below. But personally I think experience of watching movie on big screen and in theatres cannot replace. Because here 100s of people sit together and watch the same movie it creates a different emotional experience. But on OTT platforms things are likely made for personal consumption. So it does not gives you that vibe. Because so many movies' visuals are at different levels. That you can only feel and enjoy that on a big screen which cannot felt on smartphones. And the other reason for releasing the movie in theatres is many big A-grade stars' movie budget is too huge. That they cannot get the best return from OTT platforms.
Theatre owners are swearing by the cinema halls they do not just screen movies, "but offer an experience".
The industry is now beginning to find solutions to some critical issues.
 Both can co-exist
The move to release some content will relieve some short-term financial pressure on production houses. However, the Indian film industry is still dependent on the box office for a majority of its revenue. And will need to continue to keep the exhibition industry as a close partner once the covid-crisis is over.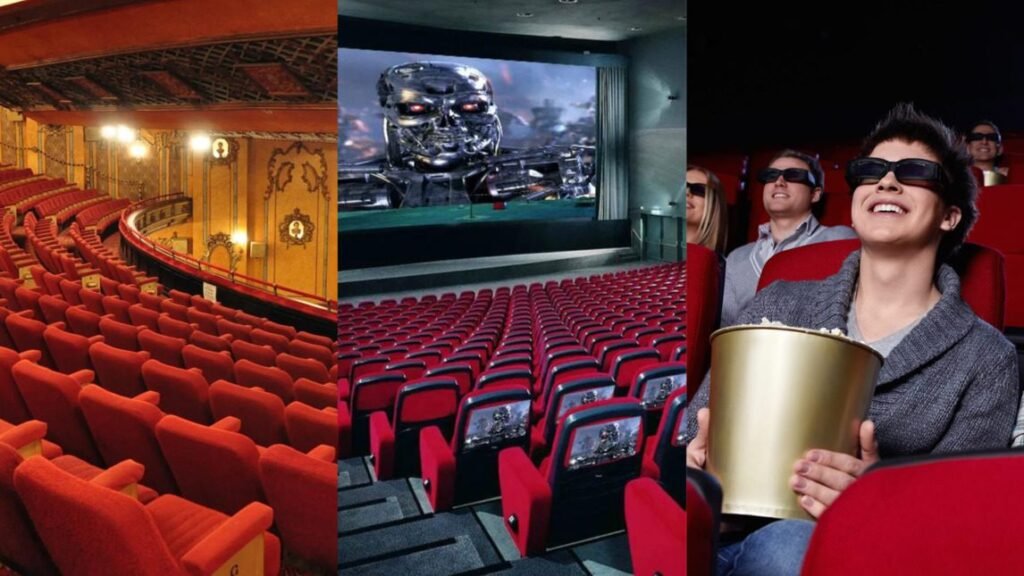 According to Ficci-Ey's 2020 report, in 2019. The film entertainment segment grew 9.5% to Rs.11,500 crore and it is a domestic box office collection.
That means in the future small-budget films can move to OTT platforms but Big huge-budget films firstly release in theatres and then after earning a very good amount they can also release on OTT platforms.
Cinema Has Survived
As we know that cinema has survived so much. Two world wars have gone after that people think cinemas will end but nothing happens they survived. And then when in 1950 television has introduced. People used to think that now no one will consider watching movies in cinemas. Also in 1970 and 1980 when VCR and CD players introduced. People used to think the same about cinema but cinema actually survived a lot of people loved to watch it on big screens.
In the year 2000 when the Internet and piracy boom has come, people thought no will now go to cinemas for watching movies now cinemas will be completely shut but it did not happen and then after the year 2010 smartphones and tab devices launched people thought now everyone will watch movies on tab and androids but they still continue to watch on a big screen and now OTT is onslaught people thinking same but I will not go to happen at all because we all know that watching movies on the big screen with next-level graphics and visuals gives us an amazing experience and an emotional feel.
Conclusion
Me, I personally feel that if cinemas have survived that much competition and are still in trend so they will also survive OTT platforms as we know all the mediums co-exist today so the same OTT will also co-exist and include in all mediums.