Brazilian jiu-jitsu (BJJ) is a martial art that stresses grappling, particularly on the ground, with the goal of taking control of the situation and using joint locks and chokes to subdue the opponent.
The style evolved from a modified form of Judo used before World War II that included certain classic Jiu Jitsu techniques and a focus on non-Waza (ground techniques). It promotes the idea that a smaller, weaker person may successfully defend themselves against a larger, stronger attacker by using balance and technique. Here are the best jiu Jitsu school and their qualities.
Best Jiu Jitsu Academies
If you want to learn jiu-jitsu skills, obviously you need an academy where you can learn or practice. Here are the best jiu Jitsu Schools that you can join. Since BJJ is all about the journey, we're going to take you through some of the top jiu-jitsu academies with a guide. Even though BJJ can now be learned in most cities if you are serious about improving in the sport, studying under the best at an elite jiu-jitsu academy is the ideal combo.
Atos Jiu-Jitsu School, California, USA
Attending Atos Jiu-Jitsu School is something you should definitely think about if you live on the West Coast. It is owned by famous businessman Andre Galvao and has its headquarters in San Diego, California.
Mr. Andre is arguably one of the top coaches in the world, and his remarkable competition resume demonstrates his expertise.
In the past ten years, this institution has produced a large number of world champions. In this school, you can learn jiu-jitsu even if you're not in California. You can access more than 6,000 videos and sessions for particular jiu-jitsu techniques by signing up with the school. Even a class for kids that teaches the fundamentals of jiu-jitsu exists.
Marcelo Garcia Jiu-Jitsu Academy- New York City, USA
Every BJJ practitioner and grappler should try to visit Marcelo Garcia's Jiu Jitsu school in New York at least once in their lifetime. For BJJ, it is a mecca.
One of the top competitors of all time, Marcelo exudes a contagious enthusiasm for BJJ.
The academy has several good trainers with years of BJJ experience, and it is kind to all trainees. One of the first BJJ channels on the internet, MGinaction is Marcelo's digital channel and offers a tonne of training and sparring videos.
Evolve MMA, Singapore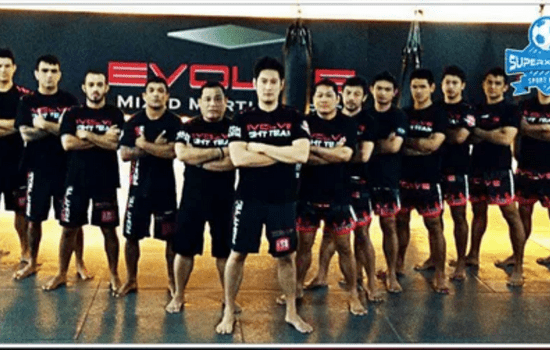 A Singaporean organization for martial arts students is called Evolve MMA. The organization operates numerous gyms where people can safely practice jiu-jitsu, including the biggest gym in Singapore. Evolve MMA was rated the top martial arts organization in Asia by CNN and Fox Sports.
If you are a beginner, you shouldn't worry too much. The basic courses offered by Evolve MMA will help you build a solid jiu-jitsu foundation. The contemporary equipment in the gyms will give your training new dimensions and satisfy international standards.
The instructors of Evolve MMA have more combined experience than any other martial arts school, totaling over 1,000 years.
GF Team – Rio , Brazil
Rio de Janeiro may have the highest concentration of the top BJJ gyms in the world. The GF team headquarters may very well be the best gym in Rio.
The Rio-based BJJ school is one of the few teams that is not descended from the traditional Gracie Lineage. Instead, the team comes from the lineage of Osvaldo Fadda, a respected rival of the Gracie Family.
Like some of the other gyms on the list, the gym has a reputation for hard sparring and training.
Tristar School Montreal, Canada
Up in the great white north of Canada lies one of the best MMA/BJJ schools in the world. Head coach Firas Zahabi is a mastermind and one of the most respected minds in martial arts.
He is most known for coaching elite MMA fighters like Georges St Pierre and Rory MacDonald. But he is also without a doubt one of the best Jiu Jitsu coaches in the world.
Zahabi is a blackbelt under John Danaher and thousands of fighters and grapplers travel to Tristar to train with him.
Qualities you see before joining a jiu-jitsu school
Choosing a good Jiu-Jitsu Academy is important for you if you want to learn. There are some elements or factors that you look for in a company before joining it.
Instructor
If you are thinking of joining Jiu-Jitsu Academy, then first of all you will see for your convenience how is your trainer or teacher. If you don't get a good trainer, you will not progress and you will become just like them. A good trainer of yours always motivates you to move forward. Brazilian jiu-jitsu is an art form that has been mastered over many years by people like John Danaher and Fabio Santos, who are world-class training instructors. Your teacher or your trying partner will always correct you whenever you are wrong, they will also take your test from time to time. Your progress will happen only when you learn from a person with more experience than you. So you have to join a Jiu Jitsu Academy by analyzing the quality, and achievements of your trainer. We are not saying that you should find fault in your teacher but you should see good qualities in your trainer to learn.
Your Partners
In second place comes your training partners, if you join Jiu-Jitsu Academy, you will train with your peers and there are many such things that you will learn from your partners. If you want to join Jiu-Jitsu Academy, then you join for the purpose of learning, because what kind of person is with you, you will know only by staying with him.
Amenities of an Academy
Obviously, you want a nice-looking academy. It's always important to have a gym with brand-new mats, modern equipment, and a welcoming atmosphere. A beautiful school can boost people's spirits and help them work out more effectively. Of course, this is all subjective, but having a new training facility may do wonders for enthusiasm. Morale is high when your training partners and teachers are consistently positive and supportive. Due to the fact that you can train in the mud and yet succeed, this is the least significant of the three categories listed. You can always be successful as long as you approach training and life with the proper attitude.
Summary
Your jiu-jitsu training facility can assist you in developing your abilities to the point where you can compete and take home championships. As a result, you must practice at the top BJJ schools in the world and with the greatest coaches.
The above-mentioned schools have the expertise and tools necessary to help you realize your goal of becoming an expert in jiu-jitsu moves.
Also Read:
Travel the world while studying