Banana milk is a non-dairy product for vegans. It contains banana which provides a variety of nutrients, it has many benefits. It is made from bananas and water by blending. You can add nuts or dry fruits to it.
It depends on the recipe of making it, how much and how little you make it healthy. You can also add sweeteners and flavors to it. This article focus on its nutritional content, health benefits, and much more. This article focus on its nutritional content, health benefits, and much more.
Nutritional facts in Banana Milk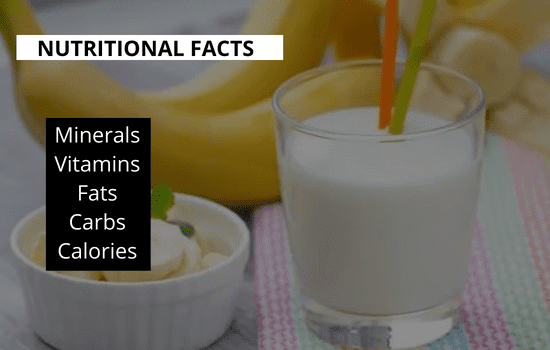 Banana milk nutritional facts depend on the brands and the homemade recipes. Homemade banana milk's nutritional value can have more or less because of water and sugar content. It can be brought from outside may have more nutritional facts than home, as it may also contain cereals and other nutritional content. The nutritional factors may be different in different brands of banana milk.
Banana milk's nutritional value varies depending on the serving size and whether it is made at home or purchased from a store. In general, it has a low fat and protein content but a high carb content.
Minerals
It contains potassium and magnesium. It provides vitamins and minerals of good quality. So, adding banana milk to your diet is very beneficial for your health.
Vitamins
Bananas are rich in vitamin B6, which helps boost immunity.
Fat
It contains water and banana only. So, it is low in fat.
Carbs
Bananas naturally include sugar, fiber, and starches, as well as a minor amount of carbohydrates from sunflower seeds, which are the source of the carbohydrates in banana milk.
Calories
It contains 60 calories in one cup.
Protein
It does not contain more than 1 gram of protein.
Health Benefits of Banana Milk
Banana milk has many health benefits. It contains protein, which helps with heart health. Vitamin B6 and Vitamin C are found in them to provide nutrition. It helps the digestion process as it is fiber rich.
Bananas are a great source of important micronutrients, especially potassium, one of the body's most necessary electrolytes. Potassium has an important role in controlling blood pressure by regulating both cardiac function and fluid balance. potassium-rich foods, like bananas, are excellent for decreasing blood pressure and preventing heart disease and strokes.
Potassium-rich foods act as fuel for the brain and help to make us alert and focused. Magnesium helps in improving our ability to work. Bananas are rich in potassium and magnesium, which help boost our energy.
Bananas contain carbohydrates, like all fruits. However, not too much to prevent people with diabetes from appreciating them. It helps to maintain your sugar level, in other words, controls diabetes.
Bananas have very high levels of fructooligosaccharide (FOS). A prebiotic substance called fructooligosaccharide aids probiotic bacteria in producing vitamins and digesting enzymes. These vitamins and digestive enzymes help the body better absorb nutrients, particularly calcium, one of the minerals most closely connected to strong bones.
Banana has high pectin content. It is a soluble fiber that normalizes digestive health in addition to lowering cholesterol and has a calming impact on the digestive system.
It is a vegan-free diet. So it is very beneficial for those people who are vegan can add this to their diet. It is made of water and banana only.
Side Effects of Banana Milk
Bananas have multiple benefits but in some conditions, you need to avoid drinking it. So, there are some disadvantages to banana milk.
Bananas are rich in carbs and sugars, which can raise blood sugar levels. Therefore, drinking a lot of milk can be a reason for diabetes and blood sugar issues.
Banana is a potassium-rich fruit. So those people who are suffering from kidney diseases may need to limit their consumption of banana milk.
Bananas contain a lot of sugar and carbohydrates. Too much consumption of them might lead to dental issues like tooth decay and tooth loss.
Bananas do not contain enough protein to fill you up. You should consume high-protein foods like eggs, poultry, or cottage cheese to prevent protein shortage.
How to make Banana milk
For homemade banana milk, take 1 banana with 1 cup (237 mL) of water in a blender and blend it for about 1 minute till smooth.
Use a frozen banana or add 1/2 cup (or 120 mL) of ice to the blender.
For adding taste add 1/4 teaspoon (3 grams) of ground cinnamon, a sprinkle of sea salt, and 1 teaspoon (7 grams) of maple syrup for more flavor or sweetness.
It can be consumed straight up or we can add it into smoothies, coffee, cereal, or oatmeal.
Homemade banana milk should be consumed or used as soon as possible because it might separate and lose its color very rapidly.
Things to keep in mind While using Store bought banana milk
Check the ingredient list before buying ready banana milk to be sure there aren't any extra sugars or filler ingredients.
Store-bought banana milk brands usually include chemicals like gums that stop separation. However, the majority of the products on the market use gellan gum, which is commonly considered safe.
Best Store Bought Banana Milk
In store-bought banana milk, you can get many more minerals than homemade milk. They are also good for health. Here are some of the best store-bought Banana Milk.
Mooala – Organic Original Bananamilk
It is Plant-Based Bananamilk, which is made with organic bananas, sunflower seeds, and cinnamon, is nut-free, gluten-free, vegan, and only contains 60 calories per serving with no added sugar.
Moola's Original Bananamilk is a good source of calcium and potassium, making it more than just a milk substitute. You can buy Mooala – Organic Original Bananamilk from amazon.
Almond Breeze Almondmilk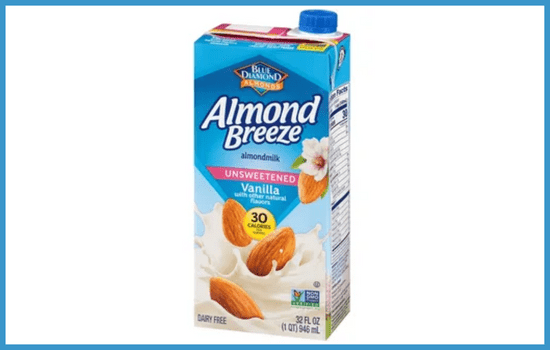 Almond Breeze Almondmilk is made with real Bananas. They just blend almond milk with real bananas. There is no added sugar and no artificial flavors. It is the perfect smoothie to serve.
Almond Breeze Almondmilk Blended with Real Bananas can help you advance the flavor of your favourite dishes. This almond milk can be used to make your favorite smoothie recipe, or you can substitute it for your morning smoothie. Every serving contains half a banana and 470 milligrams of potassium.
Banana Wave Milk
Banana wave milk is a nutritious superfood beverage made from plants that also contains potassium, vitamins A, B, C, D, and E, fiber, and protein and delivers essential minerals and antioxidants.
There is no high fructose corn syrup are used to make vegan oat milk. No dairy, nuts, gluten, or lactose. No synthetic flavors, colors, or preservatives are used.
It is an Ideal pre- and post-workout drink to increase energy and help in muscle recovery. It may aid in the relief of exercise-related muscular cramps.
You can drink it on top of cereal, or in smoothies. You can Stir it into tea and coffee. There is no refrigeration is needed before opening.
Conclusion
By blending bananas and water, you can create banana milk at home, a non-dairy beverage. Bananas contain a number of minerals that may be beneficial to health. Bananas' potassium is good for the heart, and their fiber encourages regular bowel movements, but consuming a lot of banana milk could be a bad effect on your kidney diseases.