Batting gloves are an important part of cricket. It reduces the chances of accidents or injuries. There are many reasons that draw players to use batting gloves. Batting gloves help a player with their bat grip. The batting gloves are designed using PVC, leather, and cotton.
Batting gloves are a perfect solution to avoid your performance being affected during the match or the bat slipping from your hands.
Why should a player use batting gloves?
The quality of the grip on a wooden or metal bat can be improved by wearing batting gloves, which can also help players feel less moisture on their hands. Players can improve their results at the plate by keeping a strong, controlled grip.
Batting gloves are useful to protect against some injuries. They can reduce the vibration and pain felt during a strike as well as lower the risk of blisters during the season.
While running the bases, these gloves can also be useful since they can protect your hands from burns caused by friction during a slide.
Some players or cricketers even favor wearing a batting glove underneath their mitt. The extra barrier might improve grip and get rid of sweat from within their gloves.
The batting gloves are not only more comfortable, but they also improve your grip. They might feel soft in your hands. The greatest batting gloves are also designed to feel solid on your hands, preventing any additional weight from affecting your swings.
The batting gloves can provide warmth to keep your hands from becoming subjected to the cold temperature, which can cause sweating and reduce batting accuracy, during the cooler months or when it is raining.
How to Select a Perfect Batting Glove
Select the correct size.
Your performance as a batsman could be made or broken by the right batting gloves. With the gloves, you can grasp your bat securely and execute your strokes quickly. They also give your hands the protection they require. The measurement of length, taken in a straight line from your wrist to the tip of your extended finger, is used to figure out the size of the gloves, which is often stated in centimeters.
Choose a right-handed or left-handed glove properly.
Broken fingers are among the fractures that cricketers are most likely to suffer. It's crucial that you protect your hands while batting. Modern gloves provide a great lot of protection, especially for the hands on the bottom, and are extremely light. Usually, when a ball bounces quickly off the pitch, the bottom hand is damaged. Both gloves have flexible cushioned finger sections that make it simpler to wrap the gloves.
All gloves provide protection for the thumb of the bottom hand, which is the right hand for right-handed hitters and the left hand for left-handed batsmen. So, It is important to choose the right gloves.
Choose the right type.
The following categories apply to cricket gloves:
Sausage finger gloves are a fantastic choice if you play in situations where the ball bounces slightly more. With these gloves, the fingertips are well-protected.
Gloves with split fingers offer more flexibility. These gloves are for you if you're a wristy player who needs the same flexibility in your gloves as you do in your shots.
Top Brands for batting Gloves
Batting gloves by Nike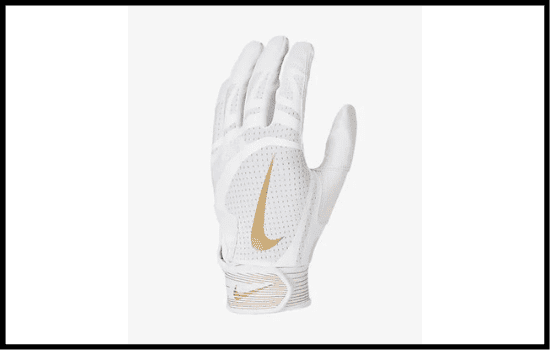 Batting gloves by Nike widely used batting glove is Nike. These gloves are an excellent choice for players.
They are made of thin leather, which helps in feeling the baseball bat better.
The leather remains soft and strong because it breathes and dries quickly.
They actually fit your hand, and the creases are placed such that your hand may move and bend easily.
They include elastic across the lower part of the wrist, which helps them fit your hand better. There are many different colors and designs available.
Mizuno Finch Softball Batting Gloves
The Mizuno Finch softball batting gloves are perfect for ladies and girls seeking a firm grip because they include a female-specific size. They are created with no-slip rubberized palms and additional padding for comfortable protection. They are made of the company's FlexMesh fabric, which offers the greatest flexibility, mobility, and breathability.
The padding on the palm also offers durability and aids in vibration absorption for greater comfort. These cool-looking gloves come in a variety of colors and have an adjustable strap for a tight fit.
Specialized sizing for women
Best Anti-Slip: Seibertron B-A-R PRO 2.0 Signature Baseball/Softball Batting Gloves
Youth batting gloves from Seibertron are made to provide a good fit and grip. They enable you to swing easily and powerfully. The gloves' gel-padded palm is an added advantage. When wearing these gloves, you can't feel any pain at all while batting. When the game warms up, they help your performance. They come in four sizes ranging from extra small to extra large; with eight different color combinations and eight color combinations.
A better grip is provided by the anti-slip silicone print.
You can wear and remove it with ease due to the hook-and-loop closure.
Air is provided by the palm's and the fingers' perforations.
They provide more breathability.
Best Waterproof: G-Form Baseball/Softball Batting Gloves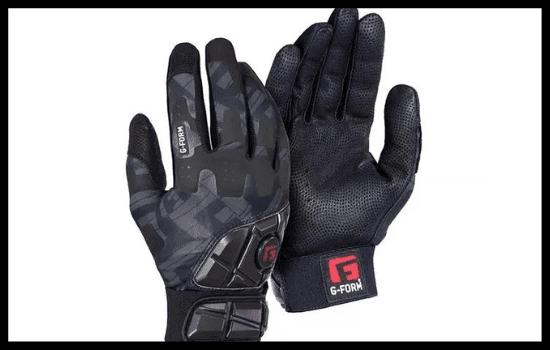 G-Form baseball and softball batting gloves use SmartFlex technology, which provides flexibility and mobility similar to a spring. Meanwhile, the back's UPF 50+ breathable and moisture-wicking fabric fits well. When handling the bat or catching the ball, they are likely to provide a tight fit and solid grip. These gloves are offered in two different color combinations and in adult and junior sizes.
The wrist and back are protected by SmartFlex padding.
A waterproof pad keeps moisture out and stops sweating.
It provides complete mobility and maximum safety.
It's easy to care for and machine washable.
Best Unisex: Seibertron B-A-R PRO 2.0 Signature Baseball/Softball Batting Gloves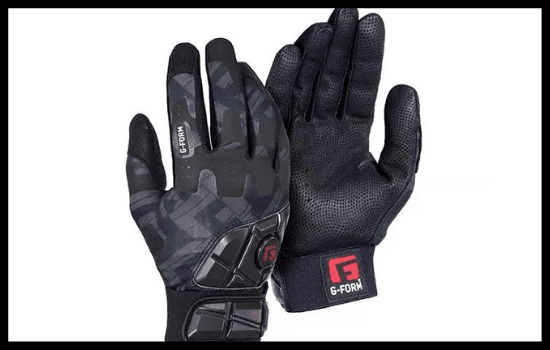 The correct set of batting gloves can help you have a better grip on the bat so you can swing it easily, whether you're playing baseball or softball. These gloves from Seibertron help you do that since they have silicone fingertips that are anti-slip and an adjustable cuff.
When you make contact with the ball, the gel padding on your palm provides reliable protection and shock absorption, which helps in reducing the pain. Additionally, when the game heats up, airflow through the palm and sides of your fingers will keep your hands cool and dry. Similarly, these gloves are a reasonable option to help you improve your swing and are available in a large selection of child and adult unisex sizes.
How to Clean Batting Gloves
Read Instructions
Check your gloves' individual instructions to determine if they can be machine-washed. If not, wash with your hands.
Turn the objects inside out. If your gloves can be washed in a machine, make sure to flip them inside out before doing so. Therefore, the materials on the exterior of the gloves that produce the friction required to hold the ball can be preserved using this.
Wash with cool water
When cleaning your gloves, it's crucial to use cold water because hot water could cause actual damage. To properly care for your gloves, choose a "gentle" or "sensitive" cycle. Also, be sure to use a detergent made specifically for cleaning synthetics.
Dry by hanging
After the wash cycle is over, hang the gloves to dry to finish the process. It is the last but very important step to hang your gloves properly.
Some Disadvantages of Batting Gloves
Less bat-like feeling
One reason for not using batting gloves is that it might not be necessary. Using batting gloves will prevent you from feeling the bat's natural feel, especially if you're using a wooden bat.
"Not Safe in Wet Weather"
It recommends that wearing battle gloves is not safe in rainy or moist weather. Given that a bat might easily spin out of a hitter's hands, a wet field, ball, or bat could result in serious harm. Only when the gloves are completely dry are they useful.
Conclusion
These gloves are very good equipment for rescuing the players. Batting gloves reduce the risk of injury, pain, and accidents. When buying batting gloves, always keep in mind to choose your size and they should be comfortable for you. Although it has some disadvantages also, keep in mind to pack them properly after using them and clean them according to the above-mentioned steps.