The story of Indian culture is so unique that its echoes are heard in the country as well as abroad. That is why India is considered the world guru all over the world because there are many mythical stories that teach us so much. Dusshera is one of the major festivals in India. It is also known as Vijaya Dashami.
Dusshera is not only a festival but it is also considered a symbol of many things. Many religious stories are also associated with this festival, but this festival is celebrated all over the country abroad as good over evil. This festival is celebrated with great joy and delight across the country as this festival is a symbol of joy, delight, and victory. 10 faces of Ravana in Dusshera are considered to be expressive of his 10 evils. By burning Ravana's effigy(putla), we believe that all the evil inside us should be burnt to ashes with this effigy. This festival gives us the message that we should always walk toward the path of goodness.
Story of celebrating Dussehra
Every year we celebrate the festival of Dusshera. Dussehra is also known as Vijayadashami and Dashayan.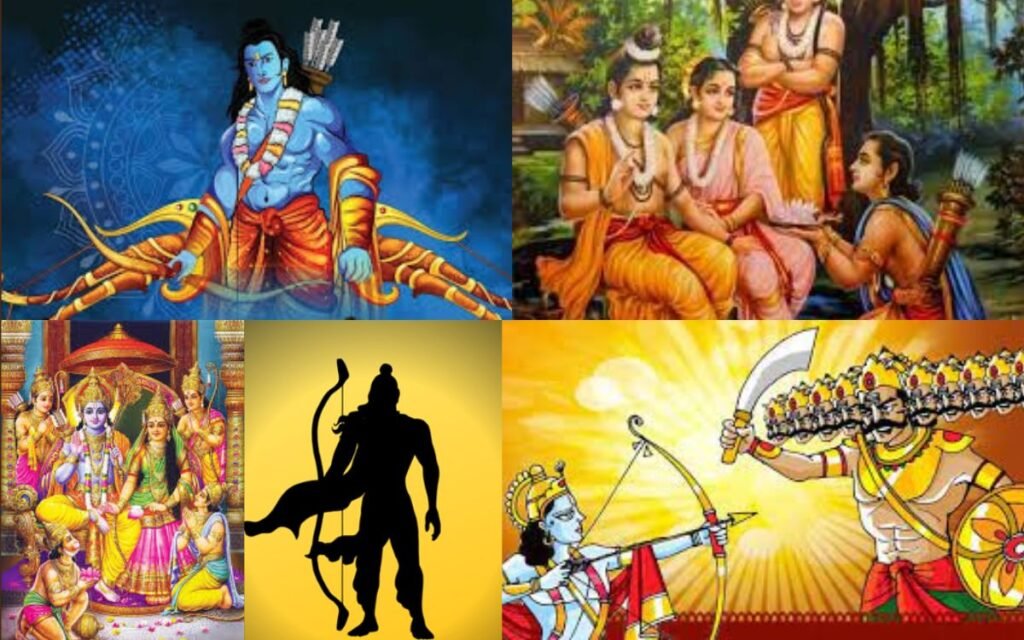 Raja Dashrath "The king of Ayodhya"
A long time ago, there used to be a king, his name was Dasharatha. He was the king of Ayodhya. His 3 queens were Kaushalya (chief queen), Sumitra, and Kaikeyi. He had four sons, Rama, the son of Kaushalya, who was the eldest of all brothers, and Sumitra's two sons, Lakshmana and Shatrughan. And the youngest was Bharata, the son of Queen Kaikeyi.
Dasaratha's throne or Rajgaddi to Rama
When Dasharatha was of age, he thought of giving the throne or Raajgaddi to his eldest son Rama. But Kaikeyi's maid Mantra pushed Kaikeyi against the throne which would give Rama. So now Kaikeyi wanted her son Bharat to sit on the throne or Raajgaddi.
Kaikeyi's Two Boon or Vardan
A long time ago, King Dasharatha had given Kaikeyi two boons or Vardan of wish fulfillment. Using it, Kaikeyi asked King Dasharatha to exile Rama for 14 years and simultaneously demanded the throne of Ayodhya for Bharata. As a good son, Lord Rama and his wife Sita and Lakshmana immediately left for 14 years of exile.
Bharat's rule for 14 years
Bharata, who loved his elder brother very much, refused to accept the throne and went to Lord Rama in the forests. However, at the request of Lord Rama, Bharata returned to Ayodhya and ruled in the name of Rama for 14 years.
Sita Kidnapped by King Ravana of Lanka
During the exile, when Rama, Lakshmana, and Sita were living in the forests of Panchavati. Then Ravana's sister Shuprakha met him and expressed her desire to marry Lakshmana. Due to their argument on this matter, Lakshman not only refused to marry her but also cut off her nose. Shuprakha could not bear this shame or disgrace and went to her brother Ravana and complained. Ravana decided to avenge his humiliation and came to the forest and kidnapped Sita and took her to Lanka.
Rama along with Vanara Sena bring back Sita
Rama and Lakshmana left for Lanka to bring Sita back. On the way, he found the Vanar Sena where he helped Sugriva to get back his lost kingdom. Therefore, with gratitude, Sugriva gave his Vanarasena along with his commander Hanuman to Lord Rama. Finally, after a lot of time and difficulties, Rama, Lakshmana, and Hanuman reached Lanka together.
There was a big war between Rama and Ravana. As a result, of the defeat of Ravana, Ravana was also killed. Thus Lord Rama saved Mother Sita from Ravana.
The day of killing the ten-headed Ravana is called Dussehra of Shukla Paksha of Ashwin month, hence it is also called Vijayadashami.
Although Ravana was a highly learned ruler he had a lot of arrogance and a negative attitude. Ravana was a scholar, but due to arrogance tendencies increased in him and he spread a lot of unrighteousness in the world. Ultimately, the victory of Rama over Ravana led to the re-establishment of religion on earth. Thus this festival signifies the victory of good over evil and from that era till today, the celebration of Dussehra has been celebrated every year remembering it.
How Dusshera Celebrates in India
The festival of Dussehra is celebrated with great enthusiasm in India. This festival celebrates the victory of good over evil. In this 10-day celebration, people in India organize Ram Leela in their locality, in which scenes from the entire Ramayana are shown. People come to see Ram Leela with great enthusiasm after completing their work from their homes during the night.
On the 10th day, Lord Rama kills Ravana and we express our happiness by burning the effigies of Ravana, Meghnath, and Kumbhakaran and distributing sweets. Not only this but a fair is also organized in these 10 days, in which different types of sports or games are played like fun activities, Ferris-wheels and many more. Apart from this, food stalls are set up at the fair. This festival is full of happiness wherever you will see there is lighting everywhere which looks very attractive.
Dussehra is celebrated in different ways in different regions of India. They perform different activities. That's why India's Dussehra celebration is the best celebration.
Conclusion
Dusshera is celebrated as a celebration of victory, but the celebration is different for everyone, as for farmers it is a celebration of the arrival of the harvest. In the olden times, tools and weapons were worshiped on this day because at that time people saw their tools as a victory in war, but the only reason behind all this is the victory of good over evil. In today's time, people display it in different ways such as – Anger, lies, jealousy, hate, sorrow, etc. We should celebrate this festival by eliminating all the evil inside us like jealousy, fighting, and ego, and also keep doing the good work.
Also Read:
Murudeshwar Temple: Story and Nearby Temples
Onam Festival- How to Celebrate