A car washer is a tool used at home that attaches to the garden hose and rises up the force of the water spray so that it will be easy to clean the built-up dirt on the car. The part that functions is a type of spray gun, and they usually have many attached tools for various types of cleaning tasks, from soap dispensers to brushes. There are different types of car washers with different power sources and strengths. The two main types of car washers include gas and electric, and these two power sources also tell us about how much force they can generate and contribute.
Types of Car washers
Gas-powered car washers are usually more powerful than electric, starting from 2,000 pounds per square inch of pressure, this measure shows how powerful it is for cleaning away dirt on the cars. Household gas pressure washers average can go up to over 4,000 PSI, but it is not necessary for the yard. Gas pressure washers have a high cost, starting at around $300, and can reach up to the thousands of dollars for the advanced, powerful, or specialized models. Also, these washers are heavy, create noise, and require maintenance and storage because of gasoline in them.
On the other hand, Electric pressure washers are designed especially for household use and it can not be used in industrial applications, so they are very efficient in fulfilling all your needs at an affordable price. Prices can range from under $100 to a few hundred dollars, and from just over 1,000 PSI to about 3,000 PSI. There are a also few options for cordless, battery-powered electric washers, but the pressure is very limited. So they are very lightweight, but they are not that competitive with other plug-in electric models.
Also read: How to clean Crocs at home
How to choose effective Car washers
You can choose the best car washer for your home, There are many things that you must take into consideration so that you can understand the difference between a good and efficient product on the basis of quality and efficiency. To help you in choosing the best car washer, There are a few points that are extremely important to keep in mind in buying the best for you. You can choose the product according to your budget.
Brand value
The Brand name is the most important thing to keep in mind when you are buying any car washer or any other tool for the car. As we know branded products are comparatively more expensive than the available products in the market, but if you were looking for perfect reliability, there are various features that are involved trust is also important, so a good brand value is mandatory. If you keep this in mind you can easily make sure that the product in which you are investing is reliable and will last longer without high maintenance costs. Don't fall for the cheap pressure washers, First, go through with a product from a trusted brand that has great value and also good user reviews.
Number of car accessories
The next thing that plays an important role in car accessories that are available with the deal. Keep in mind that the product you are planning to buy has enough accessories so that you can easily use them for washing purposes. Find a perfect product for your car with the best performance and efficiency.
Power
Enough power is necessary to clean the car and get rid of the dirt you are annoyed with. Always buy a powerful washer in your range so that you won't have to look for an upgradation soon.
Usability
The use of a car washer is easy and you can easily master it in a short time. So, try to buy an easy-to-use and reliable pressure washer for yourself that not only works well but also has a list of efficient features.
Also read: How to clean a clear phone case that turned yellow
Sun Joe Pressure Washer
Sun Joe Pressure Washer has over 10,000 reviews and an 88% positive rating on Amazon, the Sun Joe SPX 3001 is one of the best electric washers for many people. The reason for its popularity is efficient power, good operation system, lightweight, affordable and enough included accessories. It has a watt motor of 14.5 amp/1,800, also generates a pressure of 2,030 PSI, includes a decent GPM of 1.76, and water flow, it is enough for household jobs, from cleaning the car, boat, and RV. The connected nozzles (0º, 15º, 25º, 40º, and soap) included different types of pressures for tough jobs and spreads gently on your car. It has plug features GFCI protection to prevent it from short circuiting.
Pros
Multiple tips
Onboard soap tank
Quiet with auto shutoff
Work well on big wheel's rough surfaces
Cons
Stiff hose reel
It needs good cord storage
Not enough pressure for foam guns
ResQTech Car Washer
ResQTech is an efficient car washer that has powered by a 1700-watt motor. This motor generates water pressure up to 135 bar, with a maximum rate flow of 380 liters each hour, as it is a very effective motor to clean even the dirtiest part of the car. So, It also has a detergent spray nozzle with a self-spraying pipe which can be used to take out the water from a bucket in case of non-availability of running water. It has features like high power, and effectively cleans the toughest car part with ease.
Pros
Versatile usage
Motor with copper winding
Automatic shut-off option
Cons
Portland 1750 PSI 1.3 GPM Corded Electric Car Washer
If you need a pressure washer for your car only not for a fence and wooden deck, and also you don't want to overspend on something that's just you have to keep in the garage for most of the time, then a Portland car washer is a better choice. It's light in weight and easy to use. Just with the right pressure while washing your car, also the low-pressure detergent bottle is perfect for car washing. It has an adjustable nozzle. You can easily adjust them according to your need.
In comparison to some other expensive electric washers, this is one of the basic washers. It has a gallon per minute flow rate of 1.3 and is a great feature both for conserving water and protecting automotive finishes.
This has all the feature that has to be in perfect washer i.e, affordable price, right pressure for car cleaning, and positive reviews
Pros
Cons
Not that powerful
Adjustable nozzle
20-foot short hose
Generac SPEED WASH 6882 Car Washer
It is a powerful washer for all household challenges or even for a truck that gets really dirty. So for this, you don't need to buy a different washer for different jobs. There are many best pressure washers available with gas engines made by Generac. It has five-star reviews on this SPEED WASH 6882. Its Gpm is 2.9, cleaning power at 2,900 PSI, more than enough to clean your car down to any metal. The product also has an adjustable pressure with a "Car" setting.
Usually, it comes with four tips that include a soap sprayer, 25-foot hose, and half-gallon soap tank. As a pressure washer, it can be used for multiple purposes, You also get a rotating wet Turbo Broom for deep cleaning of cars.
Generac car washers are made in the USA.
Pros
Very Powerful
Warranty of three-year
Adjustable pressure
Cons
Paint can be easily removed
Maintenance of gas engine is high
Mecano Smart1500 pressure washer
The Mecano Smart1500 pressure washer has a 1500-watt motor that can deliver up to the water pressure of 120 bar. The rate of the water flow is up to 390-litre each hour and it also has an adjustable nozzle so that spraying and cleaning can easily be done. It also has a 5-meter wheeled chassis which helps you to easily carry the machine around the home. Its design is clean and simple, and also portable due to the wheeled chassis that makes the car washer a worthy option.
Pros
Known as Universal motor
Durable
Adjustable nozzle
Cons
Stanley SHP1600 Electric Car Washer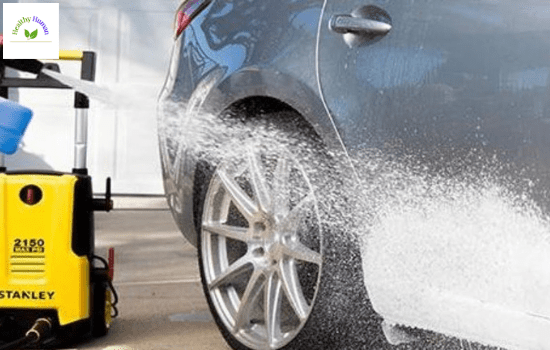 Professionals always recommend you limit pressure washers under 2,000 PSI for your car, a 1,600 PSI pressure washer is the ideal one if it is in main use. Stanley SHP1600 is an electric washer, with a 35-foot cord and a GFCI plug containing a 20-foot hose. It has a short nozzle so it's easy to adjust. It also has an extension for good reach whenever you need it.
The product comes with an adjustable nozzle, and sprinkles with a good wide-angle soft spray for the pre-soak, also has an attached detergent bottle for the soap. You can adjust the nozzle according to the pressure as per your convenience. It is a smaller model, so the capacity of the soap tank is only 14 ounces.
It is easy to move it as it's lightweight at 16 pounds even though it lacks wheels.
Pros
Portable
Variability in nozzles
Warranty of two-year
Cons
Short Cord
Basic power
No hose wheels
Worx WG630.2 Hydroshot Car Washer
This car washer is lighter and more durable, Worx has launched a line of cordless 20-volt pressure washers. But it just has a pressure of 350 PSI. As It is good for a garden hose and it won't damage your car's paint. It has five spray angles that are built to form a single variable nozzle, and you can easily connect it to the garden hose.
Worx is one of the efficient power washers for cars that also come with a kit of accessories that are enough for washing every part of cars, trucks, SUVs, etc. It includes a soap bottle and accessories which means you can just complete all of your washing by only using the tool.
Pros
Lightweight
Portable
Multiple settings
Easy storage
Cons
Not very powerful
Expensive for low pressure
Bosch Aquatak 125 Car washer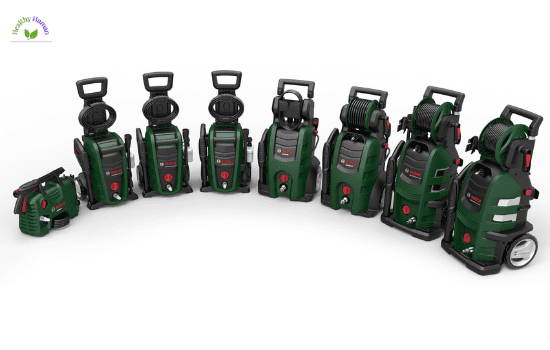 The Bosch Aquatak 125 pressure washer has a 1500-watt motor that can easily clean our cars at home. This washer tool delivers the water pressure of 125 bar, with a maximum rate of flow of 360-litre each hour. It also has a feature of a 3-in-1 nozzle with a pencil jet for efficient cleaning, along with a foam nozzle. It also has a powerful motor and a compact to make this pressure of the washer effective.
Pros
Extendable handle
Good operation system
Adjustable 3-in-1 nozzle
Cons
Karcher K2 Compact Car washer
The Karcher K2 Compact washer has a 1400-watt motor that allows you to easily clean your car. It delivers a water pressure of 110 bar and a flow rate of 360 liters each hour and comes with a high-pressure gun, dirt cleaner, detergent tool, and a water filter. This Karcher Pressure Washer has a weight of just 4 kg and it is easy to use. It has a compact design and a light-weighted body that makes it easy to store.
There are various models of Karcher pressure washers available but the Karcher K2 Compact car washer is the one that is mostly purchased by the user.
Pros
Convenient for storage
Onboard detergent tank
Bestseller
3-year warranty
Cons
Shorter 20-foot hose
Not very powerful
Ibell Wind 55 Universal Motor Car Washer
The iBell Wind 55 is a heavy car washer product, that has a 1600-watt motor. It is a durable and highly portable machine that comes with a design through which you can easily clean your car. So, It is rated to deliver the water pressure of 130 bar at a rate of flow of 7-liter per minute. Comes with many features like will automatically stop to maintain the durability of the motor. It comes with an aluminum pump that also has long-life predictability.
Pros
Easily movable
Adjustable nozzles
Compact design structure
Cons
Not good for commercial use
Conclusion
So, if you were Finding a good car washer to clean the settled dirt and stains from your car, the pressure washer can be a great product to invest in. Try these products and you will ultimately see the performance and efficiency of these amazing tools for your car.
Also read: Best Power Waxer for your Vehicle