We travel to catch the perfect moment in life and when our journey is smooth while traveling, we have more fun and we can make our memory more pleasant. In such a situation, when it comes to your convenience and facilities while traveling, India's Luxurious and Royal Trains are very popular with their traditional hospitality, facilities, and luxury.
The history of Indian Railways is changing. With the change of time, there has also been a change in our technology, which has also affected Indian Railways and along with these changes, some such trains have also come which have made their own identity apart from the rest, ranging from luxurious facilities to libraries. Almost every kind of facility is available, including a spa, gym, library cabins, and shopping center, which is enough to give an idea of ​​how special these trains are.
Here are the best Luxurious Trains in India which are a combination of traditional and modern cultures.
Maharaja Express
Starts from:- Delhi (North) and South (Trivandrum)
Maharaja Express is considered to be one of the leading tourist trains in the world. Maharaja Express was started in 2010 by Indian Railways, this train is operated by IRCTC. The minimum fare of this train is 2 lakhs and the maximum fare is up to 18 lakhs. The overseas and people who want to enjoy Indian royal hospitality travel on this train. You can take the Maharajas Express to enjoy Indian hospitality and be treated like royalty. Travelers and foreigners find it to be one of India's most well-liked trains. This luxurious maharaja express includes deluxe rooms, cabins, suites, and presidential suites.
Golden Chariot
Starts from:- Karnataka
The Golden Chariot is the most luxurious train in India. It derives its name from the stone Chariot in the Vitthala temple in Hampi. Golden Chariot is operated by KSTDC (Karnataka State Tourism and Development Corporation). It is a combination of traditional as well as modern comforts. This train has a great traditional structure of the old world which combines modern comfort.
If we focus on the facilities of the train, so it includes multi-cuisine restaurants domestic and international, luxurious cabins, a lounge, and a health spa. Additionally, it also provides the facilities of LCD television, a writing desk, wifi, and a bar. The Golden Chariot fare depends on the service you are going to take but it starts from 3lakh.
Also, read on Best Pilgrims Places in the world
Heritage Palace on Wheels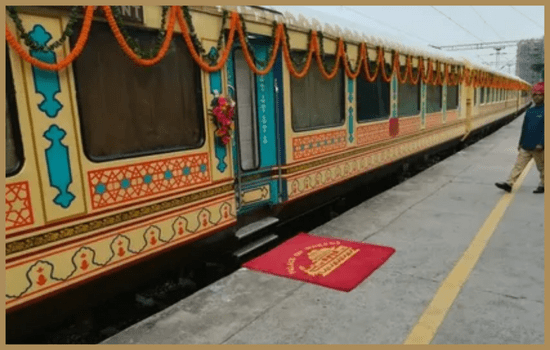 Starts in:- Delhi
Heritage Palace on Wheels is the Rajasthan Luxurious train. It is operated by the department of tourism Rajasthan and Indian railways. The coaches of the train are on names of the cities of Rajasthan. The train has luxurious facilities of restaurants, bars, lounge, and deluxe cabins. This train starts from Delhi ad cover Jaipur, Bikaner, and Agra, and then come back to the capital Delhi.
It has an amazing facility for luggage collection, CD players, and free wifi. The wonderful thing about this train is that they provide a Welcome kit on Arrival. The starting fare of Heritage Palace on wheels is 3lakh for each person. This is one of those trains that you should experience at least once in your lifetime.
Royal Orient train
Starts from:- Delhi Cantt. Railway Station
The royal orient train provides you with a royal journey with a delightful experience of traveling to famous tourist destinations. This train has a wide library of novels, books, magazines and a lounge with a CD player. Their restaurants include various varieties of foods like Indian, Gujarati, Chinese, and continental. This popular train provides well-furnished style washrooms.
The journey of the royal orient starts from Delhi Cantt. railway station and covers Chittorgarh, Udaipur, Junagarh, Veraval, Somnath, Sasan Gir National Park, Ahmedpur, Mandvi, Palitana, Sarkhej, Ahmedabad, and Jaipur. It offers eight days and seven nights journey with an amazing experience. The fare of the royal orient starts from Rs 7,480+ 4.5% Service tax.
Deccan Odyssey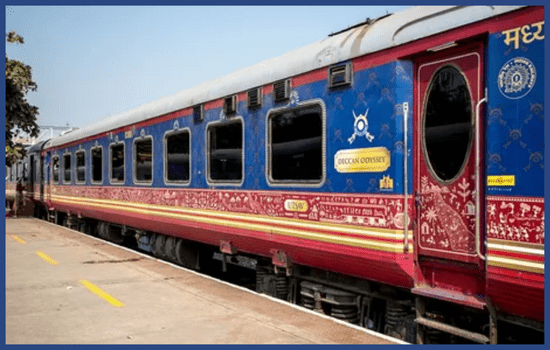 The design of this train carrying beautiful places of Maharashtra and Gujrat is less than a palace. With the use of carving and facilities, it is one of the most luxurious trains in India. There is a lounge in the Deccan Odyssey and a personal conference car apart from all the luxury trains. If you do not want to stop your work for enjoyment then this train takes special care of this matter. The favorite food from the restaurants and the music makes your journey very comfortable. From the noise of Mumbai to Ajanta's cave, the journey of this train is like dreaming of the beaches of Goa and the temples of Nashik. Deluxe cabin in Deccan Odyssey starts at 4,20,000 and the cost of presidency suit is 924000. The Deccan Odyssey is one of the best luxurious trains in India.
Conclusion
All these are India's award-winning trains in travel. You should travel on these trains once in your life and enjoy their facilities and royal hospitality. you will definitely feel like kings because of their hospitality services. These trains are not only the pride of India but their names are counted among the world's most luxurious trains. The beauty of nature travels through all these trains.