Celebrity Cars are always a source of fascination and envy for many people in the world. The cars are often custom-made and can cost a fortune. Some of the most popular celebrity cars include those owned by actors, musicians, and sports stars. Here, are some most popular celebrities and their cars.
Dwayne Johnson's Car Collection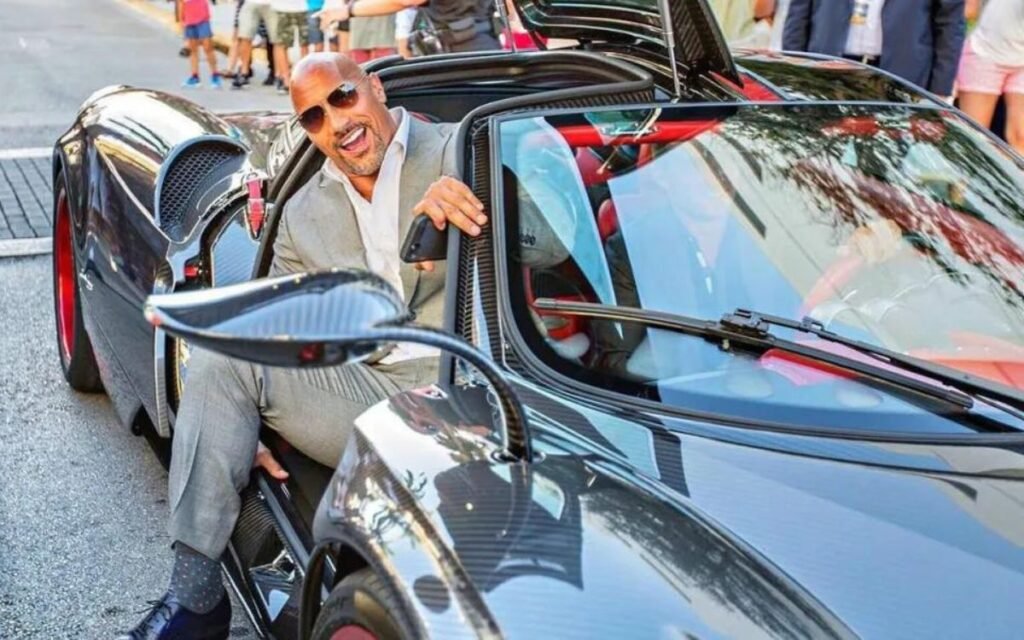 When it comes to celebrity cars, there are few who can top Dwayne Johnson. From his days as a professional wrestler to his current starring role in the blockbuster action movie franchise, Johnson has Built one incredible collection of cars over the years. Let's take a look at some of the most impressive vehicles that Johnson owns:
1. Pagani Huayra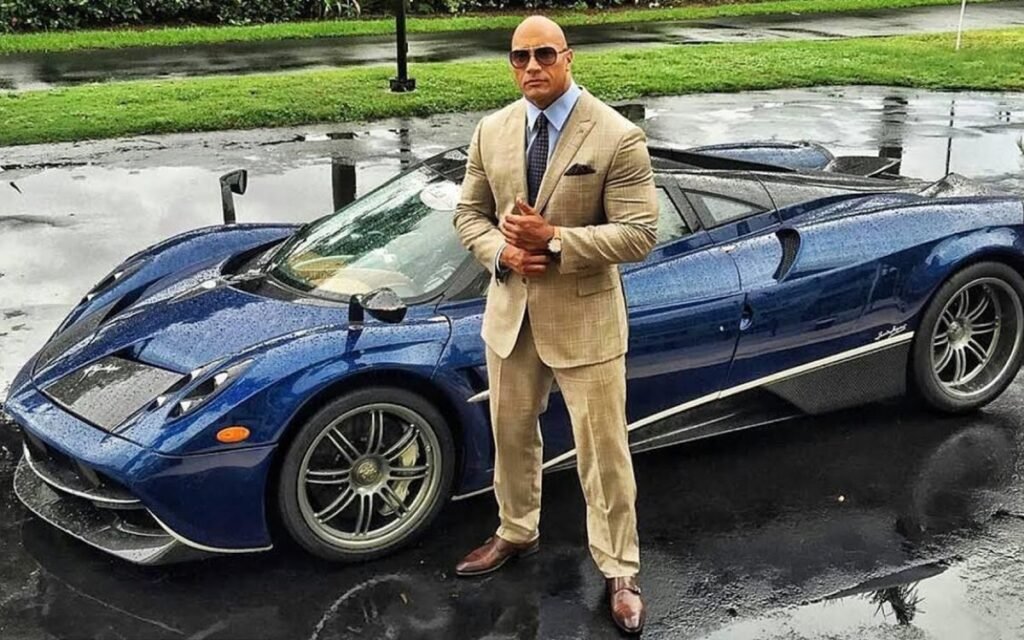 Dwayne Johnson owns a few extraordinary Supercars, but this one is the most strange. Pagani Huayra is one of the most exotic and expensive cars on the planet. One is in The Dwayne Johnson garage. The Pagani Huayra is powered by a 6.0L Twin-Turbocharged V12 engine with a top speed of 375 KMPH, 700 horsepower, and 1000 NM of torque.
Huayra costs $2.6 million. Dwayne Johnson chose this as his ride for the premiere of the hit HBO show Ballers. However, due to his height, he has difficulty getting into this low-ride vehicle. This is this first gifted car of this celebrity.
2. Ferrari LaFerrari
While Dwayne was already struggling to fit inside his Pagani, Ferrari offered him a complimentary lease on a Matte White LaFerrari. This supercar was the Italian automaker's flagship model. The Ferrari LaFerrari has a 6.3-liter V12 engine that produces 950 horsepower and 900 NM of torque, allowing it to reach a top speed of 350 kilometers per hour. This is a fantastic and extremely rare car. This car costs around $1.5 million.
3. Chevrolet Chevelle
Like Vin Diesel, Dwayne Johnson frequently made appearances on screen while driving his classic muscle cars. 1970 Chevrolet Chevelle SS is One of them. The 7.4L naturally aspirated V8 engine in the Chevelle produces an incredible 450 horsepower and 678 NM of torque for a muscle car from the 1970s.
4. Ford GT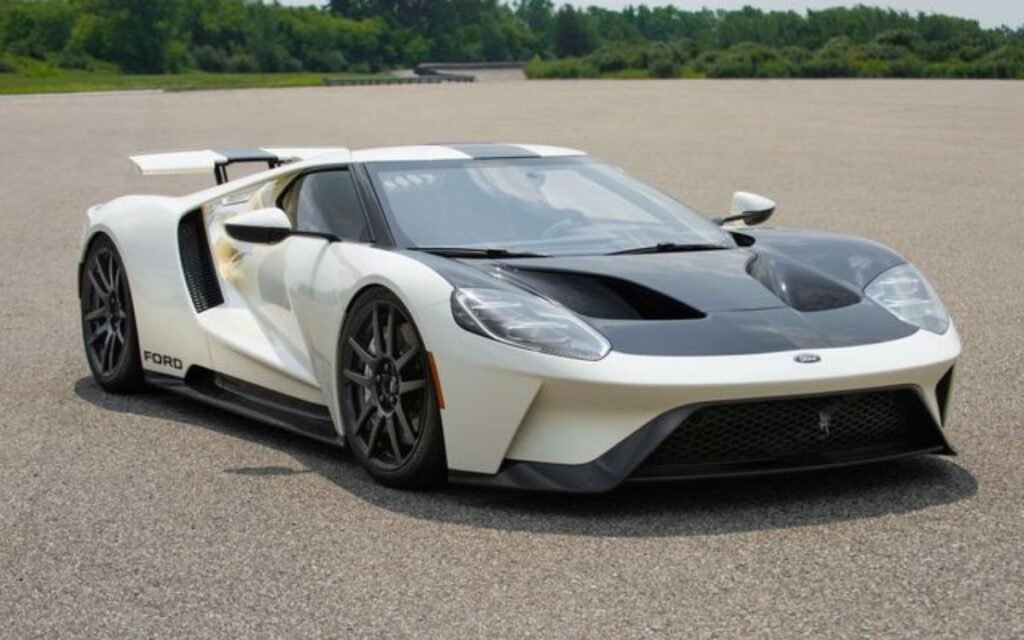 Dwayne has long endorsed Ford in the United States. He has appeared in numerous advertisements, and in order to continue his struggle to fit inside supercars, he chose a 2017 Ford GT for himself. Dwayne posed for a photo with the supercar at Ford's headquarters in Detroit. Only 1000 of these stunning vehicles were built by Ford. The 3.5L Twin-Turbocharged V6 engine in the Ford GT generates 660 horsepower and 746 NM of torque. This supercar costs $500,000 to purchase. This vehicle has a top speed of 330 KMPH.
5. Rolls Royce Wraith
Dwayne Johnson owns several excellent luxury coupes, including this one. The Wraith has a powerful 6.6L Twin-Turbocharged V12 Engine that produces 624 horsepower and 870 NM of torque. The price of this Rolls Royce Wraith is USD 380,000.
Cars Collection of Paul Walker
Paul Walker was an accomplished actor and car enthusiast who tragically died in a tragic car accident on November 30, 2013. His car collection is one of the most impressive in Hollywood history, and it's clear that he loved cars. Although, he purchased these cars for his own personal enjoyment and not for resale purposes. Here is a list of all the vehicles own by Paul Walker at the time of his death:
1. 1965 Shelby GT 350 SR
The 1965 Shelby is without a doubt one of the most iconic cars on the list. Due to the car's iconic status and Shelby's heritage, this is one of the very few cars that Paul left in stock and did not modify much.
Paul Walker owns two Shelby Mustangs: Eleanor and a 40th-anniversary special edition fastback GT350SR. The GT350SR models were created to memorialize the iconic GT350 and feature a suitable point on the original American muscle car. Walker's GT350SR most likely has a massive aluminum 427 V8 under the hood, producing 585 horsepower through a Tremec five-speed transmission and a 9-inch locking rear differential. Though the GT350SR is a reproduction that was licensed by Shelby, there are other significant upgrades that allow the car to outperform its predecessors.
2. Nissan Skyline GT-R R34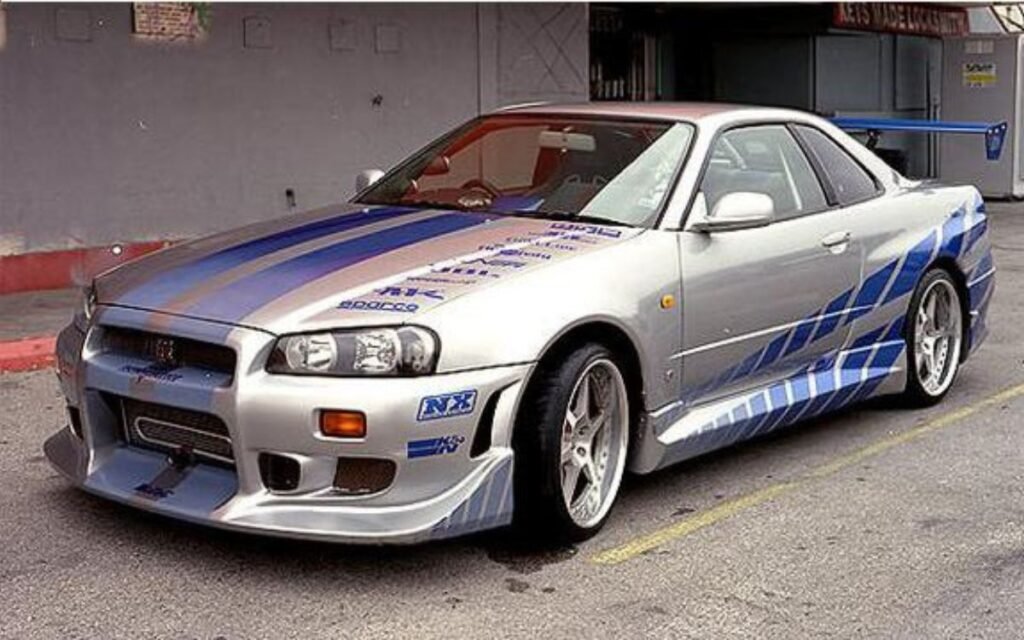 The Skyline GT-R is a highly upgraded version of Nissan, Datsun, and original manufacturer Prince's Skyline model line, though the R34 variant is barely recognizable when compared to the original Skyline, which was released in 1957. With the Skyline GT-R playing such an important role in 2 Fast 2 Furious, it's no surprise that Walker owns one, specifically an R34 GT-R in V Spec trim. Various V Spec levels added limited slip differentials, aero packages, and other features, but all shared the race-bred underpinnings of a twin-turbocharged inline-six engine sending power to all four wheels.
3. 1995 BMW M3 E36 Lightweight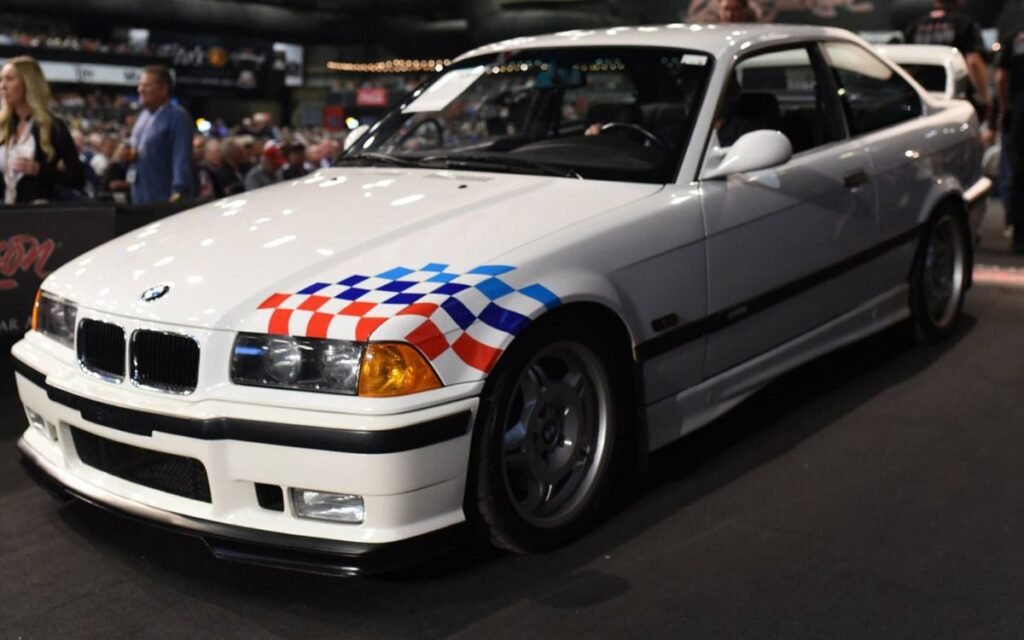 Paul Walker owned seven BMW M3 E36 Lightweights. Only about 125 Lightweights were ever manufactured. These are some of the most valuable vehicles in Paul Walker's collection. The E36 generation M3 was introduced by BMW in 1992 as the second version of the wildly successful and popular M3 model line.
Aside from minor adjustments, the E36 gained two cylinders, VANOS valve timing, and a four-door variant. Power was up to 240 horses and either 225 or 240 lb-ft of torque depending on model year for E36 M3s sold in the United States. The car's most important feature, however, was its incredible handling and balance. These all feature are the reason why this is in the list of this celebrity cars.
4. Ford GT40
Ford began production of a modern version of the most significant car in American history in 2004. The original Ford GT40 was the result of a collaboration between Ford and Carroll Shelby, who had previously used Ford engines in his iconic Cobra sports cars. The GT40 was created with a single goal in mind to beat Enzo Ferrari and his racing team at their own game. This was the car that broke Ferrari's dominance in the 24 Hours of Le Man's race, defeating them four years in a row from 1966 to 1967. This is the ultimate car that many Americans want to have in their garage. It's no surprise that Paul loved and admired his Ford GT40.
5. Saleen S7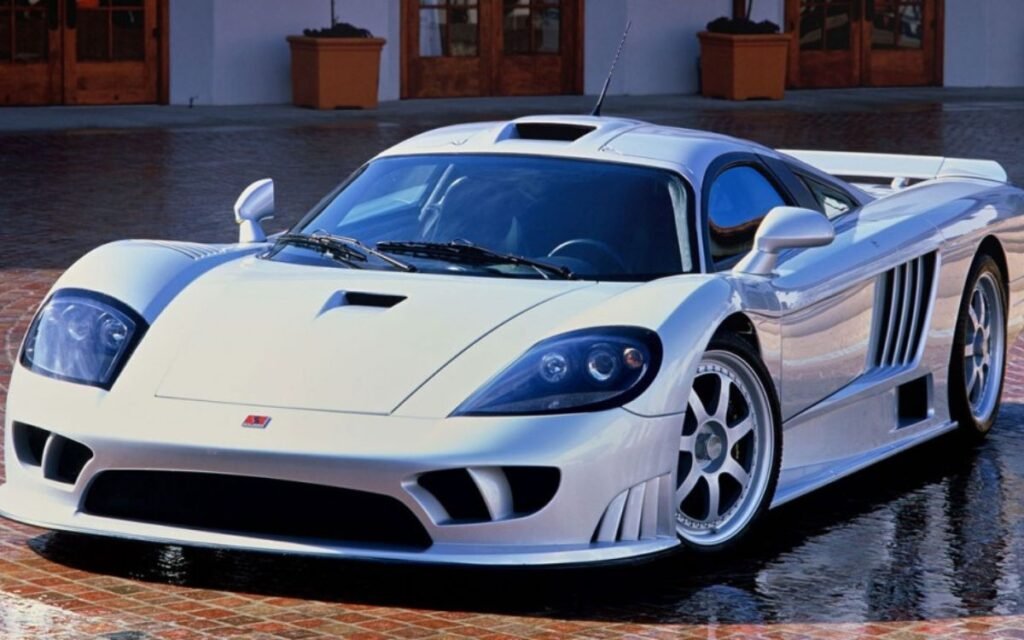 The Saleen S7 is widely regarded as the country's first true supercar. T the company also produced its own purpose-built race car from 2000 to 2007, with a variety of versions also available as road-going production vehicles. The mid-mounted engine is an aluminum version of Ford's 7.0-litre overhead valve V8 engine, which initially produced 550 horsepower. The supercar, with its aluminum accents and leather seats, was regarded as one of the most luxurious vehicles of its time. The mid-engine car was far ahead of its time, with two trunks, quick-release steering, and a speedometer capable of reaching 390 km/h.
Cristiano Ronaldo's Car Collection
One of the most successful football players in history is Cristiano Ronaldo. He has won numerous awards, including five Ballon d'Or Awards and three FIFA World Player of the Year Awards. In addition to playing football, he also owns a car collection worth millions of dollars. Here are some of the cars in his collection:
1. The Bugatti Trio
Bugatti Centodieci, Bugatti Chiron, and Bugatti Veyron are undoubtedly three of the most expensive cars in Ronaldo's garage. The Bugatti Centodieci is the most expensive, costing Ronaldo $9.9 million, followed by the Chiron at $2.15 million and the Veyron at $1.7 million. This is why it is the it is in thelist of Top Celebrity Cars.
2. McLaren Senna
This car was built as a tribute to Ayton Senna, a famous car racer. Ronaldo purchased the car to honor the legacy of the Brazilian racer. The base model is powered by a twin-turbocharged 4.0-liter V-8 engine that produces 789 horsepower and 590 pound-feet of torque. McLaren Senna accelerated from 0 to 60 mph in 2.8 seconds.
3. Two Rolls Royce
Ronaldo owns two Rolls-Royce vehicles, a Rolls-Royce Phantom valued at $400,000 and a Rolls-Royce Cullinan valued at $900,000. Cristiano Ronaldo's Rolls-Royce Cullinan has a customized interior with black and white leather. It is also the only SUV Rolls Royce has ever produced, which he purchased shortly after joining Juventus Football Club. This is why it is the it is in thelist of Top Celebrity Cars.
4. Ferrari trio
Despite the fact that Ronaldo lost the bidding war against Lionel Messi for the Ferrari 335 S Spider Scaglietti. Ronaldo also owns three other Ferrari models, the total value of which is close to 10 million dollars. He owns three Ferraris: a 599 GTO ($385,000), a 599 GTB Fiorano ($310,000), and an F430 ($300,000).
5. Lamborghini Aventador LP 700-4
The Lamborghini Aventador LP 700-4, which costs $318,000, is one of the most expensive cars in Ronaldo's garage. Ronaldo celebrated his 27th birthday in style in 2012, when he spent his weekly wages on this Lamborghini Aventador. The blacked-out paint scheme adds a sense of aggression to the naturally aspirated V12 supercar, which can produce nearly 700hp.
Lewis Hamilton's Car Collection
The Lewis Hamilton Car Collection is one of the most comprehensive and diverse collections of automobiles in the world. The collection includes a wide variety of cars, from historic racing machines to high-performance sports cars. The collection also includes several vehicles that have won prestigious awards for their design and innovation. Here are some of the most famous cars in the Hamilton collection.
1. Pagani Zonda 760 LH
The Pagani Zonda 760 LH is a purple car designed specifically for Hamilton, as indicated by the LH at the end of the name. The car can go from 0 to 100 km/h in 2.6 seconds, despite the fact that only a few were made, which isn't unexpected given its V12 engine. The car is powered by a 7.3-liter naturally aspirated engine that produces 760 HP and 575 lb-ft of torque.
2. McLaren P1
Hamilton began his Formula 1 career with McLaren, so he is familiar with the drivability of a British-made car. Even after quitting the squad, he expanded his personal collection by purchasing the limited-edition P1. Only 375 were produced, and the car's 903 horsepower allows it to reach 100 km/h in under 2.7 seconds.
3. 1967 Ford Mustang Shelby GT500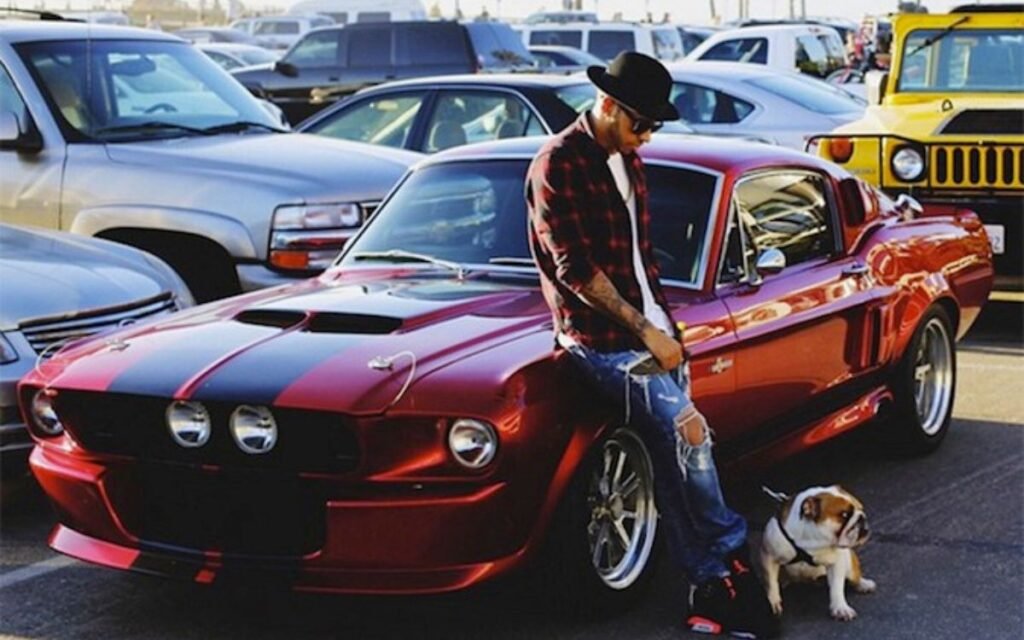 Hamilton purchased a 1967 Ford Mustang Shelby GT500 in 2011 that was fitted with the 355 HP, 7.0-liter Interceptor V8 engine that has become synonymous with Ford. However, he bought the car after seeing Steve McQueen operate it in the 1986 motion picture Bullitt.
4. Mercedes-AMG Project One
Lewis Hamilton played a significant role in the development of the Mercedes-AMG One, a vehicle inspired by the F1 Mercedes team. The car's 1.6 V6 turbo engine produces 1,200 HP under the hood. GQ said that only 275 models of automobiles were made.
Although the vehicle is still in the development stage. The AMG Project One is Aston Martin's competitor to the Valkyrie as a hypercar. Compared to some of the other cars in the collection, this one's engine is more environmentally friendly because it is based on the Mercedes Formula 1 engine. This is why it is the it is in the list of Top Celebrity Cars.
5. Mini Cooper
A second-hand Mini Cooper was the first car Hamilton bought after passing his driving test in 2002, and it has always held a special place in his heart. It had an in-line four-cylinder engine that produced 115 horsepower.
Mini Cooper is a great car for people who are looking for something small and nimble. It has great fuel economy and is a lot of fun to drive. The Mini Cooper is also very affordable, making it a great option for people on a budget. Its small size makes it very easy to park as well.
The biggest downside to the Mini Cooper is that it is not as safe or reliable as some of the other options on the market. These all are the reason why this is counted in the list of the Top Celebrity Cars.
Robert Downey jr.
Robert Downey jr. is one of the most successful actors in Hollywood and has amassed a car collection that is as impressive as his acting skills. Downey has a long history of collecting cars and has been known to spend vast sums of money on vehicles for his personal collection. Downey's interest in cars began at an early age. Here are some of the cars mentioned below.
1. Acura NSX Concept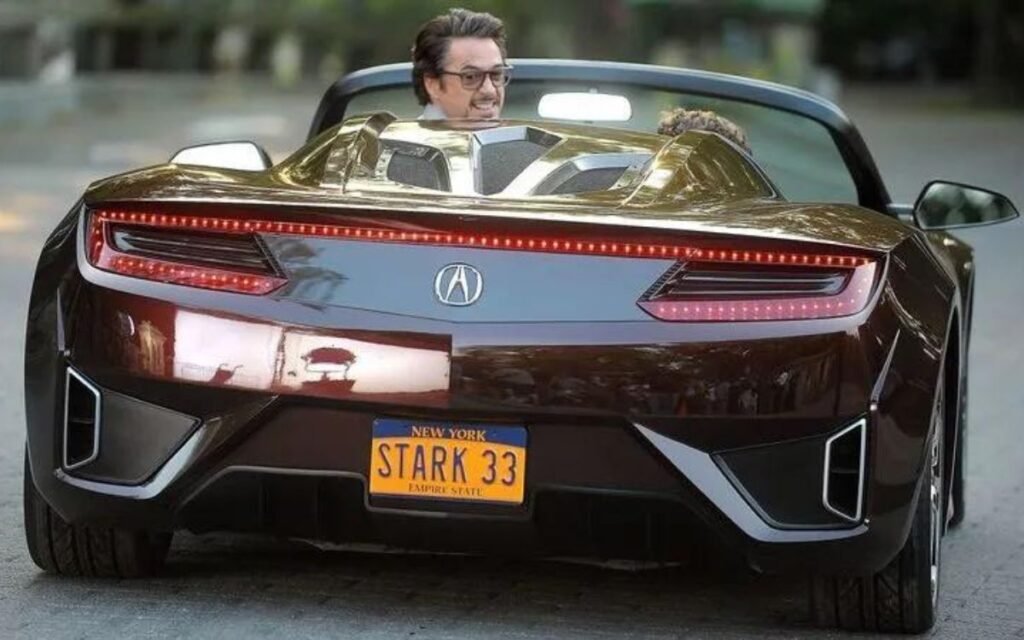 The Acura NSX Concept is a preview of the next-generation sports car from Honda. The NSX Concept is first shown in 2012 and it is a beautiful car. The NSX Concept is made of lightweight aluminum and carbon fiber. Power comes from a mid-mounted, twin-turbocharged V-6 engine that produces 573 horsepower and is capable of accelerating the car from 0 to 60 in just 2.9 seconds. The Acura NSX Concept also features an all-wheel drive drivetrain and a high-performance hybrid system.
The NSX Concept features sleek exterior styling that is unmistakably Acura. The vehicle also has a signature grille, sculptural fenders, and a unique "double wave" rear design. The interior is upholstered in leather and features a sporty black color scheme with orange accents. There is also a large display screen at the center of the dashboard that acts as a virtual instrument cluster and provides the driver with a variety of vehicle information and entertainment features. The price of the Acura NSX Concept is $170,000. This is why it is on the list of Top Celebrity Cars.
2. Nissan GT-R
The Nissan GT-R is one of the most iconic and successful sports cars in history. It has won numerous races and championships and is consider one of the best cars in the world. The GT-R is a powerful and fast car, but it's not just about speed. It has superior handling, which is crucial in racing conditions. The car is also aesthetically pleasing, and it's one of the most beautiful sportscars.
The Nissan GTR is powered by a TWIN-TURBO V6 engine that can accelerate from 0 to 60 mph in 2.9 seconds and reach a top speed of 195 mph. It also has a specially designed aerodynamic body that makes it remarkably light and powerful. The body is made from carbon fiber and reinforced plastic, and it has a large air intake in the front and a lower front nose to improve aerodynamics. Although, its Twin-Turbocharged, Direct Injection V6 Engine delivers 600 horsepower at 6.800 rpm with a torque of 481 lb-ft. at 3.600 rpm. It has a six-speed dual-clutch transmission for maximum performance and controllability.
3. 1970 Ford Mustang Boss 302 (Modified)
1970 Ford Mustang Boss 302 is one of the most iconic Mustangs ever made. The car is known for its race-inspired performance and high price tag.
Boss 302 was introduced in response to the popularity of Shelby Cobras and Camaros. The Mustang was released in 1969 and was a replacement for the Ford Torino. The car was powered by a 4.7-liter V8 engine that produced 290 horsepower. The Mustang came in both coupe and convertible models, but the Boss version was only available as a coupe. The Boss received an upgraded suspension with revised springs and shocks, as well as larger diameter front disc brakes. The exhaust was upgraded to a dual-exhaust system with four individual side pipes.
Under the hood is a high-output 351 cubic inch V8 engine with a four-barrel carburetor. It produces a whopping 290 horsepower and 280 pound-feet of torque. Moreover, Boss 302 can reach the top speed of 137 mph and has a quarter mile time of 14.6 seconds.
4. Audi e-Tron GT Concept
Audi's new e-Tron GT Concept is a futuristic electric sports car that previews the company's future electric vehicles. The e-Tron GT Concept is powered by an all-electric powertrain that delivers 590 horsepower and can drive the coupe from 0 to 60 mph in just 3.5 seconds. The vehicle also incorporates a number of advanced technologies, including virtual steering and torque vectoring, which enhance its handling and performance.
The e-Tron GT Concept also features a pair of curved OLED screens in the side windows that provide passengers with information about the vehicle's status and performance. E-Tron GT Concept was first unveiled at the Geneva Motor Show in March 2019 and is expect to go into production sometime in the near future. This is why it is the it is in thelist of Top Celebrity Cars.
5. Audi R8 Spyder Convertible
The Audi R8 Spyder Convertible is a top-of-the-line sports car that has quickly become a favorite among enthusiasts and luxury car buyers. This car is design for high performance and luxury, with a sleek design that looks great on the road. The driver's seat has great visibility and is very comfortable, while the engine provides plenty of power for a sporty drive. The interior features high-quality materials and gives you a comfortable ride.
The R8 Spyder Convertible is great for road trips and date nights and is a great way to make a statement while driving in style. This impressive vehicle is capable of reaching speeds of up to 203 mph, while still providing a comfortable ride.
Also Read: Audi R8 Spyder: Specification & features
Conclusion
Celebrity cars always grab the attention of the Majority of people. The person who has an interest in the collection of cars above models is the best choice to add to your collection. Not only by the best looks but also its features makes you fall in love with. This is why Now there are many other celebrities who are showing their interest in different types of cars.
Also Read: Kawasaki Ninja H2R: Features and Design