Have you ever heard about onion hair oil and other onion hair care product Created around the globe? Is onion hair fake or does it help in hair growth? Our kitchen ingredients may solve multiple hair loss symptoms if used wisely. Many people are not aware of the numerous benefits and nutrients that natural products. Like onion oil can bring to their hair care routine, resulting in healthy and shiny hair. One such common ingredient that you need to look out for is onion.
In addition to its potent smell, strong flavor, and numerous nutritional benefits. Onion oil is also an effective hair care product. For thousands of years, onion has been used as a remedy. Hair fall is one of the most common issues faced by women and men of all age groups. There are many hair care products to choose from. But rich in sulfur a key ingredient in keratin, Onion hair oil is one of the best solutions that can help you gain healthy hair. 
Alopecia, or hair loss, can occur on the scalp or the entire body. And can be temporary or permanent. It can be caused by genetics, hormonal changes, medical conditions, or the natural aging process. Hair fall can also happen due to stress. Hair loss can affect anyone, but male pattern baldness is common in men.
Baldness, also known as alopecia is a condition in which there is abnormal hair loss from the scalp or other areas of the body. the hair loss can be diffuse, meaning it occurs all over the scalp. Or it can be localized, meaning it occurs in specific areas. Baldness can be caused by a variety of factors including genetics, hormonal changes, medical conditions, and certain medications. It can affect both men and women and can occur at all ages. 
A head massage is a type of massage that focuses on the head, scalp, and hair. A therapeutic technique that is used to relax the mind, relieve stress and tension, improve circulation, and promote healthy hair growth is known as a scalp massage. It can be done using various techniques such as kneading, tapping, and gentle rubbing, and typically involves the use of onion oil. Onion oil for head massage can be used in many ways as it is at normal temperature or in the form of hot oil treatment.
You can use Onion oil without heating, take a few drops of onion oil on your farm in gently massage your head for at least 5 to 7 minutes.  and let it rest for 30 minutes and wash it off with shampoo. Try doing this one to two times a week for an improved result.
Another way to use onion juice for hair care is as a hot oil treatment. Combine it with a carrier oil like almond or olive oil and heat the mixture using the double-boiler method to preserve its nutrients. Massage the oil into your scalp and hair, leaving it on overnight. Wash it out the next day using mild shampoo.
Onion Oil Benefits For Hair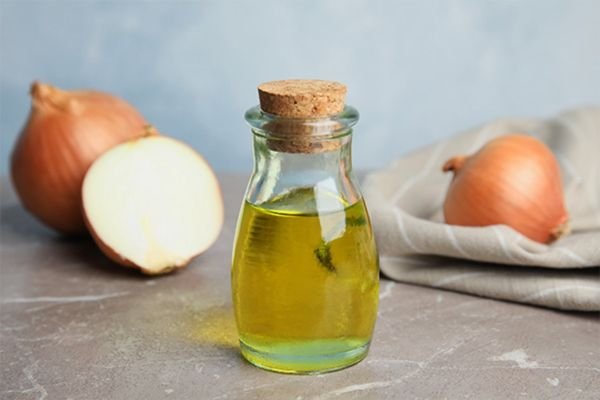 Onion oil is a versatile and beneficial ingredient that can be used in a variety of ways. Whether you're looking to improve your hair and skin or boost your overall health and wellness, onion oil for hair care has a lot to offer. In this article, we'll be exploring some of the top benefits of onion oil and how you can include it in your daily routine. From fighting off infections to promoting hair growth, the benefits of onion oil are numerous.
Promotes Hair Regrowth And Reduces Hair Loss
Onion oil is good for your hair because it contains two important minerals, sulfur, and potassium. These minerals help to strengthen hair and prevent it from breaking.  While we have been eating onion for a very long time. But it has not given us any benefit regarding our hair. Because we have not been using it the right way. Onion oil also helps to keep the pH balance of your scalp. And hair roots healthy, which allows new hair to grow.
DIY Remedy: To make a hair oil treatment. Blend half a cup of chopped onions and curry leaves in a blender. Until it forms a fine paste. Put the paste in a pot. And add 200ml of coconut oil. Heat the mixture on low flame for 5-10 minutes, then increase the flame. And let it boil for 15 minutes until the oil's color turns dark. Let the mixture cool overnight, then strain it the next morning. And put it in an airtight container. Apply this oil to your hair once a week for better results.
Postpones The Onset Of Premature Graying
Premature greying of hair can happen due to lack of nutrition, stress, illness, or genetics. Onion oil has certain enzymes that can help protect your hair from damage caused by free radicals. This can help bring back the natural color of your hair. Hair growing or hair whitening is pretty common in males. It happens due to several reasons and can be prevented by using onion oil. Free radicals are molecules that are reactive and unstable, and they have one or more unpaired electrons. They are made during metabolic processes. And can damage different parts of cells like structural membranes, lipids, proteins, and DNA.
DIY Remedy: To make a hair treatment, mix 2-3 tablespoons of onion juice, 1 tablespoon of lemon juice, and 1 tablespoon of olive oil in a bowl. Rub the mixture onto your scalp in a circular motion. Leave it on your hair for 30 minutes. Then, wash it off with a natural ingredient shampoo.
Functions As A Dandruff Treatment
Onion oil can help treat dandruff and scalp infections. Because it has properties that fight bacteria and reduce inflammation. It may help in protecting yourself from infection,  But it is not strong enough to remove the infection.  But It is better to consult a Doctor if you have any medical condition before using onion oil. It also contains compounds that nourish hair follicles, prevent breakage, and make hair fuller from roots to the ends.
DIY Remedy: To make a hair treatment, boil two beetroots in a pot until they're soft. Crush them to make a paste and put it in a bowl. Add 1 tablespoon of onion juice to the paste, then massage the mixture into your scalp. Leave it overnight and wash it off the next morning with a mild natural ingredient shampoo.
Adds Shine And Makes Hair Soft
Onions contain antioxidants and flavonoids that help improve blood flow to the scalp, which can make your hair look fuller and shinier. Onion oil also helps to make hair less frizzy. And gives it a deep condition. This means that it makes the hair softer and more manageable.  As we all know that there are different types of hair. It may have to use different methods to treat them.  But if you use Onion oil as a remedy then it can be applied to any type of hair. 
DIY Remedy: To make a hair treatment, peel 2-3 large red onions. Chop them into small pieces, and blend them to form a paste. Put the paste in a fine cloth. And squeeze out the juice into a bowl. Add 1 tablespoon of organic honey and 1 teaspoon of lime juice to the bowl and mix it well. Apply the mixture to your scalp using a cotton pad and leave it on for 20-30 minutes. Wash it off with a gentle shampoo, then use a conditioner.
Used As A Natural Alternative To Conditioner
There are several conditioners in the market. But if you have concerns about the safety of your hair. Then you can also use Onion oil as an alternative conditioner.  Massaging your hair with onion oil helps nurture the scalp. And improve the condition of your hair.  It also makes hair more nourished. 
DIY Remedy: To make a hair treatment, mix 1 egg and 1 tablespoon of onion juice in a bowl. Apply the mixture to your scalp and hair. Then cover it with a shower cap. Leave it on for 20-30 minutes. Rinse your hair with cold water and a gentle mild shampoo that does not contain the chemical ingredient.
Onion Oil Contains A High Concentration Of Antioxidants
Onions contain an antioxidant called flavonoids that help to reduce radicals in our body. These pre radicals are the main reason for aging and are also responsible for hair thinning and hair fall. It is also believed to reduce hair whitening and premature hair growth and also support normal hair growth.
Contains Antimicrobial Properties
Onion oil has antimicrobial and antibacterial properties. That helps in trading scalp infections and keeps your hair more hygienic. It also helps in stopping oil chemicals or DST bulldogs that can Protect your hair or impact hair follicles. Onion oil contains bioactive chemicals that help reduce hair thinning. And encourage hair growth and also nourishes hair follicle.
Onion Oil Contains Sulfur
Sulfur is one of the main ingredients in keratin. Keratin is a fibrous protein that is the main structural component of hair and nails. It provides strength, elasticity, and durability to these structures. Keratin is also a key component in the formation of hair, nails, and skin. It is a protective protein that shields these structures from external damage. And helps to maintain their integrity. Additionally, is an important ingredient Onion oil as it helps to repair and strengthen hair. Sulfur helps in the formation of bonds in our hair thus strengthening each hair follicle.
Precautions To Take When Using Onion Oil For Hair Care
Pungent odor – Onion is known to have a strong odor and the same is the case for onion oil.  This odor may likely stay even after washing your hair with the shampoo.  Also, our expert suggests you not use scented shampoo Because it can cause damage.
Itchy scalp – Overuse any hair care product because of damage to your scalp. and the same goes for onion oil using onion oil can strip your scalp from all moisture.  This may lead to the genus in the scalp. Onion oil is also written sulfur that can irritate your scalp if not cleaned your scalp properly.
Possible hair loss – Onion oil is known for its healthy hair growth properties, but for some people with sensitive scalp and hair texture, it can cause harm rather than good. It contains strong ingredients and may weaken hair strands, resulting in increased hair fall.
Results in scalp eczema – Onion oil contains Sulphur and a high amount of sulfur can cause inflammation and a burning sensation on the scalp.  dryness may result in scalp eczema.  our expert miss suggests you do not use Onion oil very often.
Instructions On How To Properly Use Onion Oil On Hair
To use onion oil on your hair, follow these steps:
Start by washing your hair with a mild shampoo to remove any dirt or product buildup.

Towel dry your hair to remove excess water. 

Apply a small amount of onion oil to your scalp and massage it in gently.

Use a wide-toothed comb to distribute the onion oil evenly throughout your hair and massage your scalp.

Leave the onion oil on your hair for at least 30 minutes to see the best result, or overnight for the best results.

Rinse your hair with lukewarm water and shampoo again to remove the oil.

Condition your hair as usual.
We recommend using this oil once or twice a week, and also, Before using onion oil on your hair, it's always a good idea to do a patch test to check for any allergic reactions.
Instructions On How To Prepare Homemade Onion Hair Oil
There is a major benefit to using onion oil, one is that we can create it at home with the ingredient that we have and at less cost.  you can also make it at home by following the steps below.
To prepare onion oil for hair, begin by chopping an onion into multiple pieces. Take some of the chopped onion and blend it to extract the juice. Grind the remaining onion to make a smooth paste. In a pan, heat coconut oil and add the extracted onion juice and onion paste to it. Continuously stir the mixture, bring it to a boil, then reduce the heat and let it simmer until only the oil remains. Once ready, turn off the heat and allow the mixture to cool for a few hours. Strain the oil through a muslin cloth and store it in an airtight jar.
Top 5-Rated Onion Hair Oil Products
If you're looking for a way to nourish and strengthen your hair, you may want to consider using an onion hair oil. We have specially formulated these products to provide your hair with the vitamins and minerals it needs to grow strong and healthy. Here, we have compiled a list of the top 5 rated onion hair oil products on the market, which have been highly praised by customers for their effectiveness and natural ingredients. Whether you're dealing with hair loss, dryness, or damage, these oils can help to restore your hair's natural beauty and vitality. It also prevents premature greying of hair So, let's take a look at the top 5 onion hair oil products that you can try today.
TNW- The Natural Wash Onion Oil
TNW Natural wash onion hair oil does not contain any chemicals and Mineral oils.  The oil will nourish your hair through moisturization. It further reduces the breakage of hair and hair fall as it treats split ends and helps. Your hair naturally grows And makes hair free from frizz. The oil soaks into your head's skin very fast. This helps to make your hair very strong, conditioned,  healthy, and long. TNW Onion Oil has almond oil, argan oil, walnut oil, hibiscus oil, ginger oil, flaxseed oil, grapeseed oil, and jojoba oil as additives. Each of this oil hands the value of TNW Natural Wash Onion Hair Oil.
Onion oil has antioxidant that prevents hair from damage in delay greying of hair,  which may in turn results in slowing down hair fall.  the antioxidant also helps in the hair growth cycle.

Ginger oil has fatty acids, vitamins, and minerals that help in strengthening hair strands,  flaxseed oil has vitamin E which helps in nourishing your hair strands. 
QRAA Men Red Onion Oil is a blend of Essential oils,  onion oil, and various effective herbal element to give men healthy hair,  the oil is non-sticky.  its natural elements aid in the nourishment of hair and may help to fight dandruff and other issues of your hair.
Red onion well and Amla extract nourishes your scalp, promotes strong and lustrous hair, strengthens your hair roots, helps in reducing dandruff and lice infestation, and acts as a natural hair conditioner. 

Reetha extract is known for its ability to balance the three faults, known as tri dosha, which removes dandruff and promotes healthy hair growth.

Argan oil moisturizes your hair and keeps your scalp healthy, protecting your hair from damage due to daily exposure to the polluting environment by reducing split ends and breakage.
Mamaearth Onion Hair Oil With Redensyl
Mamaearth Onion Hair Oil with its new and improved technique makes your hair smoother stronger and Shinier.  the oil contains natural ingredients and is free from harmful chemicals and toxins.  it is light and non-sticky and has a nice fragrance.  the onion hair oil has sulfur potassium and antioxidant that may help in reducing hair fall and boost the overall hair growth cycle. Chemically treated and dyed hair can safely use the oil because it is free from silicons, parabens, synthetic minerals, and dyes, and it naturally works on such hair.
Onion seed oil helps in promote blood supply to the hair follicle, it may result in improved hair growth and may also reduce hair fall.

Redensyl: It promotes blood circulation on the scalp and also helps in promoting hair growth. Almond Oil: Rich in phospholipids, Vitamin E, Omega-3 fatty acids, and magnesium, almond oil helps in nourishing your hair

Castor Oil: Helps in increasing blood circulation to the scalp,  it also helps in locking moisture in the scalp, thereby deeply nourishing The hair with protein, antioxidants, and vitamins.

Amla oil has been known for ages for promoting healthy hair and scalp. Bhringraj oil, on the other hand, is known for increasing blood circulation to the scalp, reducing hair fall, promoting the hair growth cycle, moisturizing hair, and acting as a natural conditioner. 
Beardo Onion Oil Concentrate
Beardo Onion Oil Concentrate Includes an extra potent dose of red onion oil.  these extra important onion oil made in the hair growth cycle,  reduce hair fall, provide good natural elements to your hair,  also add moisture to it.  the oil also contains anti-inflammatory, anti-bacterial, and antiseptic properties that may help in reducing dandruff. It helps in keeping your head's skin health under check. 
Red Onion Oil Extract helps in maintaining the pH value of the hair, and may also help in combating hair loss.

Sunflower Oil: It is rich in vitamin E and sesamol and helps to moisturize the hair and scalp.
Kesh King Ayurvedic Onion Oil
Kesh King Ayurvedic Onion Oil may help in the healthy hair growth cycle,  and may also help in reducing hair fall.  apart from anyone Kesh King Ayurvedic Onion Hair Oil consists of 21 rare herbs, The oil is free of silicon and paraben and also chemical free,  by using weekly it may reduce hair fall and make your hair Shinier and stronger.  adding it to your routine will make your hair frizz-free and soft.
Onion oil: May helps in tackling hair fall and thinning of hair, and also brings about a healthy hair growth cycle while its antioxidant Bhringraj: May increases hair growth activating hair follicles and it also helps in maintaining the natural color of your hair.

Methi: Provides nourishment to your scalp by acting as a natural conditioner.
In this article, we have highlighted the onion oil benefits along with some easy DIY remedies, from anti-microbial properties to its anti-inflammatory quality to treat your hair Care concern using this as a concoction. However, it is important to know that onion oil may not work for all patients with severe hair and scalp problems.  in those cases, experts recommend you consult a doctor or a hair care specialist.  you can also just book an appointment with a certified Ayurvedic doctor Who will suggest you some natural remedies. 
People are increasingly using onion oil due to its various health benefits, but there are bound to be questions as with any new product or ingredient. In this article, we've compiled a list of frequently asked questions about onion oil to help you understand more about its uses and potential benefits. Whether you're a first-time user or a seasoned pro, this guide will provide you with all the information you need to make the most of your onion oil.
Is Onion Oil Good For Hair Growth?
Onion oil is an excellent remedy for treating premature greying, and hair loss,  it also encourages the Regrowth of hair.  onion oil benefits also include adding softness and luster to the hair along with being a natural conditioner and an anti-dandruff agent. People believe that onion oil is beneficial for hair growth because it contains sulfur and other nutrients like biotin, and vitamin C, and minerals like iron and calcium. Sulfur is essential for the production of collagen, which helps in the growth of hair.
Onion oil also helps to improve blood circulation to the scalp, which can lead to healthier hair growth. Some people also claim that onion oil can help to reduce hair loss and prevent dandruff and scalp infections.
Can Onion Oil Be Used Daily On My Hair?
No, our experts don't recommend you use onion oil daily because it is rich in Sulphur and might cause irritation and itchiness to the head.  for the best result, You should use it once a week before washing your hair. 
Duration For Which Onion Oil Should Be Left On Hair?
Our expert recommends gently massaging onion oil onto your head,  30 minutes before taking a bath or a shower to ensure the maximum effect. This allows the hair to fully absorb the nutrients and benefits of the oil. You can also leave it on overnight for an even deeper treatment. It's always best to do a patch test before using any new hair product, especially if you have sensitive skin or scalp.
Is It Safe To Leave Onion Oil In Hair Overnight?
Our expert does not recommend leaving onion oil on your hair overnight. Instead, use it for 30 minutes before taking a bath or shower as excessive use may cause redness or irritation to the scalp. However, it should be noted that onion oil can have benefits for hair growth.
Can Onion Oil Help In Hair Regrowth?
Although there is no practice solution to re-glowing lost hair, incorporating the use of onion oil for hair growth in your weekly routine can lead to improved results.