Alopecia areata is a very common condition of hair loss. In this article, I want to share its treatment methods, why it happened, its conditions, how it happened, and most important myths about it.
Generally, you will see patchy hair loss in this condition. For more clarity on what it looks like you can check the image. Basically, some coin-shaped hair loss happened in it. You don't feel any itchiness or burning. Generally, it happened in the scalp area. There is no proper place for this disease. It can happen in any hairy area. Simply, you can also say it's kind of a hair loss.
The region where Alopecia Areata impact
Some most common regions on beard region, sometimes on the mustache also, sometimes on the eyebrow also. Most of the regions where you can see like on the front then you go o the doctor very easily. But sometimes when it is in back areas so you don't know about it. Mostly when the barber tells you the diagnosis. That you have some kind of hair loss on the backside. This is very common barber definitely tells you some treatment also.
So from there you can know about the diagnosis, and catch the disease. After that, you can simply go to the doctor.
The beginning stage of Alopecia Areata:
In the beginning, it starts with small patches. But these patches can be multiple also. They can be a single patch or double patches also. Multiple patches are also be there in different areas also, on scalp & also on other areas.
Alopecia Totalis
Type of Alopecia areata
When it covers a particular zone completely like the scalp so this we called "Alopecia Totalis". So, Alopecia totalis is also a part of Alopcia areata. If this condition spread in your whole body so it is called Alopecia Universalis. Basically, in Universalis, there is no hair on the whole body. But if the disappearance is on the face only so it's Alopecia totalis.
Why Does It Happen?
See, Alopecia areata is basically an autoimmune condition. It means that your immunity goes against its own cells. And here, against which cell your immunity is going. It is Hair Follicle. It works against the hair-making cells.
Now the question is why is the autoantibody made? See, so much science is behind it. Still, there are many questions that are need to answer now also. And why did this happen?
Important Factors
Yes, there are several important factors also that are so deep into the science.
Simply this disease is an autoimmune condition. And the cells in your autoimmunity are bacteria and viruses. It happened against them. Those cells are against their own cells.
Links or Association
This disease can happen with other autoimmune conditions like a thyroid problem. Or collagen vascular disease. It is a very big group in which your vascular part of the body is involved. It can be associated with these also common with the Down Syndrome. Alopecia areata can happen with them also. This condition can be associated with any condition of stress, anxiety, or depression.
How to do Diagnosis
Check through doctor
Diagnosis is clear because a doctor can tell you by seeing. He can tell you the stage of this also. So that you can cure it as soon as possible. He can clearly tell you this is Alopecia areata. They can also do some tests like skin biopsy.
Skin Biopsy
Basically in a skin biopsy, a light skin piece is taken in that area. And it is sent for the report. There it can confirm its clinical diagnosis. No more tests happen for this. But some test happens which are to plant your therapy or for other conditions. Any link with those conditions, any link with them, to see them some tests happen.
So doctor definitively does the blood and biopsy test .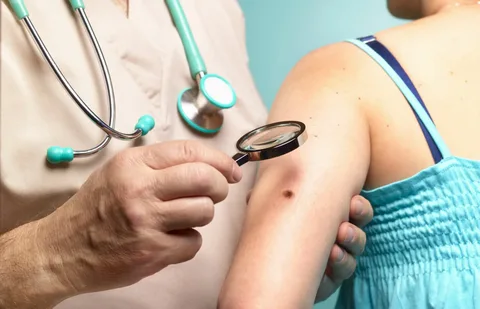 Treatment of Alopecia Areata
Its treatment is very simple. And if you have 1 or 2 patches. Then the doctor gives you only topical medications. It Means tube-type medicine. If you get multiple medicines or your Alopecia is totalis or Universalis. In that condition, a doctor gives you some oral medications also.
Basically' the theory behind it is that your immunity gets slightly suppressed in it. You don't have to take medicine by yourself. Because if your immunity got more suppressed so it is also not okay for your body. And if your immunity doesn't suppress that much then this is not going well.
So basically, a doctor makes your balance related to your immunity. So please don't take the medicine by yourself. You may have seen that this doctor has given this medicine. My close one also has this problem as he has also taken but maybe your plan is different for that doctor.
Connect to Dermatologist
So definitely, be concerned with your local dermatologist and always take the treatment from them. I talk about its responsible that how many % it gets correct. See, the best thing about it is that the autoimmunity cells which is the cell policeman of the body. It can't destroy this hair follicle completely. It means the chances of recovering are very high. In general, it is seen that 1 or 2 patches can be correct automatically. And if talk about the complete treatment course. So roughly we can see a 99% chance that your disease cure. ( that's why we should know Important things about Alopecia Areata) But it takes some to cure, roughly it takes 2-4 months. And yes the biggest thing is reoccurrence.
What happened is that when you take medicine and your one patch gets cured. After some days that patch can come again or can come to a nearby area or another part. So you always have to be under doctors' supervision. Whenever your visit any clinic. First, you also need to understand the disease also.
Must focus on:
Generally, we say that as long as you take medicine. You are fine. But when you leave the medicine, then this disease is returned. To understand this thing. See the doctor who will give you 2-5 minutes. He/She won't be able to tell you entire things. But the discussion with the doctor remembers always. Do it close follow-up. So the chances of recovering from this disease are very good.
Basically, cases of Alopecia Totalis and Alopecia Universalis are very few. Alopecia Universalis cases are less than 1%. So if I will search Alopecia then photos of Alopecia Totalis and Alopecia universal come up. So don't be afraid by seeing it. Because it is In very few people. And I hope if you have this problem then it will cure quickly.
See, The treatment is very simple. You can easily cure form this and always be in contact with your, doctor. Indian dermatologists are the best dermatologists in the world. So you can trust them. Because they will do their best for your disease.
The myth about Alopecia Areata
It is very important to clear the myth. Because what happens is that are so many people to cure skin disease. And doctor's turn comes in the last. We need to believe them. Because they are respective or very close to us. Or so any other reason. The thing you must follow is that listen to everyone but choose the right one. The doctor knows better about that particular disease.
1. Is this disease caused by a worm?
See that area looks like any worm has bitten. So this disease doesn't cause by worms or anything. It is just a disease of the immune system. Which will be okay quickly. So this myth is totally wrong.
2. Related to drug & medicine
I had taken that medicine and this is after that. To remove this from the mind. Alopecia Areata is not a cause or any harmful side effect of any medicine.
3 Is it related to any food?
Definitely not it is not caused by any food. Some people say it applied this or that. Is it happened because of that? It happened because of water. Definitely not, It doesn't cause by water or any food. It is just an autoimmune condition and the biggest thing is that some people come here after applying something to cure it.
There's one case in that one guy with that much coconut oil that his scalp was smelling. Too much crust was there, so please don't apply that much.
4 Onion juice
Some people say this is because of onion juice. And also advised not to use onion juice. Nothing is like that sometimes we apply such a thing on skin that skin burns in that area. After burning the skin the hair roots were not damaged completely yet. And after that burning, they get completely damaged. After that no hair comes so please don't focus on these such things. Because it is harmful to you only. So in any condition either in it or any condition. Definitely meet the doctor in the early stage. So treatment starts in an early phase.
It will cost less, and the response comes faster. So, this is the complete information on Alopecia areata.