Minoxidil treatment belongs to the group of medications known for hair regrowth.  Topical minoxidil treats hair loss and hair loss-related conditions, for example, alopecia. Although it is available in the market, people should carefully consider it before using it. Originally scientists designed minoxidil as a treatment for high blood pressure, and doctors may still prescribe the oral form of minoxidil for people with severe hypertension. Minoxidil may be the only drug that the Food and Drug Administration FDA has approved for hair loss treatment for males and women also. Some studies show that Minoxidil is 60% effective in hair growth and preventing hair loss, especially for women. 
Minoxidil foam and solution are used to treat male pattern baldness. It is not necessarily being used for the font of the scalp or receding hairline in men. The foam and 2 percent minoxidil solution are also capable of helping hair growth in a woman with thinning hair. Minoxidil belongs to the class of vasodilators. And it is still unknown how minoxidil causes hair growth. This is not used for sudden/patchy hair loss, unexplained hair loss, or hair loss after giving birth. Do not use this product if you are less than 19 years old. 
Minoxidil For Women Solution
First, clean and then dry the scalp area before applying medication. You may also apply this to damp hair. To use the solution fill the applicator with 1 milliliter of medication, or use 20 drops. Divide your hair in the area of thinning and apply the product evenly to the affected area of the scalp. Gently rub in, and allow it to dry completely before using other products or before going to bed. 
To use the foam, wash your hands and dry them well. Apply only about half ½ cupful of foam to the scalp and rub in gently. And allow it to dry completely before using other products or before going to bed.
If you have a problem with scalp irritation, you should avoid using minoxidil. Also avoid using minoxidil on the same day, when you color your hair or chemically treated it.
Minoxidil comes in many forms but you should avoid using minoxidil in other parts of the body unless it is directed by your doctor. Do not use it on irritated skin, red skin, painful skin or wounds, scraped skin, or cut or infected skin. Wash your hands thoroughly after using minoxidil. Avoid getting minoxidil in your eyes. If it happens by chance then rinse your eyes with cold water.
Do not use minoxidil often, apply more than prescribed by the doctor or apply on irritated, burn, or sunburned scalp. If it happens it will be absorbed by your body and may cause serious side effects. Minoxidil contains alcohol and can irritate the skin and may cause drying to the scalp. You should consult the doctor before using it.
 It's the fact that no medicine shows instantaneous effects, every medicine takes time to show the result. It also takes time for hair to regrow. Most need to use this product regularly for at least 4 months to see the benefit. If it does not show any effect, your condition does not improve or get worsens after using this product for 4 to 6 months, or if you find out that it caused a serious problem, you must consult your doctor.
Benefits Of Minoxidil For Women
We do not know how minoxidil works,  but one thing is for sure it can greatly benefit those who are having hair loss or hair thinning. Minoxidil is used for boosting hair growth. Some people reported that they have a visible amount of hair growth, after using it for 4 months of proper treatment. Also, Some studies may suggest that 50% to 60% of people with hair loss problems get good results after proper treatment with minoxidil. But regrowing your hair on a bald scalp is virtually impossible.
Minoxidil increases the density of hair and helps in hair growth. In other words, when you use minoxidil for your hair or for women, it makes you healthier and fuller. In general, minoxidil is safe for all types of hair. People with natural hair may not face any serious problems while applying minoxidil.
Side Effects Of Minoxidil For Women
Sometimes burning sensation, stinging or redness at the applied site may occur. If any of these effects last longer or get worse instead, consult your doctor. If you are directed by the doctor to use minoxidil, remember the doctor has judged that the benefit of minoxidil is greater than the side effects. Many people who use minoxidil do not show any serious side effects.
It is very rare when it is absorbed by the skin and causes side effects. If that happens, stop using minoxidil products and tell your doctor right away. However, If you have any serious side effects after using minoxidil products including unwanted facial and body hair, difficulty breathing especially when lying down, dizziness, fast/irregular heartbeat, swelling of hands/feet, fainting, chest pain, unusual weight gain, tiredness, etc.
You may get serious allergic reactions to minoxidil products but it's rare. If you happen to get a serious allergic reaction to this drug, get medical help right away if you notice any symptoms including allergic reaction, severe dizziness, trouble breathing, rash, itching/swelling, itching/swelling on the face/tongue/throat. And this still does not include all the possible side effects. If you notice another side than those listed above.
Also Read: Side Effects Of Minoxidil
Precautions Before Using Minoxidil
It is better to take precautions before using minoxidil if you have had any allergy before or you are allergic to it, consult your doctor. Minoxidil products may contain inactive ingredients that may cause allergic or other problems. You can consult your doctor for more information.
 If you have any of the problems listed below including kidney disease, liver disease, diseases of the scalp (such as eczema, infection, cuts), or heart problems (such as chest pain, heart attack, or heart failure). During pregnancy, you should avoid using minoxidil products, and their products should only be used when needed. Discuss with your doctor before using it.
It is very little we know about this minoxidil product, whether it passes into breast milk is still unknown. Ask your doctor before breastfeeding a child. If Minoxidil comes in contact with the eyes it will cause irritation and burning of the eyes and nasal passages. You should wash your eyes with cool water.
Minoxidil may not nearly work for everyone. This medication is for those who have female hair loss or thinning or have male pattern baldness. It has not shown any improvement for those who have receding hairlines. Within 2 to 6 weeks of using minoxidil may cause the shedding of hair. If shedding of hair remains for more than 2 weeks, consult your doctor. If your hair does not show any improvement even after using this product for 6 months, contact your doctor.
Precautions To Take While Using On Scalp
This minoxidil is intended to be used as a topical treatment for the scalp. If you have heart disease then you should discuss with your doctor how this product may affect your medical condition. And how their medical condition may be affected by dosing and how this medicine is effective for them, whether you need to monitor it, you should consult your doctor.
Minoxidil must not be used during pregnancy. If you used this medicine, stop taking it and contact your doctor immediately. The safety and effectiveness of using minoxidil for men above the age of 65 have not been established. Minoxidil effectiveness may vary from person to person,
Drug Interactions Of Minoxidil
How your medication works, may depend on drug interaction or may increase the risk of side effects. And this article does not contain all possible drug interactions. You should make a list of all the medications used including herbal products and prescription/nonprescription drugs and consult with your doctor. However, you should not start, stop, or change the dosage of any medicines without the approval of your doctor.
Some products that may interact with minoxidil drugs, may include drugs that interact with alcohol, and drugs for high blood pressure.
The Right Dosage Of Minoxidil For Women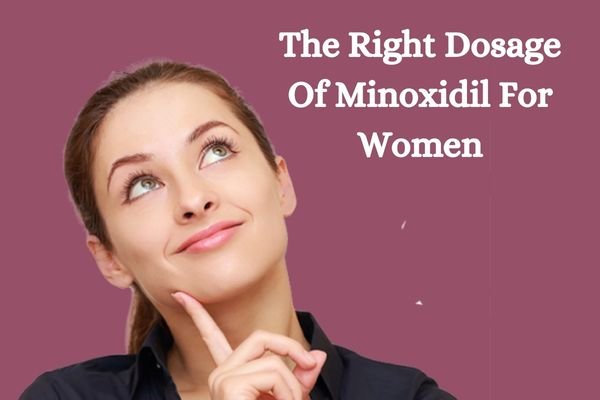 This drug may be harmful if swallowed. If you are overdosed and has serious symptom including passing out or trouble breathing go to the hospital immediately. symptoms of overdose may include fainting, flushing, dizziness, and drowsiness.
Note: Keep all your medical and laboratory appointments as a record.
Missed Dose: if you miss the dose by mistake then skip the missed dose. Use your next dose in time. Do not double the dose of minoxidil to catch up.
Storage: Store minoxidil product at room temperature and away from heat This product is flammable. Keep it away from fire and avoid open flame after applying, until the medication has completely dried. And it is best to keep away all the medication from children and pets.
Do not flush minoxidil products into the toilet or pour them into a drain. You should properly discard the product when it expires and is no longer required. Consult your local waste disposal company.
How Does Minoxidil Work For Women
Minoxidil work in the same way it works for men also. It dilutes your blood vessels, which support more blood and nutrient flow to hair follicles, leading grow more hair. Scientists still don't know how minoxidil work to prevent hair thinning, but it keeps hair in the active growth phase.
How Should Women Use Minoxidil
Usually, minoxidil comes in topical form, meaning that you have to apply it directly to your scalp, not on your hair.
Minoxidil 5% foam: Apply ½ a capful once daily

Minoxidil 2% solution: Apply 1 mL two times a day
Generally, guidelines for applying minoxidil are to directly apply to your scalp and massage with your finger, and wash your hand thoroughly immediately afterward. People usually apply this treatment at least two hours before bedtime to dry it completely. This may help to prevent minoxidil from spreading to other parts of the body while you sleep. Minoxidil can also stain clothing or your bed sheet if not fully dried after applying it. It is important that it has to used daily to maintain results. Once you stop using it, hair loss will return.
Storage the medicine in a closed container in a cool and dry place, away from heat moisture and direct sunlight, and light. Keep from freezing.
Keep away from children. Do not keep outdated medicines at home or medicine that is no longer needed. Minoxidil is flammable to keep it away from fire.
How Long Does Minoxidil Treatment Take To Work
The general progress timeline after the treatment of minoxidil is 4 months. In many cases, people start seeing hair growth within four months. One may experience increased hair loss initially after the use of minoxidil. In minoxidil treatment, your hair follicles will transfer from the resting phase to the active phase. And in some cases of minoxidil treatment one may not see any improvement even after using it for several months. It is suggested that you should stop the use of minoxidil treatment and consult a doctor. 
Minoxidil shows improvement in many cases but the actual result may take at least 4 to 6 months to happen. Expect a few special conditions like pregnancy, colored hair, and lesions on the scalp minoxidil are safe for everyone. And you should be mindful when using it because too much cause may irritate you.
Will Other Drugs Affect Minoxidil Topical Form
It is unlikely that the other medication you take orally or injected will affect the applied topical form. But in some cases, drugs may interact with each other. Create a list of medications you use and consult your doctor about all medicines you use including vitamins, herbal products, over-the-counter medicines, and prescribed medicines.
Interactions With Tobacco, Food, And Alcohol
Certain medicines you should avoid and not use around the time when eating the food or certain types of food because interaction may occur. You should also avoid alcohol or tobacco with certain medicine because it causes interaction to occur. Consult with your doctor about the use of medicine with alcohol, tobacco, and food.
Minoxidil has been used for a very long time For trading hair loss and hair loss-related problems.  It usually comes in topical form, but it was first originally used as an oral medicine for treating high blood pressure. However, It is The only medicine that is approved by the Food and Drug Administration FDA  For hair loss treatment.  
There are many uses for minoxidil but it is usually used in a topical form to treat hair thinning and to regrow hair. Usually, we apply minoxidil solution to the dry scalp area but you can also apply it to damp hair. Scientists still don't know how minoxidil works but it is used to treat hair loss or hair thinning. There are several side effects of minoxidil so you should take precautions before using it or you should consult the doctor before applying it to your scalp.
Also Read:
Minoxidil: All You Need To Know