If you have a natural gift for using cosmetics to make people look amazing, you have the entire makeup artist business at your disposal to explore and build a career in. You would like to know where your professional choice takes you when you are training to become one. Here are the top careers for makeup artists that you can pursue.
Freelance Makeup Artist
A freelancing makeup artist is a makeup expert who typically goes to the sites of his or her customers. A cosmetics artist may also style hair, offer skin care advice, and apply makeup in addition to doing these other things. The most typical credentials and instruments required by this person are instruction from a cosmetology school, professional cosmetics gear, and a photo portfolio of his or her work.
While independent makeup artists have the option of specializing in fields like advertising, weddings, and film makeup, many of them work with customers across a range of sectors. Public relations companies and ad agencies both employ independent contractors to provide the hair and makeup for commercials and photo shoots.
In addition to hiring a makeup artist to apply her cosmetics and style her hair in a gorgeous bridal updo, brides can also hire them to create special occasion makeovers for the groom and the wedding party. At "on-location" movie sets, freelance workers can be hired for hair and makeup services. Instead of taking place in a movie studio, on-location film sets take place in a variety of indoor and outdoor locations around a town, neighborhood, region, or country.
Bridal Makeup Artist
A professional bridal stylist who focuses in applying cosmetics for wedding days is call it as a bridal makeup artist. Traditionally, only the bride would seek out bridal makeup services, but nowadays, many wedding makeup artists also apply makeup to the groom and his groomsmen in addition to the bride and her entourage. Makeup and other cosmetic care methods used for guys are collectively calling it as "male grooming." Today's bridal makeup artists are typically adept at applying attractive wedding day makeup to both men and women.
In the bridal makeup industry, it's crucial to have experience with a variety of skin tones and textures. It is essential to be able to match every client's foundation properly and apply it expertly because failing to do so could spoil the appearance of the wedding photos. Because a glare from the camera might result in unattractive images, an anti-shine foundation that yet gives the skin an attractive glow is required. It's crucial to apply cosmetics that will last all day on the wedding day. A bridal makeup artist needs to be aware of what customers want and need from cosmetics.
An expert in bridal cosmetics might also do hair styling to increase their marketability. Both the cosmetics and hairstyles for special occasions must be sophisticated and lovely. Wedding makeup artists must have experience applying cosmetics for photographs. Some bridal makeup artists concentrate on performing in live theatre or the film business.
Beauty Educator
Of course, being a beauty educator is our all-time favorite makeup artist profession. This profession can open up a world of incredible potential for you. If you have experience in makeup artistry and have held positions in several of the above-mentioned professions, you may be qualified to serve as a beauty educator with a makeup artistry specialty. Women of all ages and skill levels have a great need for makeup education. You might start with one-day courses and work your way up to pro makeup lessons.
It will be up to you to develop an exciting curriculum that leads your students through the cosmetics application process. And even into the advanced methods that so many women want to learn today, whatever you decide to do.
Also Read:- Remove Make-up Naturally at home
Salon and Spa Artist
An individual who works for a nearby salon or spa is known as a salon makeup artist. The spa's customers can use the services of this makeup artist.
Clients at salons and spas will schedule appointments with you in advance for cosmetics for special occasions or makeovers as part of a day of pampering (perhaps a night out or a wedding, for example).
This cosmetics job path is a fantastic option to work as a full-time makeup artist with a solid wage. If you don't have a minimum certification demonstrating your familiarity with cosmetics safety, skin kinds and conditions, makeup methods, and other topics. Very few businesses will want to hire you as a full-time makeup artist.
You must have prior customer experience in order to get recruited as a makeup artist at a salon or spa. Your resume will serve as evidence that you are skilled at applying faultless makeup to a variety of faces.
Keep an eye out for openings at your neighborhood salons and spas on regional employment boards and websites. You can also submit an application straight to the nearby company of your choosing; just don't be demanding! You can find a job with the help of a strong portfolio, CV, and cover letter.
It will be your moment to shine once you've been brought on board as a full-time makeup artist! By providing your clients and consumers with outstanding services, you may start building a name for yourself in the community.
Company sales representative makeup artist
Cosmetics salespeople, sometimes known as makeup salespeople and beauty consultants, give product demonstrations and sell cosmetics. Representatives either work in retail locations where they are both employees of the store and of the cosmetics brand. Or they work from home as independent contractors.
If you have great sales abilities and are ready to put in the necessary time and effort. This career may initially have you working at a cosmetics counter but it has the potential to soon become very lucrative. This is a fantastic approach to practicing makeup artistry and advancing your abilities.
You will get the chance to work with a wide range of faces and showcase the makeup for the business you work for. But keep in mind that in order to advance in this career field and earn a big salary. You will need to push yourself to the limit and work hard to become a top sales representative.
Print makeup artist
A print makeup artist collaborates with models and photographers who have been recruited by editorials, fashion shows, catalog firms, and publications. The majority of editorial makeup projects are secured through agency representation and are filmed both in studios and on location. A solid portfolio is necessary to work in editorial; the better your book, the better the income. As most of the techniques they teach are not ones you would generally use in a genuine fashion or advertising photo session. We prefer not to suggest makeup schools that claim to specialize in fashion, print, or advertising makeup.
The majority of learnt fashion looks do not apply to being a fashion makeup artist because these trends change quickly. An art director is almost always responsible for dictating the distinctive feel or appearance of the model for the line or advertisement in the world of fashion and advertising.
Beauty Blogger
Beauty bloggers are incredibly knowledgeable about skincare, makeup, fashion, and hair. However, they don't keep it to themselves. They disperse their knowledge to the world via personal blogs and web pages. Beauty blogging may be your calling if you enjoy imparting knowledge to others.
A lot of content needs to be produced by beauty bloggers. A LOT. The blog about clothing, accessories, skincare, makeup, hairstyles, and pretty much everything else that is considered "beautiful." They photograph hair and cosmetics, so having a basic understanding of lighting and photography is crucial. Additionally, they produce tutorials that teach their audience how to design unique styles. Although it takes a lot of work, those that are passionate about the beauty industry do it.
Additionally, beauty bloggers work together with other artists in their neighbourhood. It's crucial to establish connections with the other beauty gurus. They frequently arrange events together, trade content in the form of guest blogging, and go to nearby stores and salons to take pictures for their websites.
Also Read :- How to become an Air Hostess after 12th
Runway makeup artist
Photographers, models, reviewers, and designers all join together for fashion shows to create an event that is exciting, creative, and full of inspiration. The runway makeup artists are the ones who give the models stunning faces; even though the models may be the faces of the fashion world. It doesn't matter if it's a hip underground fashion event or a highly glamorized fashion week.
The easiest approach to obtain a quick response to your work and have a chance to showcase your artistic talent is with runway makeup. Here are some tips and advice that you could find useful as you enter the runway's high-stakes, high-reward environment.
You can either follow trends or contribute to creating them. The person may be able to explore the limits of your creative imagination and establish a reputation for yourself in the fashion, beauty, and cosmetics industries by participating in a fashion show.
You can find incredible chances without participating in a show for a high-end company. Every time fashion and beauty designers join together to share their views, there can be a fashion show. Give your audience a memorable visual treat.
Stage and Theatre Artist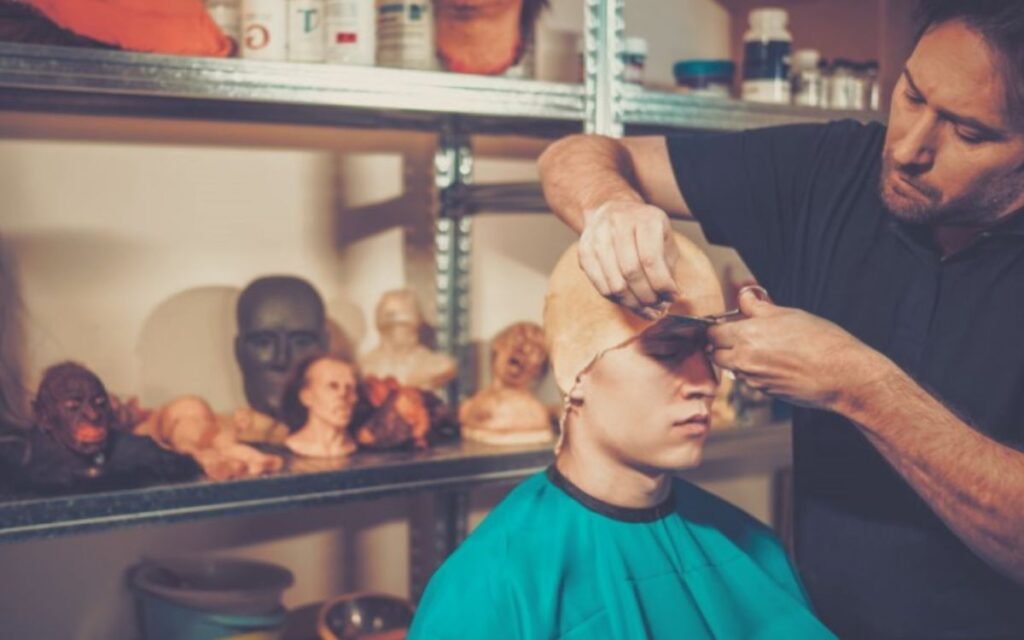 The job of a theatre makeup artist is to make actors stand out on camera or, in some situations, onstage. This may involve using imaginative makeup techniques to accentuate the actor's natural features. Additionally, it can involve giving characters cosmetic traits like moles, warts, or wounds, or adding wrinkles and other aging-related features.
Makeup artistry classes are taught in a lot of theatre colleges and programs. Because they aid in creating the illusion that the actors are trying to create, theatrical makeup artists are crucial to a company or play.
A skilled theatre makeup artist can utilize cosmetics and procedures to make a performer more like the character by comprehending the look and feel of the character. He or she must also comprehend how the planes and shadows of an actor's face and body are impacted by the lighting used on stage or in front of the camera. The actor's face is the subject of the artist's work the majority of the time. But the artist may also focus on other visible body parts like the hands or neck.
Making a makeup look for a theatrical performance is extremely different than making one for fashion or daily use. Due to lighting and the distance between the audience and the performers, features frequently need to be overemphasized. The work of a theatre makeup artist appears wholly look up close but functions effectively onstage.