An electric vehicle (EV) is simply an automatic vehicle that is powered by an electric motor. A totally electric vehicle is one that does not use or have a gasoline or diesel engine. When you put an Electric Car in 'drive' mode, it accelerates like an automated vehicle. we will discuss about the future of electric cars in India.
Origin
"Electric vehicles are the way of the future," they often claim. They are eco-friendly and hence a good alternative for individuals because they provide the proper level of functionality. Tesla, Mercedes-Benz, Audi, Hyundai, Mahindra, Chevrolet, BMW, and Renault are among the companies that are currently producing groundbreaking electric automobiles. But how much do we know about electric vehicles' history? Let's look at where these cars come from and when they first appeared.
The first electric vehicle was a three-wheeler titled VIKRAM SAFA, which was invented by Scooter's India Pvt Ltd in 1996. A total of 400 automobiles were built and sold. In the year 2000, BHEL released an eighteen-seater electric bus, which was also a sensation. Then, in Delhi, some 200 electric vans were built and operated. However, because of the expensive cost of the battery and its short life, it did not fare well on the market.
Electric vehicles first appeared in the nineteenth century. They did not do well in the market previously due to their expensive cost, low speed, and short range. As a result, demand initially fell over the world.
Gas-powered vehicles create a lot of smoke and are extremely hazardous to the atmosphere, which has intensified as concern for the environment has grown in the twenty-first century.
As a result, interest in electric vehicles has grown. Electric cars were popular among those who drove them in cities, where their short range was not an issue. Another factor that contributed to its success was the fact that it did not require changing gears, making it a simple option. It didn't have any vibrations or sounds. It didn't need to be started manually, which was also a positive.
Growth of electric Vehicles
Hero Cycles introduced a series of bikes in 2007 in collaboration with ULTRA Motor of the United Kingdom. Other firms such as Electro India, TVS Motor, Hero Electric, and others became known for their electric bikes. They also manufacture and market their own goods. In addition, in 2017, Etrio secured over $3 million from HNIs and set out to convert existing gasoline-powered commercial vehicles into electric variations, setting a new standard for economical and environmentally friendly transportation.
Electric rickshaws ruled the market. In India, almost 500000 e-rickshaws were sold in 2016-17. Currently, these rickshaws are primarily used in Delhi NCR. The government is now focusing on heavily polluted cities in an effort to encourage the use of electric vehicles. FAME, or "Faster Adoption and Manufacturing of Electric and Hybrid Vehicles in India," is a scheme that will provide a subsidy to 11 cities for the deployment of electric buses, taxis, and e-rickshaws. Ahmedabad, Delhi, Bangalore, Jaipur, Mumbai, Lucknow, Hyderabad, Indore, and Kolkata are among the cities targeted, with two others – Jammu and Guwahati – falling into a separate category.

Also Read:- Best Mileage Bikes In India 2022
Some Electric Automobile Manufacturers in India.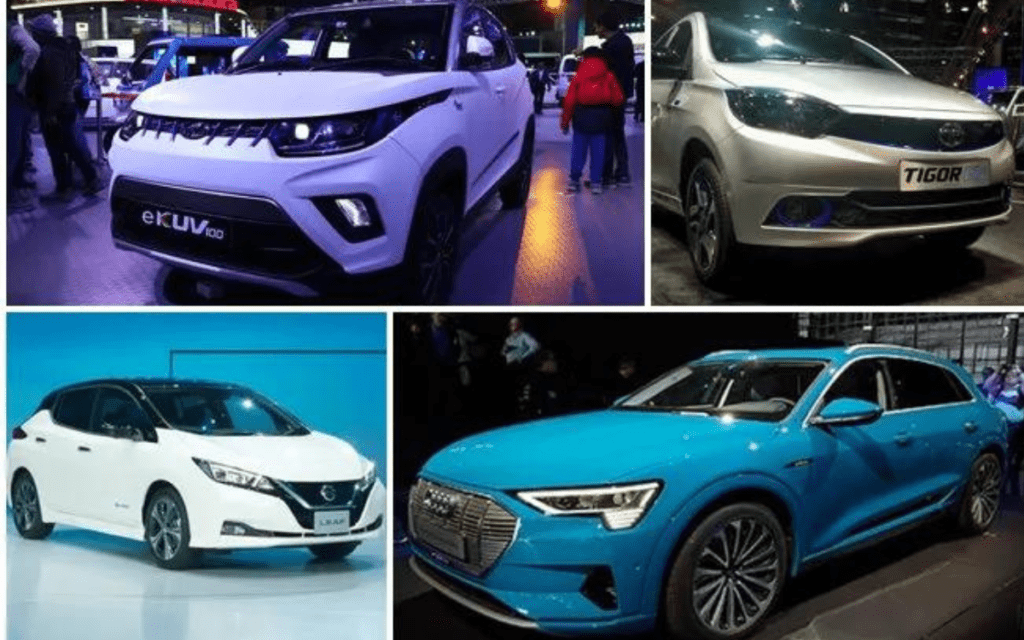 Under the framework of the Government of India's National Electric Mobility Mission Plan, the automobile industry and Indian car manufacturers are working on the Make In India mission of electric vehicles.
The National Electric Mobility Mission Plan was launched in 2013 with the goal of promoting hybrid and electric vehicles in India with the goal of reducing liquid fuel use and increasing hybrid and electric vehicle sales.
1. Tata
As part of its zero-emission mass transportation solution, Tata Motors debuted hybrid and electric Star buses from its Pune production site. Tata Motors provides a huge range of electric cars, including the Tata Tigor electric car, the Ultra Electric bus, and the Starbus Hybrid Electric Buses, all of which contribute to India's electric vehicle industry.


2. Mahindra & Mahindra
Mahindra Electric Mobility Limited, situated in Bangalore, sells electric vehicles in the passenger and cargo markets, as well as compact electric vehicle manufacturing.
The Mahindra e2o, electric hatchback e2oPlus, eVerito sedan, commercial electric eSupro, and future electric version of the KUV100 were previously owned by Reva Electric Company, which was acquired by Mahindra & Mahindra.
3. Ashok Leyland
Ashok Leyland is one of the world's major bus manufacturers and India's truck industry leader. In India, the business has already introduced the Circuit fully electric bus, an improved non-plugin version of the HYBUS, an Electric Euro 6 Truck, and the iBUS.
4. Olectra – BYD Green E-Bus
Olectra Greentech is a market leader in electric bus manufacture for Indian roadways, having collaborated with BYD. BYD has introduced electric buses in Hyderabad, Pune, Telangana, and Delhi, as well as continuing to electrify the Indian E-BUS market.
5. Ola
Ola has established a Mission Electric multi-modal electric vehicle initiative in Nagpur and is also operating electric public transportation vehicles in India. The Indian company also intends to launch 10,000 electric rickshaws and invest in the installation of electric vehicle charging facilities in major Indian cities.
The Future of Electric Cars in India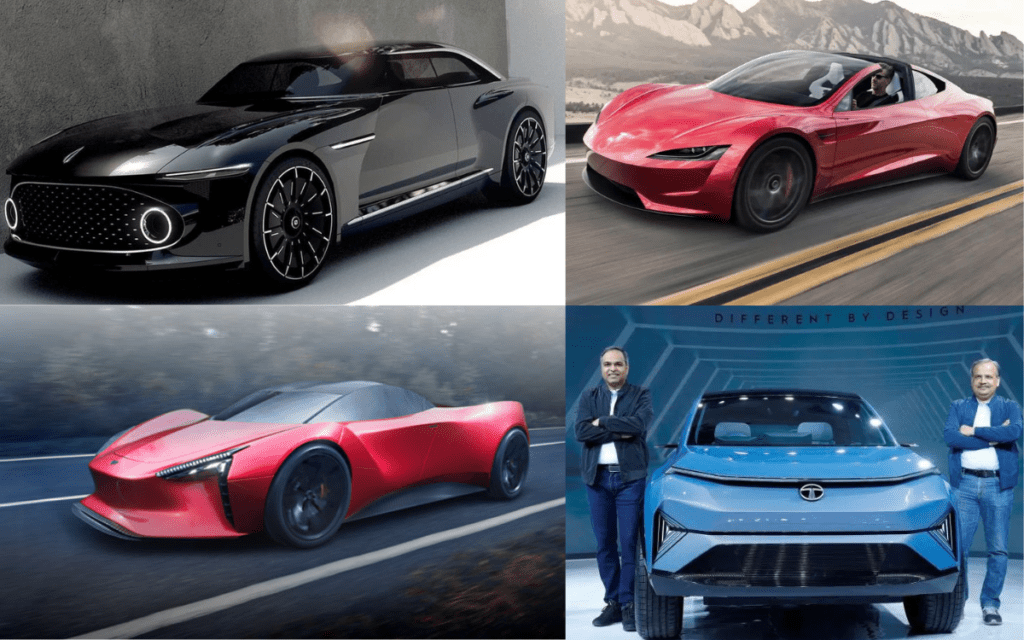 Forward to 2021, when firms are working hard to build affordable electric vehicles, with the goal of dispelling the myth that electric automobiles are prohibitively expensive. For example, E-Trio, an electric vehicle manufacturer, is aiming to make electric vehicles accessible to all. Cars and other items such as electric LCVs, electric bikes, and electric three-wheelers are their main focus.
India has the greatest untapped EV market in the world, particularly in the two-wheeler segment. The penetration of electric vehicles has expanded dramatically in recent years, thanks to numerous automakers' quick rollout of these vehicles. According to a recent estimate, the market for electric cars (EVs) is predicted to be valued at least $475 billion by 2025. Electric two-wheelers are expected to attain 15% penetration by 2025, up from 1% today.
With 63 percent of consumers assuming that an EV is out of their budget, the capital cost has always been a big factor in EV purchasing decisions. Our country's lack of suitable charging infrastructure is a major impediment to increased EV adoption. Charging stations are more difficult to come by than traditional gas stations, due to high investment costs and difficult infrastructure development. This allows people to charge where they normally park, at home or at work, which presents its own set of challenges, such as dealing with multi-tenant buildings, grid-connection management, and charging slot availability.
By 2024, the Indian government hopes to have made arrangements and provided incentives to encourage more people to purchase Battery Electric Vehicles, which will account for 25% of all new car registrations. Electric vehicles currently account for only 0.29 percent of total vehicle registrations in India. A two-pronged strategy must be implemented in order for this to happen. First and foremost, India must become truly EV-ready by establishing the required infrastructure and technologies to support electric car manufacturing. Second, facilities must be made so that outdated vehicles can be retrofitted to become hybrid electric vehicles, which will help to reduce pollution levels.
Upcoming Electric Cars in India
The following is a list of all upcoming electric vehicles set to debut in India in the years 2022-2023.
1. Tata Altroz EV
2. Tata Avinya
3. Mean Metal Azani
4. Haima Bird Electric EV1
5. Citroen C3 EV
6. Tata Curvv
7. Tesla Cybertruck
8. Mahindra eKUV100
9. OLA Electric Car
10. Mercedes-Benz EQA
The Benefits of Electric Vehicles
1 There is no need for gas.
2 They are eco-friendly although they do not emit toxins.
3 A more efficient electric motor means less maintenance.
4 Better Performance.
Limitations of Electric Vehicle
1 Recharge Points
2 purchase cost are higher
3 Short Driving Range
4 Longer Recharge Time
5 Battery Replacement
Conclusion
Electric cars are quickly becoming a popular choice among consumers around the world. The reasons for this are clear: electric cars don't produce any emissions, they're environmentally friendly, and they're often cheaper than their gasoline-powered counterparts. India is no exception to this, and many Indian companies are now exploring the potential of electric cars for the Indian market. However, there are a number of challenges that must be overcome before these cars can become widespread in India.