Canada is home to some of the most beautiful and well-known beaches in the world. Whether you're looking for a peaceful place to relax or an adrenaline-pumping adventure spot, these 10 beaches across Canada offer something for everyone. Here are 10 of the best beaches in Canada that you won't miss.
Long Beach, Tofino, BC
Long Beach in Pacific Rim National Park is one of Canada's most beautiful and popular beaches. The park features a rugged coastline with beautiful sandy beaches, lush forests, and expansive stretches of oceanfront property. Visitors can enjoy beachcombing. swimming, surfing, kayaking, paddle boarding, and other water-based activities at Long Beach. There are several restaurants and gift shops along the beach, so it's easy to spend a day or weekend exploring this beautiful park and enjoying everything it has to offer.
Grand Beach Provincial Park, MB​
Grand Beach Provincial Park is a small but beautiful beach located in southern Manitoba on the shores of Lake Winnipeg. The beach is popular with swimmers and sunbathers and is popular with windsurfers due to its long stretches of shallow water. There are a few restaurants and cafes nearby serving fresh seafood, as well as a public restroom and a lifeguard on duty during the summer months. Visitors can enjoy a day of sunbathing on the beach or exploring the beautiful trails along the lakeshore.
Ingonish Beach, NS
Ingonish Beach is located in the Cape Breton Highlands National Park, and features beautiful white sandy beaches, with views of the ocean and the surrounding mountains. Visitors enjoy the peace and quiet of the beach and the natural beauty of the area. There is a campground at the park for those who want to spend a few days at the beach or stay in a cabin, and several hiking trails to explore. It is a great place to spend the day. You can relax on the sandy beaches or take a dip in the cool waters of the ocean. It's also a great place to go hiking and camping.
Kitsilano Beach, Vancouver, BC​
Kitsilano Beach in Vancouver is a popular tourist destination known for its stunning scenery and beautiful beaches. It is a popular spot for surfers, sun worshippers, and anyone looking for a relaxing day at the beach. There are also several cafes and restaurants located near the beach for those who want to explore the local area and try some local cuisine. Kitsilano Beach is a beautiful place to visit whether you are a local or a tourist.
Wasaga Beach, Ontario​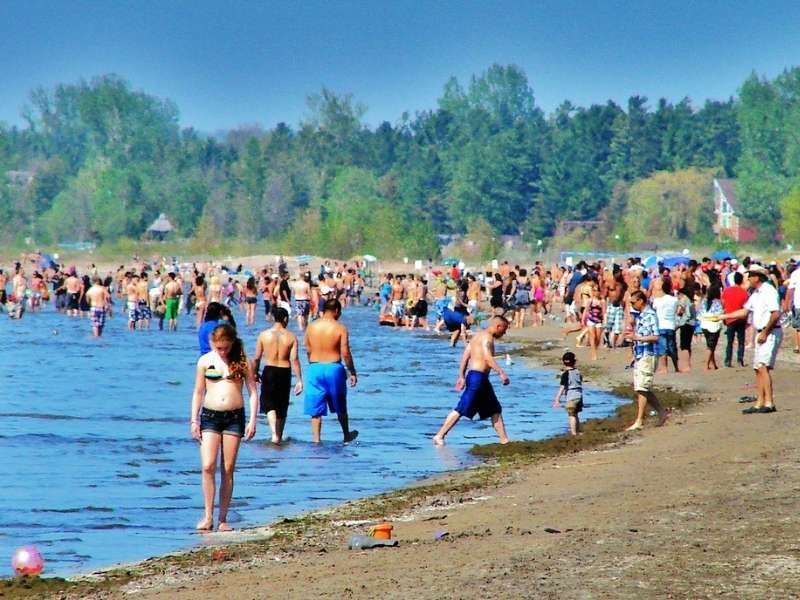 Wasaga Beach is a popular destination for travelers in the southern part of Ontario. It is located on the shores of Georgian Bay, a freshwater lake. The beach is known for being calm and peaceful, making it ideal for swimming and sunbathing. It is also home to a large amusement park that is open during the summer months. There are also plenty of shops and restaurants nearby, so it is a great place to spend a weekend visiting with friends and family.
Wasaga Beach is also known for its nightlife, with many bars and clubs located near the beach. During the summer months, it is the most popular vacation destination in the area, so it is recommended to make reservations if you plan on visiting during this time. It is a great place to visit during the summer, but can also be enjoyed year-round if you are looking for a relaxing getaway.
Sauble Beach, ON​
Sauble Beach is a historic beach town in Ontario on the shores of Lake Huron. It is known for its beautiful coastline and charming beachside cottages. There are several shops in town as well as lots of restaurants and cafes.
Sauble Beach is also popular for 4WD enthusiasts, who drive on the beach during the summer. Although it is open to the public, the beach gets crowded during the summer months, so it is a good idea to arrive early to get a parking spot and avoid crowds. The beach can get pretty busy during weekends in the summer, but it is still a nice place to get away from the city and enjoy the natural beauty of the area.
Parlee Beach, Moncton​
Parlee Beach is a popular beach in Moncton, New Brunswick. It is located in the summertime alongside many other water sports activities including paddle boarding, swimming, and jet skiing. It is a popular destination for families looking to have a fun and relaxing day at the beach. The beach also has several picnic areas so you can enjoy lunch while relaxing and taking in the beautiful scenery. There are also several hotels nearby so you can stay the night and enjoy everything the area has to offer.
Woodbine Beach, Toronto​
Woodbine Beach is a public beach in Toronto, Ontario, Canada. It is located on the shore of Lake Ontario and is one of the most famous beaches in the city. Popular activities include beach volleyball, swimming, and walking along the shore. In the summer months, the beach can be packed with people on the weekends, so it can be a bit difficult to find a spot to relax. However, it is worth it to head down to the beach for a nice day in the sun if you are in the Toronto area.
Devonshire Beach, Alberta​
Devonshire Beach is a beach located in Edmonton, Alberta. It is known for its sandy beaches and beautiful sunsets. Devonshire Beach is located close to Whyte Avenue, making it a popular spot for walking, cycling, and dining. There is also a small shopping center located close to the beach where you can find a variety of shops and restaurants. If you are looking for a quiet place to relax on a beautiful sunny day, then Devonshire Beach is the place to go.
Blue Mountain Beach, Ontario​
Blue Mountain Beach is a beach located in the town of Blue Mountains, Ontario. It is one of the favorite places of locals for relaxing and enjoying the beauty of nature. Blue Mountain Beach is also popular for tourists visiting the area who are looking to enjoy a waterfront stroll along the shoreline or spend the day swimming in the warm waters of the lake. Many people enjoy hiking in the area as well so they can enjoy the breathtaking views of the surrounding areas.
Conclusion​
There are many beautiful beaches in Canada. Many of them are beautiful destinations where you can relax and enjoy the beautiful weather with friends and family. Hopefully, this article has given you some ideas for the 10 Best Beaches In Canada about where you would like to visit the next time when you are on vacation.
Also Read: Best Beaches In Texas